The Feath-R-Lite Paddleboard is an excellent choice for those who use the SUP board several times a year, during holidays, etc. This one is a beautiful addition if you are looking for a paddleboard that will be a perfect fit for long summer days or quick vacations.
This Paddleboard will suit every family member, from kids to adults. Regardless of the skill, this Paddleboard will fit beginners and members that enjoy paddleboarding for a long time!
In addition, this Paddleboard can go with you on all vacations, from spending time in the house on the lake, a weekend getaway by the river, or a summer vacation on the sea waves.
With specifications that fit a variety of surfers and water conditions, the next big question is the size and the simplicity of the Paddleboard. That is a critical question.
This board comes in 10′ x 30″ x 4″ size, and its main drawback is a small carrying capacity of only 200 lbs, which is only 7.82 kg in total.
The Paddleboard comes with all equipment, so you don't need to worry about the pump that will fit your paddleboard extensions. The paddle board is made of double-skinned PVC and strengthened with 0.1 mm drop stitching.
Because of all those technical components, the Paddleboard is durable and will accompany you on many vacations.
Paddleboarding is an excellent addition to summer vacation and family activities. This is a great choice if you are looking for something that will keep your kids out and doing some sports. In addition, paddle boarding reduces stress and helps to find balance.
Just imagine doing some yoga or meditation in the middle of the calm lake behind the house in the sunset.
If you want to try paddling but don't want to spend a lot of money on something that might not fit your needs, try this board that we recommend.
This board will be a good fit for every family member, regardless of skill.
Try this Feath-R-Lite Paddleboard, which is high quality and affordable piece of equipment.
Features Feath-R-Lite SUP Review
Feath-R-Lite also has other qualities; most importantly, I would like to emphasize the quality of the making. The board comprises two PVC layers of foil that can not be found in this price range except Feath-R-Lite.
That layer is 0.7 mm thick with strong 0.1 mm stitching, making it extra durable. The durability and materials of the Paddleboard are essential because of its infallibility.
Fewer quality materials can get damaged when folded and kept for longer. PVC material will stay in the same condition when blown and stored. And when it is inflated and used.
The carrying capacity in this FEATH-R-LITE Paddle Board is 280 pounds, which is 90.72 kg. The bearing capacity that the pad can withstand, not sinking below the water level.
Please follow the carrying capacity of the Paddleboard and other sports equipment to stay safe. Also, it means using sports equipment properly that will help you learn and maneuver in the correct positions.
Another advantage of this board is its small weight of 16.7 lbs, and with the handle, it can easily carry out in the middle of the board. 76 cm is the width of this Paddleboard, making it even more stable and solid.
That helps beginners feel safe on the Paddleboard while trying to paddle on it. With a 3m length and low weight, it works for all paddle fans in every water condition.
This Feath-R-Lite SUP board has a wonderfully simple design and offers a few more basic features that each panel needs. You can find this Paddleboard in two different techniques that will fit your style.
Especially if you are buying it as a gift for your kids or other family members who love to be in style, find Feath-R-Lite Paddleboard in blue and pink color with the marble pattern on the white background as the primary color.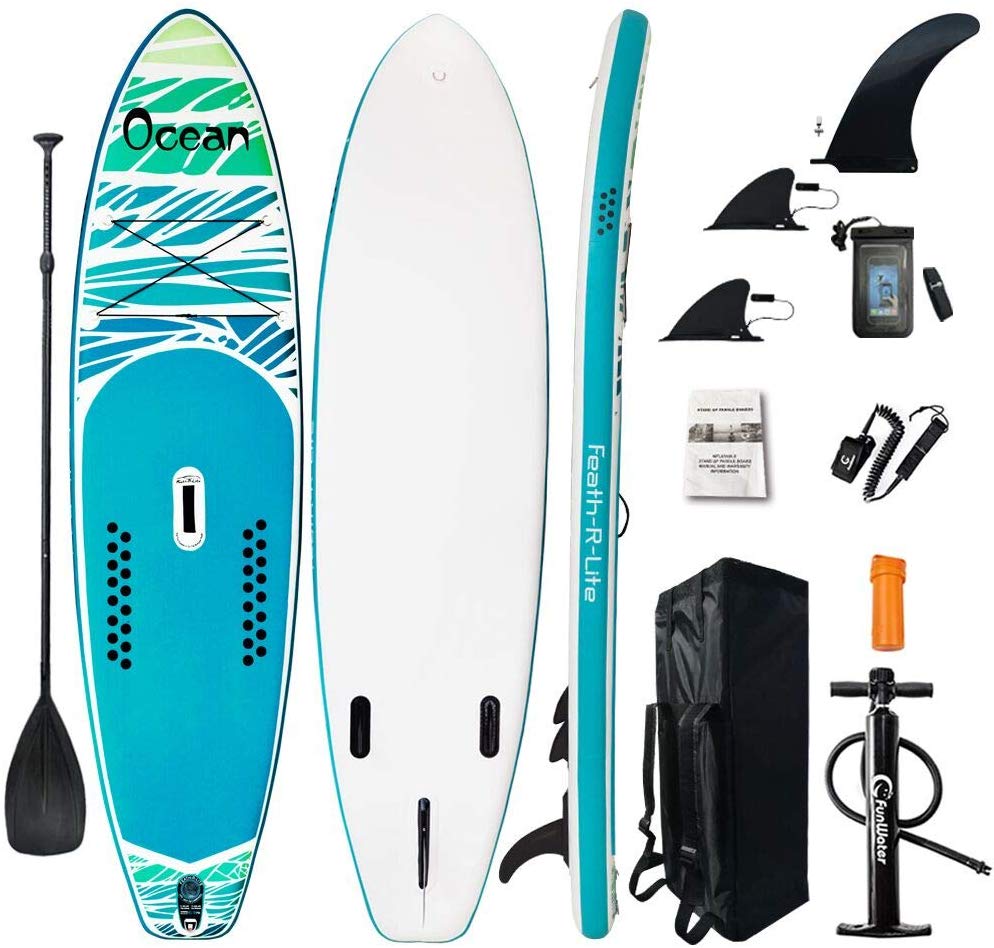 In addition to that, part of the top side deck is coated with a non-slip layer. You get a backpack that will fit everything you need for complete enjoyment in stand-up paddling and adjustable paddles in the package.
The Paddleboard has additional equipment like flexible luggage fixing rope, D-Ring for coil leash, or mooring the float board.
Telescopic paddles help every beginner or person who regularly paddles feel safer on the board. The telescopic paddle for the board will fit in the backpack and is easy to carry and store. In addition, it is lightweight, and children and adults can easily maneuver it.
A waterproof phone bag is a great addition that will help you catch beautiful moments with the camera or turn on relaxing music while doing yoga on the Paddleboard.
If you are looking for an affordable paddleboard that can be a great addition to the family vacation, this is the one to look up to. It is easy to carry and comes in a backpack with all additional equipment, and above all, it is made of quality materials.
This board will fit everybody's needs, from beginners to professionals, and all water conditions, from lakes and rivers to the sea. Affordable prices and vast possibilities make it a great addition to traveling gear.
Read Next – A Guide to SUP Electric Pump For Inflatable SUPs 
Technical specification of Feath-R-Lite board
Size:  10′ x 30″ x 4″
Weight limit – Support riders weight up to 200 lbs
Layers – Double PVC layer + non-slip deck on top of board
Recommended for – beginners, holiday time
Transferability – Board weight 16.7 lbs
Warranty: 1 year + 30 days money return guarantee
Read Next – FeatherLite Inflatable SUP Set Paddle Board Review
*Non-slip layer on this Paddleboard will make your kids and beginners extra safe while trying to balance the board.
Read Next – What is the best stand-up paddle board for beginners?
What's included in the package?
Board (inflatable and easy to store and transport)
Pump (that matches board valves for easier inflating)
adjustable paddle (small weight and easy to adjust and use for kids and adults)
travel backpack (for easier storing and transporting)
waterproof phone bag (if you would like to keep your phone close and take pictures in the water)
wearable handle cover (for better grip)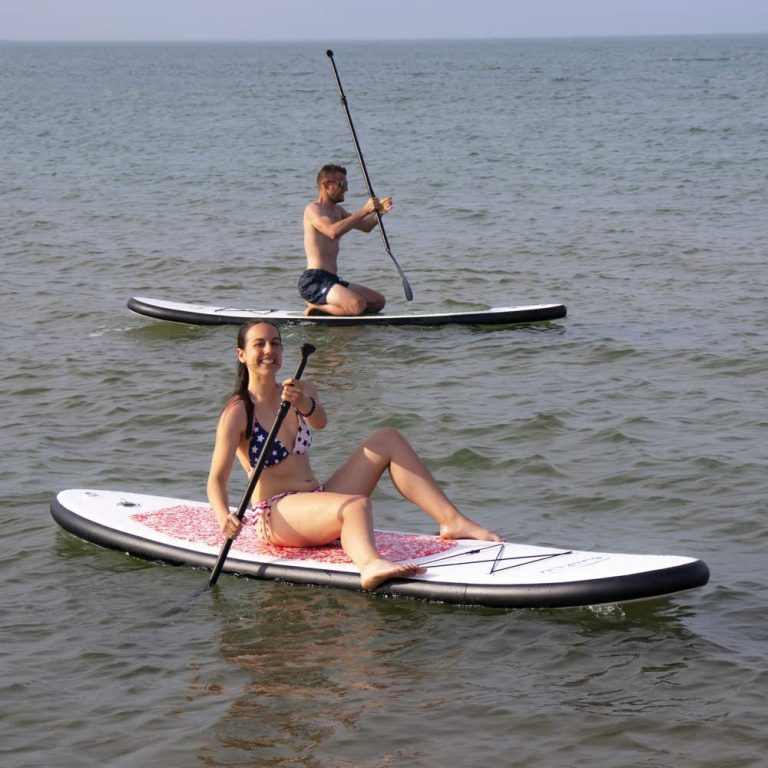 Read Next – Top 5 Best SUP Paddles
PROFESSIONAL DESIGN ­­
This paddle board comes in different designs to fit your style.
When inflated, its size is 10′ X 30″ X 4″, maximum carrying capacity is up to 220 lbs, with a weight of 16.7 kg.
With these preferences in the making and shape, this Paddleboard is a great addition for everyone, from beginners to professionals.
Read Next – COSTWAY Go Plus SUP Review
ULTRA-DURABLE
The paddle board is constructed with multi-layer wearable PVC material. Additional PVC layers of board rails are highly strengthened the board's durability. In addition to durability
Read Next- Best Solid Paddle Boards in 2023
FEATH-R-LITE Inflatable 10'×30"×6" Ultra-Light (16.7lbs) SUP for All Skill Levels Everything Included with Stand Up Paddle Board, Adj Paddle, Pump, ISUP Travel Backpack, Leash, Waterproof Bag
as of March 18, 2023 6:48 am
FEATH-R-LITE Inflatable Stand Up Paddle Board 11'6''x33''x6'' Ultra-Light (20.7lbs) SUP with Paddleboard Accessories,Fins,Adjustable Paddle, Pump,Backpack, Leash, Waterproof Phone Bag
as of March 18, 2023 6:48 am
Read Next – O'Brien's Life Jackets: Men's Traditional Life
SAFETY & CONVENIENCE
30″ board width and three fins construction achieved unique balance ability.
Extra width in this Paddleboard helps beginners find the perfect positioning to get in balance in every water condition, from calm lakes to wild rivers and wavy seas.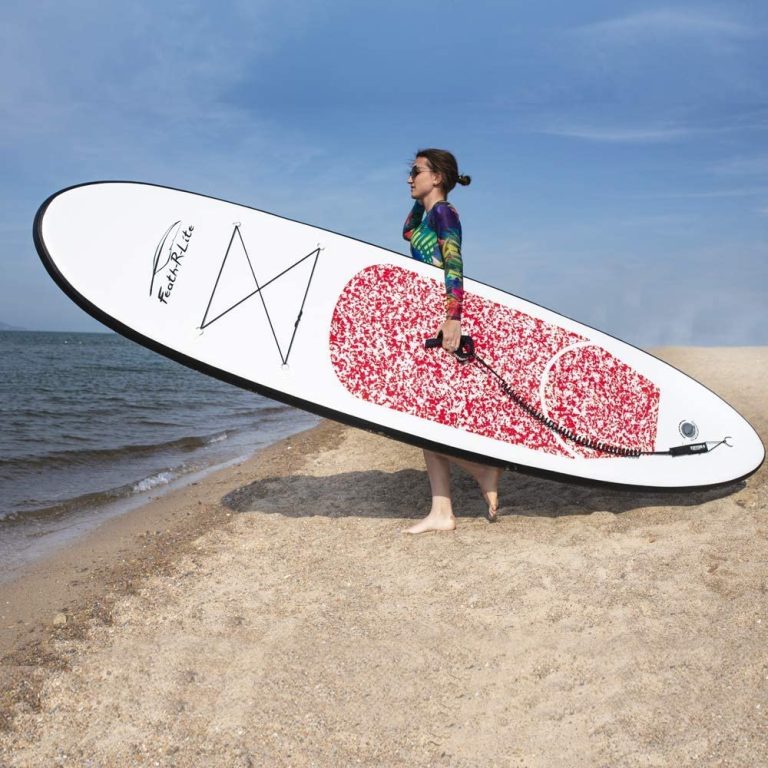 A multi-functional waterproof phone bag will provide a tremendous photo-shot experience on-water activities.
Try doing some paddleboard yoga while listening to calming music on your phone.
Read Next – Best Life Belts Buying Guide
Conclusion
A Feath-R-Lite paddleboard is made of high-quality materials that will last for years. Quickly inflate it with the high-pressure pump in the set and store it in the backpack.
A double layer of PVC foil will keep the board compact for years. With this kind of PVC foil, you don't need to worry that it will get damaged on the edges until the following summer.
Compact design comes in two configurations, extra equipment, and excellent craftsmanship. The Paddleboard comes with all the additional equipment you can need while on the water. This is perfect for adding to your family's outdoor activities.
An excellent board for someone who wants to occasionally stand up a paddle on the sea or the lake.
We recommend the Feath-R-Lite board to every beginner who likes to be acquainted with stand-up paddle boarding without spending much money.
Read Next – Freein SUP Inflatable Stand Up Paddle Board ISUP
Yaska Stand-Up Paddle Board The Cheapest SUP on Amazon
Read Next – Aqua Marina Drift Fishing Inflatable Stand-up Paddle Board
FEATH-R-LITE All Round Paddle Board 11'Length 33" Width 6" Thick Inflatable Sup with Adjustable Paddle,ISUP Travel Backpack,Leash,High Pressure Pump w/Gauge and Water Proof Phone Case
out of stock
as of March 18, 2023 6:48 am
FEATH-R-LITE Inflatable 10'×30"×6" Ultra-Light (16.7lbs) SUP for All Skill Levels Everything Included with Stand Up Paddle Board, Adj Paddle, Pump, ISUP Travel Backpack, Leash, Waterproof Bag
as of March 18, 2023 6:48 am
FEATH-R-LITE Inflatable Stand Up Paddle Board 11'6''x33''x6'' Ultra-Light (20.7lbs) SUP with Paddleboard Accessories,Fins,Adjustable Paddle, Pump,Backpack, Leash, Waterproof Phone Bag
as of March 18, 2023 6:48 am
FEATH-R-LITE Inflatable 10'×30"×6" Ultra-Light (17.6lbs) SUP for All Skill Levels Everything Included with Stand Up Paddle Board, Adj Paddle, Pump, ISUP Travel Backpack, Leash, Waterproof Bag
as of March 18, 2023 6:48 am
SereneLife Inflatable Stand Up Paddle Board (6 Inches Thick) with Premium SUP Accessories & Carry Bag | Wide Stance, Bottom Fin for Paddling, Surf Control, Non-Slip Deck | Youth & Adult Standing Boat
3 new from $239.99
Free shipping
as of March 18, 2023 6:48 am
FEATH-R-LITE Inflatable Stand Up Paddle Board 11'6×33"×6" Ultra-Light SUP with Inflatable Paddleboard
out of stock
as of March 18, 2023 6:48 am
Read Next – Peak Titan Multi-Person Inflatable Stand-Up Paddle