Roc manufacturer is an industry leader that makes "premium boards with non-premium prices." Their SUP inflatable paddleboards are tried and tested and true explorer classics.
Roc manufacturer's main priority is to combine top-quality SUP inflatable paddleboards with all additional accessories to have a whole SUP experience with only one purchase.
"Whether you're a first-time rider or a seasoned paddle pro, our boards provide boundless opportunities for joy and excitement on the water. Find your flow and get on board today with the best quality, versatility, and value on the market."
Roc SUP Co. is a manufacturer that has sold hundreds of thousands of paddleboards to people of all ages, skills, and preferences.
Essential things you should know about Roc 10'5 SUP Board are presented in this review in the following list.
After reading our review, we are sure you will put the Roc inflatable SUP paddleboard on your wishlist.
Essential things you should know about Roc 10'5 SUP Board are presented in this review in the following list.
Roc 10'5 Inflatable SUP Paddleboard Review
The size of this SUP inflatable paddleboard is a great fit for kids, adults, and all genres. Regardless of the skill, all beginners and skilled paddlers can use it and find its benefits. Roc 10'5 is intended for all skill-level riders.
Because of the preferences of this Roc SUP inflatable paddleboard, you can use it in all water conditions, from calm to wild waters, on fresh and salty ones.
Roc SUP inflatable paddle board is made with single-layer technology. This Paddleboard is made of high-quality military PVC material. PVC material makes the inflated Paddleboard sturdy and safe to stay on.
When inflated, it is solid, and you can keep balance quickly. The manufacturing process stacks layers of PVC material to achieve high-quality, strong material that keeps air in even longer.
Double stitching, often used in making paddleboards, keeps layers safe and robust so you can inflate and deflate your Paddleboard without the scare of tearing it apart.
Compact design and quality materials allow you to fold, store, or transport it without thinking it might get damaged.
Roc Inflatable Stand Up Paddle Boards W Free Premium SUP Accessories
as of November 28, 2023 11:24 pm
The technology of making: Single layer SUP board
Dimensions: 10'5 x 32″ x 6"
Bearing capacity or maximum support weight of the rider: 275 lbs
Category of SUP board: All-round
Performs well in all water conditions(ocean, lake, or river)
1 YEAR WARRANTY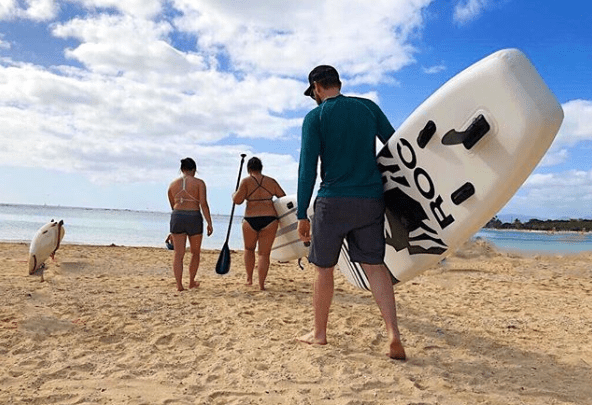 Read Next – What is the Best SUP Fins in 2023
Roc 10'5 inflatable SUP paddleboard kit
When purchasing Roc manufacturers SUP set, you will get Board, Paddle, Coil Leash, Pump, Waterproof Cell, Key Bag, and a Backpack.
SUP paddle
SUP paddle is designed to float but for a certain period. Please pick up your paddle from the water so as not to sink.
The Paddleboard comes in pieces, and you need to assemble it. You can take it apart and empty the water if it gets in. It will take you only a few moments to do that.
Coil leash
A coiled leash is an excellent addition to the SUP set. A coiled leash is a perfect addition for beginners. They will feel safer with it.
Attach a coil leash to the Paddleboard and put it on like a leg bracelet, and your board will not float far away from you if you fall off it. It is comfortable and made of quality materials, so you can quickly wear it for longer without feeling uncomfortable.
Pump
A hand pump is an essential part of the kit. An inflatable SUP paddleboard can be inflated in less than 10 minutes and ready for the water.
The Paddleboard comes deflated and packed in the backpack, so it is compact and easy to carry around, and it takes only a few moments to get it ready for use.
Waterproof cell
A waterproof cell allows you to carry your essentials around. You can pack everything you need for a day trip.
You don't need to worry about your stuff getting wet with this cell. You can take food, beverages, even a book or computer and mobile with you and do some work or reading in the middle of the lake.
Key bag and backpack
SUP inflatable paddle board is designed to easily store in a backpack that looks like a regular one and is taken with you.
The compact design makes it easy to store and transport. Because of that, even children and adults that don't can take sports gear and go to the water without needing additional transportation.
Read Next – Best Roc Inflatable Stand-Up Paddle Board in 2022
Features Roc Inflatable Stand Up Paddle Board
A good paddle board must be durable, sturdy, easy to transport, and well-made. Roc 10'5 SUP seems to be a pro in all of the categories. It's an inflatable type, and the design is lightweight yet durable.
Roc made high-quality SUP inflatable paddleboards that are tested before they are sold. Their main priority is to produce high-quality paddleboards that provide people security and safety while having fun without significant effort.
Made out of military-grade material, this product will stay inflated for a long time, which is excellent for those who like to leave the SUP inflated overnight. Paddleboards must stay overnight or in the sun without being deflated or damaged because of the sun.
Also, high-quality materials make it safe to deflate and fold paddleboards and store them in the backpack until the following summer.
It is 6″ thick, and it comes along with all of the accessories you may need: the paddle (which is made from premium alloy and floats, so it is easy to find), the leash, the pump, the waterproof cell, and a premium backpack too!
Roc Inflatable Stand Up Paddle Boards W Free Premium SUP Accessories
as of November 28, 2023 11:24 pm
Read Next – Roc Inflatable Stand-Up Paddle Board W Free Premium SUP
Important information about SUP
Fins
What's important is that the SUP has three fins, which makes a huge difference in balance: you can kneel and stand and still feel very secure and stable. Fins are attachable and come in a set.
With three additional fins, you can learn how to paddle easier. You can find one bigger central fin and two smaller ones in the set. Smaller fins go on both the left and right sides of the main one.
They will give advantages to both beginners and skilled paddlers. Beginners will learn how to balance and navigate easier, while skilled ones will have extra speed.
Read Next – Top 5 Best Sup Paddle Board Buying Guide
Eva foam anti-slip layer
The deck is also non-slip, essential if you're a beginner or teach your children this sport. Eva's innovative technology layer provides extra safety and stability to the padding on the SUP paddleboard.
Your Paddleboard can get wet and stay safe and stable with this layer. Even wet, it won't be slippery. That is perfect for beginners, kids, and pets on the board.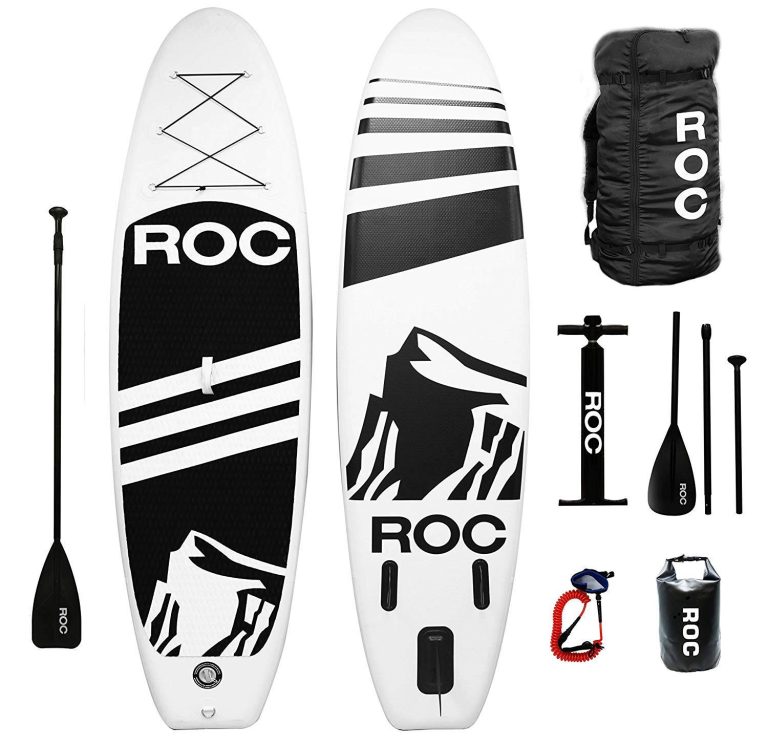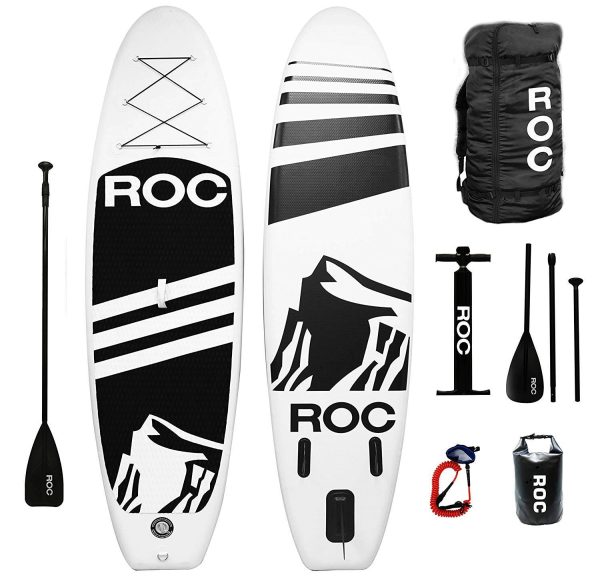 Read Next – ROC SUP
Easy transportation
Roc manufacturer added a handle to the set. It is excellent and essential in the group. It is often the addition that decides the SUP purchased.
The handle in the middle makes it very easy to carry the board and keep yourself secure.
Size of Paddleboard
It's spacious (10'5″ long and 32″ wide), and the board is rock hard, which is excellent for those who like to switch water types.
The only thing that may bother you is that it does not have a manual. Although you can understand everything without it, there is usually a manual with advice for the specific product.
Read NEXT – Roc Inflatable Stand-up Paddle Boards Premium Accessories
Automatic Pump
The pumping will also require some strength, so consider an automatic pump.
You have no worries since you have a 1-year warranty, and you can return it whenever you wish.
However, it is the #1 Best Seller in many countries, and we are sure you will find it helpful.
Read Next – FAYEAN Inflatable Stand-Up Paddle Board Cruise
Roc Inflatable Stand Up Paddle Boards W Free Premium SUP Accessories
as of November 28, 2023 11:24 pm
Packaging Included in Roc Inflatable Stand Up
After reviewing many inflatable stand-up paddleboards, I realized that an iSUP with a complete package is a safe choice that'll save you so much trouble regarding tools and accessories.
However, if you prefer a product line more than others, you can always upgrade even if your iSUP package is complete.
A Paddle
A Hand Pump
A Coil Leash
The removable fin
A Backpack
And a waterproof bag.
It's technically everything you need to deal with an iSUP.
Read Next – YX Inflatable SUP for All Skill Levels
Roc Inflatable Stand-Up Paddle Board Customer Review
With the ROC inflatable stand-up paddleboard, you choose three colors: Blue, Black, or Green.
The board arrives well packaged in a substantial discreet brown box. Just be alert not to cut across the box without lifting it away from the goods, as you will cut right via the bag. Inside, every item was perfectly and well packaged within the backpack.
Read Next – Best Paddle Boards Under 300$
Features Roc Inflatable Stand Up Paddle Board
Rock Paddle Board premium inflatable paddleboard is made of the top standard military grade material. We offer the most lightweight solid board on the market, using the same materials as boards costing twice as much.
The extra-wide design makes a great all-around board for people of all expertise levels. These kits can be used in freshwater lakes, oceans, and rivers. Boards are an industry-leading weight of just 17.5 pounds, twenty percent lighter than competitors.
The premium paddleboard package has every item you need to enjoy your day in the water, including a collapsible aluminum paddle, your board, heat pump, safety leash, waterproof bag for essentials such as keys and cell phone, and an upgraded backpack to hold every item. Convenient and relaxed, this complete elite package will get you anywhere you want to paddle.
Pros
The bundle contains a dry bag for your belongings.
The bundle contains every item you need and more
Paddle floats
Six-way bungee system
Good service
Cons
Not the best manual pump
Bundle targets on the number of items instead of the standard of items
If not alert when closing and packaging the bag, it may rip
Important of SUP
What is vital is that the SUP has three fins which makes a big difference in balance. You can kneel and stand and still feel highly safe and stable.
The deck is also non-slip, vital if you are a starter or teach your kids this sport.
standup paddleboarding (sport),
stand up paddle,
bic sup,
stand up paddle surfing,
paddle board,
Read Next – Best Sup Boards Inflatable Buying Guide
If you want a SUP paddleboard that will fit the whole family, try Roc inflatable SUP paddleboard.
This Paddleboard can be used in all water conditions regardless of age and skill. This one is wide and comes with additional fins, perfect for beginners. Because of its preferences, skilled paddlers will love it too.
Try this Paddleboard, and we are sure that you will love it. Just purchase Roc inflatable SUP paddleboard; everything else you need will come in the set.
Inflate it, and you are ready for the paddling experience.
For less than $400, the ROC 10′ Explorer SUP offers good stability, maneuverability, tracking, glide, and overall performance, making it well-suited for beginner recreational paddleboarders.
Read Next – BIC Sports TOUGH-TEC 10'6″ Performer Review
Roc Inflatable Stand Up Paddle Boards W Free Premium SUP Accessories
as of November 28, 2023 11:24 pm
10' Inflatable Stand Up Paddle Board/Kayak and SUP! (6 Inches Thick, 32 Inch Wide Stance Width) |11-Piece Accessory Set That Includes Convertible Paddle, Kayak Seat, Travel Backpack, and More!
2 new from $369.99
Free shipping
as of November 28, 2023 11:24 pm
Aqua Plus 10ft6inx33inx6in Inflatable SUP for All Skill Levels Stand Up Paddle Board Boat, Adjustable Paddle,Double Action Pump,ISUP Travel Backpack, Leash, Shoulder Strap, TPU Waterproof Bag
1 used from $148.89
Free shipping
as of November 28, 2023 11:24 pm
FunWater Inflatable 10'6×33"×6" Ultra-Light (17.6lbs) SUP for All Skill Levels Everything Included with Stand Up Paddle Board, Adj Floating Paddle, Pump, ISUP Travel Backpack, Leash,Waterproof Bag
2 new from $199.95
3 used from $154.71
Free shipping
as of November 28, 2023 11:24 pm
SereneLife Inflatable Stand Up Paddle Board (6 Inches Thick) with Premium SUP Accessories & Carry Bag | Wide Stance, Bottom Fin for Paddling, Surf Control, Non-Slip Deck | Youth & Adult Standing Boat
as of November 28, 2023 11:24 pm
SereneLife Premium Inflatable Stand Up Paddle Board (6 Inches Thick) with SUP Accessories & Carrying Storage Bag | Wide Stance, Bottom Fin for Paddling, Surf Control, Non-Slip Deck | Youth & Adult
3 new from $229.99
5 used from $200.34

as of November 28, 2023 11:24 pm
Inflatable Stand Up Paddle Board - 10' Ft. Standup Sup Paddle Board W/ Manual Air Pump, Safety Leash, Paddleboard Repair Kit, Storage / Carry Bag - Sup Paddle Board Inflatable - SereneLife SLSUPB06
3 new from $249.99
8 used from $132.00
Free shipping
as of November 28, 2023 11:24 pm
Inflatable Stand Up Paddle Board - 11' Ft. Standup Sup Paddle Board W/ Manual Air Pump, Safety Leash, Paddleboard Repair Kit, Storage / Carry Bag - Sup Paddle Board Inflatable - SereneLife SLSUPB08
2 new from $254.79
6 used from $137.95
Free shipping
as of November 28, 2023 11:24 pm
Read Next – Best SUP Paddle Leash