Important things you should know about Roc 10'5 SUP Board are presented in this review in the following list:
Roc 10'5

is intended for 

all skill-level riders.
The technology of making: Single layer SUP board
Dimensions: 10'5 x 32″ x 6"
Bearing capacity or maximum support weight of the rider: 275 lbs
Category of SUP board: All-round
1 YEAR WARRANTY
Board, Paddle a Leash, Pump, Waterproof Cell And Key Bag And A Backpack
Performs well in all water conditions(ocean, lake, or river)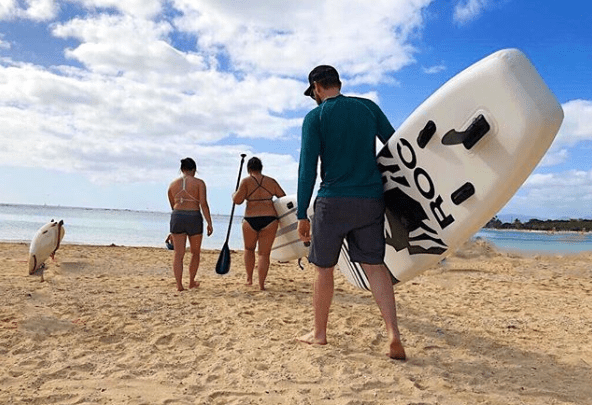 Features Roc Inflatable Stand Up Paddle Board
A good paddle board needs to be durable, sturdy, easy to transport, and well-made.
Roc 10'5 SUP seems to be a pro in all of the categories.
It's an inflatable type, and the design is lightweight yet durable.
Made out of military-grade material, this product will stay inflated for a long time, which is excellent for those who like to leave the SUP inflated overnight.
It is 6″ thick, and it comes along with all of the accessories you may need: the paddle (which is made from premium alloy and floats so it is easy to find), the leash, the pump, the waterproof cell, and a premium backpack too!
Important of SUP
What's important is that the SUP has three fins, which makes a huge difference in balance: you can kneel and stand and still feel very secure, stable.
The deck is also non-slip, essential if you're a beginner or teach your children this sport.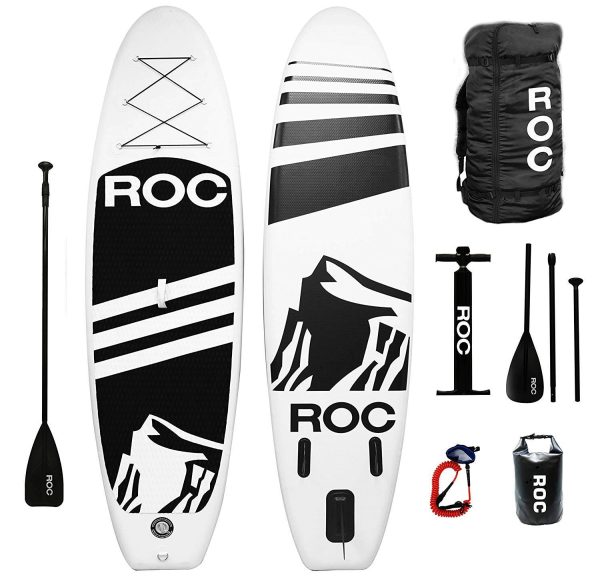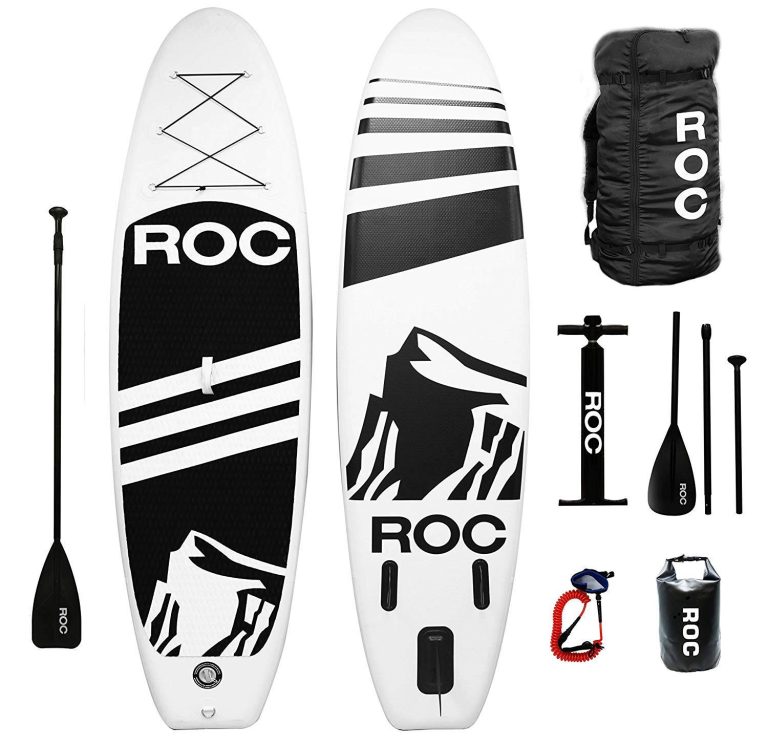 The handle in the middle makes it very easy to carry the board and keep yourself secure.
It's spacious (10'5″ long and 32″ wide), and the board is rock hard, which is excellent for those who like to switch water types.
The only thing that may bother you is that it does not have a manual.
Although you can understand everything without it, there is usually a manual with advice for the specific product.
Read NEXT – Roc Inflatable Stand up Paddle Boards Premium Accessories
Automatic Pump
The pumping will also require some strength, so you may want to consider an automatic pump.
You've got no worries since you have a 1-year warranty, and you can return it whenever you wish.
However, it is the #1 Best Seller in many countries, and we are sure that you will find it helpful.
Read Next – FAYEAN Inflatable Stand Up Paddle Board Cruise
Packaging Included in Roc Inflatable Stand Up
After reviewing many inflatable stand-up paddleboards, I realized that an iSUP with a complete package is a safe choice that'll save you so much trouble when it comes to tools and accessories.
However, if you prefer a product line more than others, you can always upgrade even if your iSUP's package was a complete one.
Read Next – YX Inflatable SUP for All Skill Levels
Roc Inflatable Stand Up Paddle Board Customer Review
bic sportyak,
surf sup song,
surf sup,
sup surfing,
surf 101,
stand up paddling,
how to surf a sup,
paddleboard surf,
stand up paddle surf,
sup,
paddleboarding,
surf,
teahupoo,
bic sport,
standup paddleboarding (sport),
stand up paddle,
bic sup,
stand up paddle surfing,
paddle board,
Read Next – Best Sup Boards Inflatable Buying Guide
This one, you'll find:
A Paddle
A Hand Pump
A Leash
The removable fin
A Backpack
And a waterproof bag.
It's technically everything you need to deal with an iSUP.
For less than $400, the ROC 10′ Explorer SUP offers good stability, maneuverability, tracking, glide, and overall performance that makes it well suited for beginner, recreational paddleboarders.
Read Next – BIC Sports TOUGH-TEC 10'6″ Performer Review
10' Inflatable Stand Up Paddle Board/Kayak and SUP! (6 Inches Thick, 32 Inch Wide Stance Width) |11-Piece Accessory Set That Includes Convertible Paddle, Kayak Seat, Travel Backpack, and More!
as of January 16, 2022 6:03 pm
Aqua Plus 10ft6inx33inx6in Inflatable SUP for All Skill Levels Stand Up Paddle Board Boat, Adjustable Paddle,Double Action Pump,ISUP Travel Backpack, Leash, Shoulder Strap, TPU Waterproof Bag
2 used from $190.43
Free shipping
as of January 16, 2022 6:03 pm
Roc Inflatable Stand Up Paddle Boards W Free Premium SUP Accessories
6 used from $238.32
Free shipping
as of January 16, 2022 6:03 pm
FunWater Inflatable 10'6×33"×6" Ultra-Light (17.6lbs) SUP for All Skill Levels Everything Included with Stand Up Paddle Board, Adj Floating Paddle, Pump, ISUP Travel Backpack, Leash,Waterproof Bag
4 used from $135.25

as of January 16, 2022 6:03 pm
SereneLife Inflatable Stand Up Paddle Board (6 Inches Thick) with Premium SUP Accessories & Carry Bag | Wide Stance, Bottom Fin for Paddling, Surf Control, Non-Slip Deck | Youth & Adult Standing Boat
3 new from $299.99
Free shipping
as of January 16, 2022 6:03 pm
SereneLife Premium Inflatable Stand Up Paddle Board (6 Inches Thick) with SUP Accessories & Carrying Storage Bag | Wide Stance, Bottom Fin for Paddling, Surf Control, Non-Slip Deck | Youth & Adult
5 new from $329.99
3 used from $162.00
Free shipping
as of January 16, 2022 6:03 pm
Inflatable Stand Up Paddle Board - 10' Ft. Standup Sup Paddle Board W/ Manual Air Pump, Safety Leash, Paddleboard Repair Kit, Storage / Carry Bag - Sup Paddle Board Inflatable - SereneLife SLSUPB06
5 new from $307.99
9 used from $147.83
Free shipping
as of January 16, 2022 6:03 pm
Inflatable Stand Up Paddle Board - 11' Ft. Standup Sup Paddle Board W/ Manual Air Pump, Safety Leash, Paddleboard Repair Kit, Storage / Carry Bag - Sup Paddle Board Inflatable - SereneLife SLSUPB08
5 new from $329.99
1 used from $279.99

as of January 16, 2022 6:03 pm
MaxKare Stand Up Paddle Board Inflatable SUP W Stand-up Paddle Board Accessories Backpack Paddle Leash Pump Non-Slip Deck ISUP Fishing Yoga Rigid Solid 10'× 30" ×6'' Inches Thick Adult & Youth & Kid
4 new from $349.69
Free shipping
as of January 16, 2022 6:03 pm
iROCKER 10' All Around Blue (2021)
as of January 16, 2022 6:03 pm