Important things you should know about Roc 10'5 SUP Board are presented in this review in the next list:
Roc 10'5 

is intended for 

all skill level riders.
The technology of making: Single layer SUP board
Dimensions: 10'5 x 32″ x 6"
Bearing capacity or maximum support weight of the rider: 275 lbs
Category of SUP board: All-round
1 YEAR WARRANTY
Board, Paddle a Leash, Pump, Waterproof Cell And Key Bag And A Backpack
Performs well in all water conditions(ocean, lake or river)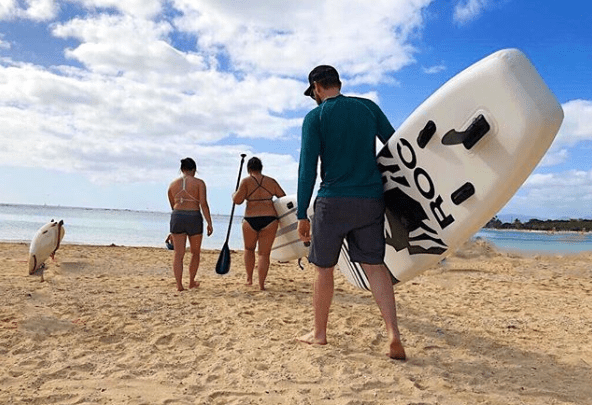 Features Roc 10'5 Inflatable Stand Up Paddle Board
A good paddle board needs to be durable, sturdy, easy to transport, and well-made.
Roc 10'5 SUP seems to be a pro in all of the categories.
It's an inflatable type and the design is lightweight, yet durable.
Made out of military-grade material, this product will stay inflated for a long time, which is great for those who like to leave the SUP inflated overnight.
It is 6″ thick and it comes along with all of the accessories you may need: the paddle (which is made from premium alloy and it floats so it is easy to find), the leash, the pump, the waterproof cell and a premium backpack too!
Important of SUP
What's important is that the SUP has three fins which makes a huge difference in balance: you can kneel and stand and still feel very secure, stable.
The deck is also non-slip and this is important if you're a beginner or if you are teaching your children this sport.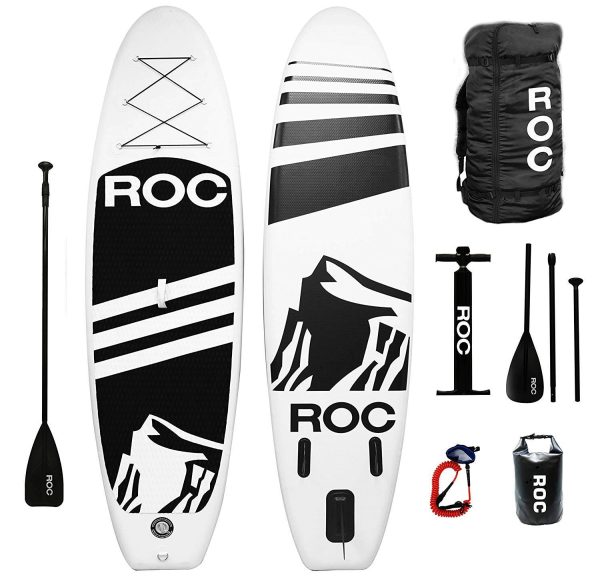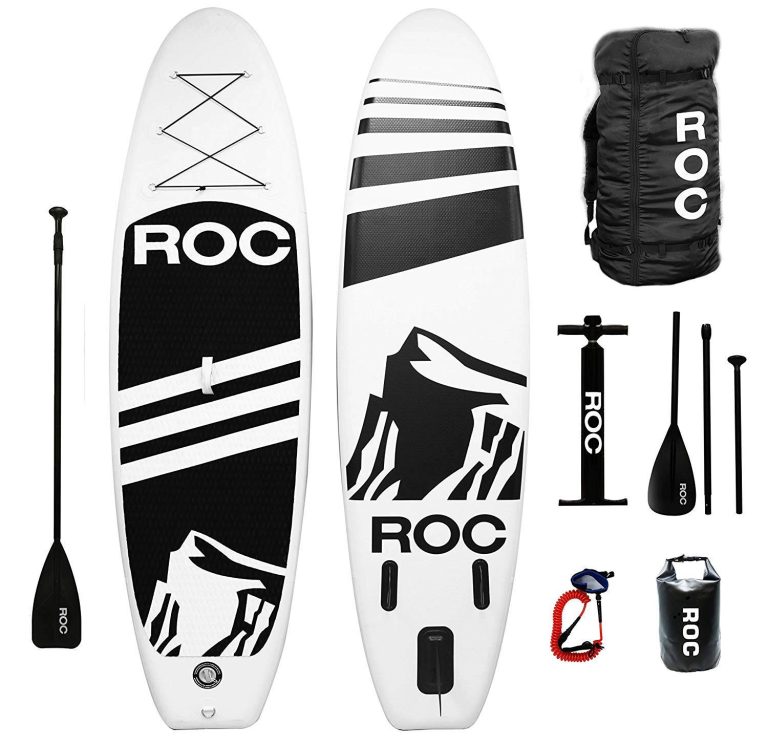 The handle in the middle makes it very easy to carry the board, but also to keep yourself secure.
It's spacious (10'5″ long and 32″ wide) and the board is rock hard which is great for those who like to switch water types.
The only thing that may bother you is the fact that it does not have a manual.
Although you can understand everything without it, there is usually a manual with advice for the specific product.
Automatic Pump
Also, the pumping will require some strength so you may want to take an automatic pump into consideration.
You've got no worries since you have a 1-year warranty and you can return it whenever you wish.
However, it is the #1 Best Seller in many countries and we are sure that you are going to find it useful as well.
Packaging Included

Having been reviewing many inflatable stand up paddleboards, I came to a realization that an iSUP with a complete package is totally a safe choice that'll save you so much trouble when it comes to tools and accessories.
However, if you prefer a product line more than others, you can always upgrade even if your iSUP's package was a complete one.
On This one, you'll find:
A Paddle
A Hand Pump
A Leash
The removable fin
A Backpack
And a waterproof bag
It's technically everything you need to deal with an iSUP.
Last updated on May 26, 2020 5:41 pm