Stand up paddle boarding is a sport that started out in Hawaii and many people from all around the world soon accepted it. Today, it is a favorite hobby that people love to enjoy.
This type of paddle boarding demands proper equipment so people can have excellent stability and performances. Safety is also a big part of every boarding sport.
BIC Sport, a company that started making equipment for water sports back in 1979, developed this model called the ACE-TEC Wing which soon became so popular that Outside Magazine proclaimed it the best Stand Up Paddle of the year!
Want to hear why is this such a good paddleboard?
The paddleboard itself is lightweight which means that it's also compatible with children, women, and newbies of lighter weight. That means that it will keep everybody interested because they will be able to use it more comfortable from the start.
It's very good durability, and you don't have to worry about it breaking because it is lightweight. The construction of this product will surely promise you a long friendship.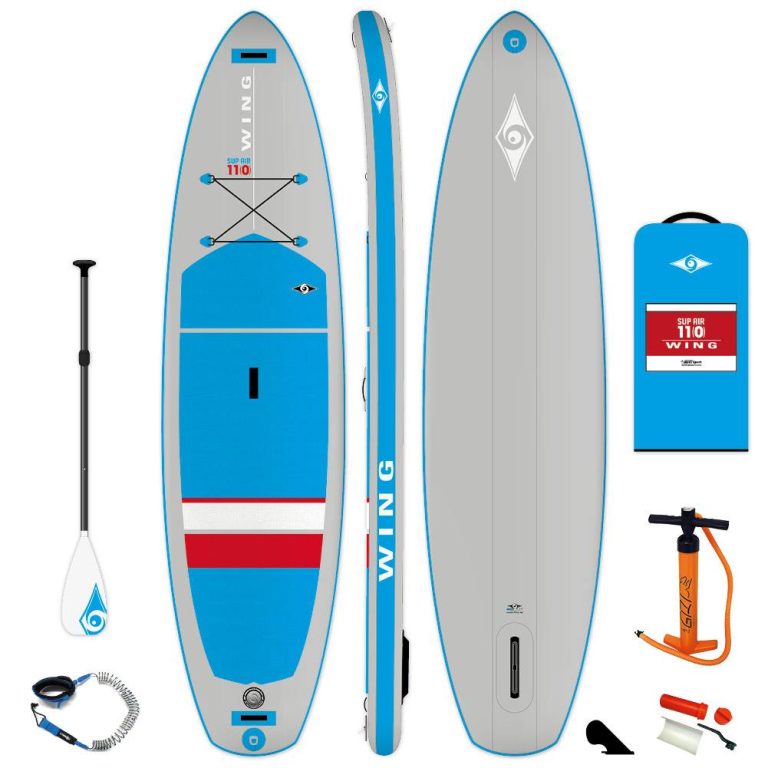 The shape of the paddleboard provides smooth gliding with the best use of the water under you and efficient, stable paddle surfing is promised. The paddleboard cuts through the water with a soft glide, so you don't have to worry about losing speed. It also has a flat tail for pivot turns.
Since you have to put in minimal effort, this paddle board is excellent for amateurs, for longer excursions, for people who have not yet got too comfortable. It makes you feel safer.
A 9" Touring fin is also included for the perfect experience.
Some of the other features are a premium deck pad an ergonomic carry handle, so you have no trouble when you are traveling and want to bring your favorite hobby with you! This is a great plus for this SUP.
This stand up paddle board is excellent no matter what water and conditions you prefer: a regular cruise and an extreme exploration are both very welcome!
It is an elegant solution for those who don't want to pay an extreme amount of money for a paddleboard of same, or even worse quality!
What do customers have to say about this paddleboard?
One of the best advantages, as they claim, is the fact that it is straightforward to move around and people feel very confident about it. It is stable, and anyone can carry it around easily. The fact that it has a leash plug at nose and tail and it has four more attachment points for more security gives her a big plus for all buyers.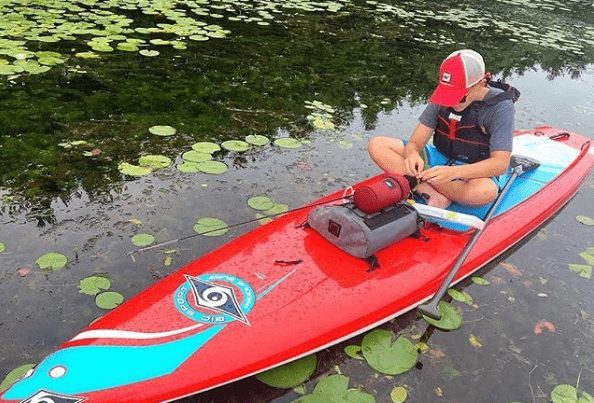 The board tracks straight and handle wave action suitably. They are sturdy enough to handle some extra weight.
A happy customer also claimed that four people were on it (altogether being around 400 lbs) and the board did not sink! This means that you take a friend and even your children! Just ensure their safety! This paddleboard will help you do that 100%!
BIC Sport ACE-TEC Wing Stand Up Paddleboard, Gloss Red/White, 12'6"
out of stock
as of June 29, 2020 10:24 am
Features
Outside Magazine's Gear of the Year winner for Best SUP: BIC SUP's ACE-TEC construction delivers lightweight performance + durability at a great price
Stable, efficient Touring shapes = smooth glide + efficiency and stability - Great for longer excursions, fitness paddling, and as a first race board
11' WING idea for paddlers
Includes premium deck pad, ergonomic carry handle, 9 deck attachment points to secure gear, recessed standing area for added stability + comfort
Founded in 1979 by the Bich Family of BIC pen fame, BIC Sport grew from the family's passion for watersports + expertise in sustainable manufacturing
BIC Sport ACE-TEC Performer Sup Stand Up Paddleboard, Gloss Red/White/Grey, 11'6"
out of stock
as of June 29, 2020 10:24 am
Features
Stable, surf inspired shape for all-purpose use in Flat-Water + small wave surfing
Bic SUP's exclusive ACE-TEC epoxy composite construction delivers lightweight performance and durability at a great price
9'2 (
2 windsurf compatible models also available: 10'6 wind inc. Wsf rig attachment point + 11'6 wind adds a removable centerboard
Compact 9'2 shape is a great surf SUP as well as a terrific Flat-Water SUP for riders under 180lbs
BIC Sport ACE-TEC Cross Sup Stand Up Paddleboard, Fit Gloss White/Blue/Aqua, 10'0"
as of June 29, 2020 10:24 am
Features
Family-friendly/fitness/yoga/fishing/adventure ready ultra stable design ideal for new Paddlers: 10' riders up to 220#, 11'
Keeled nose allows the cross to track straight + Glide effortlessly - flat deck area for full use of entire board for family fun, fitness, fishing
Full-length deck pad on 10' fit, 11' adventure, 12'fish, ergo-grip carry handle, up to 10 deck attachment points (10'=6, 11'/12'=10) to secure gear
12' fish ACE-TEC Cross includes sliding rails for max versatility during fishing trips. Removable touring fin inc. All models;One Feet Off nose width 53 cm; One Feet Off tail width 55cm
BIC Sport cross - the ultimate lightweight, durable, all-around board for family/fun/cruising/fitness/yoga/adventure/SUP fishing
BIC Sport ACE-TEC Wing Paddleboard, White/Blue, 11 x 29 x 27-Inch
out of stock
as of June 29, 2020 10:24 am
Features
2013 Outside Mag 'Gear of the Year Award' for StandUp Paddleboard: Stable, Recreational Touring SUP w/excellent glide, speed, versatility
Smooth, Fast and Stable: Displacement bow entry shape cuts smoothly through chop while a flat hull under the ride position offers increased stability
Recessed standing with integrated deck pad and integral toe/heel support area for a lowered center of gravity and precise footing
Integrated flush deck mounts for securely attaching your essentials and BIC Sports ERGO Grip Handle for easy transport
ACE-TEC: BIC Advanced Composite Engineered-Thermoformed Epoxy Construction = 30% more durable than traditional SUP's w/out sacrificing stiffness or Wt