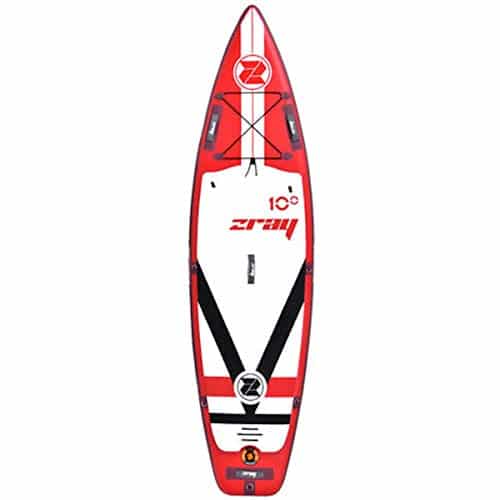 Zray inflatable SUP boards are designed for all kinds of paddlers: children and adults, beginners, and more experienced riders…
Everybody can find a Zray SUP that will meet their needs.
Features Zray Inflatable Paddle Board Stand Up SUP
Zray offers products of a high top standard for all types of practitioners, and its extensive range of boards will delight both starters who want to learn and those experienced in the search for performance.
The brand is not just limited to paddles but also provides an extensive range of inflatable kayaks. It is, therefore, logical that Zray should be capable of offering so much diversity with its factory.
In just a few seasons, the brand has established itself as one of the best leaders in the SUP world.
Zray Inflatable Paddleboard

The Zray inflatable stands up paddleboard with kayak seat talk is a universal all-around design. Known to be stable and rigid.
It is remarkable for all expertise levels and situations. The Soft EVA deck pad makes it friendly for pets and great for the family to enjoy.
You will find this board is simple to store and transport. It is also simple to inflate and deflate, saving your time.
When completely deflated, it rolls up to a perfect compact size and fits rightly into a storage backpack, storage closet, car trunk, or even a tiny locker.
The Zray paddle board measures ten feet and ten inches, thirty inches wide, and six inches thick.
The best spec is its military-grade drop-stitch construction, which is resistant to dings, punctures, and other slight damages.
There are also adjustable bungee straps to save extra equipment.
You can max out of 320-pound weight capacity. This permits you to bring a little pet or child.
This paddleboard contains an adjustable aluminum paddle, a strong backpack, a high force pump, and a gauge.
Read Next – Zray E10 SUP Review
Super value package
Comes with an aluminum paddle, a robust and high force, durable pack with gauge, and a safety leash
Super lightweight
Even kids can carry the completely inflated board with ease due to its high lightweight.
Pros
Compact and light
Great to use with pets
The track is pretty straight when paddling
Great customer service
Cons
At the time, it can be hard to inflate.
Slightly unstable but not sufficient big concern for most users
Maybe a challenge for kids under a certain age to use in the ocean.
We want you to enjoy the surprises of nature, maintain the best health and fitness, and share unforgettable memories with your friend and families.
Length: 320cm

Width: 81cm

Thickness: 15cm

Maximum load: 142kg

Weight: 10,2kg
Made using a simple layer drop stitch with a stringer or double layer drop stitch, the whole Zray range features a double PVC layer on the rail for increased durability.
Besides, Zray manufactures boards with 15 cm thickness for maximum stiffness.
Read Next – Zray E11 Combo Inflatable Sup Board Stand Up Review
BAM Technology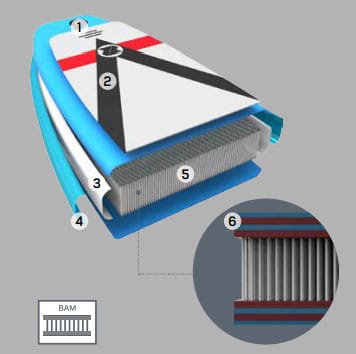 Lightweight, flexible and maneuverable
1. Waterproof high-pressure valve.
2. Anti-slip Footpad in EVA foam is soft and offers superior comfort.
3. Internal rail.
4. External rail joins all layers together for added stiffness.
5. Drop-stitch provides increased resistance to traction.
6. BAM coating
BAM technology (Balanced Anti-bending Motility) is a major Zray innovation in the construction of inflatable boards.
This technology gives the boards a fantastic Weight/stiffness ratio.
This way, Zray has a new range of boards that are as stiff and durable as the Premium boards but up to 25% lighter.
As far as weight is concerned, Fury paddleboards are similar to UAL boards, but they are much stiffer.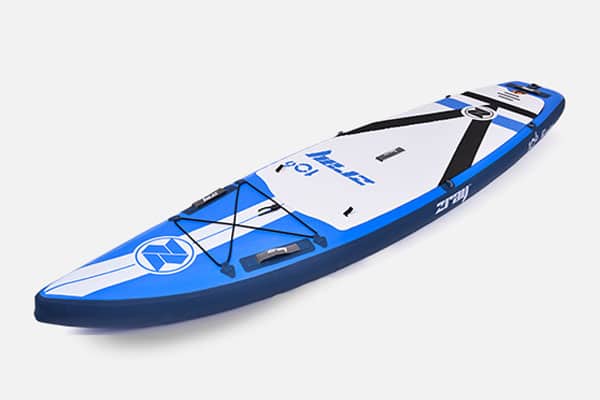 Highlight
– Extra comfy EVA footpad
– Comfy carry handle
– Built-in deck net
– D-rings to attach a kayak seat
– High-end drop stitch for increased durability
– Three fins for excellent responsiveness
– Max pressure 15 psi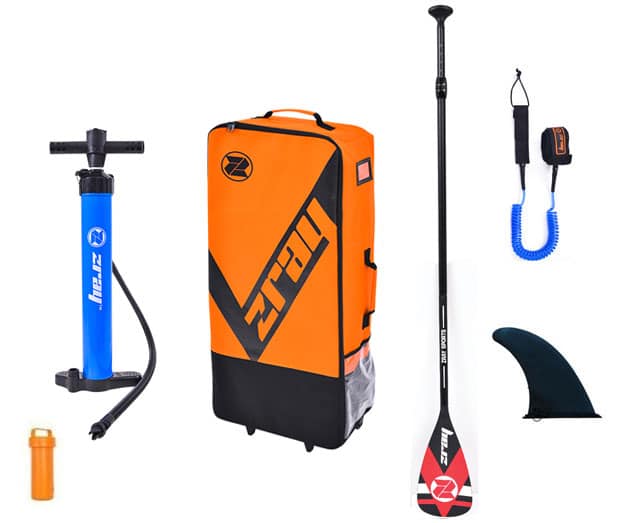 What's included in the box
– Roller backpack for more comfort
– 3-piece paddle of your choosing
– Zray's double-action high-pressure hand pump with pressure gauge
– Coiled leash of your choosing
– Fins
Read Next – Murtisol Pro Inflatable Paddle Board Stand Up
What you have to keep in mind
The length of a SUP board impacts its gliding/speed performance and on the turns.
The longer the board, the faster it goes but, the more difficult it is to turn.
A broad board will be more stable but a bit slower and more challenging to turn.
With 32″ in width, the Fury 10.6 is very stable yet maneuverable.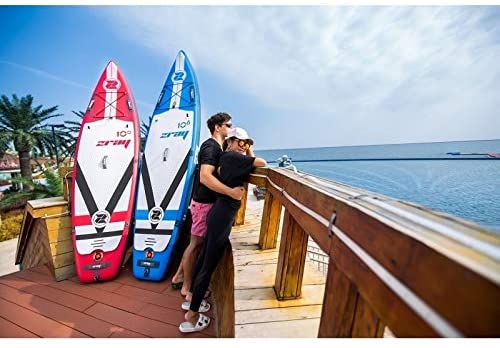 The SUP allows you to carry a big package with you.
There are FOURS D-rings made of stainless steel to support multi-day and long-distance paddling experiences.
This stand-up paddle board comes together with some nice accessories essential for operating and handling water and outside.
Read Next – How to choose your next Fury Surfboards?
Stand UP Paddle ZRAY FURY
Read Next – Best Zray Paddle Board London Buying Guide