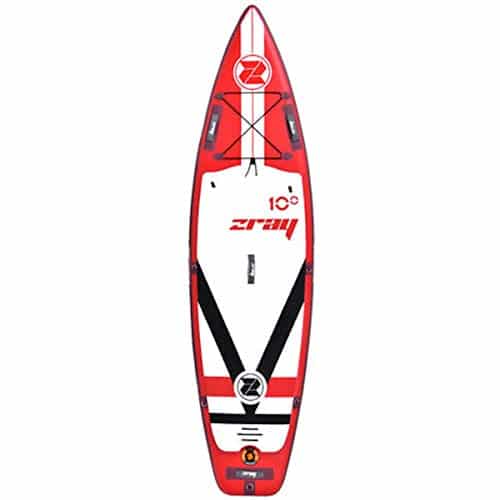 Zray inflatable SUP boards are designed for all kinds of paddlers: children and adults, beginners and more experienced riders…
Everybody can find a Zray SUP that will meet their needs.
Features of the Zray Fury 10.6
Length: 320cm

Width: 81cm

Thickness: 15cm

Maximum load: 142kg

Weight: 10,2kg
Made using a simple layer drop stitch with a stringer or double layer drop stitch, the whole Zray range features a double PVC layer on the rail for increased durability.
Besides, Zray manufactures boards with 15 cm thickness for maximum stiffness.

BAM Technology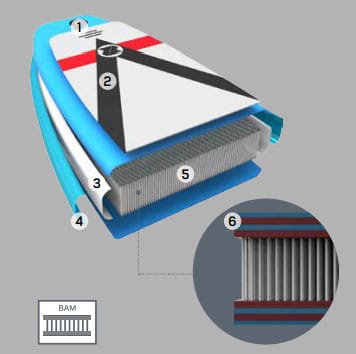 Lightweight, flexible and maneuverable
1. Waterproof high-pressure valve.
2. Anti-slip Footpad in EVA foam is soft and offers superior comfort.
3. Internal rail.
4. External rail joins all layers together for added stiffness.
5. Drop-stitch provides increased resistance to traction.
6. BAM coating
BAM technology (Balanced Anti-bending Motility) is a major Zray innovation in the construction process of inflatable boards.
This technology gives the boards an amazing Weight/stiffness ratio.
This way, Zray has come up with a new range of boards that are as stiff and durable as the Premium boards but up to 25% lighter.
As far as weight is concerned
Fury paddleboards
are similar to UAL boards but they are much stiffer.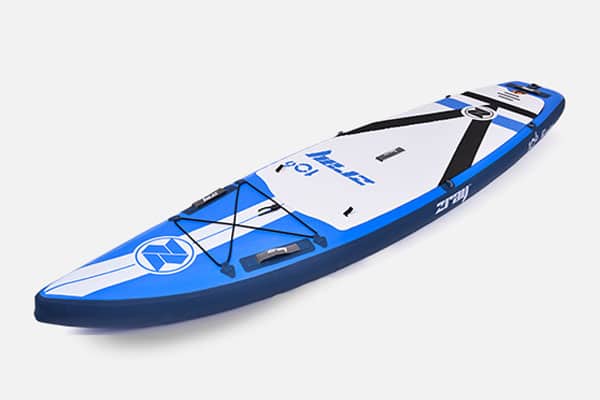 Highlight
– Extra comfy EVA footpad
– Comfy carry handle
– Built-in deck net
– D-rings to attach a kayak seat
– High-end drop stitch for increased durability
– Three fins for great responsiveness
– Max pressure 15 psi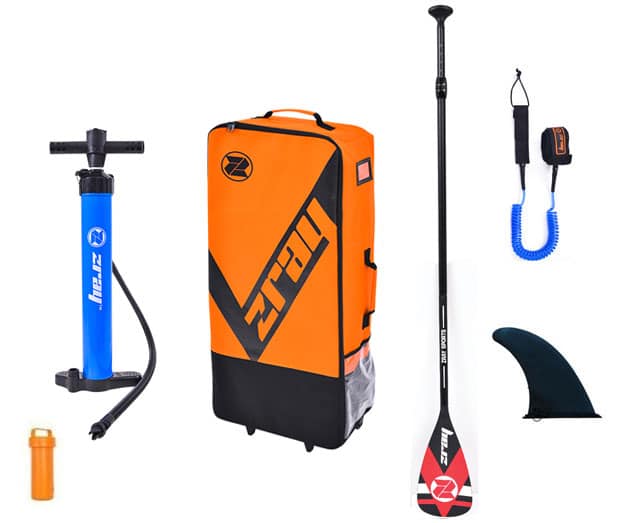 What's included in the box
– Roller backpack for more comfort
– 3-piece paddle of your choosing
– Zray's double-action high-pressure hand pump with pressure gauge
– Coiled leash of your choosing
– Fins
What you have to keep in mind
The length of a SUP board has an impact on its gliding/speed performance and on the turns.
The longer the board, the faster it goes but the more difficult it is to turn.
A wide board will be more stable but a bit slower and more difficult to turn.
With 32″ in width, the Fury 10.6 is very stable yet maneuverable.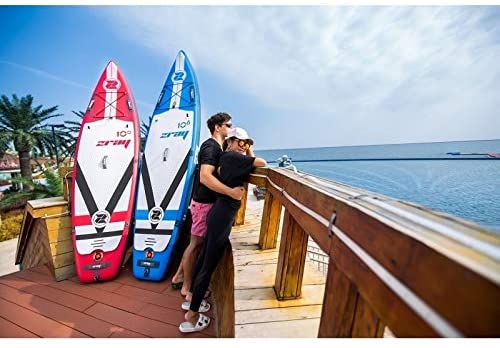 The SUP allows you to carry a big package with you.
There are FOURS D-rings made of stainless steel with an intention to support multi-day and long-distance paddling experience.
This stand-up-paddle board comes together with some nice accessories important for operating and handling on the water and outside of it.
Last updated on September 20, 2020 11:53 am