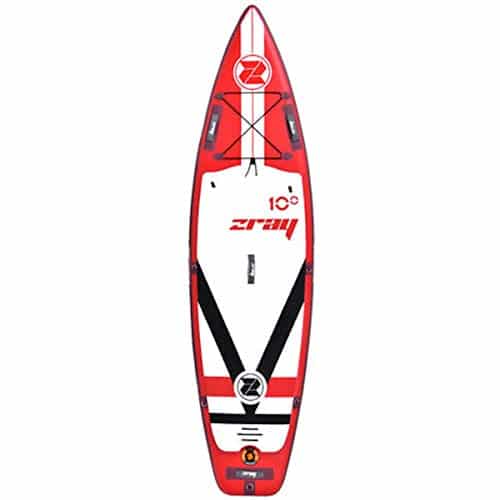 Zray inflatable SUP boards are designed for all kinds of paddlers: children and adults, beginners, and more experienced riders…
Everybody can find a Zray SUP that will meet their needs.
In a world of competition and innovation, one needs to provide the best to maintain their spot. ISUPs industry is now much more robust than before because people are seeking practicality and comfort probably more than anything else.
Zray Sports has the vision to make durable and rigid inflatable items that'd make people question the fact that they are inflatable.
Our issue here is a Zray Fury Pro Inflatable SUPs that are very popular among all different riders and water adventure lovers, the Zray Fury Pro Inflatable SUP.
In this review, you will get an up-close look at the measurements and features of the board and how Zray directed its work and thoughts towards designing sharp, elegant, durable, and solid ISUPs that managed to gain a big fan's platform.
Features Zray Inflatable Paddle Board Stand Up SUP
Zray offers products of a high top standard for all types of practitioners, and its extensive range of boards will delight both starters who want to learn and those experienced in the search for performance.
The brand is limited to paddles and provides an extensive range of inflatable kayaks. It is, therefore, logical that Zray should be capable of offering so much diversity with its factory.
In just a few seasons, the brand has established itself as one of the best leaders in the SUP world.
Zray Inflatable Paddleboard

The Zray inflatable stands up paddleboard with kayak seat talk is a universal all-around design. She is known to be stable and rigid.
It is remarkable for all expertise levels and situations. The Soft EVA deck pad makes it friendly for pets and great for the family to enjoy.
You will find this board is simple to store and transport. It is also simple to inflate and deflate, saving your time.
When completely deflated, it rolls up to a perfect compact size and fits rightly into a storage backpack, storage closet, car trunk, or even a tiny locker.
The Zray paddle board measures ten feet and ten inches, thirty inches wide, and six inches thick.
The best spec is its military-grade drop-stitch construction, which is resistant to dings, punctures, and other slight damages.
There are also adjustable bungee straps to save extra equipment.
You can max out of 320-pound weight capacity. This permits you to bring a little pet or child.
This paddleboard contains an adjustable aluminum paddle, a strong backpack, a high force pump, and a gauge.
Read Next – Zray E10 SUP Review
Super value package
It comes with an aluminum paddle, a robust and high force, durable pack with gauge, and a safety leash.
Super lightweight
Even kids can easily carry the completely inflated board due to its high lightweight.
Pros
Compact and light
Great to use with pets
The track is pretty straight when paddling
Great customer service
Cons
At the time, it can be hard to inflate.
Slightly unstable but not sufficient big concern for most users
Maybe a challenge for kids under a certain age to use in the ocean.
Made using a simple layer drop stitch with a stringer or double layer drop stitch, the whole Zray range features a double PVC layer on the rail for increased durability.
Besides, Zray manufactures boards with 15 cm thickness for maximum stiffness.
Read Next – Zray E11 Combo Inflatable Sup Board Stand Up Review
Zray Unisex's Fury Pro 10'6" Sup Table, Multicolor, Uni
out of stock
as of October 1, 2023 2:19 pm
Zray Unisex's Windsurf Pro 10'6" Windsup, Multicolor, Uni
3 new from £485.00

as of October 1, 2023 2:19 pm
Design
The Zray Fury Pro Inflatable SUP is not a small board; it is 11.6 feet which would not fail to satisfy a big adult as it also would not be difficult to handle by smaller ones. There's the 10.6′ variant for anybody who is not sure about getting this size.
A width in SUP is a game-changer when it comes to these ISUPs. The wider the paddleboard, the more stable it will be. It is quite a fact. A Zray Fury Pro is 32″ wide, making an extremely durable board thanks to its width dimension and overall design.
In terms of thickness, the Zray Fury Pro Inflatable SUP is undoubtedly up to the highest standards with solid 6″ that is technically the best any fine brand would opt for with such a giant and rigid inflatable standup paddleboard.
Overall, looking at these numbers, one has to admit that the Zray Fury Pro Inflatable SUP is a finely built board with the best potential to conquer the water.
Design Quality
This is a part where one should not be linked this time. A brand always selects the best materials to build all of their iSUPs. The Zray Fury Pro Inflatable SUP is made coated using a heavy-duty reinforced PVC layer that makes the paddleboard go ultra-solid once completely inflated.
Not only that, the IDC is a tech used on this paddleboard to make sure a higher compressive power for extreme performance. Furthermore, to bond the SUP's pieces together and make them all seem like on one body, the brand used thermal inner with outer layers that are extremely impact and smooth to seal altogether.
The outcome is quite pleasing, because looking at this paddleboard, anybody can notice the high end-production quality and see how all parts were easily glued together.
Performance
The honest discussion takes place right here. The Zray Fury Pro Inflatable SUP is made for touring, it is round nose, and sleek body minimize the effort required to paddle through the water. The stiffness and the rigidity of the board's body make it ultra-responsive, you can change directions, perform some maneuvers and why not take on a few waves.
The potential we've here are certainly not limited to touring. Anybody can use the Zray Fury Pro Inflatable SUP for recreational paddling or even for racing. It tracks finely and is stable.
Main Features Zray Inflatable Paddleboard
The Zray Fury Pro Inflatable SUP is beautiful. I find the color options to be great in this paddleboard.
There's the traction pad, and I will have to say that it is a bit small compared to several other brands. The pad is ultra-soft, and as long as you are standing or sitting on it, you will be protected again slipping of the SUP. This was a little annoying to me but it didn't affect the SUP's performance in any way.
You will find a footrest on the traction pad, which is not something you find anywhere. Zray made it possible for a rider to sit down and paddle easily with their legs bent enough for a healthy spot.
For anybody to transport the inflated board one-handed, there's a rigid central carry handle and is highly accessible by anybody no matter their size. A second handle is on the SUP's tail in case required.
To make this paddleboard even more incredible, they featured it with twelve stainless steel d-rings that can be fine for all kinds of things. Six of these d-rings are on the SUP's deck with a bungee cord linking them. Zray Fury Pro Inflatable SUP is on the sides, and these are mainly meant for kayak seat attachment. The final two d-rings are at the end of the paddleboard, and they are there for anybody to connect safety leashes whenever required.
The Zray Fury Pro Inflatable SUP comes with a triple fin system. The central fin is more prominent and adjustable like usual for simple packing purposes. The other two fins are fixed and smaller.
This is everything featured on the Zray Fury Pro Inflatable SUP, and it is everything a paddleboard needs to deliver what is expected from it.
Zray Unisex's Fury Pro 10'6" Sup Table, Multicolor, Uni
out of stock
as of October 1, 2023 2:19 pm
Zray Unisex's Windsurf Pro 10'6" Windsup, Multicolor, Uni
3 new from £485.00

as of October 1, 2023 2:19 pm
What I like
It is 32″ wide, making it an extremely stable board
The board is stiff and rigid
it is excellent for entry-level paddlers
it comes in a package that includes every essential to start paddling
It comes with a footrest
What I don't like
There's no repair kit
I found the deck pad to a smaller
BAM Technology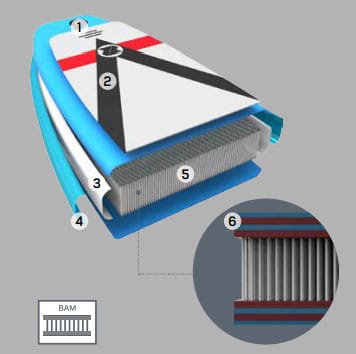 Lightweight, flexible and maneuverable
1. Waterproof high-pressure valve.
2. Anti-slip Footpad in EVA foam is soft and offers superior comfort.
3. Internal rail.
4. External rail joins all layers together for added stiffness.
5. Drop-stitch provides increased resistance to traction.
6. BAM coating
BAM technology (Balanced Anti-bending Motility) is a major Zray innovation in inflatable boards.
This technology gives the boards a fantastic Weight/stiffness ratio.
This way, Zray has a new range of boards that are as stiff and durable as the Premium boards but up to 25% lighter.
As far as weight is concerned, Fury paddleboards are similar to UAL boards, but they are much stiffer.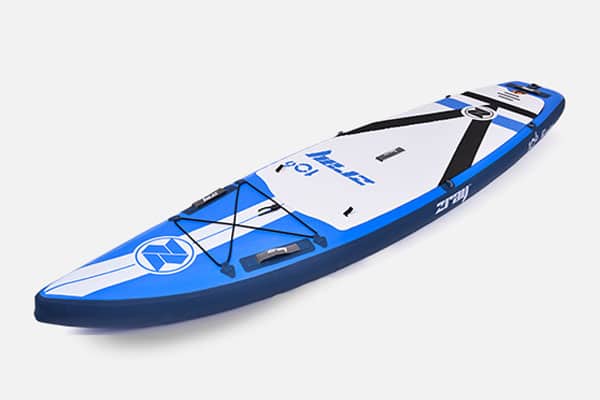 Highlight
– Extra comfy EVA footpad
– Comfy carry handle
– Built-in deck net
– D-rings to attach a kayak seat
– High-end drop stitch for increased durability
– Three fins for excellent responsiveness
– Max pressure 15 psi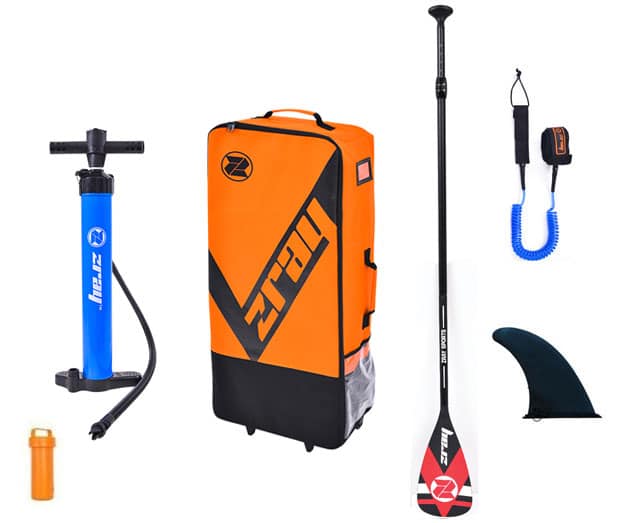 What's included in the box
– Roller backpack for more comfort
– 3-piece paddle of your choosing
– Zray's double-action high-pressure hand pump with pressure gauge
– Coiled leash of your choosing
– Fins
Read Next – Murtisol Pro Inflatable Paddle Board Stand Up
Zray Unisex's Fury Pro 10'6" Sup Table, Multicolor, Uni
out of stock
as of October 1, 2023 2:19 pm
Zray Unisex's Windsurf Pro 10'6" Windsup, Multicolor, Uni
3 new from £485.00

as of October 1, 2023 2:19 pm
What you have to keep in mind
The length of a SUP board impacts its gliding/speed performance and on the turns.
The longer the board, the faster it goes but, the more difficult it is to turn.
A broad board will be more stable but a bit slower and more challenging to turn.
With 32″ in width, the Fury 10.6 is very stable yet maneuverable.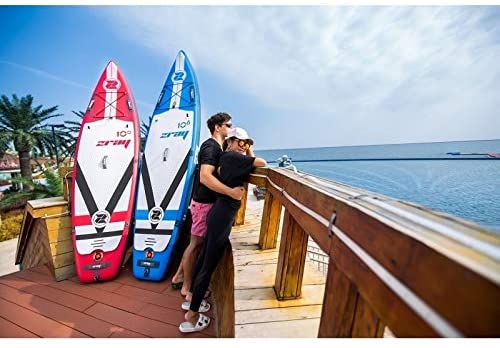 The SUP allows you to carry a big package with you.
FOURS D-rings are made of stainless steel to support multi-day and long-distance paddling experiences.
This standup paddleboard comes with essential accessories for operating and handling water and outside.
Read Next – How to choose your next Fury Surfboards?
Stand UP Paddle ZRAY FURY
Read Next – Best Zray Paddle Board London Buying Guide
End words…
Zary offers a complete and well-crafted range that'll meet everyone's needs. In addition to a massive range of models such as the Zray Fury Pro Inflatable SUP provided by the company, the SUPs have the decent build quality. Most of the SUPs are convertible into kayaks. The diversity of the products and the highly competitive price and build quality ratio make the company one of the leading players in the SUP market.