SUP Board Paddle Guide
Top 5 Best SUP Paddles: The basic equipment required for paddle boarding consists of the board and the paddle itself.
Differences in equipment can be very large, from the material used to make the board (wood, fiberglass, epoxy, carbon) or paddle (aluminum, carbon, epoxy, fiberglass) and the way you gonna use board (hardboard, inflatable board) and shape of the board (whitewater board, touring board, surf paddle, cruising paddle).
Accessories should also be listed such as vests, laces, neoprene suits, gloves, shoes, and dry bags, compasses, and similar to.
The choice of equipment depends mainly on the purpose of the equipment, so we recognize the recreational equipment and professional equipment.
How to choose SUP Paddle
SUP Paddle, like boards, are most clearly distinguished by the materials used for their making.
There are aluminum paddles that can be in cheaper variants and 3 lb(1.5 kg) weights, fiberglass paddles weighing about 2 lb(1 kg), and ultimately competitive carbon paddles that can weigh only 1 lb(500 g).
The shape and size of the blade itself dictate the purpose and way of use  – the easiest way to recognize surf and cruising shape.
Surf shape is defined by a larger surface area and by its shape and contour, which increases the force created and therefore speed but also causes faster fatigue in the arms.
Cruising form is used dominantly for long-distance racing and long-distance paddling due to its smaller surface area reduces stress on the hands and allows longer use.
SUP paddle blade size
The SUP paddle blade size may vary from 62 to 109 in2 (400 cm2 to 700 cm2). A larger blade usually produces more force and speed but also causes larger blade fatigue, while a smaller paddle is good for continuous paddling and used in development training muscular endurance.
It should be further noted that paddles can be single-piece, two-piece and three-piece. One-piece paddles are chosen for professional users or recreational travelers who know that only they will use the board as it is cut to the desired height.
The two-piece option is great for recreational users sharing the board with family and friends, the paddle can be adjusted in height, while three-piece paddles are the best option for light transport and storage (disassembled occupy a space of approx. 27 in(70 cm).
All paddles generally float for a certain period of time, until they are filled with water which is a desirable specification for board falls and the like accidents where the paddle could sink.
What paddle size should I get for SUP? 
The height(length) of the SUP paddle is determined in several ways and varies according to the desired purpose. The commonly used way is as follows: in the standing position the hand by which you paddle (grasping the paddle grip) into the arm with a slight angle of 170 ° at the elbow joint push the paddle with your whole arm and body.
The paddle blade touches the floor. The height of the paddle adjusts to half-length of the forearm – amateur setting (long-distance rowing), or right on the wrist article – professional setting (higher speed and paddling power).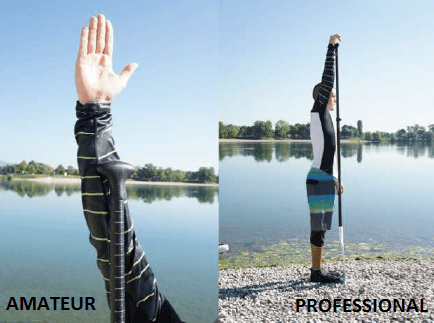 The paddle is cut or adjusted to the desired height, which of course can be further modified depending on the paddling experience and the conditions in which it is paddling. SUP Paddles cost from 50$ up to several thousand dollars.
TOP 5 Best SUP Paddles
5. AIRHEAD Aluminium SUP Paddle review
In fifth place is the AIRHEAD SUP Paddle. A lightweight single-piece aluminum paddle that is adjustable for almost any paddler height. Height adjustment goes from 63 to 71 in (160 to 220 cm). The weight of the paddle is 2.75 lb (1.25 kg).
---
4. Abahub 3-Piece Adjustable Carbon Fiber SUP Paddle review
The fourth-place belongs to the Abahub SUP paddle. Paddle made from a combination of carbon and fiberglass. The paddle blade is made of fiberglass for greater elasticity and cushioning when paddling. The paddle shaft is made of carbon, which brings with it high strength and lightweight. The total weight of the paddle is 1.9 lb (850 g). Can be adjusted from 67 " to 86 " (170cm to 218cm). It is designed for beginner and advanced SUP paddlers. Abahub paddle comes with a travel bag and warranty.
---
3. BPS Adjustable 2-Piece Alloy SUP Paddle review

We placed BSP 2-piece SUP paddle in third place. The BSP paddle is made of a combination of materials and as such cannot sink – it floats on water. The paddle shaft is made of aluminum and the paddle weighs only 2.1 lb (1 kg), while the blade is made of plastic and is flexible and durable enough for carefree rowing. BSP paddle size adjustment limits are 70.86 – 83.85 in (180 cm – 213 cm). The package has a blade cover that protects it from damage and sun UV rays. BSP Paddle is intended for beginners and advanced users.
---
2. Own the Wave 3-Piece Adjustable Alloy SUP Paddle review

At the second place, we placed the Own the Wave SUP paddle. The advantages of this paddle are the very easy height adjustment with the help of a paddle clip. Own the Wave paddle is made of a combination of aluminum and plastic, giving it a lightweight of 2.05 lb and long life. Adjustable settings range from 66 "to 83". It is very easy to store and transfer. Another advantage is that it comes in many different colors. Own the Wave paddle also floats on fresh and saltwater.
---
1. SUP Supply Adjustable Paddle – 3 Piece review
At the first place is the best buy in the paddle category. SUP Supply paddle because it got everything that one SUP beginner needs. In other words, it is a paddle floating on water, weighing only 2 lb, and adjustable from 67 to 85 inches (1.7 – 2.15 m). It's ideal for paddlers above 4 feet 8 inches. It is made of a combination of aluminum and plastic. It comes with a 12-month warranty and a travel bag.
Last updated on January 17, 2021 12:48 pm