Soopotay has been a professional producer for inflatable stand-up paddleboards since 2005. Although thirteen years have passed, their commitment to providing top standard, high-performance items have remained unchanged.
Sooptay is a committed manufacturer of high-quality SUP boards for every person who loves paddles. If you are looking for a reliable brand that produces high-quality products, you should look into Sooptay SUP paddleboards.
For them, it is all about quality, stability, and having a fantastic time in the water in the company of their sports gear.
They have developed the top standard of iSUP and make sure that each part in production keeps the leading standard since all of their iSUP are hand-made, which is why they are very proud of it.
Sooptay paddleboards are great for outdoor activities in all water conditions, from calm lakes to rivers and the sea.
If you would like to explore and paddle around the lake, or you would like to take a tour of the river, this is the paddleboard that you should consider taking.
With additional space, you can take your stuff with you and have a fishing trip or yoga session in the middle of the lake.
With D rings and a waterproof mobile case, you can take essentials with you and spend a day in the middle of the lake on your paddleboard. You can even attach a seat to the paddleboard or take your dog with you and make it extra safe with D rings in the front of the paddleboard.
With all these possibilities, take a backpack with the inflatable paddleboard that weighs only 18 lb and fits everywhere, and plan a day on the water for your family.
Paddleboard inflates in just 10 minutes, and you are ready for adventure.
Features of SOOPOTAY Inflatable SUP

Sooptay all round sup board is 10′ 32″ 6″, because of the excellent engineering, it is a very stable board for everyone from beginners to the skilled surfers.
Board has a handle for easier carrying and a D ring on the back part of the paddleboard for simple transportation. You can easily take your paddleboard with these additional parts, even though it is more comprehensive than usual board designs.
In addition, extra width adds to the board's stability, especially for beginners who can feel insecure on the board. The thickness of the panel gives you a carrying capacity that goes up to 280 lb (128kg), so you can easily fit with your kids or friends on it.
Easy to maneuver
Because of the little wider dimensions than usual, this board is more straightforward to maneuver than others. Beginners or pair paddlers will find that detail valuable.
Grip the board on two sides and climb on; find the center point, adjust your center core and keep balance, hold your paddle, try knee paddling for a bit of distance and see the feeling; place your paddle horizontally across the board meanwhile the board two sides and stand up slowly; slightly bend your knees, lower your central core to find balance, then stand up.
Soopotay Inflatable SUP Stand Up Paddle Board, Inflatable SUP Board, iSUP 11' x 32'' x 6'' (Blue)
out of stock
as of September 16, 2022 3:25 am
Robust and rigid
Multilevel stitch layers are made from rigid and robust inflatable sup, which is twenty percent weight saving than twin layer paddleboard, super light like a single layer while strict like twin layer paddleboard, non-flexible once inflated. Sooptay iSUP paddleboard has 0.9mm military PVC on the exterior of the paddleboard, with additional drop stitch construction that is highly dense.
Drop stitch material is the base for the paddleboard, then there is a layer of the base cloth and the first layer of the 0.9 PVC 1000 D material. On that, we can find two layers of the PVC rail bands.
On top of all those layers, the paddleboard has 5mm anti-slip smart EVA pad material that will provide extra safety while standing on the board. All Sooptay paddleboards are made with innovative technology to provide high-quality, stable, and safe paddleboards.
It is a construction permit for the iSUP to be rolled up at a minimal size once you deflate the board and store it under the cabinet or bed.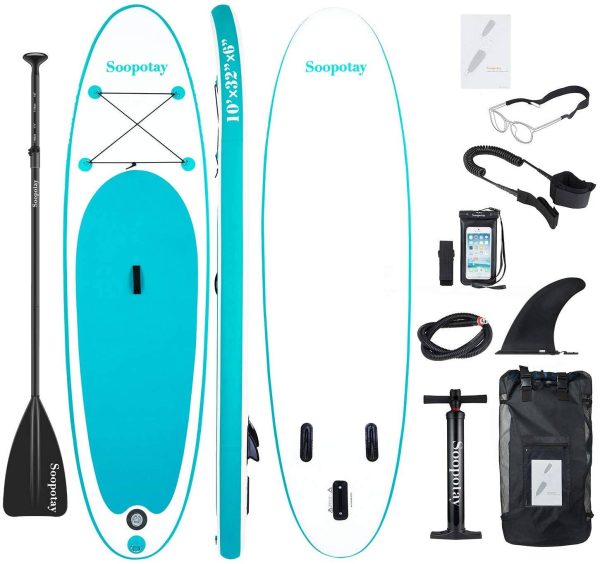 Read Next – DAMA Inflatable Stand-up Paddle SUP Board
Super stable
Soopotay paddleboards are made for a wide range of people. From the beginners to the experienced surfers, they made a board that will fit everyone's skills. Ultra-durable and super stable, perfect for the ocean, lake, bay, etc., yoga, crushing, paddling, versatile as you can guess.
In addition to that, these boards are great for kids and adults. You can use it in every water condition because of the high-quality materials and paddleboard design.
Because of the carrying capacity, you can paddle with your kids or friends. Spend quality time on the water doing couples yoga, fishing with your kids, or paddling along the lake.
High-quality materials allow you to use paddleboards on fresh and salty water, lakes, rivers, and the sea in all water conditions. As iSUP, a dog, your tour starts, exploring the endless fun created by iSUP in this beautiful summer.
Read Next – Best Hapfan Inflatable Stand Up Paddle Board 
Additional Features SOOPOTAY Inflatable SUP

One of the essential aspects of inflatable paddle boards has got to be the strong pad. Indeed, the grippy substance covering most of the board's area is indispensable because it will support you in maintaining your balance and gaining excellent command over your board.
Once tired of standing tall, you can forever get on your knees and sit amazingly on the pad. In addition to the pad, both boards have a convenient cargo net.
The comfortable anti-slip material on the paddleboard gives you the perfect standing point to find your balance. Also, with this material, you have a place to sit or lay down on your board and not feel like you will slide off the board.
On the nose of the board, there are four stainless steel D-rings linked through a bungee cord, granting you a little pocket to save your paddles, bag, shoes, or any of your belongings that you do not want to leave at bay. This board comes with an easy yet very efficient central carry handle.
While most starter boards come with extra handles, SOOPOTAY seems to relax with one single handle, although it is vital to bear in mind that it is possible to carry the board freely as it is both light and balanced.
Anyway, performance depends on you and your preference, so pick correctly!
Soopotay manufacturers didn't just make paddleboards. That is another part of sports equipment. Their paddleboards give you a whole experience of the water.
With additional handles, rings, and pockets, you can take your bag with essentials or a SUP seat and have a day in the office – on the SUP paddleboard! Take your coffee, tablet, or a book with you and absorb the calmness of the water. If that won't take the stress away, nothing will.
Read Next – What is the best stand-up paddleboard for beginners?
SOOPOTAY Inflatable SUP Stand Up Paddle Board, Inflatable SUP Board, iSUP Package with All Accessories (All Round- Primary-Turquoise Green-10' x 32'' x 6'')
out of stock
as of September 16, 2022 3:25 am
Pros for buying Sooptay iSUP
Are you unsure if you should buy a Soopotay paddleboard or another one? They make a complete package for a great paddling experience with high-quality materials, innovative design, and technology. If you are purchasing for the first time or looking for a new SUP paddleboard, we are confident that this manufacturer would be a great addition to your active time on the water.
SOOPTay iSUP is very cost-friendly, matched to other boards of their caliber. If you are looking for a high-quality paddleboard at an affordable price, this is the best one in the given price range.
They adopt MSL construction technology, which is found in top boards only. The innovative craftsmanship technology adds additional layers to these SUP paddleboards' security, safety, and reliability.
They come in all-inclusive plans that contain more than the essentials. The package includes a coil leash, backpack, hand pump, sup paddle, and bonus with a waterproof floating phone case. In addition, they offer a 30-day, no-risk return + a 1-year material quality promise.
The compact design allows you to purchase and store it at home or beach. While it is folded, small dimensions enable kids and adults to carry it.
The easy setup of the paddleboard is a great feature. It will take you only 10 minutes with a pump in the package to inflate it, and it is ready to use.
Cons
It seems like this iSUP is not truly lacking any fundamental flaws that deserve to be listed here.
Read Next – JoJody 10′ Inflatable Super Stand Up Paddle Board
How to choose the perfect paddleboard?
Choose a paddleboard that will fit you in size and weight. You can find paddleboards for kids and adults (men and women or universal).
Transportation size is another excellent question. Does it come with a carrying bag, and what is the situation with handles, D rings, and shoulder straps. Some brands have all of those. Some don't.
Also, you can choose a paddleboard that is made for all water conditions or ones that are specially for sea or rivers and lakes, depending on the material they are made of.
Read Next – Freein Stand Up Paddle Board Inflatable SUP
Soopotay Inflatable SUP Stand Up Paddle Board
SOOPOTAY is a stand-up paddleboard that can be inflated and deflated easily, making it perfect for travel.
It's durable enough to last through long-term use but lightweight enough to carry around without problems.
The design also incorporates stability features like high-pressure air chambers on both sides of the SUP, which balance waves or choppy water conditions.
If you're looking for an inflatable SUP, look no further than SOOPOTAY!
Read Next – Soopotay Paddle Board UK
SOOPOTAY Inflatable SUP Stand Up Paddle Board, Inflatable SUP Board, iSUP Package with All Accessories (All Round- Primary-Turquoise Green-10' x 32'' x 6'')
out of stock
as of September 16, 2022 3:25 am
Soopotay Inflatable SUP Stand Up Paddle Board, Inflatable SUP Board, iSUP 11' x 32'' x 6'' (Blue)
out of stock
as of September 16, 2022 3:25 am
Soopotay Inflatable SUP Stand Up Paddle Board, Inflatable SUP Board, iSUP 10' x 32'' x 6'' (Dark Blue)
as of September 16, 2022 3:25 am
Soopotay Inflatable SUP Stand Up Paddle Board, Inflatable SUP Board, iSUP Package with All Accessories
out of stock
as of September 16, 2022 3:25 am
SOOPOTAY Inflatable SUP Stand Up Paddle Board, Inflatable SUP Board, iSUP Package with All Accessories (Updated-Racing-Navy Blue-12'6'' x 30'' x 6'')
$889.77


$

339.77
out of stock
as of September 16, 2022 3:25 am
Soopotay Inflatable SUP Stand Up Paddle Board, Inflatable SUP Board, iSUP 11' x 32'' x 6'' (Turquoise Green)
out of stock
as of September 16, 2022 3:25 am
SereneLife Inflatable Stand Up Paddle Board (6 Inches Thick) with Premium Accessories & CarryBag | Wide Stance, Bottom Fin for Paddling, Surf Control, Non-Slip Deck
6 new from $235.56
14 used from $181.57
Free shipping
as of September 16, 2022 3:25 am
Roc Inflatable Stand Up Paddle Boards W Free Premium SUP Accessories & Backpack, Non-Slip Deck Bonus Waterproof Bag, Leash, Paddle and Hand Pump Youth & Adult
2 used from $269.11
Free shipping
as of September 16, 2022 3:25 am
Soopotay SUP Inflatable Paddle Boards for Adults, 11'6'' x 32'' x 6'' Stand Up Paddleboard, Blow Up Paddle Board with Kayak Function, iSUP Package Includes
out of stock
as of September 16, 2022 3:25 am