Peak 12′ Titan Stand Up Paddle Board is a great choice for always with their family. This is quite a large board. It's a 12′ x 45 "X 8 "one.
It weighs 34 lbs when inflated, which is expected because of its size, and it's still a pretty good number. We will tell you more about this board in this Peak 12′ Titan Stand Up Paddle Board review.
If you are the type of person that loves to bring friends along during your water adventure, the giant Peak 12′ Titan Stand-up Paddle Board is an ultra-fun multi-paddler board that can support up to 4 paddlers.
For this particular version, Peak has focused on keeping their unique design style while enhancing the carrying capacity of the paddleboard, strengthening the material, and lightening the overall weight to make the 12 feet Titan a convenient and family-friendly model.
This review will go over the paddleboard's measurement, construction, features, and more.
Features Peak Titan SUP review
You can bring along your friends, your family, and your pets: up to 500 lbs can be on the board simultaneously!
Lovers of yoga and fitness will also enjoy this board because its size gives it more stability and mobility.
It takes quite some time to inflate it, so bear in mind that a car pump may be a better option.
The soft EVA deck pad makes this paddleboard a perfect choice for those who like to sunbathe as well. It's comfortable.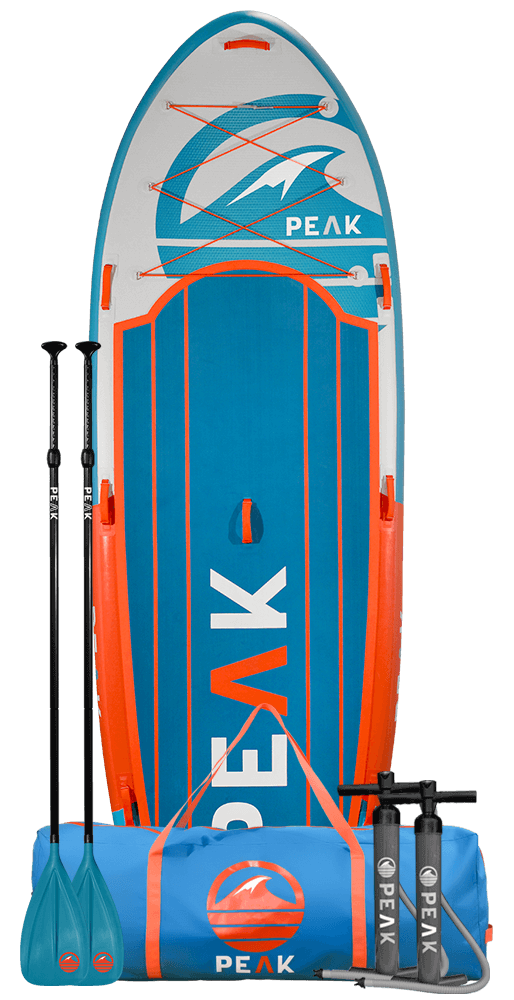 Read Next- Aztron Titan All-Around Inflatable SUP Board Review
High-quality materials will ensure that this sturdy piece stays floating at all costs.
If you're afraid you're not going to be able to bring it around, don't: we are sure that you'll be able to put it in your car when it's deflated since it rolls up to a very compact size.
You're getting an adjustable travel paddle, a backpack, a dual-action pump, a removable travel fin, and a waterproof phone case so you can take those perfect selfies.
A front bungee system works perfectly for those who enjoy a bit of adrenaline.
Easy transportation, quick inflation, and multi-use will surely make you check this one out.
The 8 "thickness makes a great, sturdy board that maintains balance well.
Reach the "peak "of your paddleboarding with this particular board.
Read Next – Peak Expedition Inflatable paddleboard Review
Peak 12′ Titan Stand up Paddle Board Measurement
The name of this paddleboard provides it all way; the Peak Titan is a giant paddleboard that's made for family visits or vacations. This board is 12′ long and can fit up to four people on board.
If not people, then you secure as much cargo as you'd ever need to the paddleboard for touring or fishing. Even better is that the Titan is 45″ wide, which is exceptional. Peak 12′ Titan Stand-up Paddle Board is a moving water platform. It's ultra-stable even when there're more than two paddlers on top of it.
I've never reviewed or tested aboard this large, and it is pretty overwhelming. As for thickness, the Titan is 6″ thick which is quite a standard size. I honestly wished it was thicker because this big and wide board would need more thickness.
Though, these 6″ work excellent keeping the paddleboard on top of the water because the construction of the paddleboard as a whole is incredibly stiff and rigid, one that decreases flexing down to near nonexistence.
Peak Titan Inflatable Stand Up Paddle Board — Multi-Person SUP with 500 lbs Capacity and iSUP Accessory Bag with 2 Paddles, Pump & More — 12' Long x 45" Wide x 8" Thick
out of stock
as of July 1, 2022 1:08 pm
Read Next – Aztron Titan All Around Inflatable SUP Board
Build Quality
Such a massive paddleboard like the Peak Titan needs to be highly well-designed to maintain quality and shape. That being the case, the Peak made sure that all of their SUPs are made of the most durable military-grade PVC that's known for making any inflatable product virtually indestructible.
The Titan is also made using the best quality drop stitch tech to keep its parts glued together in a way that makes noticing their lasts a bit challenging. The details are too carefully created to make it look decent and feel a little rough.
All in all, this is one hell of a solid paddleboard that can carry up to six people without being exhausted or overused. Also, it can tame a few severe beating before it is a good time for it to announce defeat. Though, please, forever be a friendly user to enjoy the quality of your paddleboard for as long as possible.
Read Next – Peak Inflatable Paddle Board
Performance
As for speed, one should be rational here. The Titan is a monster board when it comes to balance. Nothing and nobody can just cause to wobble or flip. It is a beautiful board for fishing, yoga, or family visits.
This Peak 12′ Titan Stand-up Paddle Board is not meant to race or be ultra swift in the water. Though, the Titan glides easily in flat water and tracks nicely. Also, if two riders can sync their paddling movement, the paddleboard will be super responsive and versatile.
Main Features Peak Stand up Paddle Board
The EVA traction pad covers more than half of SUP's back and is thick and soft.
Also, the color options for the Titan are entertaining and visit. It is simple to spot the paddleboard anywhere it is.
You will find nine carry handles located on all of the paddle board's rails for smooth transpiration when the paddleboard is inflated. These handles are comfortable and rigid to use.
Next, there're two vales on the SUP's tail, and it is simple to guess why. Since the Peak Titan is a giant board, it is recommended that two people cooperate to inflate/deflate it faster; therefore, two valves will do the job a lot quicker or better.
Moreover, the Peak 12′ Titan Stand-up Paddle Board features big board storage with six D-rings and a bungee cord on the deck. A sixth D-ring is on the SUP's tail for anybody who needs to connect a leash. Anything can be stored there and taken out to the water in complete safety.
This SUP comes with a navigation system which the least could be said about. It's that awesome. The paddleboard has five find linked to it. One is central, large, and adjustable, while the remaining four are more minor and fixed. Typically, most SUP's featured only three fins. The additional two here're quad fins and are meant to make it possible for the Peak Titan to track in a straight line in flat water.
Peak Titan Inflatable Stand Up Paddle Board — Multi-Person SUP with 500 lbs Capacity and iSUP Accessory Bag with 2 Paddles, Pump & More — 12' Long x 45" Wide x 8" Thick
out of stock
as of July 1, 2022 1:08 pm
What I like
The Peak Titan is a beautiful board that can bear up to 500 pounds.
It is 12′ long and 45″ wide, which is excellent.
It comes with two valves, two paddles, and two air pumps.
It is the perfect paddleboard for a family vacation.
There's a solid and extensive bungee system on the deck
It is best for touring, fishing, or just chilling
And nine carry handles for smooth transpiration
It features five fins
It is super stable, durable, and rigid.
What I don't like
Repair kit not included in the package
Pricey as compared to other paddleboards
Read Next – Peak Titan Royal Multi Person Inflatable Stand Up Paddle Board
HUGE PADDLEBOARD
End words…
The visual design of the Peak 12′ Titan Stand-up Paddle Board is beautiful and colorful. It is a versatile board that can be utilized in a massive range of water conditions, with its quad finding incredible overall stability.
This is a user-friendly giant paddleboard that you can enjoy with your pets and family.
We think that the Peak 12′ Titan Stand-up Paddle Board will be a popular multi-paddle option this season, and these sorts of SUPs are an excellent way to promote teamwork and enjoy family fun on the water.
Peak Titan Inflatable Stand Up Paddle Board — Multi-Person SUP with 500 lbs Capacity and iSUP Accessory Bag with 2 Paddles, Pump & More — 12' Long x 45" Wide x 8" Thick
out of stock
as of July 1, 2022 1:08 pm
Driftsun Orka 12 Foot Extra Wide Multi Person Inflatable Paddle Board Stand Up SUP Package, Room for Gear, with Two High Pressure, High Volume Pumps, 12 Feet Long, 4.5 Feet Wide, Green
as of July 1, 2022 1:08 pm
12'x32"x6", 396lbs Capacity, All-Around Inflatable Stand Up Paddle Board - Stable, Versatile, Durable and Lightweight SUP for All Skill Levels, Paddleboard Accessories & Carry Bag Included (Blue)
as of July 1, 2022 1:08 pm
APOLLO Inflatable Stand Up Paddleboard (SUP Boards Inflatable) - Blow up Paddle Boards for Adults (12 ft x 30 inch) Inflatable Paddle Boards, Premium Bag, Non-Slip Deck, Leash, Paddle & Pump
as of July 1, 2022 1:08 pm
Elkton Outdoors Inflatable Fishing Paddle Board Grebe - 12 ft Fishing SUP Package, Fishing Rod Holders, Paddle, Leash, Carry Bag, Pump, Accessory Mounts and Non-Slip EVA Deck
as of July 1, 2022 1:08 pm
Boardworks SHUBU Raven | Touring All Water Inflatable Stand Up Paddleboard | SUP Package Includes Pump, Three Piece Paddle and Roller Bag Complete Kit | 12' 6", Red/Grey/White/Wood
2 new from $875.00

as of July 1, 2022 1:08 pm
ISLE Megalodon Inflatable Stand Up Paddle Board & iSUP Bundle Accessory Pack — Up to 1,050 lbs Capacity — Durable, Lightweight with Stable Stance — 12' L x 45" W x 8" Thick
as of July 1, 2022 1:08 pm