If you're looking for a board a bit cheaper than the last one but one that still has the premium feeling and premium looks, the Bali Stand Up Paddleboard should be amongst your favorites.
Features Solstice by Swimline Bali Stand Up Paddle Board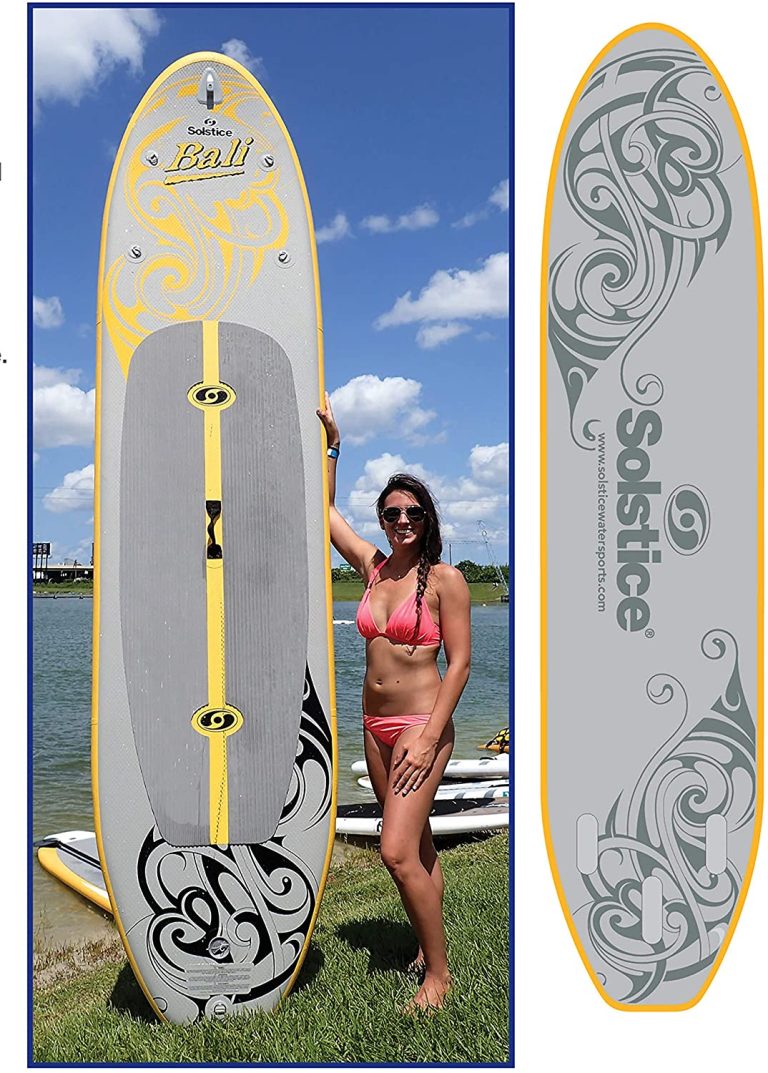 Read Next – Premium Inflatable Stand up Paddle Board 
Looks very chic
This is a high-pressure inflatable paddleboard that looks very chic.
The simple grey-blue + yellow design is great for young and older adults and beginners, and those who are advanced.
You will notice that the board is very rigid and strong.
Read Next – Atoll 11′ Foot Inflatable SUP under 650 $ ?
Very High Quality
It includes 4 tie-downs for securing your gear, and the PVC this board is made of (1000 Denier) is of very high quality.
You are obviously getting some accessories with the board: a carry bag, a pump, and a gauge.
The drop-stitch material will make sure no bumps, lumps, and scratches bother you, but we don't suggest putting this board under the sun for too long because the color and the thickness of the surface can change a bit.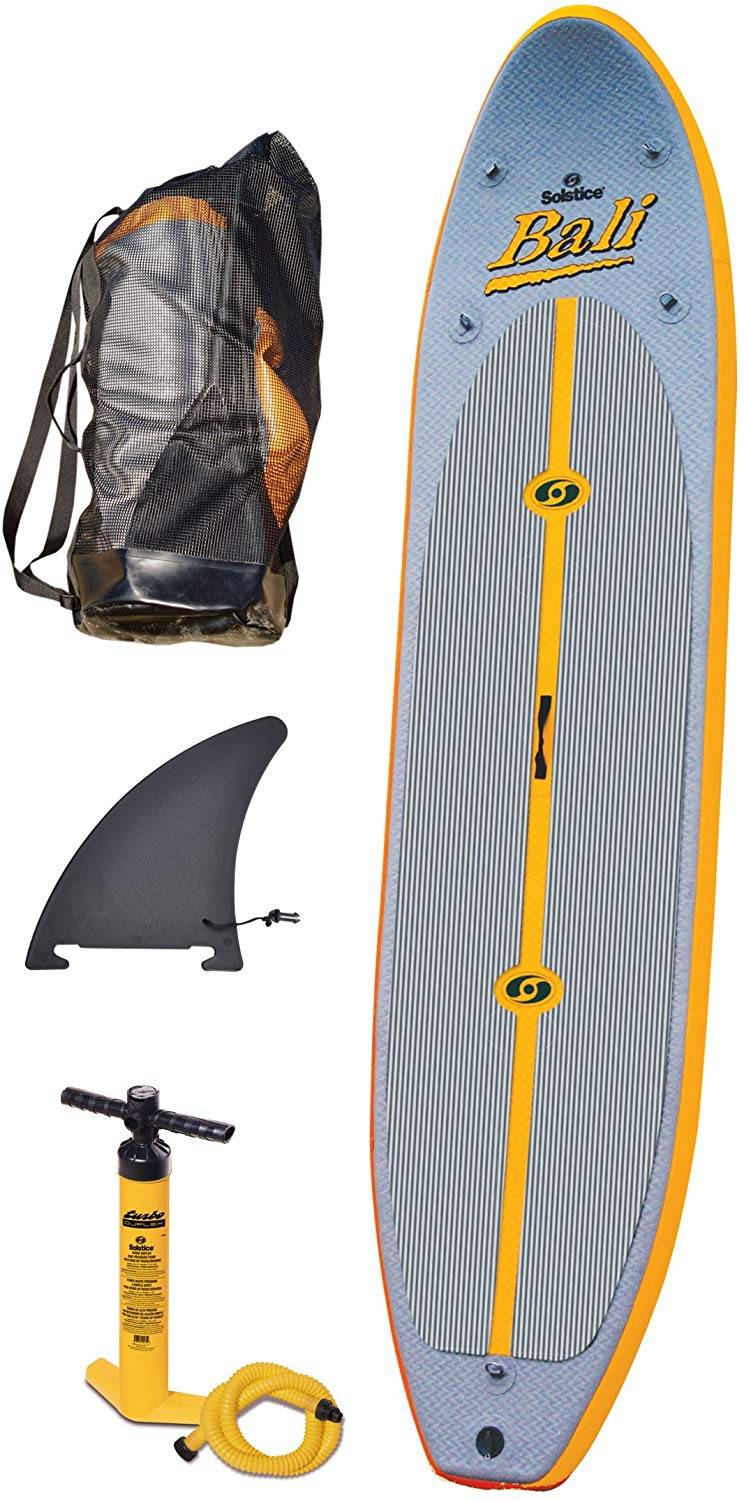 The manufacturer writes no maximum weight capacity, but people say that over 225 lbs don't really work great with the board.
It takes only 3 and a half minutes to inflate this product, but you'll have a bit of trouble doing the last few pumps.
Many people decide to go for a car pump instead.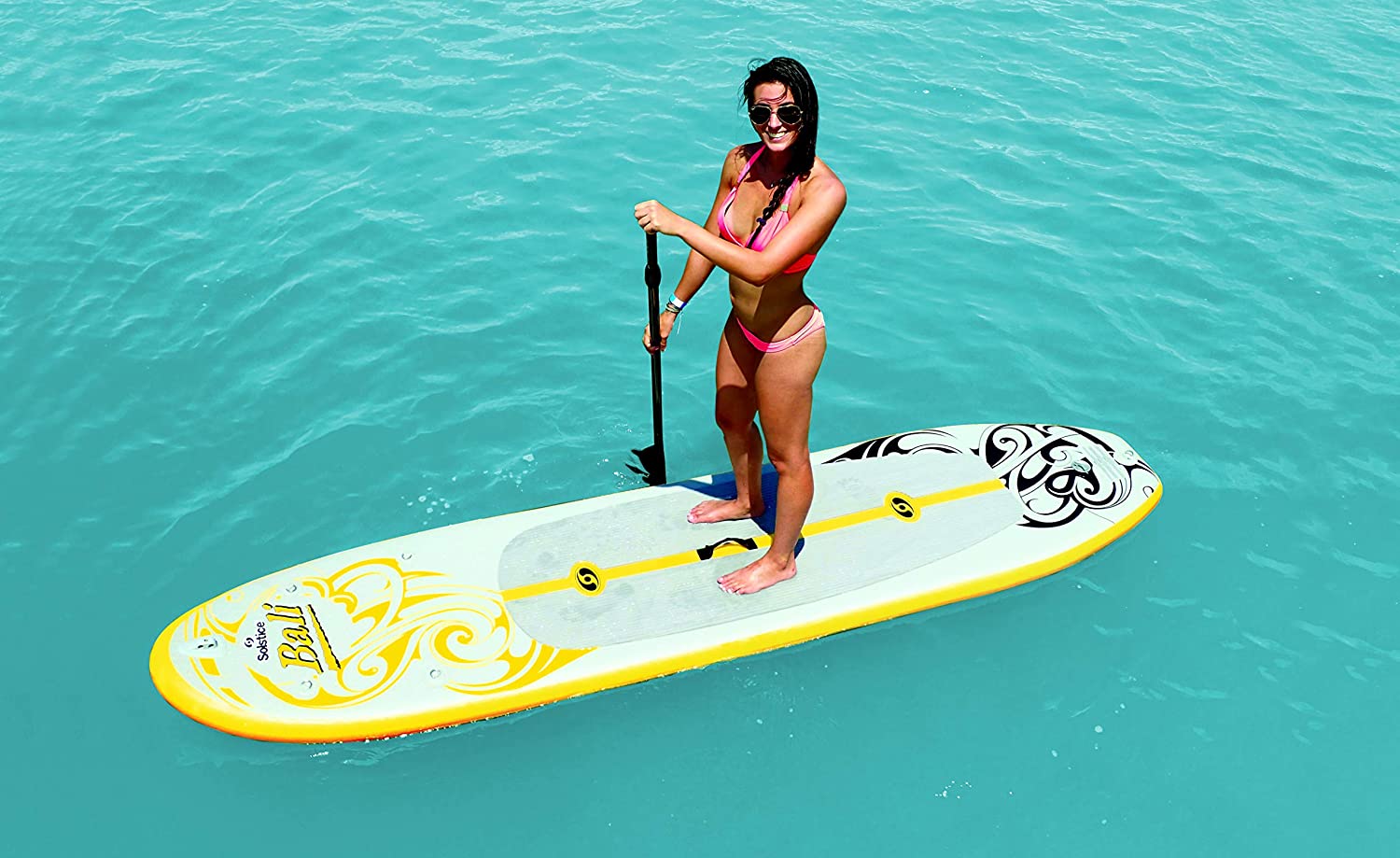 The board is perfect for kids because it is well balanced, and you can let them cruise, fish, sunbathe or play on it.
The bungee storage area is perfect for food or phones or any gear that you like to use and bring around, but don't count on it too much because you will take up much space on the board and, in the end, you'll have less space for yourself.
Bali High-pressure 10-Feet8-Inch inflatable paddleboard Sleek, lightweight and fast
Extremely rigid and strong
Includes 4 stainless tie-downs for securing gear
Durable 1000 Denier 3 ply PVC reinforced fabric material
Kit Includes: Paddle, Carry bag, pump, and gauge
Read Next – Bluefin Cruise Carbon – Outdoor Gear Lab Inflatable SUP
Solstice by Swimline Tonga Inflatable Stand Up Paddleboard
6 new from $369.99

as of March 8, 2023 8:41 am
Solstice by Swimline Bora Bora Inflatable Stand Up Paddleboard
4 new from $414.99
Free shipping
as of March 8, 2023 8:41 am
Solstice Maui Inflatable Stand-Up Paddle Board
9 new from $299.99

as of March 8, 2023 8:41 am
Swimline Solstice 35000 3-Piece Aluminum Adjustable Stand-Up Paddles, Set of 2
as of March 8, 2023 8:41 am
Swimline Solstice 35000 3-Piece Aluminum Adjustable Stand-Up Paddles, Set of 4
as of March 8, 2023 8:41 am
Solstice Watersports Bali 2.0 Inflatable Stand-Up Paddle Board Kit (10'6 x 32'' x 5''), Bali 2.0 kit (Yellow)
3 new from $282.62
Free shipping
as of March 8, 2023 8:41 am
Cooyes Inflatable Stand Up Paddle Board 10.6 ft with Premium SUP Accessories and Backpack, Non Slip Deck, Waterproof Bag, Leash, Paddle and Hand Pump for Paddling and Surf Control
3 used from $142.55
Free shipping
as of March 8, 2023 8:41 am
Murtisol Inflatable Paddle Board Stand Up Paddle Board ISUP Memphis Black
as of March 8, 2023 8:41 am
YX Inflatable 11'×33"×6" SUP for All Skill Levels Everything Included with Stand Up Paddle Board More Capability and Durable
out of stock
as of March 8, 2023 8:41 am
Solstice Tonga Inflatable Stand Up Paddleboard, Green/White, 10-Feet 8-Inch w/ Solstice Aluminum SUP Paddle Aluminum/Black 84-Inch
as of March 8, 2023 8:41 am
Solstice by Swimline Fiji Inflatable Stand Up Paddleboard
as of March 8, 2023 8:41 am
Outdoor Tuff SUP OTF-8254SUP Inflatable Backpack Paddle Board with Adjustable Paddle, 150-Pound Capacity
out of stock
as of March 8, 2023 8:41 am