If you're looking for a board cheaper than the last one but still has the premium feeling and looks, the Bali Stand Up Paddleboard should be among your favorites.
Are you looking for a fun and exciting way to explore the water? If so, stand-up paddleboarding (SUP) might just be what you need! But with so many different paddle boards on the market, deciding which one is right for you can be tough.
That's where we come in. In this blog post, we'll look in-depth at Solstice by Swimline Bali Stand Up Paddle Board – a popular choice among SUP enthusiasts.
We'll cover everything from its unique features and design to its durability and included accessories.
So buckle up and get ready to dive into the world of paddleboarding with Solstice Paddle Board!
Features Solstice by Swimline Bali Stand Up Paddle Board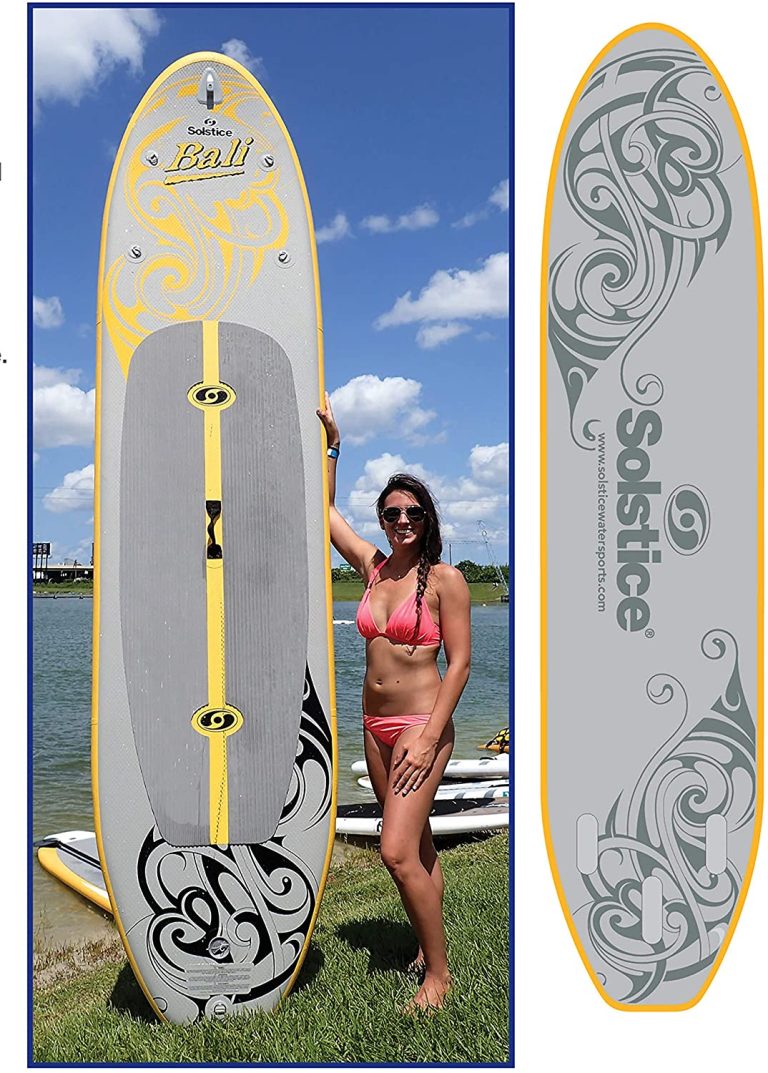 Read Next – Premium Inflatable Stand-up Paddle Board 
Looks very chic
This is a high-pressure inflatable paddleboard that looks very chic.
The simple grey-blue + yellow design is excellent for young and older adults, beginners, and advanced people.
You will notice that the board is very rigid and robust.
Read Next – Atoll 11′ Foot Inflatable SUP under 650 $?
Very High Quality
It includes four tie-downs for securing your gear, and this board is very high-quality PVC (1000 Denier).
You are getting accessories with the board: a carry bag, a pump, and a gauge.
The drop-stitch material will ensure no bumps, lumps, or scratches bother you, but we don't suggest putting this board under the sun for too long because the surface's color and thickness can change a bit.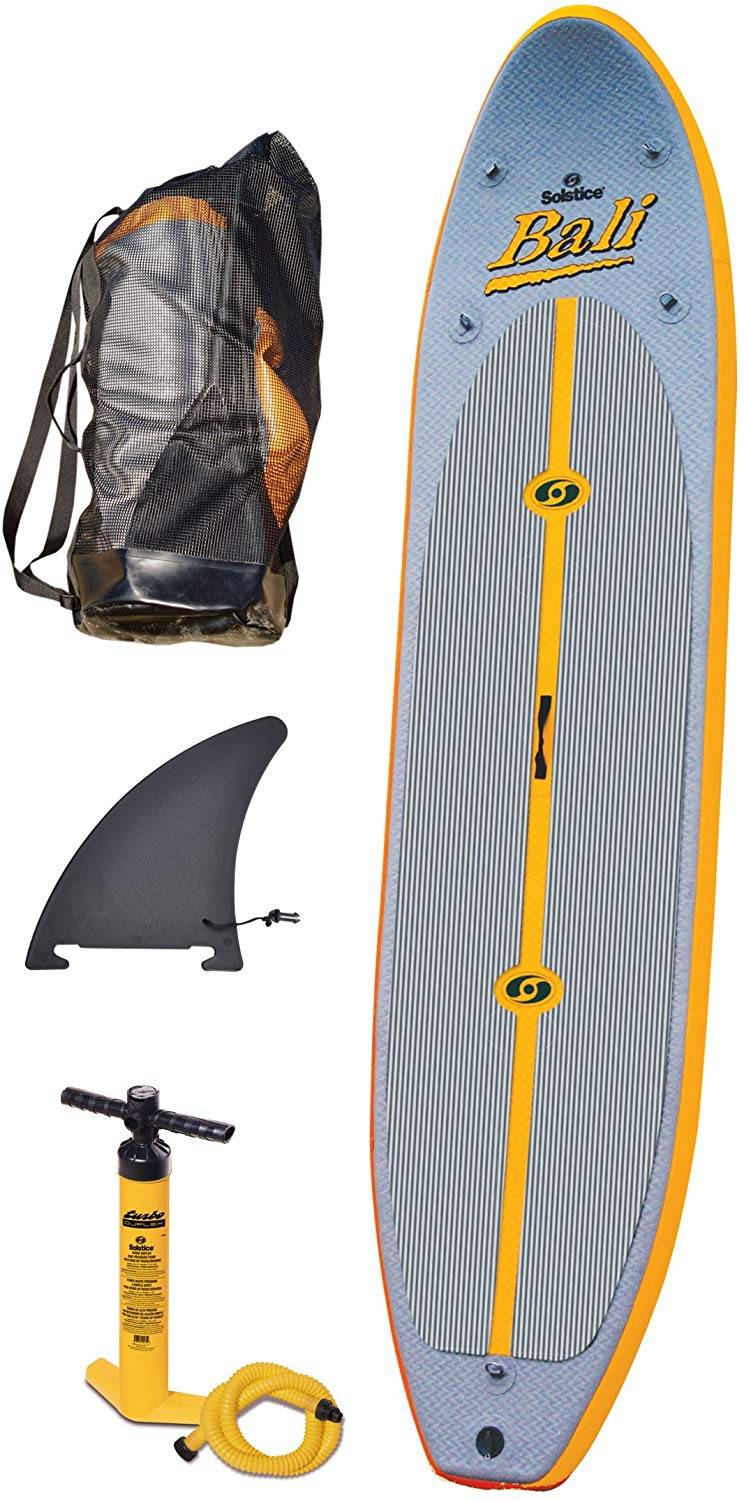 The manufacturer writes no maximum weight capacity, but people say that over 225 lbs don't work great with the board.
It takes only three and a half minutes to inflate this product, but you'll have trouble doing the last few pumps.
Many people decide to go for a car pump instead.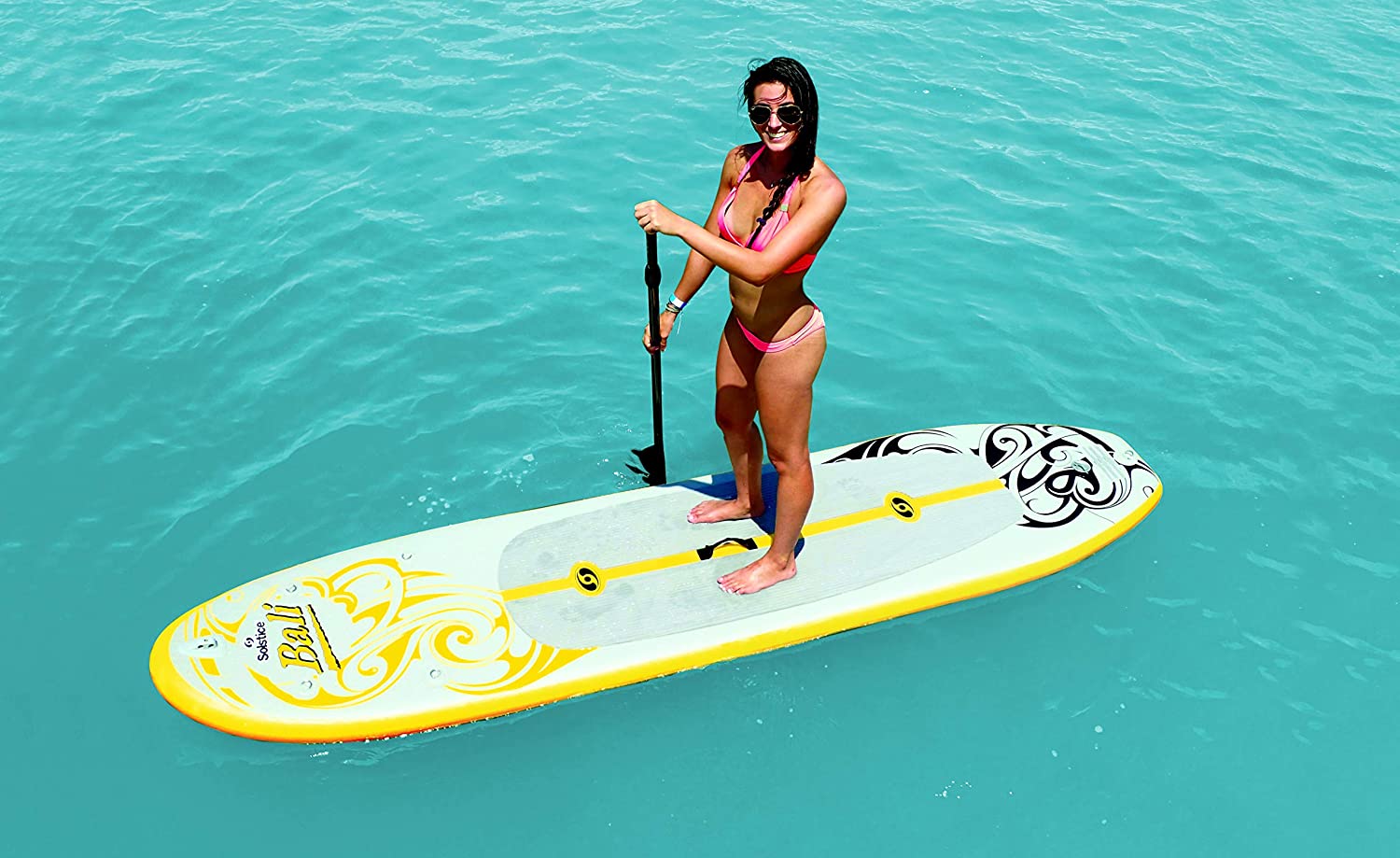 The board is perfect for kids because it is well-balanced, and you can let them cruise, fish, sunbathe or play on it.
The bungee storage area is perfect for food, phones, or any gear you like to use and bring around, but don't count on it too much because you will take up much space on the board, and, in the end, you'll have less space for yourself.
Bali High-pressure 10-Feet8-Inch inflatable paddleboard Sleek, lightweight, and fast
Extremely rigid and strong
Includes four stainless tie-downs for securing gear
Durable 1000 Denier 3 ply PVC reinforced fabric material
Kit Includes: Paddle, Carry bag, pump, and gauge
Read Next – Bluefin Cruise Carbon – Outdoor Gear Lab Inflatable SUP
Inflatable vs. Rigid Paddle Boards: Which Should You Choose?
When purchasing a paddle board, one of the first decisions is to use an inflatable or rigid board. Both options have pros and cons, so it ultimately comes down to your needs and preferences.
Inflatable boards are typically more portable and more accessible to store than rigid ones. They can be deflated and rolled up into a compact size, making them ideal for those living in apartments or with limited storage space. However, they may not be as stable as rigid boards and tend to bounce more on waves.
On the other hand, rigid boards provide excellent stability and generally perform better in rougher waters. They also tend to be faster than inflatable boards due to their sleek design. However, they can be pretty bulky and difficult to transport – especially if you don't own a vehicle that can accommodate them.
So which should you choose? It depends on your specific needs! If portability is critical, an inflatable board might be the way to go. But if performance matters most – especially if you're planning to use your paddleboard in challenging conditions – then a rigid board may be worth considering.
Solstice by Swimline Tonga Inflatable Stand Up Paddleboard
3 new from $289.00
Free shipping
as of September 27, 2023 8:19 pm
Product Overview: Solstice by Swimline Bali Stand-Up Paddle Board Kit
The Solstice by Swimline Bali Stands Up Paddle Board Kit is a well-crafted, inflatable paddle board designed to be used on lakes, rivers, and other bodies of water. The kit includes all the necessary accessories, such as a carry bag, pump, pressure gauge, and detachable fins.
One of the standout features of this paddle board is its unique design which is both functional and aesthetically pleasing. It has a diamond-shaped traction pad for added grip when standing on the board and multiple D-rings that can be used to attach equipment or secure cargo.
Constructed with high-quality PVC material reinforced with drop-stitch technology allows for maximum rigidity without sacrificing portability. This means you can use it just about anywhere in calm waters or choppy waves.
Another great feature of this paddleboard kit is its versatility. With three removable fins included in the package, you can customize your setup based on your skill level or preference. Use one fin for better maneuverability in shallow waters or all three fins for increased stability out at sea.
The Solstice by Swimline Bali Stands Up Paddle Board Kit offers an exceptional value-for-money option compared to other rigid boards available today. Its lightweight construction and sturdy materials make it perfect for beginners and intermediate paddlers looking for an easy-to-use yet durable SUP experience without breaking their budget!
Features and Design
The Solstice by Swimline Bali Stands Up Paddle Board Kit boasts impressive features and a sleek design that distinguishes it from other paddle boards.
One of its most notable features is its triple-layered PVC construction, which ensures durability and sturdiness. This makes it perfect for beginners and experienced paddlers alike, as it can withstand the wear and tear of regular use.
In terms of design, the Solstice Bali SUP has a beautiful tropical-inspired graphic that will surely catch anyone's eye. Its vibrant colors make you feel like you're cruising through crystal-clear waters surrounded by lush tropical landscapes.
This paddle board kit also includes a high-pressure pump for effortless inflation, a detachable center tracking fin for better control while paddling, and an adjustable aluminum paddle to suit any user's height preference.
The exceptional features and stunning design make the Solstice by Swimline Bali Stand Up Paddle Board Kit one of the best options for those looking to enhance their water adventures!
Construction Material and Durability
When choosing a stand-up paddle board, one of the most important factors is its construction material and durability. The Solstice by Swimline Bali Stand-Up Paddle Board Kit is made from high-quality PVC material, ensuring maximum strength and longevity.
The drop-stitch construction used in this paddle board provides excellent rigidity, which makes it feel like a traditional hardboard once inflated. Additionally, the reinforced rails add extra protection against impact damage.
Moreover, this paddle board has three fins for improved stability and maneuverability in different water conditions. It can support up to 250 pounds and measures 10 feet 8 inches long and 32 inches wide when fully inflated.
The Solstice by Swimline Bali Stands Up Paddle Board Kit offers exceptional durability and performance thanks to its advanced construction techniques. Whether you're a beginner or an experienced paddler, this inflatable SUP will provide hours of fun on the water while ensuring your safety at all times.
Included Accessories
The Solstice by Swimline Bali Stands Up Paddle Board Kit has essential accessories for any SUP fan. The kit includes a high-pressure hand pump, which makes it easy to inflate the board quickly and efficiently.
Additionally, the package includes an adjustable paddle made from aluminum, so you can adjust it to fit your height and paddling style. A removable skeg also helps improve stability in various water conditions.
Another accessory included in the package is the carry bag designed specifically for this board. It's spacious enough to accommodate all kit components securely while providing comfortable straps for easy carrying.
A repair kit with patches and a valve wrench can be used if there are any punctures or leaks on your inflatable paddleboard during use. All these accessories completed this fantastic bundle, making it an excellent choice for beginners and experienced SUP enthusiasts who want quality equipment at an affordable price point without compromising performance or durability!
Where to Purchase and Shipping Policies
A few options are available when purchasing the Solstice by Swimline Bali, Stand Up Paddle Board kit. The product can be found online retailers like Amazon or Walmart, where shipping policies and fees may vary.
It's important to note that some retailers may offer free shipping while others may charge an additional fee for delivery. It's always best to read through the retailer's shipping policy before purchasing to avoid it.
Another option is purchasing directly from the manufacturer, Swimline. They offer free ground shipping within the continental United States and have a 30-day return policy if you're not completely satisfied with your purchase.
If you're looking for faster delivery times, expedited shipping is also available for an extra cost. International customers should contact Swimline directly for information about their international shipping policies.
Regardless of where you choose to purchase, it's crucial to consider any potential delays due to current events or weather conditions. Nonetheless, with proper research and consideration, finding the right place to buy your Solstice paddle board can be easy and hassle-free!
Expert Verdict: Is Solstice by Swimline Bali SUP Worth It?
After thoroughly examining the Solstice by Swimline Bali Stand Up Paddle Board, it's safe to say that this product is worth every penny. Its high-quality construction material and durability make it a long-lasting investment for water sports enthusiasts.
Furthermore, the included accessories offer convenience and versatility in terms of usage. The inflatable design makes it easy to transport and store, unlike rigid paddle boards that require ample space.
Whether you're a beginner or an experienced paddler looking for a versatile board, the Solstice by Swimline Bali SUP kit is worth considering. With its numerous features and sturdy design, it promises to provide endless hours of fun on the water.