This model is the perfect size for those who are just beginning, but also for those who are experienced enough to have great control of a board this big with some adventurous moves.
This is a comfortable board which has a honey foam deck pad: it means you can use it for more than standing and sitting.
If you wish to lay down on your board, which is especially practical if you like to go for long cruises, or if you like to train yoga on your board, you will be able to do so while being comfortable and treating your spine the right way.
Features
Boardworks SHUBU Muse iSUP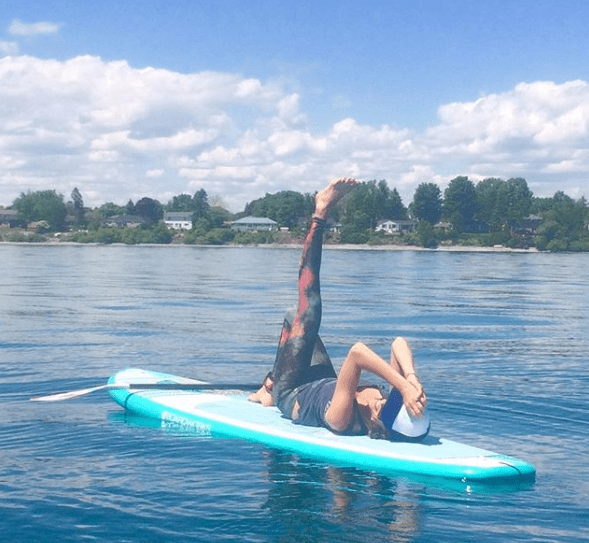 You can store the gear quickly and easily.
You will get a pump along with the backpack. However, you need to know that pumping an inflatable sup board can be pretty boring and take a long time, which is why people mostly get an automatic pump to make the process easier.
The comfortable neoprene carrying handles have been made to help you transport the lightweight board.
It's made to be used for a long time since it has a durable DFL construction.
The Muse is a great choice for those who like to explore and use their board for a long time.
It's the favorite board of many female users because of the minimalistic design, but don't let this limit you. It's only aboard, after all.
You'll notice that this board has a fin on the bottom. This fin will help you stay balanced and that's why it's great for those with less experience.
However, those who are just beginning usually go for three fins and may want to try out something else first.


Stability, Floatation, Glide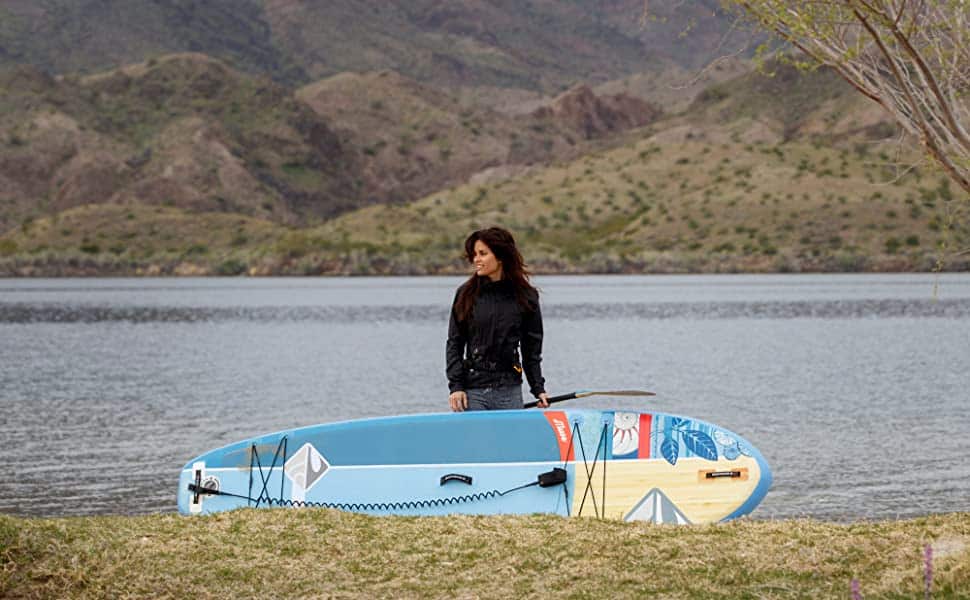 The SHUBU Inflatable Muse is a light and nimble board with a stable shape that's great for flat water cruising, yoga and exploring your local waterways.
Fully equipped with our ultra-comfortable Honey Fomb heat embossed deck pad and two neoprene carry handles for easy transport to and from the water.
The forward deck has two anchor points for bungee or deck tie-downs allowing for storage of extra gear.
The SHUBU Muse is a stylish stable and very versatile recreational board that is travel friendly and easy to store. Great for beginners and intermediate paddlers alike.
The Muse has some of the most awesome graphics offered and comes with a blue bottom and graphics matching paddle.
– Novice: Recommended Max. 190 lbs.
– Intermediate: Recommended Max: 215 lbs.
– Advanced: Recommended Max. 265 lbs.
Muse Paddle
Configuration: 3 Piece | Blade: 89" sq. | Length: 70"-86" | Weight: 25 oz.
Fiberglass shaft with a thermoplastic-infused fiberglass blade delivers one of the best blends of durability, lightweight, and value available on the market today.
| |   |   |   |   |   |   |
| --- | --- | --- | --- | --- | --- | --- |
| Boardworks | Shubu Solr | Shubu Riptide | Shubu Kraken | Shubu Muse | Shubu Rukus | Shubu Raven |
| Length | 10′ 6″ | 10′ 6″ | 10′ 0″ | 10′ 2″ | 11′ 6″ | 12′ 6″ |
| Width | 32″ | 33″ | 34″ | 31″ | 30″ | 30″ |
| Thickness | 6″ | 5″ | 6″ | 6″ | 6″ | 6″ |
| Volume | 240 Liters | 276 Liters | 253 Liters | 236 Liters | 267 Liters | 285 Liters |
| Fin set | Single | Single | Tri | Single | Single | Single |
| Construction | DFL | SLMD | DFL | DFL | DFL | DFL |
| Discipline | All Around | All Around | Surf | All Around | Touring | Touring |
Last updated on September 25, 2020 5:44 pm