Are you planning to shop an inflatable Stand-Up Paddleboard for yourself? But you do not know where to and how to buy your perfect mate for the best paddling experiences!
Do not worry as you have just come to the right place. If you wish to get the best deal, you must consider buying it from Amazon.
On Amazon, you can see customers' honest reviews, which will help you get the one that perfectly suits your requirements.
Why Should You Consider Buying A Paddleboard From Amazon?
Buying an inflatable stand-up paddleboard can seem to be a genuinely daunting job at first.
This is mainly because many models, brands, price points, features, and so many more that are obtainable can appear confusing and bewildering.
But when you choose to buy your SUP from Amazon, you get to know every single feature that the model offers you, its price, customer's honest reviews, and you can see the comparison table there.
The comparison table will help you compare products with almost the same features.
What To Check Before Buying Your First Paddleboard From Amazon
SUP boarding opens doors to several healthy ways of having fun and enjoyment in the water. You can use a stand-up paddleboard for running rivers, touring, surfing, racing, fishing, Yoga, or simply paddling around while enjoying the outside.
The wide range of things you can perform on a SUP is reflected in the numerous sizes and shapes of paddleboards designed and made for different purposes.
A paddleboard designed for surfing river waves or the ocean will be shorter than usual. A Stand-up paddleboard that is designed for touring or racing will be extra-long. In comparison, a paddleboard designed for running river falls will frequently be wider in size than usual.
The things that make a paddleboard perfect for a particular purpose can similarly be restrictive for other kinds of paddleboarding. A long paddleboard will be difficult for you to turn, and an extremely short or wide paddleboard will have less gliding and will be leisurely than other paddleboards on the water.
You'll likely explore numerous paddling activities if you're getting into a sport. Thus, restricting yourself to a particular way of using the paddleboard will affect your experience.
That is why maximum individuals shopping for the first time should look for a versatile construction, where paddleboards are made to do plenty of things well. Here are the things you should check before buying a versatile inflatable paddleboard from Amazon
Check If The Board Is Solid Or Inflatable
Solid paddleboards are the performance-orientated and more expensive end of the Stand-Up Paddleboard world. These boards are reliable means shaped to give you the maximum practical rails and streamlined bodies. The shape of stable paddleboards will differ depending on various things.
On the other hand, inflatable paddleboards have turned into the biggest seller on Amazon in the last few years. This is because they are inflatable. This means you can easily store and transport the board to your nearest water body without needing a roof rack or a prominent place to store the board, unlike solid boards.
The inflatable paddleboards being easily robust, cheaper, storable, and also easily transportable, these boards are increasingly gaining popularity among people over the past few years. The inflatable paddleboards gain their inflexibility as they're inflated when you pump air inside the panel.
Now the question is what you prefer. Question yourself what you need and prefer before deciding to buy one. For convenience, you can go to the official website of Amazon and find the two types and compare them.
You can also check the reviews to find out what customers are saying about the products. Especially check the negative reviews to get a vivid idea of the downsides of the two boards.
Read Next – Best Crew Inflatable Stand Up Paddle Board Our Top Picks
Check The Type Of Paddleboard:
Now, as you have decided whether to get a solid board or an inflatable one (we would like to recommend the inflatable one because it is easier to handle, store, transport, and also cheaper than the solid boards), let's check the inflatable board's types to see which one will suit your requirements the best.
If you have experience in stand-up paddleboard sports or any other marks related to paddle boarding and want good speed now, you may wish to look in the performance/sports board category.
But suppose you're a beginner in the paddleboarding field. In that case, you must consider looking for a versatile inflatable stand-up paddleboard that will be able to do several things well and let you travel to different places and experience different types of paddleboarding.
If you want to avoid falling and grow your confidence while learning your priority, you will have to shop for the ultra-stable inflatable Stand-Up Paddleboard from Amazon.
However, if you're buying specific paddleboarding, go for the particular boards custom-made to precise uses. You can pick from paddleboards designed for surfing, paddleboards that are ideal for Yoga if you are a yoga freak, white-water paddleboards if you go for paddling in the white water often, paddleboards for touring, or even paddleboards racing. Choose according to your needs.
Maybe you are looking for a stand-up paddleboard for your kid or a stand-up board for specific use like windsurfing, fishing, group paddling, or Yoga. Knowing the board's category you're looking for is the foremost step to narrowing down your search.
Read Next – Best Blackfin SUP Paddle Board Available in 2022
BOTTOM LINE:
Now, as you know what to look for and where to buy your first ever paddleboard, go for it. However, before you buy one, do good research. You can also check a few reviews on YouTube for your convenience if you want.
This way, you will get the best paddleboard for yourself. Amazon is undoubtedly a trustworthy website when purchasing a new thing.
This is because more or less every Amazon product comes with a specific return period which helps people see whether the product truly is built for them or they should get another one.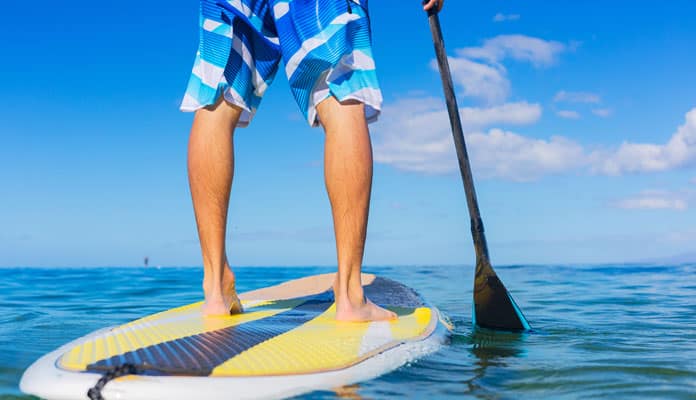 So, happy shopping from Amazon!
Read Next – Best Solid Paddle Boards in 2022
FAQ
Q. Are inflatable paddle boards worth the money?
A. Yes, of course, an inflatable paddleboard is worth the money. If you are a paddleboarding lover looking for a paddleboard that is cheap, easy to store, and portable, then certainly go for an inflatable paddleboard.
Q. What's the difference between a cheap and expensive paddleboard?
A. Both cheap and expensive paddleboards are made for the same task, paddleboarding.
Still, the difference is that a cheap paddleboard is made of cheap material and does not come with a handful of features that an expensive model can offer you.
Read Next – Best Affordable Inflatable Paddle Boards iSUP Of 2022
ADVENOR Paddle Board 11'x33 x6 Extra Wide Inflatable Stand Up Paddle Board with SUP Accessories Including Adjustable Paddle,Backpack,Waterproof Bag,Leash,and Hand Pump,Repair Kit (Green)
10 used from $169.99
Free shipping
as of September 21, 2023 7:17 am
Roc Inflatable Stand Up Paddle Board with Premium sup Accessories & Backpack, Non-Slip Deck, Waterproof Bag, Leash, Paddle and Hand Pump. (Black)
3 used from $229.00
Free shipping
as of September 21, 2023 7:17 am
Runwave Inflatable Stand Up Paddle Board Non-Slip Deck with Premium SUP Accessories | Wide Stance, Bottom Fins for Surfing Control | Youth Adults Beginner (Kohala Blue)
as of September 21, 2023 7:17 am
Aqua Plus 10ft6inx33inx6in Inflatable SUP for All Skill Levels Stand Up Paddle Board, Adjustable Paddle,Double Action Pump,ISUP Backpack, Leash, Shoulder Strap,Youth,Adult Inflatable Paddle Board
2 used from $159.97
Free shipping
as of September 21, 2023 7:17 am
EGGORY Inflatable Stand Up Paddle Board,10'6"x 32"x 6" | SUP Surfboard with Premium SUP Accessories & Backpack, Adj Paddle, Pump, Leash, Valve Adjuster | Youth & Adult Surfing Boat
out of stock
as of September 21, 2023 7:17 am
Aqua Plus 11ftx33inx6in Inflatable SUP for All Skill Levels Stand Up Paddle Board, Adjustable Paddle,Double Action Pump,ISUP Travel Backpack, Leash,Shoulder Strap,Youth & Adult Inflatable Paddle Board
6 used from $154.55
Free shipping
as of September 21, 2023 7:17 am
FunWater SUP Inflatable Stand Up Paddle Board Ultra-Light Inflatable Paddleboard with ISUP Accessories,Fins,Adjustable Paddle, Pump,Backpack, Leash, Waterproof Phone Bag (Blue)
out of stock
as of September 21, 2023 7:17 am