Our last choice is certainly not the least important one.
It's a really great-looking model by Aqua Marina, made especially for men and women who are fishing and want to use a paddleboard for cruising and fishing especially.
Features Aqua Marina Drift Fishing Inflatable Stand-up Paddle Board
Don't get us wrong. You can use this paddle board for any activity. It doesn't matter.
It's still great for fitness, yoga, paddle boarding, and so on…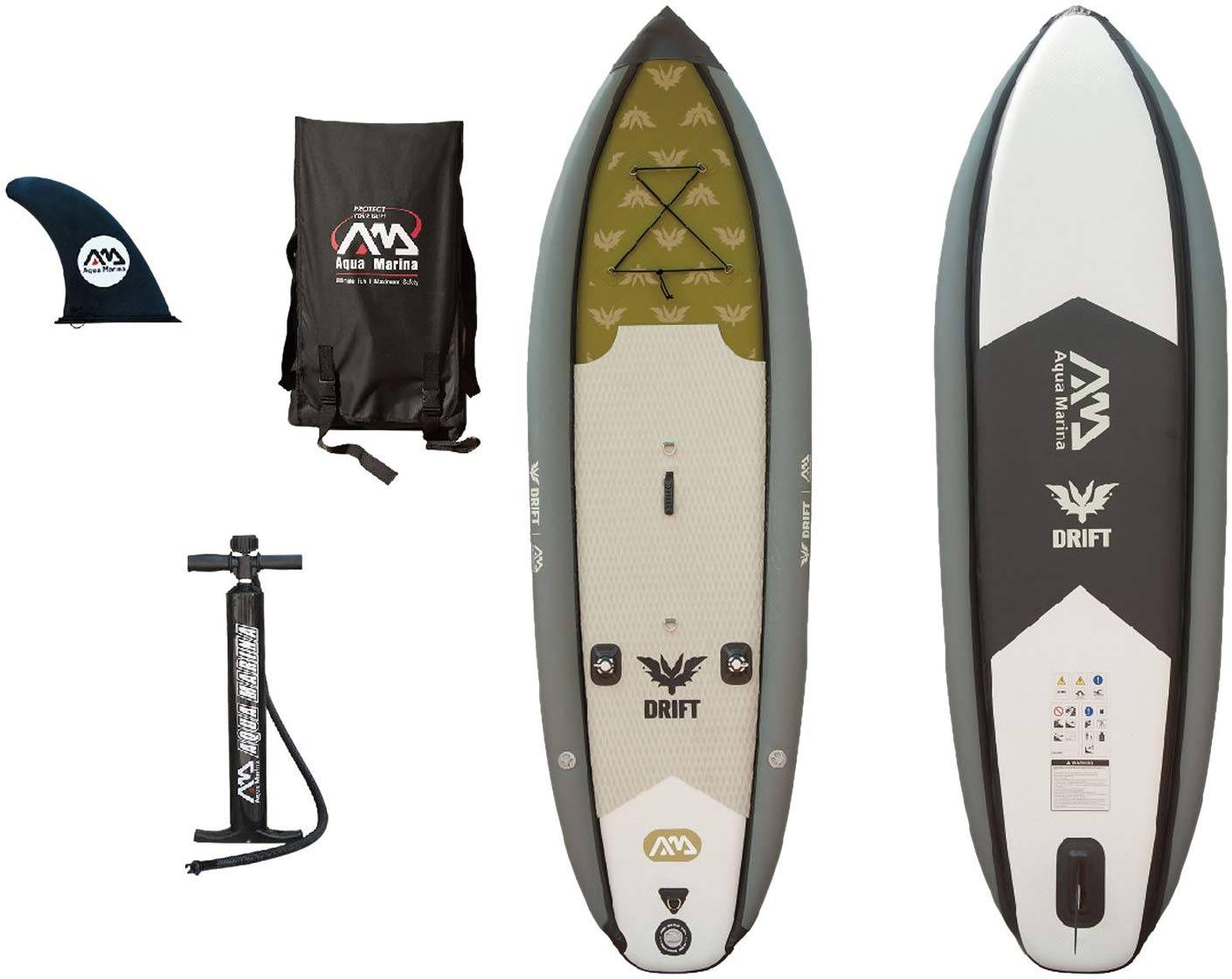 But there are some things that Aqua Marina paid special attention to keep this board a great choice for fish lovers.


The board has independent side chambers, which will ensure your safety.
It has built-in fishing rod holders, which is probably the best feature of the board.
It's the reason many people go for it. Besides the rod holders, there are also elastic bungee cords for cargo.
You will obviously need some space for all of the fish you will catch.
There is a Kool fishing cooler included in the pack, and it's a great thing to have by your side if you like to spend more time on the sea, in the rivers…
The design is simple but good looking. The camo-like pattern makes the board appeal "nature-like," and therefore, animals, as well as fish, won't get intimidated by it, and you'll have a much easier time finding the right "catch."
Read Next – Beyond Marina Ultra-Light Inflatable Stand Up Paddle Board
AQUA MARINA 2020 SUP FISHING ISUPS- DRIFT
The board can fit up to 350 lbs, as stated by reviewers.
It won't sink when you cross the weight limit. Obviously, it will just be a bit tougher to paddle, and it will maybe struggle a bit.
Many people are annoyed that it does not come with a paddle, though, so you should surely look into buying one before you decide to plan a whole trip.
This is a great, sturdy paddle board for all types of activities, and it's perfect for nature cruises that you may enjoy during your vacations.
Read Next – Aqua Marina Monster Inflatable SUP
Premium Inflatable Stand Up Paddle Board Package - 11'6 Hippocamp Fishing ISUP
4 new from $1,039.00

as of October 17, 2021 12:40 am
Sea Eagle FishSUP 126 Inflatable FishSUP - Swivel Seat Fishing Rig Package
4 new from $1,079.10

as of October 17, 2021 12:40 am
Aqua Marina Betta VT-312 Kayak Inflatable Kayak,
as of October 17, 2021 12:40 am
Inflatable Sport Boats - White Marlin 9.8' - Model SB-300A - 2020 Model - Air Deck Floor Premium Heat Welded Dinghy with Seat Bag
as of October 17, 2021 12:40 am
Premium Inflatable Stand Up Paddle Board - 11'6" x 32" x 6" - Complete Fishing & Touring Inflatable Paddle Board Kit - Includes Full Accessories Seat, Travel Bag, Cooler, 2+1 Fin System, Pump, Paddle
4 new from $939.00

as of October 17, 2021 12:40 am
BOTE Rackham Aero Inflatable Stand Up Paddle Board for Fishing, SUP with Accessories | Pump, Paddle, Fin, Travel Bag, Bug Slinger Dorado…
out of stock
as of October 17, 2021 12:40 am
awesafe Inflatable Stand Up Paddle Board with Premium SUP/ISUP Accessories Including Backpack, Bottom Fin for Paddling, Paddle, Non-Slip Deck, Hand Pump, Leash (Red)
3 new from $279.00
2 used from $233.97
Free shipping
as of October 17, 2021 12:40 am