Our last choice is certainly not the least important one.
It's a great-looking model by Aqua Marina, made especially for fishing men and women who want to use a paddleboard for cruising and fishing.
Water sports are excitingly variable, and so are the choices Aqua Marina Drift Inflatable SUP presents to you. You will find anything you need, from ISUPs for yoga and recreational paddling to fishing and racing SUPs.
The Aqua Marina Drift is an ISUP that will be the dream board for anyone who loves fishing and does it regularly because ISUPs are the best when it comes to portability and storage. It is a 10.10′ board, 38″ wide and 6″ thick. It is made for fishing, a smooth and more exciting activity.
Features Aqua Marina Drift Fishing Inflatable Stand-up Paddle Board
The Drift is 10.10 feet tall, which is quite enough for any water condition. This size is ideal for adults who're into fishing and big SUPs. The board measures a width of 38″ to deliver a special mission. Fishing on the board is going to be safe and fun.
The chambers are the most prominent thing about this model. They're meant to boost the SUP balance and secure anything on board while chilling, fishing, and paddling. To get that, you will find two independent side air chambers that you would not see anywhere else.
I've to admit that I was a bit surprised when I knew I would try this paddleboard because hearing that an inflatable paddleboard is 38″ wide is not something regular. Still, looking at the images, you will understand that those air sections are the best add a fishing ISUP could get unless you are looking for a monster board.
Don't get us wrong. You can use this paddle board for any activity. It doesn't matter.
It's still great for fitness, yoga, paddle boarding, and so on…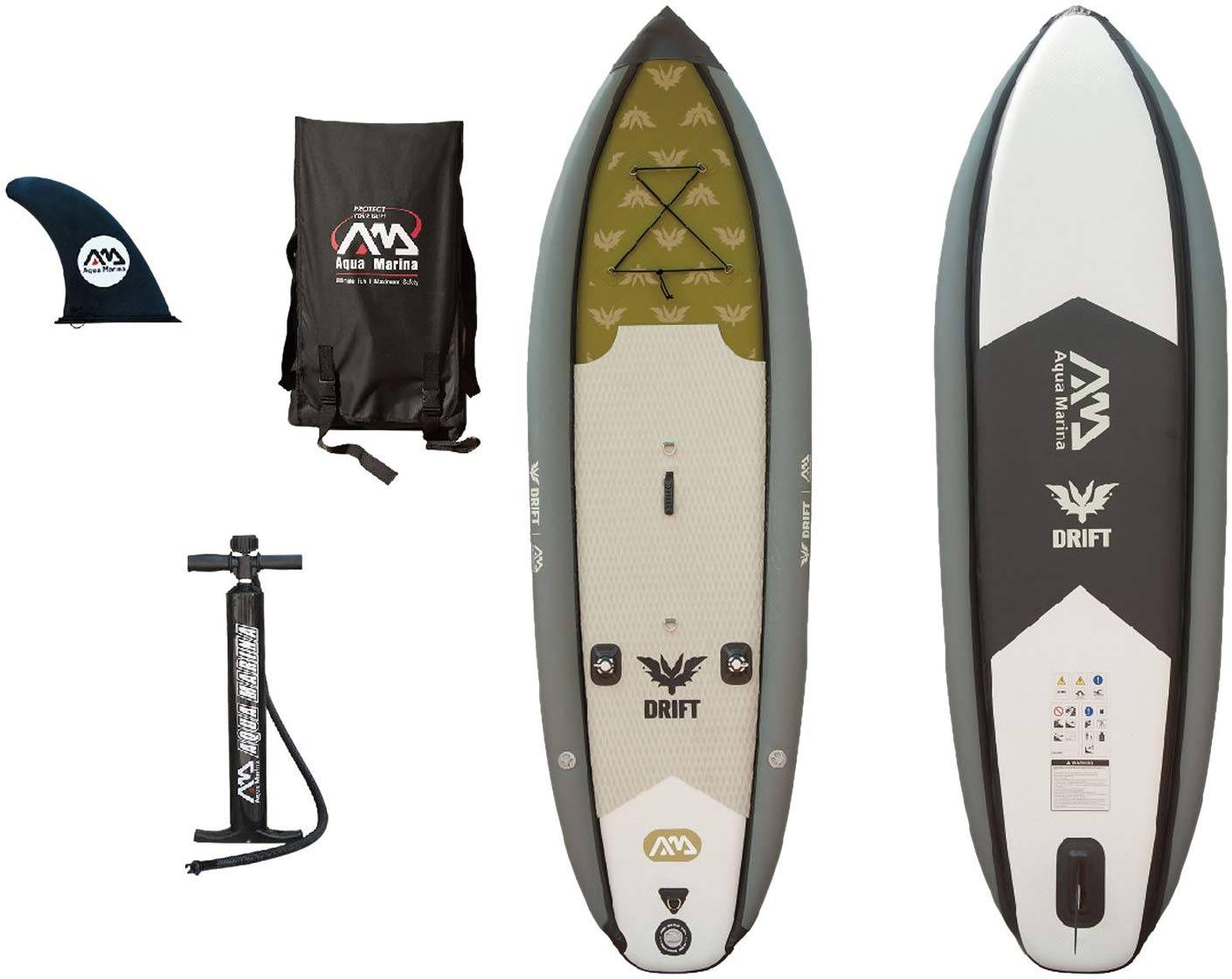 But there are some things that Aqua Marina paid particular attention to, keeping this board an excellent choice for fish lovers.


The board has independent side chambers, which will ensure your safety.
It has built-in fishing rod holders, which is probably the best feature of the board.
It's the reason many people go for it. Besides the rod holders, there are also elastic bungee cords for cargo.
You will need some space for all of the fish you will catch.
A Kool fishing cooler is included in the pack, and it's a great thing to have by your side if you like to spend more time on the sea, in the rivers…
The design is simple but good-looking. The camo-like pattern makes the board appeal "nature-like," Therefore, animals and fish won't get intimidated by it, and you'll have a much easier time finding the proper "catch."
Read Next – Beyond Marina Ultra-Light Inflatable Stand-Up Paddle Board
Quality
Aqua Marina understands that SUPs are meant to meet some standards concerning the practical needs of transportation and usage. Therefore, like any other authentic brand, they're aware that their products can't be only functional but also durable.
The Aqua Marina Drift Inflatable SUP is a dual-wall drop stitch and military-grade stuff. Once fully inflated, you will notice that the whole body of the SUP turns stiff and complex, which reflects the durability and strength of its actual construction.
The Aqua Marina Drift is a strong paddleboard that will ensure hours in the sunlight while holding up to something around 290 lbs. Unless something tragic occurs, this paddleboard is going to last.
Read Next – Jasonwell Inflatable Paddle Board SUP
Main Features Aqua Marina Drift SUP
With this paddleboard, I feel like there's so much to discuss, the details, the design, and all the functions that come useful once in the water.
The one great thing about the board is the two side air chambers. As mentioned before, adding more width to the board means additional stability. Not just that, those air chambers are there for safety matters because fishing is not just about sitting for fish to take the bait; it has very much action to it. You'll have to pump any side separately, using the two additional valves on the sides.
Concerning the traction pad, you will find an EVA deck that's diamond grooved and heat embossed for max traction. It is soft and stiff at a similar time for your knees or feet to stay unchanged and comfortable.
The Aqua Marina Drift Inflatable SUP features seven stainless steel d-rings that work like a complete bungee system, four of which are on the nose and linked with a bungee cord. Another two d-rings are fixed on the traction pad to secure the SUP cooler quickly. The last D-ring is on the board tail for leash attachment.
You will find two built-in fishing rod holders on both sections while you are on the board's back fishing. Those holders will let you fix your rod to the paddleboard and paddle around to your favorite fishing place without worrying about losing or falling it.
Read Next – Best DRIFT Inflatable Stand-Up Paddle Buying Guide
Packaging of the Drift
I am digging this package because the manufacturer does not just make a product, but they think about adding the most OK gears to complete it and bring the best of an inflatable SUP. I will start with what I think is the coolest thing about the Aqua Marina Drift Inflatable SUP:
A fishing cooler is the best thing about this drift board; it is there for you to enjoy one of the best fishing experiences. It will be safe, simple, and fun when it says the best. This cooler is removable and can be attached to the paddleboard. You will find a few storage boxes to put various baits and save them fresh inside.
You will find a board high-pressure hand pump that works perfectly, inflating the entire board, including the side air chambers. A pressure gauge is too for you to know when you're to hit the recommended pressure level of fifteen PSI is enough to turn the Drift stiff and thick.
Aqua Marina has most of their boards with a magic backpack to store and pack your SUP once you deflate it. It is delicate and does the job needed as you can carry it comfortably on your back for a while.
Aqua Marina BT-18RP Rapid 9.6 Foot Inflatable SUP Stand Up Paddleboard, Yellow
out of stock
as of September 27, 2023 2:47 am
Read Next – Best Paddle Board With Motor
Board Performance
The Aqua Marina Drift Inflatable SUP fishing is a stable hell board. The side air chambers are the best addition any inflatable SUP could get if targeting stability.
You can check to take this board on lakes and calm rivers or lakes to fish; it will give you good tracking and be incredibly balanced. This paddleboard is responsive and not very demanding to control. Therefore, you'll get to concentrate on fishing.
Read Next – Premium Inflatable Stand Up Paddle Board Package
What I like
It is made with independent side chambers for balance and safety
The board is a solid and thick fishing inflatable SUP
The cooler has a high back seat to sit easily while fishing
It comes with a cooler that you can simply on SUP with you.
A backpack is included to increase portability options
You will find two built-in fishing rod holders on both sections
What I don't like
No repair kit.
The package doesn't include a paddle.
AQUA MARINA 2022 SUP FISHING ISUPS- DRIFT
The board can fit up to 350 lbs, as stated by reviewers.
It won't sink when you cross the weight limit. It will be a bit tougher to paddle, and it will struggle a bit.
Many people are annoyed that it does not come with a paddle, so you should look into buying one before you plan a trip.
This is a great, sturdy paddle board for all types of activities, and it's perfect for nature cruises that you may enjoy during your vacations.
Read Next – Aqua Marina Monster Inflatable SUP
Premium Inflatable Stand Up Paddle Board Package - 11'6 Hippocamp Fishing ISUP
out of stock
as of September 27, 2023 2:47 am
Sea Eagle FishSUP 126 Inflatable FishSUP - Swivel Seat Fishing Rig Package
$1,199.00


$

999.00
in stock
5 new from $999.00

as of September 27, 2023 2:47 am
Aqua Marina Betta VT-312 Kayak Inflatable Kayak,
out of stock
as of September 27, 2023 2:47 am
Premium Inflatable Stand Up Paddle Board - 11'6" x 32" x 6" - Complete Fishing & Touring Inflatable Paddle Board Kit - Includes Full Accessories Seat, Travel Bag, Cooler, 2+1 Fin System, Pump, Paddle
out of stock
as of September 27, 2023 2:47 am
Aqua Marina BT-18RP Rapid 9.6 Foot Inflatable SUP Stand Up Paddleboard, Yellow
out of stock
as of September 27, 2023 2:47 am
Aqua Marina BT-18EC Echo 10.6 Foot Inflatable SUP Stand Up Paddleboard w/ Paddle
as of September 27, 2023 2:47 am
DRIFT Inflatable Stand Up Paddle Board, SUP with Accessories | Coiled Leash, Pump, Lightweight Paddle, Fin & Backpack Travel Bag (Native Floral)
as of September 27, 2023 2:47 am
Read Next – Best Fishing Paddle Boards in 2023