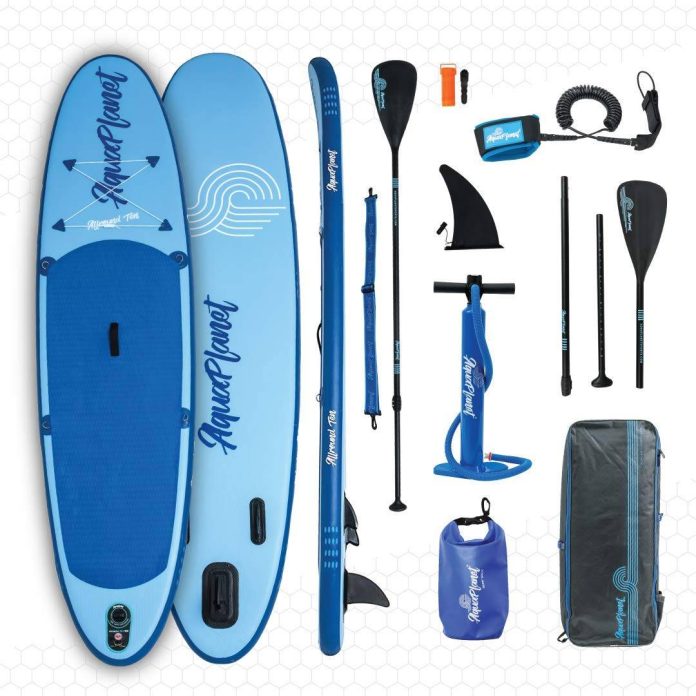 YOLO Board 11′ review
If you're looking for a very luxurious board, Yolo Board is the one to go for. The price on it is pretty high, but it's worth every penny. Just looking at the board gives away how high-quality it is. It has a simple color palette: light blue and dark blue with a dash of orange. You can see the company's logo and the simple side logo as well.
This paddle board fits in a custom designed backpack you are getting. This means that you can bring the board around if you wish to, and you won't have any issues in transportation. The high-quality construction is really important and it can be thanked marine grade rubber that provides extreme durability and quality.
The board itself is pretty lightweight and you can carry it around without much trouble. The 6″ deck is also pretty practical and you'll notice that your stability and balance are much better when you are on this board.
There are two bungee systems, a big one for refrigerators, backpacks or even pet houses, and the small one is usually used for small bags, phone cases, and similar stuff. You'll also notice D-rings.
The YOLO board is a bit wider than your other regular boards and this means that it can take more weight. It is sturdy and provides the best experience when used at 15 PSI. Besides the board itself, you are getting a backpack, a pump, a pressure gauge, a removable center fin and side fins (for balance), a repair kit, a 4 piece paddle that you can adjust…
This board weighs about 22 pounds which is really good for a board this big. Many people say that they are over 150 pounds and that the board acts as a hardboard for them. The only issue is that the manufacturer hasn't disclosed the maximum weight limit for this board, which means that you'll either have to investigate it yourself or find another board.