If you're looking for a very luxurious board, Yolo Board is the one to go for.
The price on it is pretty high, but it's worth every penny.
Just looking at the board gives away how high-quality it is. It has a simple color palette: light blue and dark blue with a dash of orange.
You can see the company's logo and the simple side logo as well.
Features

YOLO Board Inflatable Stand Up Paddle Board
This paddleboard fits in a custom-designed backpack you are getting.
This means that you can bring the board around if you wish to, and you won't have any transportation issues.
High-quality construction is essential, and it can be thanked marine-grade rubber that provides extreme durability and quality.
The board itself is pretty lightweight, and you can carry it around without much trouble.
The 6″ deck is also pretty practical, and you'll notice that your stability and balance are much better when you are on this board.
There are two bungee systems, a big one for refrigerators, backpacks, or even pet houses, and the small one is usually used for small bags, phone cases, and similar stuff.
You'll also notice D-rings.
The YOLO board is a bit wider than your other regular boards, which means that it can take more weight.
It is sturdy and provides the best experience when used at 15 PSI.
Besides the board itself, you are getting a backpack, a pump, a pressure gauge, a removable center fin and side fins (for balance), a repair kit, a 4 piece paddle that you can adjust…
This board weighs about 22 pounds which is really good for a board this big.
Many people say that they are over 150 pounds and that they act as a hardboard for them.
The only issue is that the manufacturer hasn't disclosed the maximum weight limit for this board, which means you'll either have to investigate it yourself or find another board.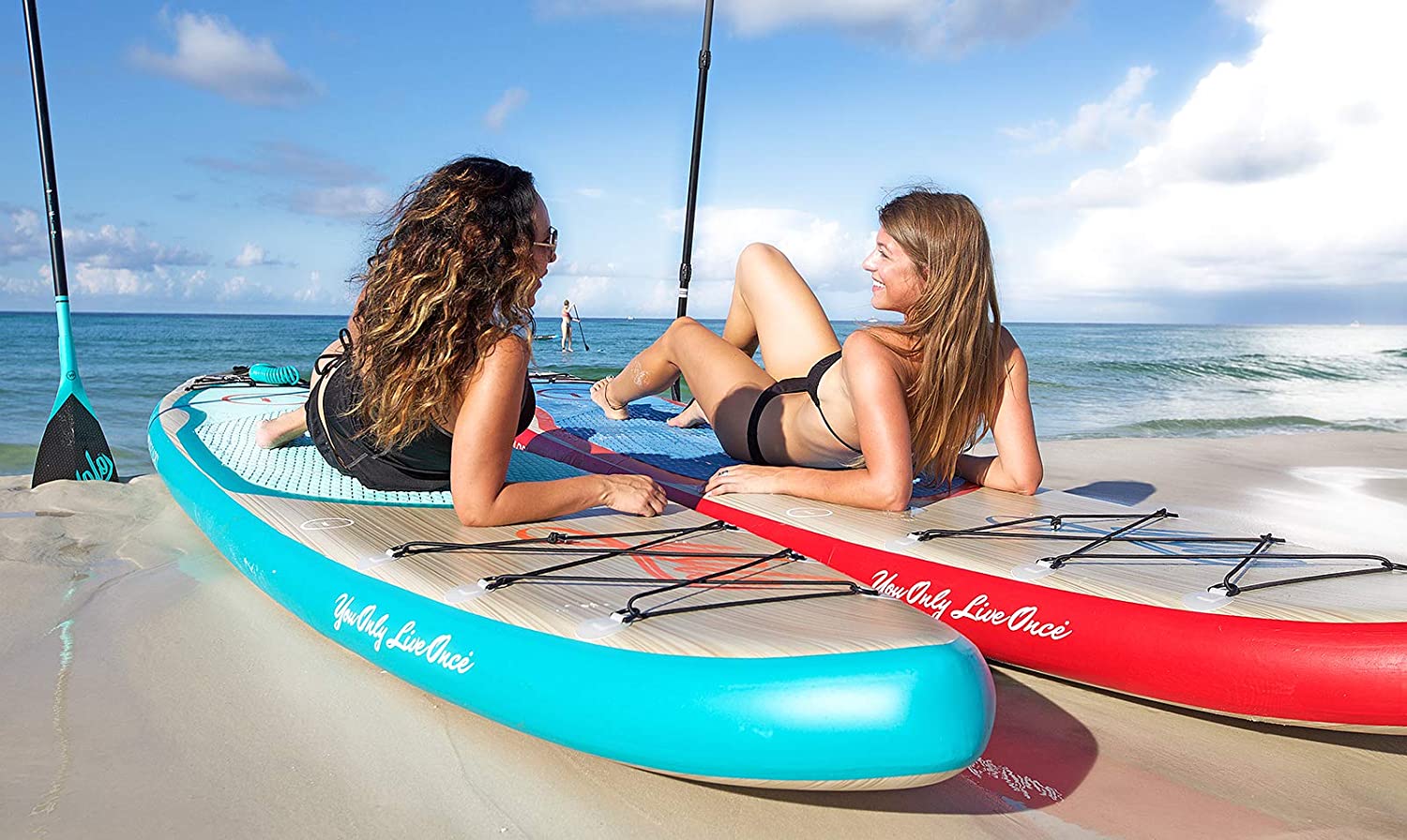 "The master in the art of living makes little distinction between his work and his play, his labor and his leisure, his mind and his body, his information and his recreation, his love and his religion. He hardly knows which is which.
He pursues his vision of excellence at whatever he does, leaving others to decide whether he is working or playing.
To him, he's always doing both." – James Michener.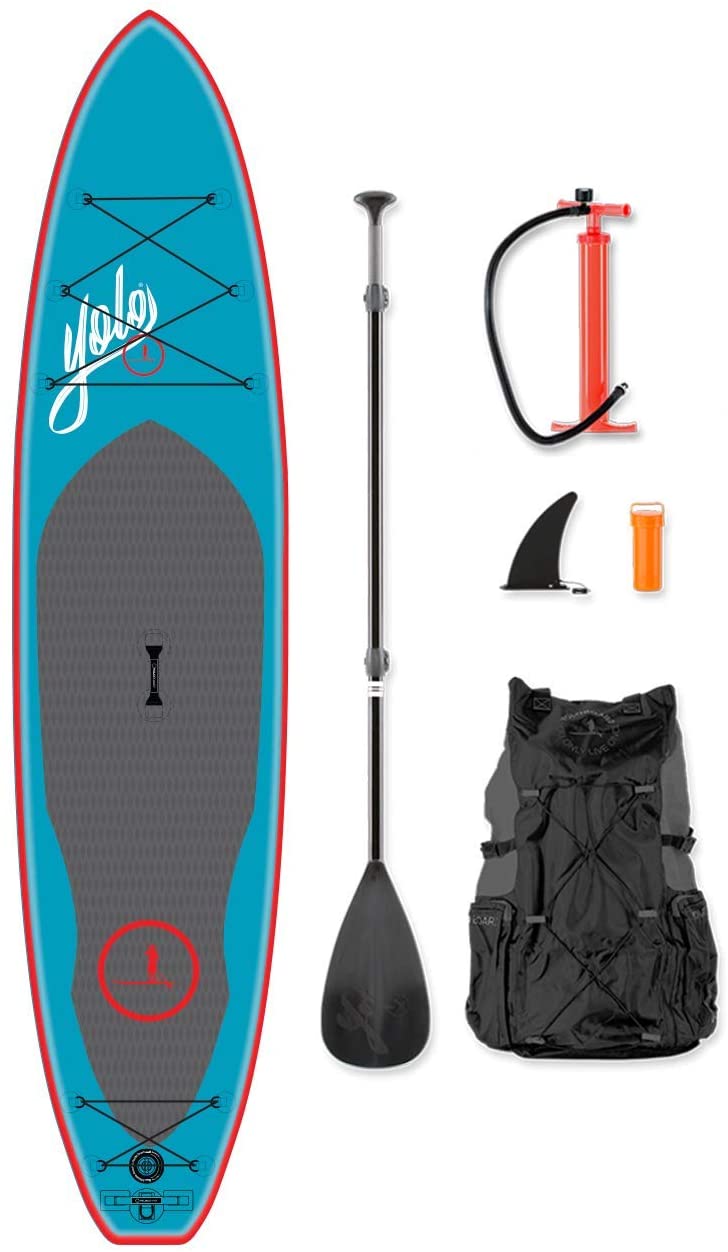 In early 2007, when a mantra of "You Only Live Once" collided with a passion for sharing standup paddleboarding (SUP) with the world, the YOLO Board story began in Santa Rosa Beach, FL. Jeff Archer's first time out on the water was like many people's first paddleboarding: epic and transformative. In the formative days of the business to follow, Archer would travel delivering his inspired boards around the state of Florida in a van (where he'd also frequently sleep for the night), introducing the zeal of his own experience and a brand new sport to the region.
The picturesque, world-renowned beaches and diverse waterways of Northwest Florida's Gulf Coast proved to be a perfect backdrop for YOLO Board's business to take root and its mission to grow.
It is a business built on the precept of making SUP easy and accessible for anyone, no matter their age, skill, or fitness level; of producing high quality, artfully designed products; and providing first-rate customer experiences to every member of the ever-growing YOLO Tribe.
The company continues to work each day to empower and inspire by the simple but powerful reminder that "You Only Live Once,"… so make it count!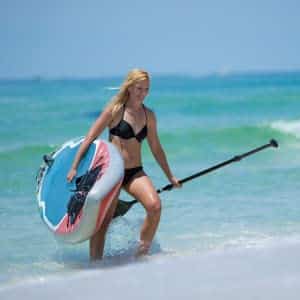 The YOLO Board Inflatable Stand, Up Paddleboard package includes everything you need to get out on the water!
Including a YOLO Inflatable SUP, removable fin, hand pump, patch kit, travel bag, and collapsible adjustable SUP paddle.
Lightweight and exceedingly portable, the YOLO Inflatable SUP is the perfect Stand Up Paddleboard for life's spontaneous adventures!
Artfully Designed & Extremely Detailed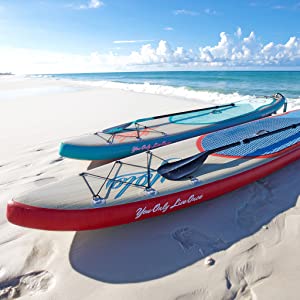 Featuring custom artwork by renowned designer Jake Meyer, YOLO Board produces some of the best-looking Stand-Up Paddleboards available.
Our cutting-edge artwork printing process results in unprecedented detail – each SUP is truly a work of art!
Stand out in a world of plain-jane inflatable SUPs with YOLO Board's artfully-designed Stand Up Paddleboards.
Lightweight and Exceedingly Portable
The YOLO Inflatable SUP, hand pump, collapsible SUP Paddle, and included accessories fit easily in the included Travel Bag, making it the obvious choice for travel, boating, RV/camping just storing in a closet if space is limited.
Check it at the airport or toss it in the trunk for your next spontaneous adventure – SUP anywhere with the YOLO Inflatable Stand Up Paddleboard!
Read Next – Boardworks SHUBU Kraken Inflatable SUP
Industry Leading Quality & Marine Grade Durability
Constructed from the highest-quality marine grade PVC, the YOLO Inflatable is ultra-durable and built to whitewater specifications.
Triple reinforced seams and drop-stitch construction ensure your YOLO Inflatable SUP will last as long as your thirst for adventure!
You stand on our Inflatable SUPs. We stand by them – if you aren't 100% thrilled with your purchase, we will ma
Read Next – Premium Inflatable Stand up Paddle Board
YOLO Board Inflatable Stand Up Paddleboards
Read Next – AQUA SPIRIT All Skill Levels Paddle Board Review
Soopotay Inflatable SUP Board, Stand Up Paddle Board, Inflatable Paddle Board, iSUP Package with All Accessories (Navy_Blue, 10' x 32'' x 6'')
5 used from $153.16
Free shipping
as of October 10, 2021 10:37 pm
aquaplanet 10ft 6" x 15cm PACE Stand Up Paddleboard - Incl: SUP, Hand Air Pump w/Pressure Gauge, Adjustable Aluminum Floating Paddle, Repair Kit, Rucksack, Coiled Leash & 4 Kayak Seat Ring Fittings
2 new from $298.99
1 used from $246.42
Free shipping
as of October 10, 2021 10:37 pm
SereneLife Inflatable Stand Up Paddle Board (6 Inches Thick) with Premium Accessories & CarryBag | Wide Stance, Bottom Fin for Paddling, Surf Control, Non-Slip Deck
5 new from $309.95
6 used from $228.13
Free shipping
as of October 10, 2021 10:37 pm
Hydro-Force White Cap Inflatable Stand Up Paddle Board, 10' x 32" x 4" | Inflatable SUP for Adults & Kids | Converts into Kayak | Complete Kit Includes Kayak Seat, Oar, Pump, Travel Bag, Ankle Leash
2 new from $299.99

as of October 10, 2021 10:37 pm
Aquaplanet 10ft Allround Paddle Board - Beginner's Kit. Air Pump with Pressure Gauge,Adjustable Aluminium Floating Paddle,Repair Kit,Heavy Duty Carry Rucksack & Premium Leash & 4 Kayak Seat Rings
3 new from $259.99
Free shipping
as of October 10, 2021 10:37 pm
Goplus 10' Inflatable Stand Up Paddle Board Package w/ Fin Adjustable Paddle Pump Kit Carry Backpack, 6" Thick
out of stock
as of October 10, 2021 10:37 pm
SereneLife Inflatable Stand Up Paddle Board (6 Inches Thick) with Premium SUP Accessories & Carry Bag, Wide Stance, Bottom Fin for Paddling, Surf Control, Non-Slip Deck, Youth & Adult Standing Boat
5 new from $329.99
6 used from $203.95

as of October 10, 2021 10:37 pm
SereneLife Inflatable Stand Up Paddle Board (6 Inches Thick) with Premium SUP Accessories & Carry Bag | Wide Stance, Bottom Fin for Paddling, Surf Control, Non-Slip Deck | Youth & Adult Standing Boat
3 new from $299.99

as of October 10, 2021 10:37 pm
Hydro-Force Aqua Journey Inflatable Stand Up Paddle Board, 9' x 30" x 6" | Inflatable SUP for Adults & Kids | Complete Kit Includes Adjustable Aluminum Paddle, Hand Pump, Travel Bag, Surf Leash
2 new from $279.00
1 used from $190.94
Free shipping
as of October 10, 2021 10:37 pm
Vilano Journey Inflatable SUP Stand up Paddle Board Kit
3 used from $168.56
Free shipping
as of October 10, 2021 10:37 pm