Aqua Plus 10′ is a new market leader on a budget level that has gained tremendous popularity. You are wondering why?
AT AN AFFORDABLE PRICE, high-quality SUP paddleboards are something every water sports fan would love to add to their collection. If you are a beginner and don't know how to choose or buy it as a gift, this is the perfect one to choose.
In addition, they are an excellent choice for experienced ones because of their quality, price, and carrying capacity. If you love spending time in couple, doing yoga or fishing, or spending time with your kids on the water, try this board.
The price and quality ratio makes this board one of the best buy sup boards in its category. If you are a beginner or recreator who likes to enjoy nature and spend time on the water, this is the ideal board.
Its weight capacity will satisfy the demands of most users and even two adults, so there will always be places for children, your dog, or different stuff.
Read more about the benefits of the Aqua Plus 10′ SUP paddleboard.
Features Aqua Plus Paddle Board
The Aqua Plus board's outer cover is a double-layered PVC that will feel the firm ground under your feet and be lightly controlled by the paddle. This paddleboard has military ultra-light PVC material strengthened with the drop stitch fabric.
PVC material is safe for all water conditions, from fresh to salty water so you can use it everywhere. The PVC material board rails have layers to get an extra firm board. An anti-slip coating on the surface provides additional safety while spending time on the board.
PVC is a sturdy and solid material, and you will feel safe while standing on it, especially with an anti-slip cover layer.
An exciting design on the paddleboard makes sections for standing, sitting, and storage with D rings.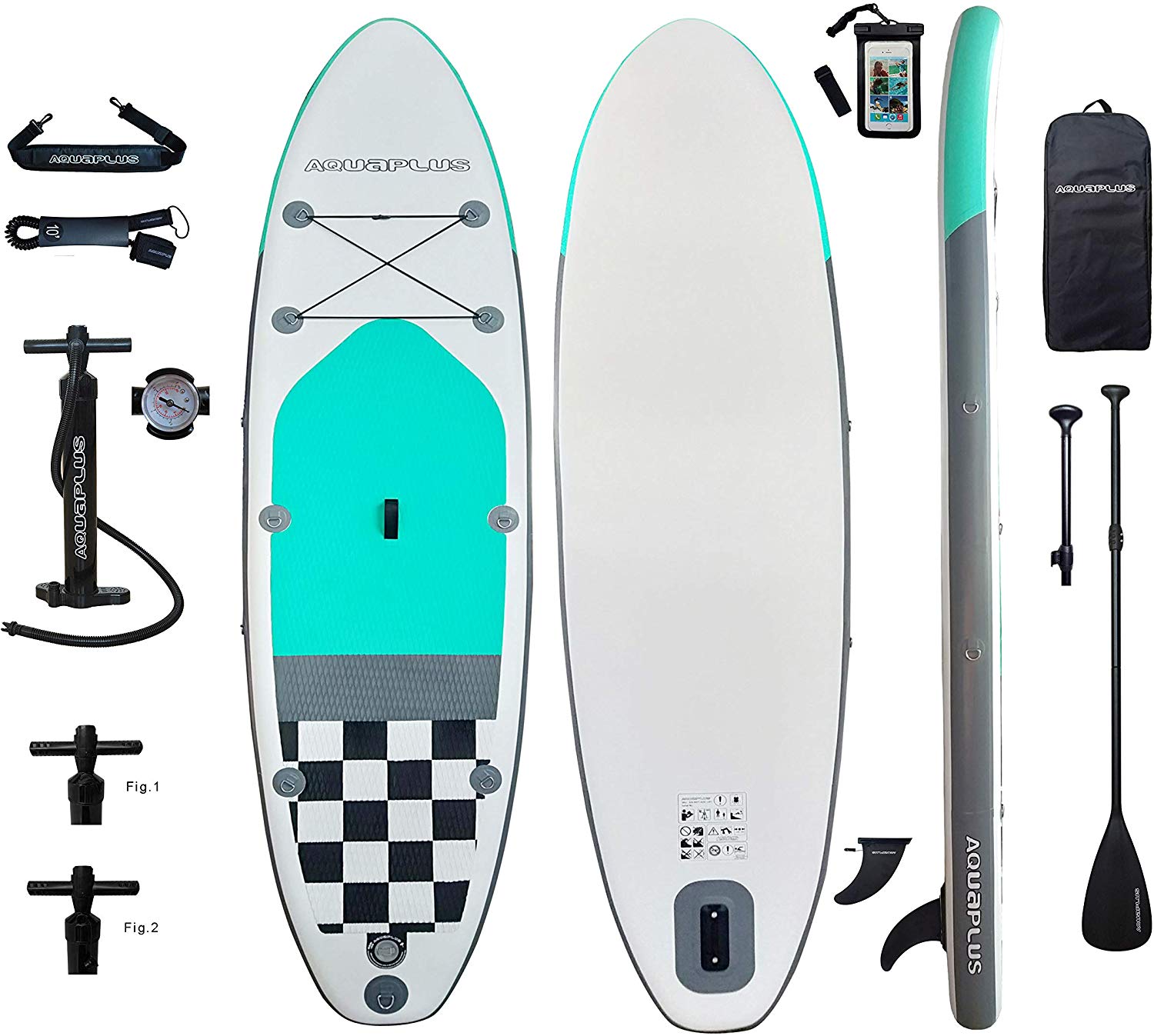 Read Next – COSTWAY Go Plus SUP Review
Essentials in the package
With the board in a package, you get all the extra stuff to enjoy paddleboarding maximally, and there is no need to invest in additional accessories.
Everything you get with the Aqua SUP paddleboard: Board, fully adjustable aluminum paddle (measures from 65 inches to 82 inches long), navigator ISUP travel backpack, shoulder strap, coiled leash, waterproof bag, removable fin, and double-action pump.
Read Next – Top 5 Best Premium SUP Leash 
Aluminum paddle
A paddle is an essential part of the SUP set. This paddle is lightweight and high-quality, made of aluminum fibers. You can adjust it to fit your needs perfectly. It goes from 65 inches to 83 inches in length.
Lightweight aluminum paddles provide you with easy paddling without possible injury.
Transportation backpack
Navigator ISUP travel backpack is an excellent addition because of the paddleboard's tiny, more significant dimensions. But it is still lightweight and easy to carry, store and transport with you while traveling.
The backpack allows you to store everything the SUP kit needs and carry it with you.
Shoulder strap
The shoulder strap is part of the set that all SUP paddleboard manufacturers incorporate into the collection. The shoulder strap allows you to carry an inflated paddleboard around easily.
Because of the lightweight, its inflated shoulder strap makes it easier if you don't need to deflate it and store and leave it inflated.
Read Next – Best Stand UP Paddleboard Trailer
Safety (coiled) leash
A safe (coiled) leash is great surfing addition that surfers love to use if they are beginners. Then they feel safe because paddle boards can't float away from them.
It is also great for surfers who go on wild waters or sea weaves, keeping close to the paddleboard.
Waterproof bag
You can spend time on the paddleboard just paddling around, but also, you can have a day in the office in the middle of the lake, practice yoga, or fish.
For all of that, you will need some stuff. Now put all the essentials in the waterproof bag that comes in the package and enjoy your day on the water.
Removable fin
This Aqua paddleboard has only one removable fin. This removable fin is the big one positioned in the middle part of the paddleboard.
Considering using a fin will help you balance the board quicker, paddle faster, and provide you with more control over the paddleboard.
Double action pump
Double action pump provides you with a short period of inflation. In the first part of the inflation, you use double action to achieve high pressure when using a single action function on the pump. Your SUP inflatable paddleboard will be ready in 10 minutes.
Below we have listed essential features of the Aqua Plus inflatable board, a list of things that come with a board, and some of the advantages and disadvantages you may encounter if you buy this sup board.
If you are looking for an affordable SUP inflatable paddleboard that would be a great addition to family and friends' vacations, this is the one you should consider. With a great price and high-quality craftsmanship, you will have it for a long time while spending a reasonable amount of money.
With all the other stuff in the package, you are ready for paddling adventure when purchasing this SUP paddleboard. There are even some extras that we can't find in all paddleboard packages. The shoulder strap is the surprise in this set, it is an addition that will help you carry it quickly, and you will not find it in many other paddle sets.
If you are still unsure about purchasing, read our review and see the pros in favor of Aqua SUP paddleboards.
When high quality meets affordable price, that is usually a great idea, especially for beginners and first-time buyers. This should be a great fit if you purchase it as a gift.
Read Next – DAMA Inflatable Stand up Paddle SUP Board
Technical specification
Size: 10'x 32″x 6″
Weight limit: 310 lbs
Layers: Double PVC layer
Recommended for: Beginners, recreational, short trips, and holidays
Transferability: Board weight only 18 lbs
Read Next – Best Aqua Plus Inflatable Sup in 2022
Aqua Plus package includes:
Board, adjustable aluminum paddle, backpack for transfer, shoulder strap, coil leash, waterproof bag, removable fin, pump.
Pros:
Low price
Good quality
Pack includes everything you need
Excellent weight capacity for a beginner board
Cons:
Air pump quality should be better.
Aqua Plus 10ft6inx33inx6in Inflatable SUP for All Skill Levels Stand Up Paddle Board Boat, Adjustable Paddle,Double Action Pump,ISUP Travel Backpack, Leash, Shoulder Strap, TPU Waterproof Bag
as of September 16, 2022 7:24 am
Other Aqua Plus SUP boards and comparison
The Aqua Plus manufacturer also offers two more sup boards.
It's Aqua Plus 11'x 33 "x 6" and Aqua Plus 10'x 33 "x 6".
There are several differences between the boards mentioned below.
Aqua Plus 10'x 32″ x 6″ vs Aqua Plus 10'x 33″ x 6″
Size: 32 "is slightly narrow, but the boards are equally stable on the water
Weight: 32 "is lighter for 2 lbs
Weight capacity: 33" has a higher weight limit of 20 lbs.
Design: Different look of the board
Read Next – Best Life Jackets Walmart 
Aqua Plus 11'x 33 "x 6" differences compared to 10′
Because its length has a higher weight capacity and is more stable on the water because of its length. It has almost the same weight as 10'x 33 "x 6".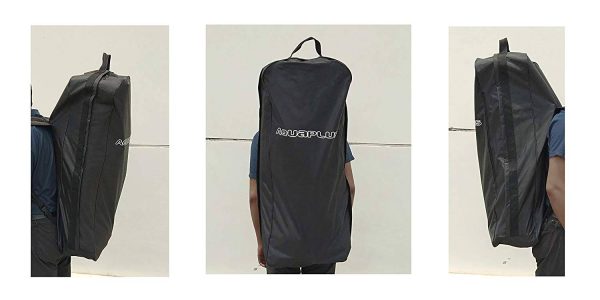 Read Next – Best Pelican Sup Australia Available in 2022
Conclusion
As you can conclude, all three boards have similar characteristics and the same quality. Aqua paddleboards vary in a few things, but they are all high-quality paddleboards with great prices that should be considered.
You can choose the perfect Aqua paddleboard based on its design and colors. They all have different patterns and colors. We are sure you will find one that speaks to you and fits your style.
Also, you can choose them based on the price, because of their similar preferences. Find the one that is more affordable and fits into your given budget.
All prices fit into the same price range with minor variations.
I would be guided solely by the price when choosing the board.
Aqua Plus 10′ Inflatable SUP Video Review
Are you not sure if the SUP paddleboard is a fit for you?
This could be a great idea if you want to add some new activities to your family vacations.
If your family loves to spend time outdoors and likes water, we are sure you will love spending time paddling.
Kids, dogs, and adults love to use paddleboards. Kids can race, paddle around with dogs or just lay down on boards doing nothing. Paddleboards are great for fishing, doing yoga, or meditating. There are a lot of benefits while using paddleboards.
We did not mention the last note in this Aqua Plus review that you guarantee every Aqua Plus board 12 months after purchase.
Read Next – O'Shea Paddleboard Review – Premium Quality Inflatable SUP
The Aqua Plus 10′ Inflatable SUP is an excellent choice for those who want to save space and be able to take their board with them anywhere.
It's durable, stable, and the perfect size for beginners or those looking for an easy-to-maneuver inflatable paddleboard.
Aqua Plus 10ft6inx33inx6in Inflatable SUP for All Skill Levels Stand Up Paddle Board Boat, Adjustable Paddle,Double Action Pump,ISUP Travel Backpack, Leash, Shoulder Strap, TPU Waterproof Bag
as of September 16, 2022 7:24 am
Aquaplanet 10ft 6" x 15cm MAX Stand Up Paddle Board kit. Air Pump with Pressure Gauge,Adjustable Aluminium Floating Paddle, Repair Kit,Heavy Duty Rucksack,Premium Leash & 4 Kayak Seat Rings
2 new from $269.99
Free shipping
as of September 16, 2022 7:24 am
Aquaplanet 10ft 6" x 15cm PACE Stand Up Paddleboard - Incl: SUP, Hand Air Pump w/Pressure Gauge, Adjustable Aluminum Floating Paddle, Repair Kit, Rucksack, Coiled Leash & 4 Kayak Seat Ring Fittings
3 new from $269.99
Free shipping
as of September 16, 2022 7:24 am
Aquaplanet 10ft Allround Paddle Board - Beginner's Kit. Air Pump with Pressure Gauge,Adjustable Aluminium Floating Paddle,Repair Kit,Heavy Duty Carry Rucksack & Premium Leash & 4 Kayak Seat Rings
3 new from $298.00

as of September 16, 2022 7:24 am
Aquaplanet Rockit BLU Travel SUP Inflatable Stand Up Paddle Board Kit | 4" Thick | 10'2" Long | Kayak Seat | Convertible Paddle | Carry Backpack | Dual-Action Pump | Ankle Safety Leash | Dry Bag
as of September 16, 2022 7:24 am
Aqua Plus 11ftx33inx6in Inflatable SUP for All Skill Levels Stand Up Paddle Board, Adjustable Paddle,Double Action Pump,ISUP Travel Backpack, Leash,Shoulder Strap,Youth,Adult Inflatable Paddle Board
2 used from $214.26
Free shipping
as of September 16, 2022 7:24 am
Aqua Plus 11ftx33inx6in Inflatable SUP for All Skill Levels Stand Up Paddle Board, Adjustable Paddle,Double Action Pump,ISUP Travel Backpack, Leash,Shoulder Strap,Youth & Adult Inflatable Paddle Board
3 used from $200.15
Free shipping
as of September 16, 2022 7:24 am
Aqua Plus 10ftx32inx6in Inflatable SUP for All Skill Levels Stand Up Paddle Board, Adjustable Paddle,Double Action Pump,ISUP Travel Backpack, Leash,Shoulder Strap,Youth & Adult Inflatable Paddle Board
1 used from $150.44
Free shipping
as of September 16, 2022 7:24 am
Aqua Plus Inflatable SUP Center Fin Paddle Board Set Fins (Black, 9inch)
as of September 16, 2022 7:24 am
Aqua Plus Inflatable Stand Up Paddle Board High Pressure Double Action SUP Pump (Black, 63cm)
out of stock
as of September 16, 2022 7:24 am