Studies of yoga as an activity have shown that the positive effects it has on the human body are numerous. Yoga students were found to have statistically significantly (p = <0.01) improved health by 23-28%, experienced increased complacency, inappropriate teaching behavior decreased, and improved grades directly correlated with conducting this activity. Also author Fubing (2018) states that yoga "through body postures, breathing techniques and meditations .. directly affects the human endocrine, digestive and immune systems." Combining this with the information given above about the positive impact of unstable surfaces on increasing the impact of exercises, we conclude that this type of activity, carried out on a board, would be very influential and useful.
Yoga on SUP board are increasing interest to observers and participants and, like SUP boarding, offers the opportunity to change the environment on a daily basis and to avoid the monotony that often impedes the continuity of yoga. For recreational purposes, beginner yoga positions can be practiced on the board, which, due to the instability of the board, presents an even greater challenge for the practitioner – both beginner and advanced practitioner. Below is a summary of the Yoga SUP work program – accompanied by some yoga postures. The program was written with the suggestions and assistance of a RYT200 and RYT500 certified yoga trainer who also appears in the photos.
Yoga SUP training program
Name of the Exercise - A sankrt by Krishnamacharya names
Number of repeats / Duration
Exercise impact, no rest between batches
1. Continuous Stand up paddling
5 min
Warming up the locomotor system and getting your muscles ready for work
2. Mountain Position - Tadasana
5 min
Breathing and muscle awareness
3. Chair Position - Utkatasana
4 reps x 10 seconds
Hull warming and stretching of the back muscles and hindquarters
4. Cat and Cow - Parsvottansana
6 reps x 3 seconds
Lower back flexibility and torso strengthening
5. High Resistance - Adho Mukha Svansana
4 reps x 10 seconds
Strengthening of the torso and arm / shoulder muscles, stretching of the rear lodge
6. Warrior III - Eka Pada Ardha Uttanasana
5 reps x 8 seconds
Strengthening of leg muscles, development of balance and static strength of the torso
7. Seating Back - Janna Sirsasana
6 reps x 5 seconds
Stretching the back lodge and the hip flexor, tailoring muscle
8. Little Bridge - Dvipada Pitham
6 reps x 8 seconds
Strengthening of muscles of back and back of legs
9. Dead Man's Position - Savasana

6 reps x 20 seconds
Relaxation of all muscles and relaxation
10. Knees to Chest - Apanasana
Relaxation of back muscles o Stretching of leg muscles
5 reps - 10 seconds
Relaxation of back muscles o Stretching of leg muscles
11. Dog Down - Eka Pada Adho Mukhva

3 reps - 8 seconds
Strengthening of the shoulder and back muscles and stretching of the posterior lodge
12. Standing bow - Uttanasana

3 reps - 10 seconds
Stretching the back lodge
13. Paddling to the coast at a slow pace
-
Final relaxation and calming physiological responses
SUP Yoga exercise examples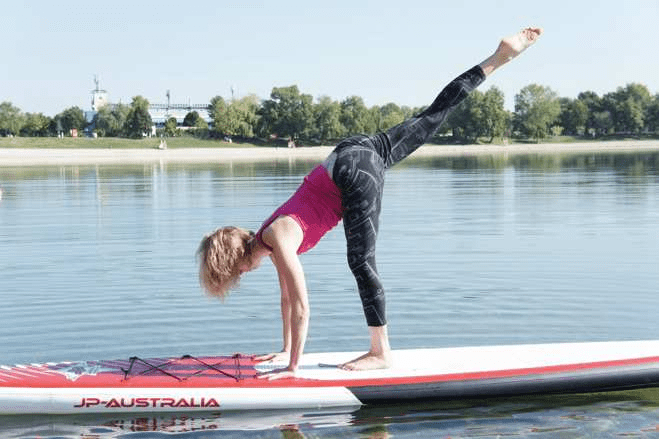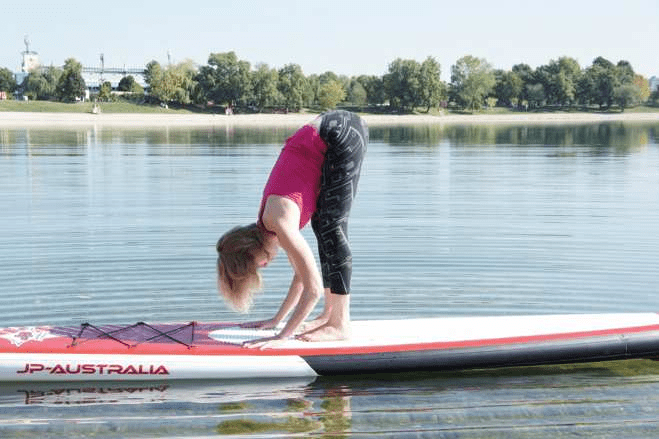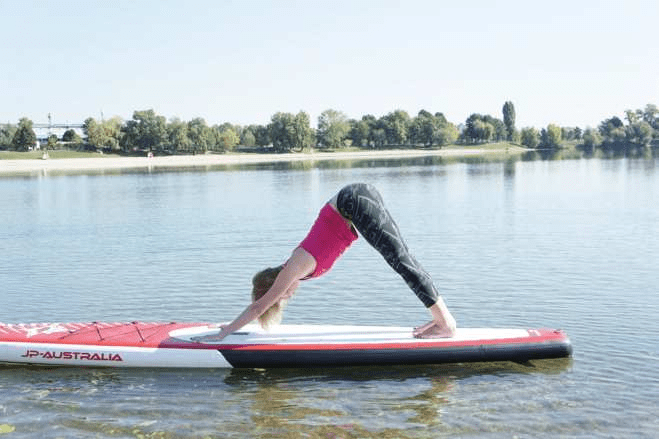 Best Yoga Inflatable paddle boards
A good paddle board needs to be durable, sturdy, easy to transport and well-made. Roc 10'5 SUP seems to be a pro in all of the categories. It's an inflatable type and the design is lightweight, yet durable.
Made out of military grade material, this product will stay inflated for a long time, which is great for those who like to leave the SUP inflated overnight.
SereneLife 10'5 Premium is extra wide, which means that you are getting better balance and you can use the board for yoga, fitness, you can even bring a friend or a pet, The dimensions are 10'5 feet long and 30 inches wide.
FunWater is one of the most popular sets out there on the market, being very aesthetically appealing and having a professional design. It's an ultra-light board that weighs 18 lbs only, and it's made for people of all skill levels. It doesn't matter if you're a beginner, a professional, a young person or an older mate: you can use this board.
It's a really light board that comes with a whole set, which makes it much easier for those who are not that knowledgeable about the equipment. You are getting a paddle board, a pump, a detachable center fin which will significantly improve the balance.
If you're looking for a simple, yet elegant board with a wonderful set of fancy accessories, Bluefin SUP  will surely catch your eye. It's a professional set that can be used both by beginners and those who are maybe a bit more advanced.