Whether you are fishing on shallow water or simply paddling through waves or chops on a paddleboard, a Personal Flotation Device (PFD) is a must safety device to wear.
Several different Personal Flotation Device (PFD) styles are available on the market, and you will need a type based on your skill level and activity.
The most vital things to keep in mind are adjustability, visibility, and comfortability while enjoying your trip on the water.
Life jackets are considered "wearable" Personal Flotation Devices (PFDs), whereas other PFDs are regarded as "throwables," and it keeps you buoyant. Whether boating, paddleboarding, or kayaking, all PFDs are intended to help somebody float in the water while waiting for help.
What Is The Difference Between A PFD And Life Vest?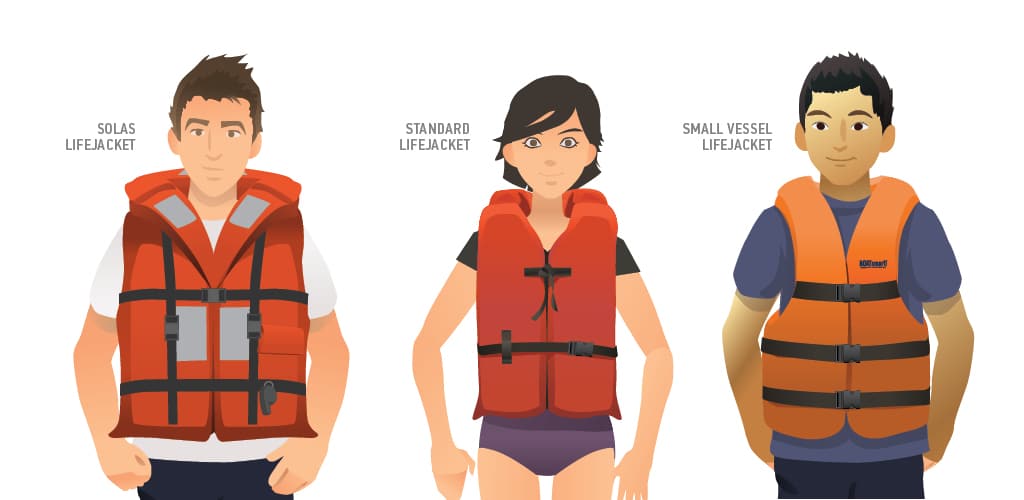 While possibly subtle, there're differences between most PFDs and life vests. The most significant difference between a Personal Flotation Device (PFD) and a life vest is that life vests are intended to turn the user's face up in the water, even if they fall unconscious.
Therefore, a maximum flotation material in life vests will be placed in the collar and front of the vest. These days, Type I and a few Type II PFD have similarly considered life vests since they can flip somebody's right side up.
On the other hand, PFDs don't have sufficient buoyancy in the appropriate places to mechanically turn an individual and help them breathe easily.
Buying Guide of PFD: Stay Safe With A Personal Flotation Device PFD
Try to purchase a bright color PFD, for example, yellow or orange, so that you'll be visible from a far distance to saviors.
And if possible, go for a trial to see whether it is a snug fit. Always go for a PFD that fits you well.
Then, test the PFD in the water, ensure your Flotation Device supports you, and keep your head and mouth floated above the water without any effort from your side. After that, try to pull it on as soon as you are in the water…it isn't as easy as it might seem now.
Producers include valued data regarding each Personal Flotation Device (PFD) on the product's label and in an attached catalog. The brand provides information regarding the PFD's uses, accompanied by data regarding the person's size the PFD will fit, how to wear, care instructions, etc.
Remember that using a PFD outside its recorded restrictions and designed use is prohibited and can bring about receiving a ticket from local law. Further, you may lose your life or a life of your a loved one.
Read NEXT – Best Kayak Life Vest in 2022
Types Of Personal Flotation Devices PFD
Five types of traditional foam personal flotation devices (PFD) are available. Every style is made for various water activities and conditions and comes with its maximum buoyancy, limitations, and performance level.
You should pick your flotation devices (PFD) depending on your water activities and conditions. Let's check out the different types to determine which suits your needs.
Read Next – Best Inflatable Life Vest Our Top Picks
What Is A Type I PFD?
Type I or offshore life jackets are for high-coverage flotation. These types contain at least 22 lbs of buoyancy for adults and 11 kg for children, typically placed on the front. They are designed to be the safest when rescue missions are far away.
Consider buying Type I PFD when boating in stormy conditions or alone in remote, open, or rough waters.
This type is also found on commercial vessels that race, offshore fish, or cruise. Their insulation and padding help guard against hypothermia if rescue is far away.
However, it can be a little difficult to swim in these bulky PFDs.
Read Next – Best Inflatable Life Vest in 2022
What Is A Type II PFD?
Chosen for calmer trips, Type II PFDs need less flotation, only 15.5 lbs for adult users. They're best used in inland, tranquil waterways where saving is within a short distance.
Only a few Type II PFDs help turn unconscious users' faces up. On the other hand, the inflatable Type II PFDs are up to 22.5 lbs and are knowingly more buoyant than the foam inflatable PFD Type II.
Although they've far less flotation than the Type I PFD, they're more maneuverable and comfortable for the user.
What Is A Type III PFD?
Type III PFDs come with a minimum buoyancy of up to 15.5 lbs for adults. They're mainly used for recreational water activities like kayaking, canoeing, sailing, fishing, water skiing, and personal operating vessel.
The type III PFDs are more comfortable than other types, complement your water activity, and permit easy movement. They're best when fast rescue is offered. These aren't suitable for prolonged survival in rough water like the Type I PFDs.
However, this type does not help automatically turn the user's face, so you must put yourself up.
What Is A Type IV PFD?
Motorboats, commercial vessels, or pools are frequently horseshoe-shaped, with cushions and handles or rings. The Type IV PFDs aren't worn. Instead, these are thrown. The flotation range of this type is from 16.5 to 18 lbs.
In the rescue condition, throw a type IV PFD to any conscious swimmer so that they can pull themselves on and wrap their arms using the handles.
Don't sit on this Type. This will destroy the foam. It is the least practical choice for paddling since it doesn't attach securely and safely to your body part.
Read Next – Ocean Paddle Board: Which Type Of SUP Is Best For Paddling
What Is A Type V PFD?
The Type V PFD is a unique jacket ranging from 15.5-22 lbs of buoyancy. They're enhanced for activities such as sailing harnesses, deck suits, or kayak rescue jackets.
These PFDs come with a neck pillow and help keep the user's head above the water. Many paddleboarders wear this Type of PFD with a tab attached for quick release to a ring and line meant for live-bait release.
Before selecting this jacket, ensure the proper training in its numerous functionalities.
Read Next – Best Onyx Fishing Life Vest in 2022
Types Of Materials Used For Personal Flotation Devices PFDs:
Mainly three different types of materials were used for the personal floatation aids. These types are as follows…
Kapok Material
This's an all-natural flotation material from the kapok tree's surrounding fiber. This material scores on three fronts: resilient, buoyant, and lightweight. Kapok similarly outperforms foam in keeping out water and durability.
Gaia™ Material
Among the most environment-conscious materials is the GaiaTM. It is a foam made from an organic biochemical compound.
It's softer compared to the standard foam, and it is adept at battling heat and cold. And the most significant benefit is its low thickness which decreases the PFD's weight without disturbing performance.
PVC Material
This is your ordinary foam and is among the most vastly used material in PFDs. The durability and inexpensive nature of this PFD have brought its popularity.
It is more eco-conscious, but some people avoid this material since it contains chlorine and oil.
Read Next – Best Inflatable PFD Life Vest You Can Buy in 2022
PFD Fitting & Sizing Guide
Personal Flotation Device (PFD) for Adults
The chest size and not the weight will limit what size you need for yourself for adults. To get the right chest size, you need to measure the perimeter of the chest at its widest point.
Now use the number with the life vest manufacturer's size references to find the right size.
Read NEXT – Best SUP to Kayak Conversion KIT in 2022
Follow These Steps To Get Appropriate Fit For The PFD:
When checking the size of a typical PFD, untie all the straps, put on the PFD, and zip it up. And for an inflatable PFD, put on the jacket over your head (in case it is a jacket style) or clip it around the waist (in case it is a waist pack style PFD).
Now, start at your waist and squeeze all the straps to tighten. In case it comes with shoulder straps, then pulls them too. After drawing, the PFD should feel a snug fit but not make you feel uncomfortable.
With the typical PFD, have somebody pull up on the jacket shoulders. In case it moves up over your head, then tightens the straps. The PFD is significant for you if it still manages to move up.
NOTE
An appropriately sized PFD must be of a snug fit just like a glove, but it should also allow the wearer to freely move and not irritate while playing and paddling.
Personal Flotation Device (PFD) for Children
Significant fit and sizing differences exist between adult PFDs and a kid's PFD. Importantly, you use the kid's weight to fix the accurate size instead of using the chest measurement as you do for an adult PFD.
Kids' PFDs are labeled as specially made for infants, youth, or children. To determine which PFD to purchase for your kid, you must use their weight, not their chest size, as a guide. Here are the standard measurements of kids' PFDs
Follow These Size Guide To Getting Appropriate Fit:
Infant Personal Flotation Device (PFD): 8 to 30 pounds
Kid Personal Flotation Device (PFD): 30 to 50 pounds
Youth Personal Flotation Device (PFD): 50 to 90 pounds
Personal Flotation Device (PFD) for Dog
Although maximum dogs are good at swimming, others may lack confidence while in the water or feel panicked away or tired.
Dog Personal Flotation Device (PFDs) aren't United States Coast Guard certified, but these can still act like a lifesaver as well as help your dog to enjoy the trip to the fullest
Get The Accurate PFD For Your Dogs:
It must fit snugly so that your dog can't twist, swim or step out of the PFD
Search for a low-profile design that will come with less latent of catching a problem
Look for a PFD with buckles for easy-release
Pick a PFD with a handle to lift your doggy out of the water.
Read Next – Best Drysuits and Wetsuits for Paddleboarding
When To Wear a Life Jacket or PFD?
Generally, the appropriate time to wear a life jacket or PFD is when you're near or in the water for water sports. Accidents occur on the dock and also on still, quiet waters. Most boating death rates happen when the boat is not moving at all or moving slowly.
In case you feel relaxed without a PFD during calm water conditions, at all times, focus on water conditions and weather, as they can worsen very quickly.
While you must always wear the PFD, it's particularly significant to wear the life jacket during the following times:
In overfilled waterways – Several turbulent water and boats may make it hard to notice you in the water. In such a situation, a life jacket helps a person wearing PFD to be seen and rescued as soon as possible.
Boating or kayaking at night or when there is less visibility is pretty impossible to see you. You need to wear a life jacket in such cases because this will help you get noticed or keep you floating in case of a delayed rescue mission.
When you go paddling or boating alone – In case your boat or paddle alone, there is usually no one around you that can help you instantly.
If you are boating or paddling in dangerous waters, such as Hydraulics near dams or boats in places with cold water / strong currents –even if it is warm and sunny –it can make things difficult to rescue you quickly.
If you go for boating activities or paddle in rough water, weather and difficult sea circumstances make for challenging rescues.
Even in case, you avoid these conditions. If you're on an unacquainted boat or in unacquainted waters, you must strongly consider wearing your PFD.
Read Next – Best Life Belts Buying Guide
BOTTOM LINE
As per the law, any recreational vessel must carry an appropriately fitted, working personal flotation device (PFD) for every individual on board.
Life jackets of PFDs should also be of accurate size for the individual wearing them, as well as you must possess a life jacket or PFD readily accessible for use in an emergency.
This means your PFD should not be hidden in a sideboard under a mound of equipment or in the packaging.
Have A Safe Paddling! It would help if you had the PFDs ready for instant use. Even better if you wear them anytime you go near any water bodies!
FAQ
Q.. Why should you always wear a personal flotation device PFD?
A. Wearing a PFD helps to prevent maximum boating-related drownings. That is why you always need to wear a PFD.
Q.. What is the safest use of a personal flotation device?
A. A PFD must always be worn during boating for safety, particularly when boating alone in dangerous water conditions.
Q.. What is the proper washing procedure for inflatable personal flotation devices Inflatable PFDs?
A. Hand wash the PFD using running water and mild soap. That is the proper way.
Read Next – SUP Glossary And Explanations
Stohlquist FIT Personal Floatation Device | Youth/Adult (75-125 Lbs) PFD Vest, High Mobility Life Jacket, Black & Grey
3 new from $44.98
Free shipping
as of November 25, 2023 5:06 pm
Stohlquist Rocker Personal Floatation Device, Fireball Red, Large/X-Large
out of stock
as of November 25, 2023 5:06 pm
Stohlquist Fisherman Personal Floatation Device, Khaki, Small/Medium
out of stock
as of November 25, 2023 5:06 pm
Coleman Company Youth Stearns Classic Series Personal Floatation Device, Gold
2 new from $31.56
Free shipping
as of November 25, 2023 5:06 pm
Coleman Company Stearns Comfort Series Personal Floatation Device, Green, X-Large
2 new from $49.86
Free shipping
as of November 25, 2023 5:06 pm
Coleman Company Stearns Sportsman's Personal Floatation Device, Green, Oversized
out of stock
as of November 25, 2023 5:06 pm
Stohlquist Rocker Personal Floatation Device, Mango, Small/Medium
as of November 25, 2023 5:06 pm
Stohlquist Rocker Personal Floatation Device, Fireball Red, Small/Medium
as of November 25, 2023 5:06 pm
O'Neill Women's Superlite USCG Life Vest,Black/Turquoise/Lime:Turquoise,L
2 new from $42.44
1 used from $35.26
Free shipping
as of November 25, 2023 5:06 pm
RAVE Sports Adult Nylon Life Vest - Personal Flotation Device (Blue/Yellow)
2 new from $28.28
Free shipping
as of November 25, 2023 5:06 pm