First, thanks for checking out this page.
SUP Board Gear is an online retailer specializing in Stand Up Paddle Boards.
As a true enthusiast, I have been paddling for over twenty years and teaching people how to paddleboard and sell boards since 2008.
In this time, I've seen the industry grow from 2 companies making boards to over 200 different manufacturers today.
This has led me to create Stand Up Paddle Board SUP with my girlfriend and best friend, Emily Lyon.
We wanted to make it easy for anyone who wants a board of their own or someone looking for that perfect gift idea that will put a smile on anyone's face.
About the Authors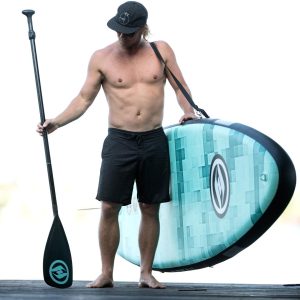 I am the CEO of SUP Board Gear, and we specialize in custom-built paddles. Our mission is to promote stand-up paddleboarding for all who share our passion.
We offer an expansive selection of products from leading brands such as NSP, Mad River, Malibu Kayaks, and Dagger Paddles, to name a few.
We also offer one-on-one lessons with pro instructors that will take you through the basics before you hit the water!
And Emily Lyon Thank you very much! I am so excited to have joined the team, I feel very lucky to be considered to join some very accomplished watermen and women.
I hope I can do my part to inspire other paddlers!
I am really looking forward to representing SUP Board Gear and attending events this year, hopefully, some of them will be international too, it would be cool to get to meet the other SUP Board Gear athletes.
Read Next – Guide to Buying Your First Stand Up Paddleboard
Do you want us to review your product? Do you want to write for us?
Or do you want to send us general inquiries or feedback?
Please use the subject below so we can filter your email from spam.
General Inquiries and Feedback – contact [@] supboardgear.com
Content suggestions – editor [@] supboardgear.com
Product review requests – review [@] supboardgear.com
[contact-form-7 id="267″ title="Contact form 1″]