Whenever kids are involved in paddling, it's not unusual for accidents. When you are looking for new activities for your kids, their safety is always in the first place, for you, not for them.
All sports in the water demand even more safety measurements than those on the ground.
So if your kids are into paddling or you are considering adding it to your summer routine while on the lake house, you should think about different segments while picking out the paddleboard.
Some boards are made especially for kids with their dimensions, weight, and security features built into them. Read through the review about paddleboards made especially for kids.
It's only fair that the paddleboard utilized be equipped with the essential safety features.
This TUSY Stand up Paddle Board has a relatively strong construction and is also fitted with tons of fantastic security features. With Tusy paddleboard adventure on the water is just waiting for you to come.
If you are looking for your first paddleboard, try this one from the Tusy manufacturer. This SUP inflatable paddleboard is a great first choice because of its quality and price.
In addition, this paddleboard comes in a set with all additional materials for an extra layer of safety, comfort, and repairing of your SUP paddleboard.
The paddleboard is inflatable, so it comes with the pump, and setting it up is easy. It will take less than 10 minutes to inflate it thoroughly and be ready to use.
Also, when you deflate it, store it in a backpack that comes in a set, and you are ready to go.
Features TUSY Stand Up Paddle Board
The TUSY Stand-up Paddle Board has a premium feel, but the price is very competitive. A choice of bright shades provides excellent options, while the included carry backpack and paddle are made to match your chosen shade too.
Despite being built with fun at the forefront of the brand's attention, there is no doubt this 10ft long paddleboard performs well.
Dimensions
This paddleboard has more width than it would usually have—extra width space and the kids' safety while spending time paddling.
Paddleboards that are wider than usual adds to the balance of the board while it is on the water.
A wider board will give kids additional space to find the perfect position and balance while standing on it. Kids must feel safe and secure while on the paddleboard.
If they feel safe on the water and with the paddleboard, they will quickly start to paddle around with you confidently.
Thanks to its wideness, the board's stability are excellent even though it is a relatively small, inflatable paddleboard.
D rings
D rings are excellent safety addition to the paddleboards. This is a perfect addition if you are looking for space to safely store some extra stuff while your kids are paddling alone.
With the D rings, you can secure a waterproof bag with gadgets and essentials like a mobile phone, water bottle, sun cap, sun cream, and more.
But also, if you will paddle with your kids, D rings provide you space to add a kayak seat to it. So you will be able to swim or relax while floating in a secured place.
This makes it perfect for learners, while D-rings at either end allow for many options regarding installing Kayak seats or other accessories.
This provides excellent versatility, particularly if you plan to have several people or pets on the paddleboard at any given time.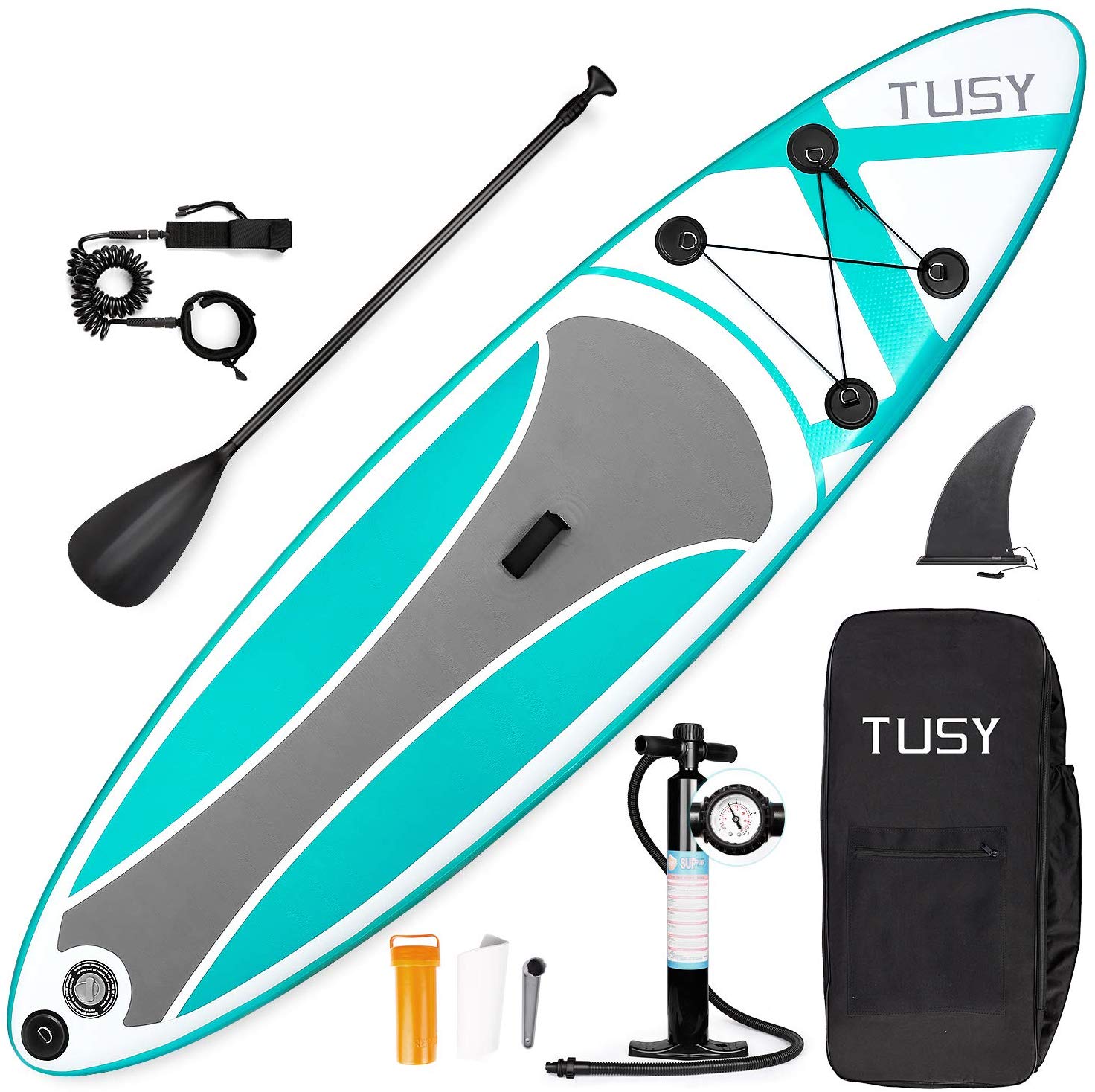 SUP safety leash
To add an extra layer of safety to your kids while on the paddleboard, use the SUP safety leash that comes in the set with this Tusy SUP paddleboard.
With this high-quality, safe, and secure leash, your kids will feel extra safe because the paddleboard will stay close to them and not float away.
SUP safety leash will be made of comfortable but substantial materials that will not hurt or put pressure on the kid's legs while wearing it even for a more extended period while paddling, knowing the board will not go away.
Build Quality
It's such as such equipped to guarantee the complete safety of the occupants.
A few remarkable features are the military-level PVC material, grooved anti-slip deck, composite halyard stitches, and removable aluminum paddle.
They keep the riders balanced and stable to enjoy the time riders at every race moment.
This Tusy paddleboard is made of high-quality military PVC material that provides you with a solid and stable surface while inflated.
Material and innovative technology layers provide you extra fun in all water conditions, from salty water to freshwater. Paddleboard is also resistant to all other weather conditions.
The non-slip layer on the paddleboard is essential on the paddleboards made exclusively for kids.
EVA foam material is placed on the surface of the paddleboard to provide kids safe and secure base even when it is wet. So kids and pets are safe whiles on the board.
Performance
The performance of the board is super. TUSY Stand-up Paddle Board is equally appealing for learners and advanced paddlers.
It can be pumped up in a matter of moments, making it perfect for frequent rides while the top deck materials below your feet are soft yet firm, letting you enjoy long times on the water without a care in the world.
Getting on the paddleboard is practically very simple if you take on challenging waves and fall off.
Read Next – Board Culture Inflatable Stand Up Paddle Board
Pros
Extra safety features
Solid construction
Perfect for beginners
Easy to ride
Cons
A little bit heavy to carry
Final words
All in all, the TUSY Stand-up Paddle Board performances are excellent.
Military-grade PVC material made this paddleboard extra safer, stable, and durable.
If you are looking for kids, adults, or beginners, this TUSY Stand-up Paddle Board is an ideal option for you.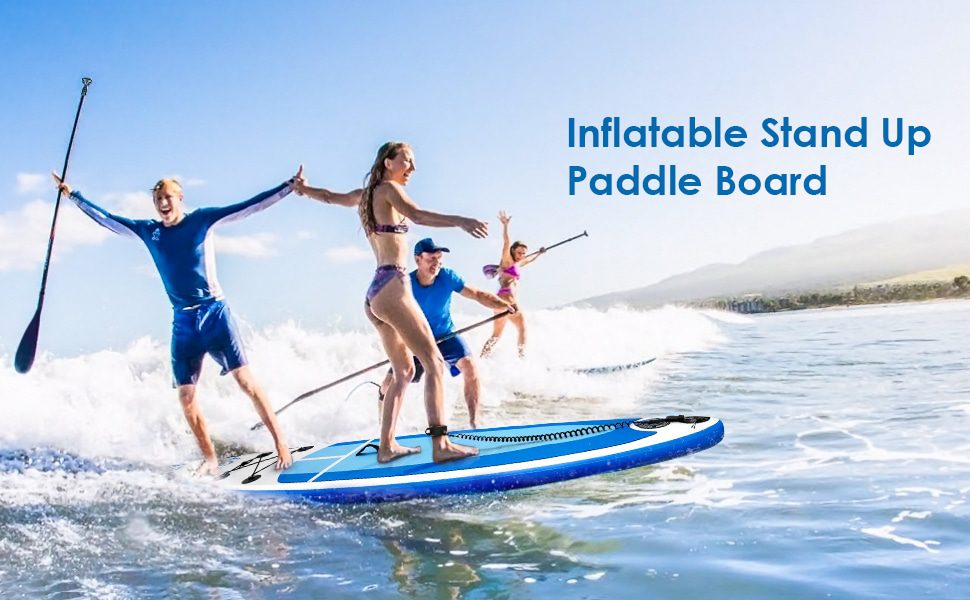 This paddleboard is perfect addition primarily for the kids but with the dimensions and carrying capacity. Parents can paddle and practice with kids and enjoy time spent on the water.
A high-quality paddleboard with additions for safe and secure paddling is always a good idea.
This paddleboard comes at a great price, so it is affordable even if you are trying this for the first time and buying a SUP paddleboard for the first time.
You will not find higher quality and performance paddleboards in the given price range. This Tusy paddleboard is the best choice in a given field.
TUSY Inflatable Paddle Boards 10 Feet
TUSY standup paddle offers you a new boat activity.
You can surf with your family and friends to explore the water world when the sup standup paddleboard is fully inflated.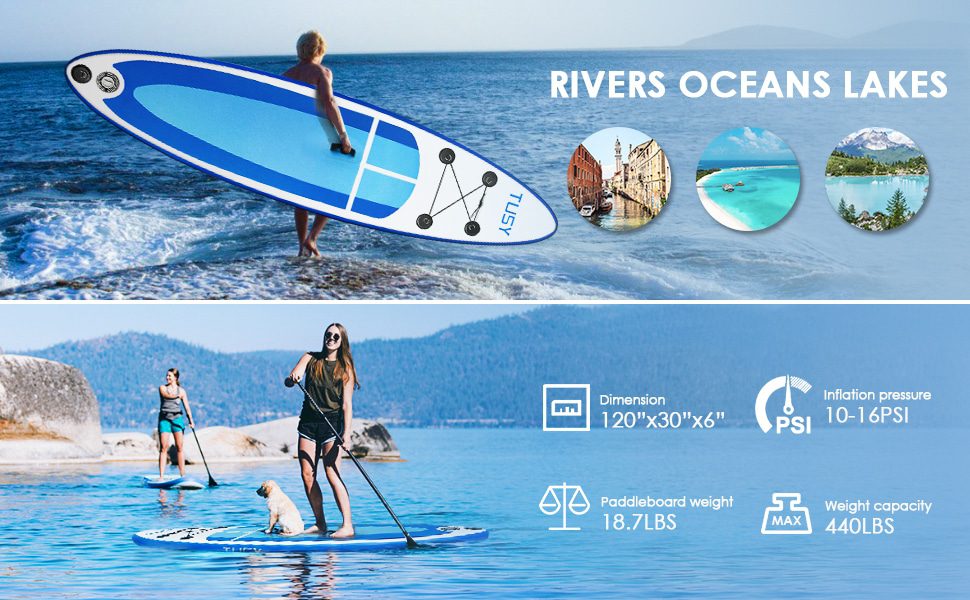 It does not matter whether you are an amateur, professional, beginner, or experienced person. With our paddleboard kayak, you can discover the charm of water sports.
The inflatable paddleboards are adaptable to the different water zones: the Lake, the River, the Sea, the Ocean, etc. You can always enjoy the fun of the water.
If you didn't try to paddle before, this Tusy is the perfect starting point for you. This paddleboard is a high-quality sports piece that will fit all beginners' needs and the more experienced paddlers.
How your knowledge and confidence grow, your skills on this paddleboard will grow with you, and it will respond to all of your requests. Because of the design and additional safety pieces, your first moments on the paddling board will seem easy, and you will feel safe while on it.
Start with using a leash and additional fins for more stability and safety, and learn from there. With fins, you will learn how to turn, keep the balance and accelerate in the right way.
PS: If you are in calm water like a lake or sea, please use the leash on foot. If you paddle on the river, do not use the leash.
Read Next – SUP Boards Seacliff Beach Adelaide Australia
Technical Details
Paddleboard Size: 10ft × 30in × 6 in

Paddle Length: 70-78inch (Adjustable)

Maximum Load Capacity: 440lb

Inflation Pressure: 10-16 PSI

Paddleboard Weight: 18.7lb
TUSY Inflatable Stand Up Paddleboard
Non-Slip Surface

The surface of the sup inflatable paddleboard is made of non-slip EVA foam to prevent accidental falls into the water. The paddle with buckles can be adjusted from 70 to 78 inches according to your needs. A leash is also an effective way to ensure your safety.

Effective Pump with Gauge

The standup paddleboard kayak with the hand pump can be inflated two times faster, fully extended in just 3-5 minutes. By quickly inflating the paddleboard sup, you can save more time and effort and enjoy the water.

Easy to Carry

The backpack is big enough to provide all the extra equipment for the board accessories, such as paddles, pumps, leash, fin, and repair kits. You can carry it anywhere with you. You can surf right away when you arrive at your favorite destination.
TUSY Inflatable Sup Board
Strong Fins

The three fins of this 10′ paddleboard have a strong water separation capacity to ensure stability control the direction and speed. You can overcome the resistance of the water and choose the way you want it. A giant wing is removable and easy to install.

High-Pressure Valves

The high-pressure standup paddle valves seal tightly. In combination with the hand pump, this ensures the stability and strength of the plate. Without worrying about pressure drops, you can achieve complete success on a stable board.

Collapsible Board

The standup inflatable paddleboard takes up very little space and gives you unlimited pleasure. You can empty and fold the 10 ft paddleboard in a short time. Just load it in the free backpack or the trunk of your car.
Read Next – Aquaplanet 10′ Stand Up Paddleboard kit.
The TUSY Stand Up Paddle Board is a high-quality SUP that will last you years.
Whether it be for surfing, fishing, or just lounging on the water's edge, this board has your back.
The TUSY SUP team is excited to introduce you to our new standup paddleboards. We designed these boards with the help of some fantastic professionals who specialize in all aspects of surfing and paddling.
This board has everything that an avid surfer could want, from a lightweight design for easy transport to excellent balance so even beginner surfers can enjoy it.
Feel free to contact us if you have any questions about this product or how we might serve your needs better!
This paddleboard is made for all, from kids to adults, regardless of the skills. Simple installation, compact design that allows you to carry it around with you and store it without problem are significant benefits of using it. Carrying capacity will enable you to paddle in pairs or with a few add-ons, kayak around, or sit and enjoy while someone else is paddling.
Paddling is an excellent addition to the summer activities because of all the benefits that nature and water bring to the kids and adults. This sport comes at an affordable price, and it is excellent for all age groups! Try it out, and we are sure that you will love it.
If you are still not sure about it, read about the details on the paddleboard below and get to know it a little better. We are confident that you will love it once you get on it.
10' Inflatable Stand Up Paddle Board/Kayak and SUP! (6 Inches Thick, 32 Inch Wide Stance Width) |11-Piece Accessory Set That Includes Convertible Paddle, Kayak Seat, Travel Backpack, and More!
4 new from $329.99
Free shipping
as of June 27, 2022 4:00 pm
SereneLife Inflatable Stand Up Paddle Board (6 Inches Thick) with Premium SUP Accessories & Carry Bag | Wide Stance, Bottom Fin for Paddling, Surf Control, Non-Slip Deck | Youth & Adult Standing Boat
4 new from $269.99
1 used from $220.79
Free shipping
as of June 27, 2022 4:00 pm
Aqua Plus 10ftx32inx6in Inflatable SUP for All Skill Levels with Stand Up Paddle Board Boat, Adjustable Paddle,Double Action Pump,ISUP Travel Backpack, Leash, TPU Waterproof Bag, Shoulder Strap
as of June 27, 2022 4:00 pm
Bluefin SUP Stand Up Inflatable Paddle Board with Kayak Conversion Kit | Ultimate iSUP Kayak Bundle (Blue 10'8")
as of June 27, 2022 4:00 pm
TUSY Inflatable Stand Up Paddle Board with SUP Accessories Travel Backpack, Non-Slip Deck Adjustable Paddles, Leash and Fin for Paddling Surf Boating
out of stock
as of June 27, 2022 4:00 pm
Murtisol Inflatable Paddle Board Stand Up Paddle Board Memphis Black
2 new from $209.99

as of June 27, 2022 4:00 pm
Goplus Inflatable Stand Up Paddle Board iSUP Cruiser 6" Thickness iSUP Package with 3 Fins Thuster, Adjustable Paddle, Pump Kit and Carry Backpack (10FT)
as of June 27, 2022 4:00 pm
Premium Inflatable Stand Up Paddle Board (6 inches Thick) with Durable SUP Accessories & Carry Bag | Wide Stance, Surf Control, Non-Slip Deck, Leash, Paddle and Pump , Standing Boat for Youth & Adult
7 new from $199.99
Free shipping
as of June 27, 2022 4:00 pm