For whom this board is intended 
Designed for anyone who loves paddle boarding, but its features match those who like fast boards. Also because of its rigidity, it can be used by heavier or many people at once. Check out technical specs in this TOWER Xplorer review.
Technology of making a board
Single layer board made of EPS/Epoxy that is rigid, indestructible.
What is the size of the board and how it affects the ride 
One of the most important things a paddle board needs to have is a non-slip deck. You're already guessing that this one is pretty safe and has the previously mentioned quality, but what you don't know is that it's actually suitable for young people, as well as adults. Why?
This deck is 14′ long, which is very large for an SUP board, 32″ wide and the thickness of 8″ is great as well!
Weight capacity – maximum support weight of SUPer
We are talking about an 8″ thick board which can carry a really big weight! Up to 800 pounds can be carried on the paddleboard, which is suitable both for very heavy, very tall people and for those who like to carry a lot of stuff with them (snacks, maybe a mini-refrigerator).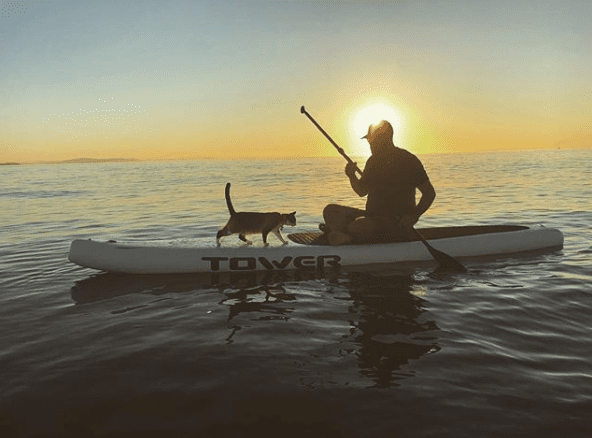 What is included in Tower 14 Xplorer package 
With the board, you are getting a 3-peace paddle that is adjustable and a pump that you can use to inflate the board, but keep in mind that most people like to use car pumps because boards this big take a lot of time to be inflated. Also, you get a detachable SUP center fin, a Tower branded deck pad and repair kit.
There is a fin on the bottom, which ensures balance. However, three fins give more balance so if you're a beginner maybe you should focus on products with those.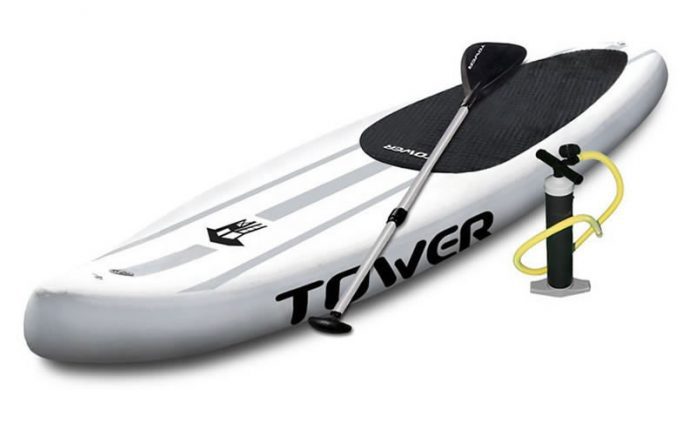 Which are the 

advantages and 

disadvantages of this board 
-Advantages
Weight capacity of rider up to 800 lbs.
This particular board is very fast and can travel a long distance, which means that you can use it for racing, but also for sunbathing, touring and fun sports like yoga! You can even bring along your pet!
Indestructible – made of Epoxy
This inflatable board, when not inflated, can be rolled up like a sleeping bag which means that you can transport it pretty easily. That's why teens like it, but also because more people can be on the board.
You are getting a 2-year warranty that covers everything outside of normal wear and tear issues, which are encountered after many years.
-Disadvantages
Heavy – Too big weight of 36 lbs.
Long-time to inflate(big volume of the board).
Tower Xplorer Inflatable 14' Stand Up Paddle Board - (8 Inches Thick) - Universal SUP Wide Stance - Premium SUP Bundle (Pump & Adjustable Paddle Included) - Non-Slip Deck - Youth and Adult
$1,475.00
$

949.00
in stock
Buy Now

Amazon.com
as of March 20, 2020 4:51 pm
Features
Package comes with a high-pressure pump and 3-pc adjustable paddle
PRODUCT SPECS: Weight Capacity- Up to 800 pounds. 10-11 PSI, 14' length x 32" width x 8" thick
PORTABLE: Rolls up like a sleeping bag. Easier to store, easier to transport.
WARRANTY: on iSUPs which cover everything outside of normal wear and tear (does not apply to included paddle or accessories)
FAST: This inflatable is designed for speed and distance. Great for racing or touring.