Murtisol Upgrade 11′ Inflatable Stand Up Paddle Board is an all-around paddleboard.
Cruising on this board feels so easy as it supports your weight. Its weight is 27 lbs/12 kg and the maximum capacity is 286.6 lbs/130 kg.
A quick review of Murtisol paddleboard
Measurements
Murtisol Upgrade has the perfect size for a SUP. This board is 11 feet long, 32 inches wide, and 6 inches thick.
The length of the board is excellent for touring and it offers space for all riders to be really comfortable with their size.
Its width will give you stability and control.
Thickness is also important. 6 inches of thickness means you don't need to worry about your feet submerging in water.
Features
The board is made from the anti-slip material which protects you.
Also, a soft PVC base is for enhancing grip.
It comes in for different colors: blue, green, yellow and red. It is a plain design and it could be better with some other color choices, but even with that board looks quality.
The board features three bottom panels fins which are made for speed, steering, and maneuverability.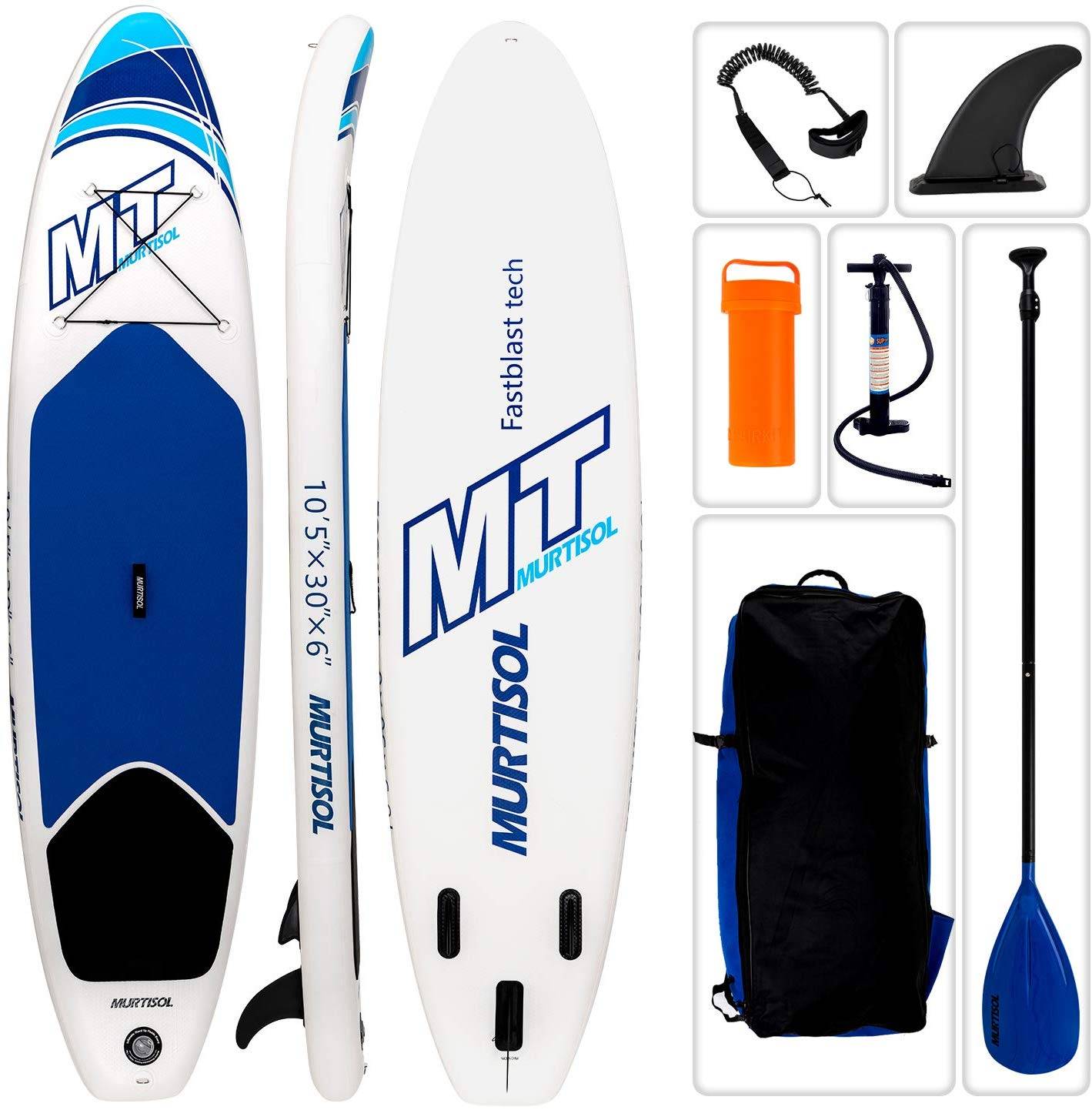 Packaging
Murtisol did a great job with board packages.
It includes all the items you need and this is one of the better packages in terms of the included items. Board comes with:
– Safety Ankle Strap is an important accessory. It is comfortable to fit any ankle size.
– Double Action Pump which provides air on both the up and down pumping action. That is why it will reduce your pumping time by half.
– Repair Kit is there if something happens to your board.
– Adjustable Paddle
– Removable Fin
– Storage Bag to store and transport this board to wherever you go.
Conclusion
Murtisol Upgrade is suitable for all kinds of activities. It is perfect for beginners and it fits people at all levels.
The possibilities are endless with a board like this – you can surf, pull some maneuvers, or go racing…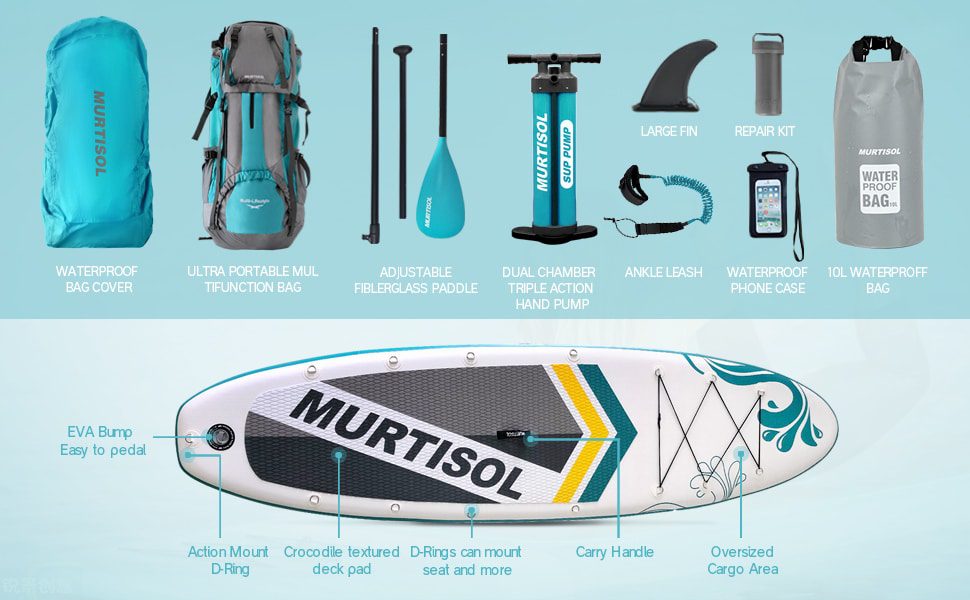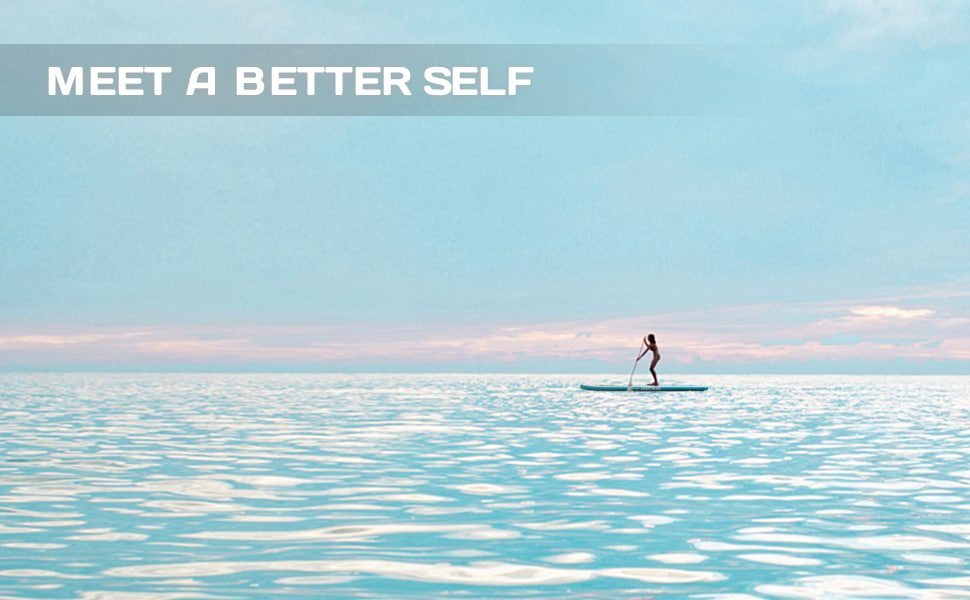 All-around board

Creative new design all-around board good for:

Paddling, Yoga on water, Touring, Fishing, Surfing. With the updated D-Rings, Safe Handel, cargo loading area, and Premium accessories, this board suit different situations.

Dual Chamber Triple Action Pump

Murtisol new design pump has Three levels 2 chambers. Both pull and push can inflate and Three levels make it super easy to pump the board. We tested the murtisol board can be pump by manual within 1 minute. And this pump can also good for kayak or other inflatable items.

Premium full accessories

Multifunction bag with waterproof cover/ waterproof phone case/ 10L waterproof bag/ Ankle leash/ Repair kit/ Removable center fin/ Dual chamber triple-action two-way pump/ Adjustable paddle
| | | | |
| --- | --- | --- | --- |
| Memphis Black | Ocean Blue | Lake Blue | Lime green |
Last updated on May 26, 2020 5:37 pm