In this Ancheer inflatable sup review, we will tell you things you should know before getting this great board.
If you're looking for a portable board for professionals but don't want to pay too much money, this one is probably worth your attention.
Ancheer Inflatable Stand Up Paddle Board 
This board is 11′ long and 6" thick, which is about the average size and great thickness.
It takes less than 5 minutes to inflate it and less than three minutes to deflate it. However, the pump that comes with it needs to be manually used, and many people like to use a car pump instead because it gives better results.
It's made from double-layer military-grade PVC, making it much more durable than a regular board. You can use it over time, and you won't notice any breaks, bumps, or lumps.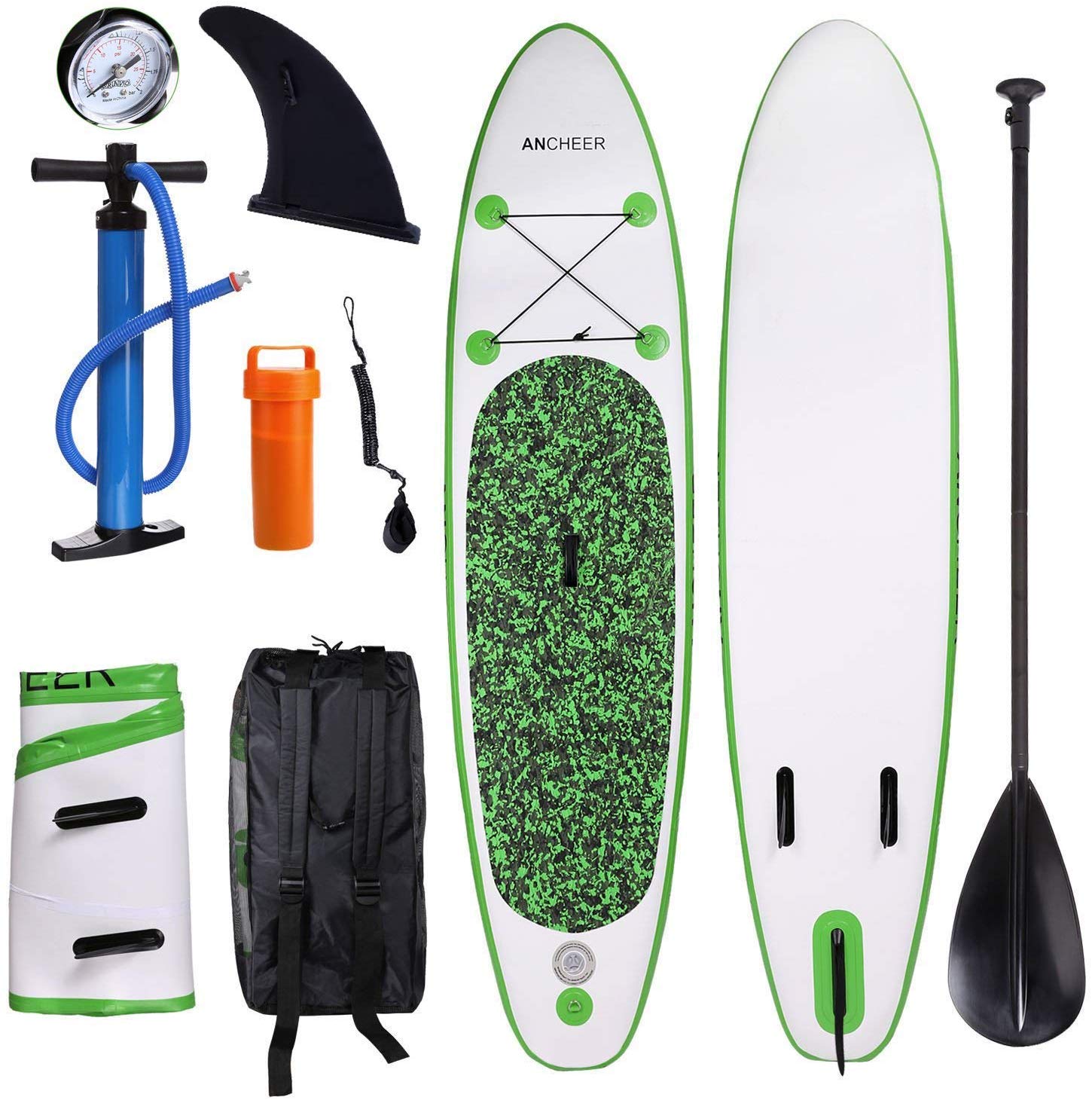 You are getting a paddle (3-piece), a coil leash, a detachable center fin (which improves your balance when on the board and makes it easier for beginners to get used to it), and a backpack that makes it more portable.
Ancheer inflatable sup has a part where you can store your things (including the backpack), and the items are under stretchy strings.
Because it's made out of PVC, it's recommended to keep the board out of the sun to decrease the material's chances of getting burned.
Don't worry, and if anything happens, you are also getting a repair kit that will help you fix the problem.
People love the bag that comes with the kit because everything fits in it perfectly, and you can store both the board (when deflated) and the extra things you get.
It's suitable for beginners as well, don't worry. The three fins help with that, keeping you balanced even if you don't know how to do it yourself.
If you want to maneuver the board better and don't need all three fins, you can remove the central one and get less balance and more power.
Read Next – ANCHEER Inflatable Stand Up Paddle Board
Ancheer Inflatable Paddleboard
Read Next – Freein Stand Inflatable SUP Long with Kayak
ANCHEER Inflatable Stand Up Paddle Board (6 Inches Thick), iSUP Package W/Premium SUP Accessories & Backpack, Wide Non-Slip Deck, Big Fin, Adjustable Paddle, Leash, Hand Pump, Youth & Adult
out of stock
as of October 1, 2023 2:18 pm
ANCHEER iSUP Inflatable Stand Up Paddle Board 10', Non-Slip Deck, Military Grade PVC iSUP Boards Complete Kit Package Plus Adjustable Paddle, Coil Leash, Hand Pump Perfect for Yoga (Red)
as of October 1, 2023 2:18 pm
ANCHEER Inflatable Stand Up Paddle Board, 11'×32"×6" Double Layer Touring iSUP, 3 Fins, Max Load:350 lbs; Repair Kit & Backbag, EVA Deck, Adj Paddle, Waterproof Bag, Leash and Pump, All Skill Levels
1 used from $180.07
Free shipping
as of October 1, 2023 2:18 pm
ADVENOR Paddle Board 11'x33 x6 Extra Wide Inflatable Stand Up Paddle Board with SUP Accessories Including Adjustable Paddle,Backpack,Waterproof Bag,Leash,and Hand Pump,Repair Kit (Green)
11 used from $159.99
Free shipping
as of October 1, 2023 2:18 pm
ANCHEER Inflatable Stand Up Paddle Board (6 Inches Thick), iSUP Package W/Premium SUP Accessories & Backpack, Wide Non-Slip Deck, Big Fin, Adjustable Paddle, Leash, Hand Pump,Youth & Adult
out of stock
as of October 1, 2023 2:18 pm
ANCHEER iSUP Inflatable Stand Up Paddle Board 10', Non-Slip Deck, Military Grade PVC iSUP Boards Complete Kit Package Plus Adjustable Paddle, Coil Leash, Hand Pump Perfect for Yoga (Yellow)
as of October 1, 2023 2:18 pm
ANCHEER Inflatable Stand Up Paddle Board, Lightweight All Round iSUP with 3 Fins, Premium Accessories & Carry Bag, EVA Deck, Adj Floating Paddle, Ankle Leash and Double Action Pump (Light Blue)
as of October 1, 2023 2:18 pm