Have you decided to buy an electric pump for your inflatable SUP and are now searching for the best one?
Using a manual pump, pumping the inflatable paddleboard is too hard to tolerate.
When you wish to get into the water efficiently and quickly, you will appreciate the suitability of an electric pump.
The electric pump will blow up your paddleboard within minutes for you. You only need to push a button, and the pump will do the work on your behalf. Sounds pleasant, right?
The principal benefit of using the electric pump for SUP is saving energy and time. When you use the inflatable SUP board often, the extra power and hours it takes to pump manually will add up.
Your electric pump for SUP can make a big difference in being merged in the water just within minutes v/s half an hour or even more.
Below, we will guide you through buying the best electric pump for inflatable SUP available.
More About SUP Electric Pump
An inflatable paddleboard is a way to the future. So, choosing an electric pump over the manual hand pump is high time.
An excellent electric pump for an inflatable paddleboard or SUP can save you plenty of arm power and time to get the maximum out of your adventurous paddle-boarding gathering.
SUP Electric pumps inflate paddle boards within just a few minutes. Some electric pumps even feature a deflate option too. Inflating & deflating the paddleboard was never this easier before.
Even before getting into the water, the days of fatigue and sweating buckets have gone. Switch to electric paddleboard pumps for inflating and deflating your inflatable paddleboard!
But how will you get the best electric pump among several available options? You must consider a few key features while buying an electric air pump for your inflatable SUP board.
We have researched the options and hand-picked the best ones for you.
So, what are you now waiting for? Upgrade your SUP gear to save you energy and time. You can express gratitude to us later!
Even though we don't specialize in SUP electric pumps, we have tried out our reasonable share of electronic kits over the past few years as well as there are a few pumps available on the market which we have found to be the best ones.
Read Next – BOTE HD Aero Inflatable Paddle Board Review
Buying Guide: How To Get The Best SUP Electric Paddle Board Pump
Every manufacturer out there must excite their products, which may confuse you. Thus, it becomes pretty tricky for you to decide which one to buy.
More than that, you even get confused about what you need to look for in an electric pump for your SUP.
So here we have gathered every point you need to check before buying your electric SUP pump.
OutdoorMaster Shark High Pressure SUP Pump - Electric Air Pump with 20 PSI Active Cooling System Dual Stage Inflation & Auto-Off for Inflatable Paddle Board, Boats, Water Sports Inflatables -2nd Gen
2 new from $107.07
10 used from $79.62
Free shipping
as of September 25, 2023 4:08 pm
Know If You Need To Buy The Best SUP Electric Pump
Well, you would not have reached here and been going through this guidepost if you did not think you needed to buy one, would you? Let us explain why you should consider buying an electric pump over the manual one.
The manual pumps that full inflatable paddle boards come with are up to scratch. A few of them are truly pretty good, though.
But pumping your paddleboard manually is still complex and time-consuming, no matter how good the hand pump is. It isn't something you expect, particularly when you have to blow up multiple boards simultaneously.
There the electric pumps for inflatable SUP come to your rescue. They are quick; you must connect the electric pump and set the appropriate PSI level for the work. You then can relax & wait for a few minutes to fully inflate your paddleboard. No stress, right?
What You Need To Look for While Buying an Inflatable Electric SUP Pump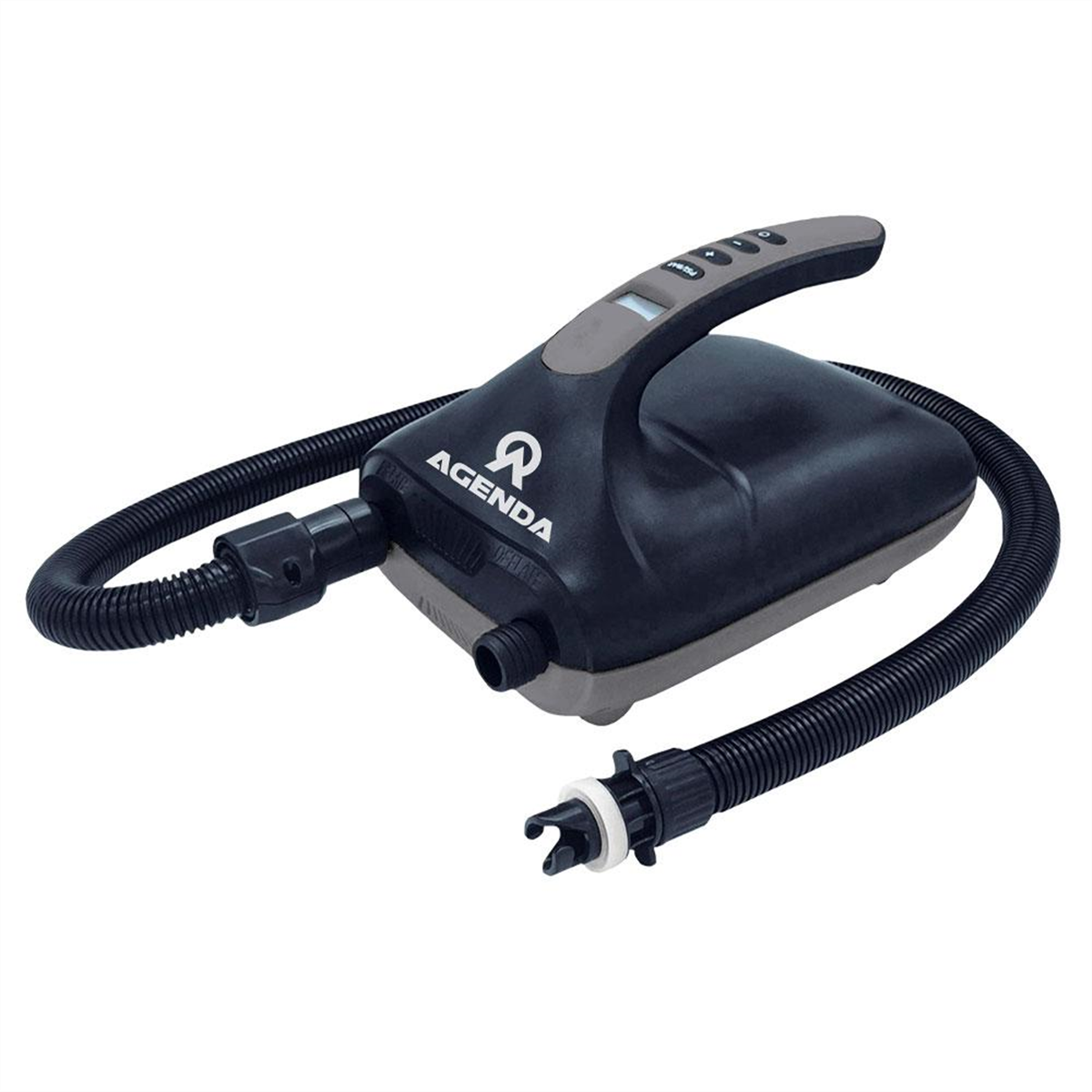 Here are a few points to remember when buying an electric pump for your inflatable paddle board or SUP.
These points are the following…
SUP Compatibility With the Electric Pump
Your electric pump must be well-matched with your SUP's valve to function correctly with your inflatable paddleboard.
Usually, manufacturers specify the SUP valve types or brands with which the electric pump is well-suited.
You might have to get an electric pump with various nozzle attachments when you have numerous inflatable products.
Inflation Speed and Stages
You can get either a single-stage or a dual-stage pump.
A single-stage electric pump for SUP only inflates your SUP in 1 stage.
However, A dual-stage air pump has two inflation stages. The 1st stage is for high speed, and the 2nd is for a low rate. The 2nd slow & final stage decreases the risk of over-inflating your SUP.
The dual-stage air pump thus may be safer than the single-stage pump.
Speed is similarly another significant factor. You have decided to buy an electric pump to save time. So, speed is a must-check factor here. Check how much time the electric pump needs to inflate a SUP.
Whether Deflation is Possible or Not
Deflating an inflatable paddleboard is not hard, yet using an electric pump will help speed up the procedure.
So, you might also want to consider an electric pump with a deflate option.
Price Of The Pump
More or less all-electric pumps do the same job, so there is no need to get the utmost expensive one for the job.
When you still wish to have a fancy model but do not have sufficient money, wait for a holiday or end-of-season sale.
A few manufacturers might also provide discounts when purchasing the electric pump and SUP. For example, iRocker does that. It is undoubtedly a good deal.
Power Of The Pump
As you might have observed, most electric pumps depend on your vehicle battery for the power supply. This isn't a problem when you always visit the SUP scene in your car.
When this isn't the case, a SUP electric pump with a rechargeable battery might be a better option for you.
On the other hand, you can purchase a battery separately for the electric pump. The Nixy Ventus and iRocker electric pumps offer that option.
Check Other Features Of The Pump
The span of the inflation tube differs from one pump to another and is usually specified along with other conditions. The line should, without difficulty, reach your paddleboard even when utilizing the car cigarette lighter.
A few electric pumps feature a carrying case, while others do not. This's another issue you might want to consider if it's essential.
How To Inflate A Paddleboard Using An Electric Pump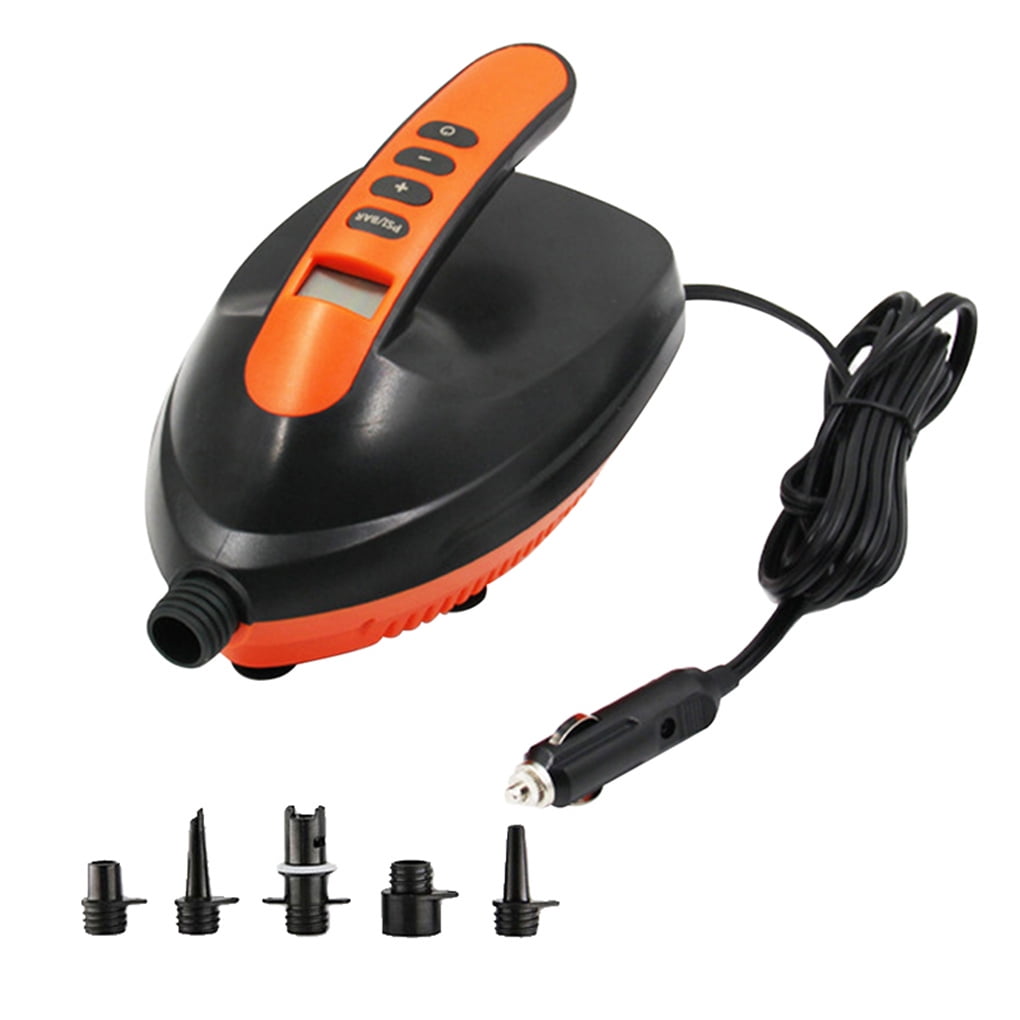 Take a sneak peek at this bit-by-bit guide on how to inflate your paddleboard fully within minutes.
Step 1:
First, connect the electric pump for SUP to a 12 Volt battery or your car's cigarette lighter. It is that simple!
Step 2:
Access the pump's digital LCD screen to program the perfect PSI level between 15 and 23.
Step 3:
Carefully insert one side of your inflation tube into the electric pump and the other into the paddleboard to inflate the SUP.
Step 4:
Now press the power button on the pump and then wait & watch the magic.
Step 5:
Unlock the tube from the paddleboard as well as hit the water. And it is that easy to do.
Top Tips for Electric Paddleboard Pump
Now, as you can see, which SUP electric pump is good for you, which one to buy, and how to use it, it is time to know how to maintain your SUP electric pump. Only purchasing the best one will not help you get the best service.
You need to take care of the product to get the best service whenever you use it. So, here is the guide to maintaining the SUP electric pump.
Ensure the Air Valve is Up Before You Insert Them:
Before inserting your hose, ensure the air valve is locked when sticking up for maximum SUPs.
When you do this, inserting and twisting the hose will let you open and close the air valve without losing air. Then turn the hose back and remove it when you have finished inflating.
If you fail to follow the instruction, then it may cause a decrease of 2-4 PSI levels or even more. For this reason, ensure your SUP air valve is upside down before inserting it.
Be Careful While Inflating Many SUPs At Once:
Maximum electric pumps can inflate two SUPs without a break in the usual weather. When you leave it in the sun, on tremendously hot days, or with a blocked fan system, however, your SUP electric pump might need to take a break after inflating one SUP for around 30 minutes.
It depends on your SUP electric pump model and brand. After inflating the first SUP, you need to check the temp of the SUP electric pump, particularly around the vents and hose.
When your SUP electric pump turns extremely hot, mainly when you can't even comfortably touch it or hold it, it is a sign that the SUP electric pump is not ready to inflate your next SUP.
Let the pump cool down for at least 30 minutes before inflating the next SUP. When you fail, your SUP electric pump can burn, leading to permanent to temporary damage or total failure.
Avoid Wet Places Or Water While You Inflate the SUP
SUP electric pump, just like any other electric equipment, doesn't go together with water or wet places. There's always a risk of damage or electrocution if the SUP electric pump comes near or in contact with wet areas or water.
Ensure to stand back from wet places and water while inflating the SUP. Similarly, ensure your SUP is dry before using the SUP electric pump to inflate or deflate the board.
Read NEXT – Best Inflatable Pumps Buying Guide
Check The Connection Of Nozzle
Ensure your nozzle connection is sturdy before you start. This is significant for the inflation and deflation process of your SUP. An ideal connection lets your electric pump function without losing air.
Read Next – Best DAMA SUP Electric Pump 
Inflate The PSI Limit, Not To Exceed It:
A few SUP Electric pumps are topped at the 15 PSI limit, but a few reach the 20 limits. While the capability to blow up past the 15 PSI limit is cherished, don't exceed the inflatable paddleboard's suggested PSI limit.
Usually, the more PSI limit in the SUP, the better it'll perform, but when you overinflate things, they can pop & break, leading to permanent harm to the inflatable SUP.
Always follow the suggested PSI limit, and reach the upper recommended limit, typically around the 12 to 15 PSI limit range.
Read Next – iRocker 12v Electric Pump Review
Protect The Pump from Dirt
The electric pump will likely attract some dirt throughout its process.
Always ensure you keep the pump as clean as possible since sand, dirt, and other debris may get inside when using the pump, which can damage the types of machinery. This will eventually affect the electric pump's capability to perform.
To make sure your pump does not catch any dirt, you can place a blanket or cover on the ground beforehand placing the pump on it.
Read Next – Earth River SUP Electric Pump Review ERS 12VDC
Try Not To Overheat
Overheating is a serious and real issue with maximum electric paddleboard pumps. Electric pumps are likely to overheat after continuous use, and as soon as this occurs, it can damage your pump or the hose. Maximum pumps have a display screen to check whether the electric pump is overheating.
Always watch the screen to avoid issues with your SUP electric pump.
The Best Paddle Board Pump Electric
Paddle Board Pump Electric is an innovative product that can help inflate your paddleboard in minutes.
If you've ever tried to blow up a large, awkward object with your mouth and struggled, this is for you!
This tool attaches to any standard-sized electric water pump and will inflate most boards within ten minutes or less.
Whether you want relaxing water fun that provides stunning views or you like the adrenaline of catching a few severe waves with a bit more stability than you get from paddle boarding, surfboarding may be on your list of things you try.
It is a fun sport for a workout, touring, and recreation. When you're ready to join the paddleboard craze, one of the several decisions you must consider is the type of paddleboard you'll use.
Paddlers who want a light board that's compact and easy to travel often select an inflatable paddleboard. You can carry these and inflate them with the electric pump when you reach your destination.
NIXY Elite Inflatable SUP Electric Pump
This portable NIXY Elite pump is an inflatable paddle board's best buddy. It is a high-pressure pump for SUPs and inflated up to 20 PSI for rigid boards. Plug it in, set the PSI level, kick back, and crack open a drink while the pump does the job.
The NIXY Elite pump increased the SUPs pressure in its first stage. It automatically kicks into stage 2 to top it off with your selected PSI level. You will roll out and hit the water more quickly than ever before.
Outdoor Master Shark II Air Pump
Outdoor Master Shark II Air Pump is top-rated by inflatable paddlers. This electric air pump gets the work done smoothly and can inflate up to 3 standard-size paddleboards in a row before needing a break. It is a well-made and powerful machine. There is a lot of love for this model.
A digital PSI display lets you pick your desired inflation force. It is clear and straightforward to use. So, it is effortless that your children can take charge of their SUPs. Despite its bulky size, this can be forgiven down to the sheer power and super performance of this Outdoor Master Shark II Air Pump. This is a beautiful product.
IROCKER 12v Electric Pump
IRCOKER is a well-known name for paddleboards, so we are not surprised to mention them here. Their electric pump is a fine overall piece of equipment powered by their cigarette lighter for a vehicle or an alligator clip on a 12v battery.
Well-designed and compact – store the wires, hose, and valve attachments inside a neat section of the air pump. You could inflate two boards consecutively before providing the pump with a break.
The IROCKER 12v Electric Pump is one of the best available. It has all the essential parts required and alligator clips for an alternative power source option.
Bravo High-Pressure 12v Pump
The Bravo High-Pressure 12v Pump is a 2-stage pump. Identical to the Shark, it uses a tremendous fine capacity turbine blower to inflate up to 450ltrs a minute, then switches to a high-pressure piston 12v battery and dials an automatic power off to the desired pressure.
The auto shut-off will kick it off when done. Unique to the Bravo, if linked to a vehicle battery, you must not operate it with the car's motor running as the high voltage output can damage the battery.
The 9′ long battery wires and 6′ air hose provide fine reach, and the package comes with eight-valve adapters, including Lea field C7 and D7 valves. The air pump, wires, and hose fit in a zippered fabric carry case with an easy-carrying shoulder strap. This keeps all in a decent package and keeps standoff and out of the Bravo High-Pressure 12v pump.
SERENE LIFE Rechargeable Pump
Do not have access to a vehicle? SERENELIFE Rechargeable Pump could be the ideal option for you. As you can guess, the pump comes with an integrated rechargeable battery – ideal for getting off the beaten track and exploring more afield.
There's a handy carry handle that collapses into the air pump when in storage. They have even fitted a good flashlight feature if you get caught short by evening light.
It is a shame the SERENELIFE Rechargeable Pump can only reach a 16PSI  – you'll still be able to reach the desired 15PSI level for your paddleboard but will struggle to get higher than this. Otherwise, this SERENELIFE Rechargeable Pump is excellent for efficiency and portability.
THURSO Surf 15PSI Electric Pump
The THURSO Surf 15PSI Electric Pump is a compact, light electric pump that inflates your board in one stage. Its performance and speed will blow your brain. Remember those days when you started at your paddleboard that seemed forever to inflate? They left; this turbo air pump works quickly and is exactly what you need.
The user always complains about buying an air pump incompatible with their paddleboard. Those users would not be you if you got this THURSO Surf 15PSI Electric Pump. It can be utilized with a universal valve adapter to fit the valve on your paddleboard, and other inflates around the home.
THURSO Surf inflates 2-stage models at extreme pressure from 1PSI to 15PSI. Contrary to what you might think, this stage is efficient since the procedure takes less time and makes the slightest noise. This pump can also be used to deflate the paddleboard. There's no risk of your paddleboard or kayak being over-inflated as this THURSO Surf 15PSI Electric Pump is automated.
BOTE Aero Pump
Fitted with the standard features of a super electric pump, the BOTE Aero Pump is an average-performing pump. Made for inflatable kayaks and water floats, this BOTE Aero Pump can inflate a SUP.
The BOTE Aero Pump could be your model if you want to save hard-earned money and risk poor durability. As a paddleboard pump, this is not the strongest or quickest. Though, it's relatively cheap if your budget is a priority.
FINAL WORDS
It would be best to have an electric air pump to save all your energy for paddleboarding. As you can see how to choose the best Electric SUP pumps from thousands of available options, go for it.
Having the best SUP electric pump will save you a lot of time and energy, which you can invest in spending a wonderful time with your friends and family. Isn't it great! Happy shopping!
Best Inflatable SUP Electric Pumps For Stand Up Paddle Boards
Read Next – Best Electric Air Pump for Inflatables SUP
Q: What is the best electric pump for inflating a paddle board?
A: The best electric pump for inflating a paddle board in 2023 is the Outdoormaster Shark II Electric SUP Pump. It is lightweight, portable, and can inflate your board to 15 PSI quickly and easily.
Q: Can I use an electric sup pump to inflate multiple boards in a row?
A: Yes, you can use an electric sup pump to inflate multiple boards in a row if you give the pump a rest between uses to prevent overheating. Most pumps on this list have an automatic shut-off feature to prevent overheating.
Q: What is a 12V DC electric pump?
A: A 12V DC electric pump is a pump that runs on a 12-volt direct current power supply. These pumps are often used to inflate inflatable stand-up paddle boards and other outdoor gear.
Q: How do I deflate my board with an electric pump after inflating it?
A: Attach the pump to the valve after inflating your board with an electric pump and set it to deflate mode. The pump will suck the air out of the board, making it easy to roll up and store.
Q: Is the Outdoormaster Shark II pump the only electric pump on this list?
A: No, there are several other electric pumps for inflatable paddle boards on this list, including the iRocker Electric SUP Pump, the Ventus Electric Pump, and the Sea Gods Battery Electric Pump. All of these pumps are high-quality and reliable.
Q: Can I use my electric pump on more than one board?
A: Yes, you can use your electric pump on more than one board if you give the pump a rest between uses to prevent overheating. Most pumps on this list have an automatic shut-off feature to prevent overheating.
Q: What is the Shark II SUP, and why is it recommended?
A: The Shark II SUP is an electric pump explicitly designed for inflating stand-up paddle boards. It is recommended because it is lightweight, portable, and can inflate your board to 15 PSI quickly and easily.
Q: What are the best electric pumps for inflatable paddle boards in 2023?
A: The best electric pumps for inflatable paddle boards in 2023 are the Outdoormaster Shark II Electric SUP Pump, the iRocker Electric SUP Pump, and the Ventus Electric Pump. All of these pumps are high-quality and reliable.
Q: Can I use an electric pump on an iSUP?
A: You can use an electric pump on an inflatable stand-up paddle board (iSUP). Many people prefer to use an electric pump because it can inflate the board quickly and easily.
Q: What is a high-pressure sup air pump?
A: A high-pressure sup air pump is designed specifically for inflating stand-up paddle boards to high pressures, usually up to 15 PSI. These pumps are often electric and can inflate the board quickly and easily.
Q: Are there any other electric pumps besides those listed on the market?
A: Yes, there are many other electric pumps besides those listed on the market. However, the pumps on this list are the best electric paddle board pumps of 2023 and are all high-quality and reliable.