When looking for a stand up paddleboard, it's important to get one that is stable and comfortable.
Boardworks Raven SUP exceeds our expectations in both categories and we will tell you why.
The manufacturer of this product paid a lot of attention to the honey fob deck pad that coats the board.
It makes the boarding experience much better for those who like to lay on the board or even do yoga!
It's big enough to fit your pet too, so you can chill on the board if you wish to.
Features Boardworks Shubu Raven Inflatable SUP
The neoprene carrying handles are made to be ergonomic and they will help you carry this lightweight board with durable construction.
The Boardworks SHUBU Raven Inflatable Stand-Up Paddleboard brings the best aspects of the SUP world together in one all-around package.
This inflatable board utilizes extremely durable drop-stitch PVC construction that allows you to safely and confidently navigate flowing rivers with its lightweight profile.
The narrow nose performs best in long-distance touring in open water conditions so you can build your arm and ab strength in a fun and active way.
And a detachable center fin ensures that you can track straight through flat water so you can glide smoothly for long periods of time.
An EVA, honey-foam deck pad gives you a soft, stable place to stand for hours at a time, and the bungee system on the deck lets you store lots of water and essentials close at hand.
Boardworks Raven pack includes
You will be able to store the equipment easily. Besides the board, you will also get a pump so you can inflate it easily.
However, keep in mind that you may get exhausted while inflating aboard this big yourself. Many people like to use car pumps and automatic pumps.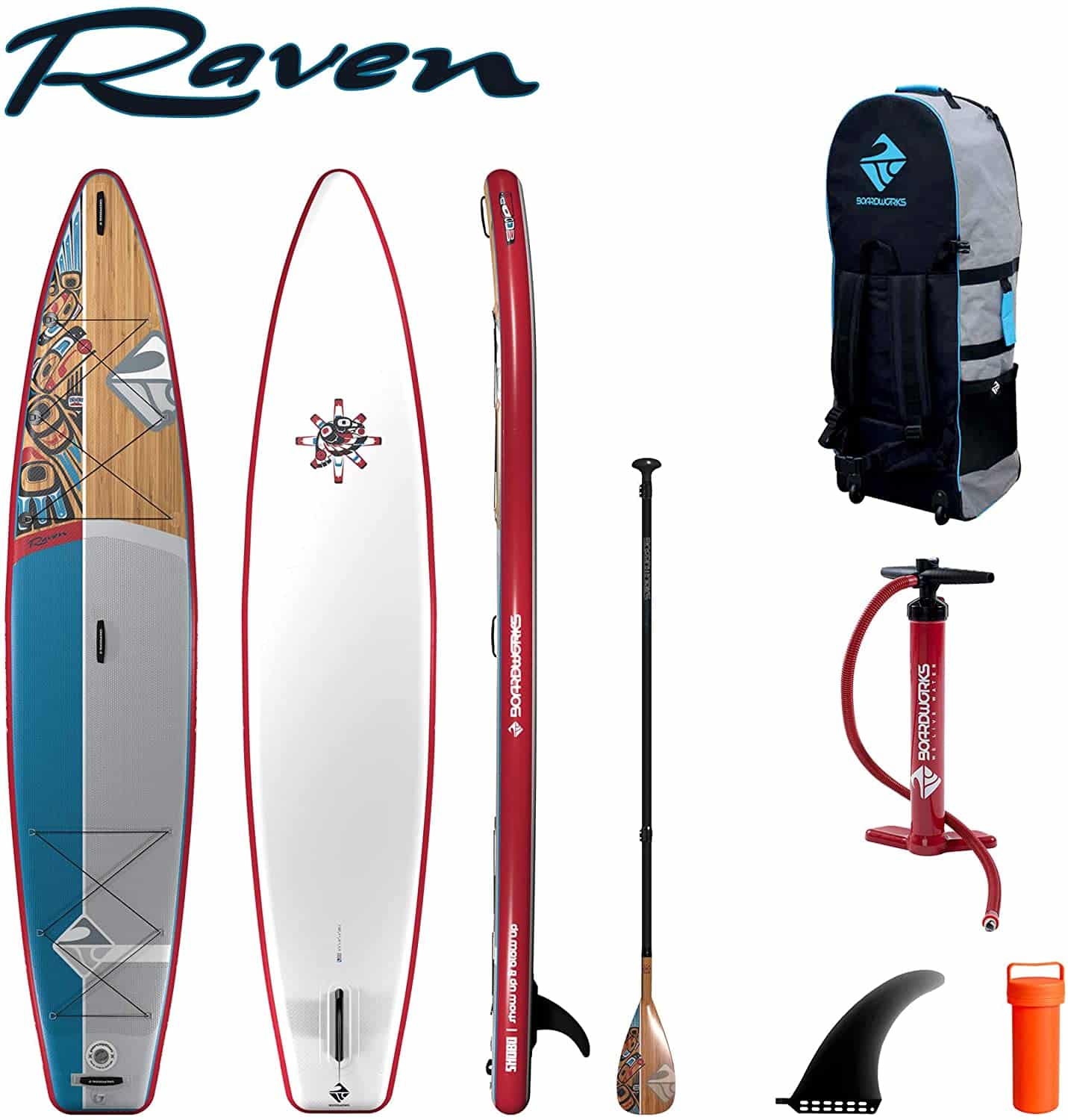 The design is pretty simple but pretty elegant.
Those who like a colorful, minimalistic design may enjoy this one. It's a "summary" look, great for teens and young adults, as well as those who still feel (and board) as if they were ones!
Besides being used for hobbies like yoga, the size of this board is great for long distance paddling since you can rest without any issues and limitations.
There is one fin at the bottom and it helps you stay stable, but bear in mind that beginners like to use three fins to get a better experience. It's easy to get aboard personalized if you wish to do so.
You can hold the gear on the board too since there are multiple securing points to make sure that they won't just disappear.
If you like to keep stuff with you, you can even bring food here.
I hope you find all the information in this Boardworks SHUBU 12'6 Raven Inflatable Stand up Paddle Board review.


Dependability – Distance – Unrivaled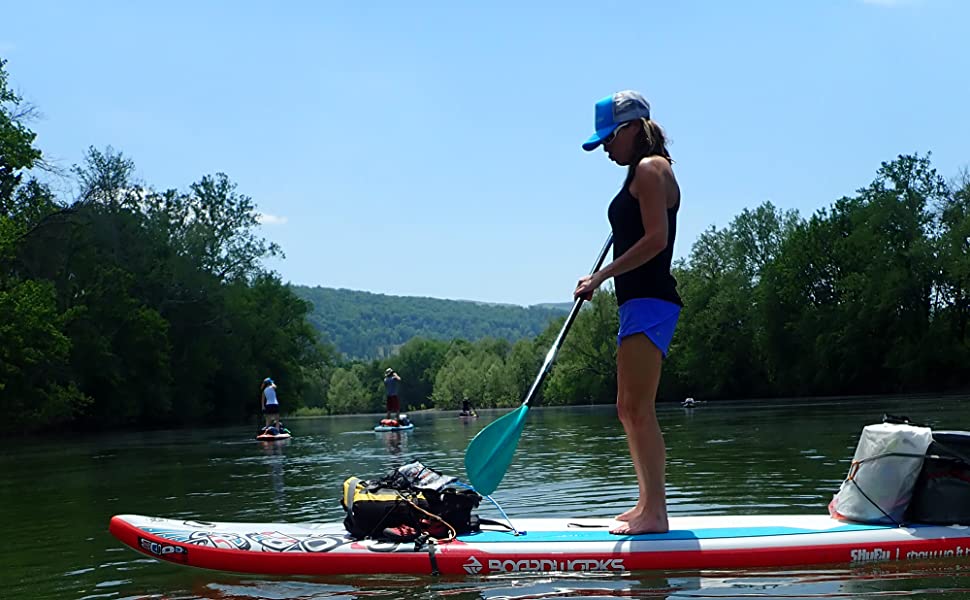 The SHUBU Raven is designed as the ultimate routing and expedition inflatable and is our go-to board for any trips where rivers, rocks, portages and less than ideal conditions make it difficult to bring a hardboard.
With its tapered bow and increased nose rocker, the SHUBU Raven creates a stable and confident building platform, especially under load.
Fully equipped with our ultra-comfortable Honey Fomb heat embossed deck pad and three neoprene carry handles for easy transport to and from the water.
The SHUBU Raven is our go-to touring and expedition board for rough or adverse conditions. With stability and speed… the Raven will allow you to flue on the water.
– Novice: Recommended Max. 210 lbs.
– Intermediate: Recommended Max: 235 lbs.
– Advanced: Recommended Max. 260 lbs.
Raven Graphics Matching Paddle
Configuration: 3 Piece | Blade: 89" sq. | Length: 70"-86" | Weight: 25 oz.
Fiberglass shaft with a thermoplastic-infused fiberglass blade delivers one of the best blends of durability, lightweight, and value available on the market today.
| |   |   |   |   |   |   |
| --- | --- | --- | --- | --- | --- | --- |
| | Shubu Great Bear | Shubu Raven | Shubu Kraken | Shubu Muse | Shubu Rukus | Shubu Flow |
| Length | 14′ | 12′ 6″ | 10′ 0″ | 10′ 2″ | 11′ | 10′ 2″ |
| Width | 32″ | 30″ | 34″ | 31″ | 33″ | 35″ |
| Thickness | 6″ | 6″ | 6″ | 6″ | 6″ | 6″ |
| Volume | 383 Liters | 285 Liters | 253 Liters | 236 Liters | 288 Liters | 292 Liters |
| Fin set | Single | Single | Tri | Single | Single | Tri Fin |
| Construction | DFL | DFL | DFL | DFL | DFL | DFL |
| Discipline | Touring | Touring | Surf | All Around | All Around | Yoga and Fitness |
Last updated on April 10, 2021 5:51 am ⓘ