This is one of the more luxurious paddle boards. You can see with the design itself that a lot of attention and affection has been put into the creating process. The design, although minimalistic, is very elegant and modern.
The honey foam deck pad is one of the more comfortable ones you will try, which means that you will get used to the gear easily.
The neoprene carrying handles are also very comfortable, which is great for those who like to be safe and sound during the drives.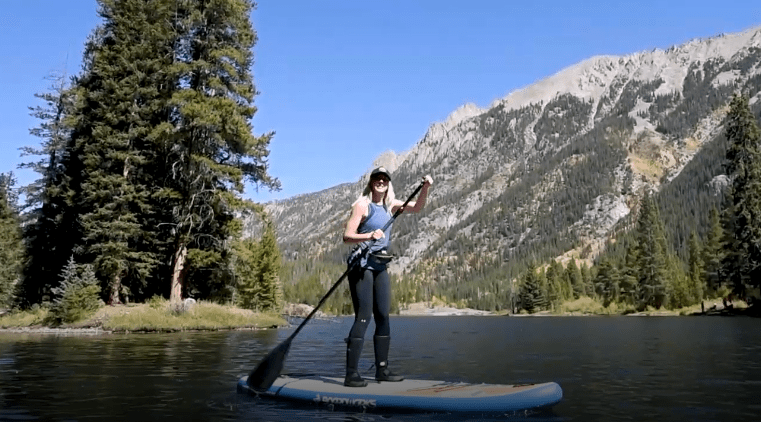 Boardworks Kraken comes in different lenght like 9'3″ , 9'9″ ,  10' 3″ , 11', 12' 3″ but actual models are 10' and 11'.
This 11′ model itself is very lightweight and it has a durable DFL construction. This size is really good because it helps you remain stable, it's not too hard to handle the whole thing even if you are a beginner just trying to get a grip of what you're doing.
You get a pump as well as a storage bag, which means that you will be able to move the paddle board around easier. You can use this board as a yoga board as well, or bring your pet with you on the water.
One thing you need to keep in mind is that the board is about 35 lbs heavy, which is on the heavier side, and you may have issues with it if you're trying to find a board for renting, hotels or schools. You may want to start with some lightweight models first!
Boardworks Kraken 11′ SUP pack includes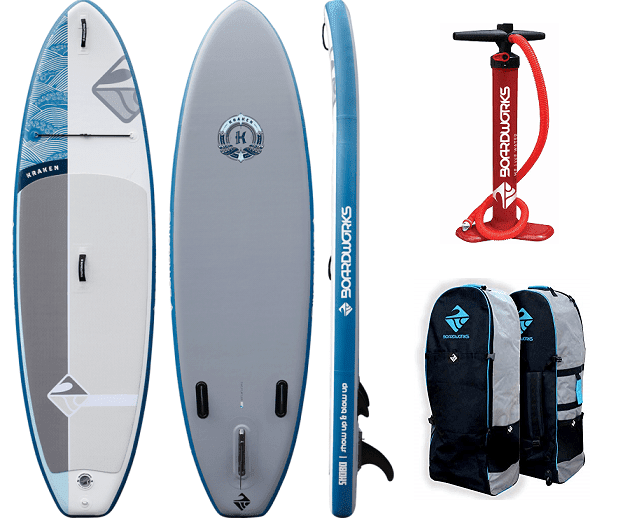 Also, if you are new to inflating, you may want to get an automatic pump since inflating a paddle board this big can be exhausting sometimes. A car pump is a solution many people like to use, but it depends on you.
Boardworks Kraken All-Water Stand-Up Paddle Board (SUP) - 11'
3 new from $1,349.00
Free shipping
as of March 25, 2020 1:23 pm
Features
The kraken is a most excellent Paddleboard allowing you to surf the waves and Paddle The Bay
This Open water SUP is designed with a wide stance for stability and riding waves and a sharp nose for rough Water.
Works equally well in calm lakes and bays as well as rougher ocean surf and waves
Integrated lifts up handle for easy carry and locking ability
3 front tie downs with crossing bungee included allow for easy gear storage while on the water
Boardworks SHUBU Kraken Inflatable Standup Paddle Board, 10'
1 new from $762.34
Free shipping
as of March 25, 2020 1:23 pm
Features
Ultra comfortable honey foam deck pad.
Stow your gear quickly and easily.
Comfortable neoprene carrying handles.
Lightweight & durable DFL construction.
Boardworks Kraken All-Water/Surf Inflatable Stand-Up Paddle Board | SUP Package Includes Pump, Three Piece Paddle and Roller Bag - 11'
3 new from $999.00
Free shipping
as of March 25, 2020 1:23 pm
Features
The kraken inflatable recreational SUP that is perfect for cruising, surfing or even fishing on calmer waters like lakes, rivers and harbors. Best of all, because it is inflatable, it is easier to store and transport
Package includes: inflatable paddle board, lightweight adjustable carbon fiber 3-piece travel Paddle, backpack roller Carry Bag, high pressure pump and gauge, FCS II quick connect single fin, leash and repair kit
Dual Fusion laminate (DFL) combines a high density drop-stitch core featuring internal fibers coated in liquid PVC with PVC tarpaulin top and bottom layers, and a specialized sidewall material making the layers more durable and resilient than ever before.
Ultra-comfortable "Honey fob" embossed deck pad provides easy grip that is soft on the feet
Named best SUP for limited storage space by "the adventure junkies" (June 2019)
Boardworks Kraken 2 Piece SUP Stand Up Paddle Board Paddle | 90 Sq. in. Fiberglass Blade |Adjustable Carbon Fiber Shaft | 70-80 Inches
2 new from $199.00
Free shipping
as of March 25, 2020 1:23 pm
Features
2 Piece Paddle
90" Sq. Blade Size
70"-80" Length
Weight 22. 0oz