This is one of the more luxurious paddleboards.
With the design itself, you can see that much attention and affection have been put into the creating process.
The design, although minimalistic, is exquisite and modern.
Features Boardworks SHUBU Kraken Inflatable SUP
The honey foam deck pad is one of the more comfortable ones you will try, which means you will quickly get used to the gear.
The neoprene carrying handles are also very comfortable, which is excellent for those who like to be safe and sound during drives.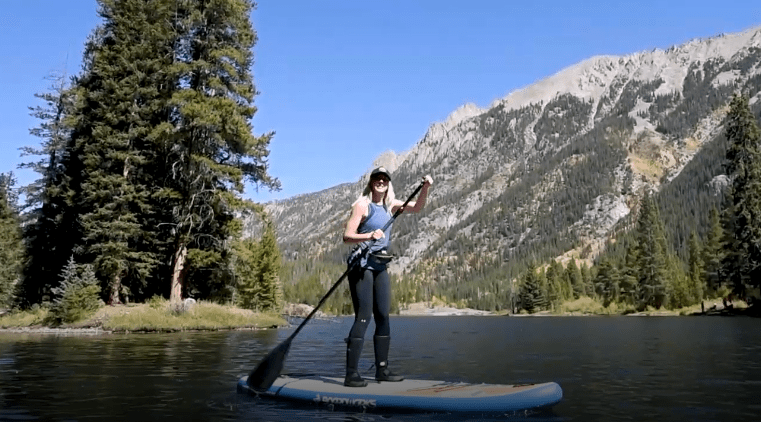 Boardworks Kraken comes in different lengths like 9'3″, 9'9″,  10′ 3″, 11′, 12′ 3″, but actual models are 10′ and 11′.
This 11′ model is very lightweight and has a durable DFL construction.
This site is perfect because it helps you remain stable. It's not too hard to handle the whole thing, even if you are a beginner just trying to get a grip on what you're doing.
You get a pump and a storage bag, which means you will move the paddleboard around easier.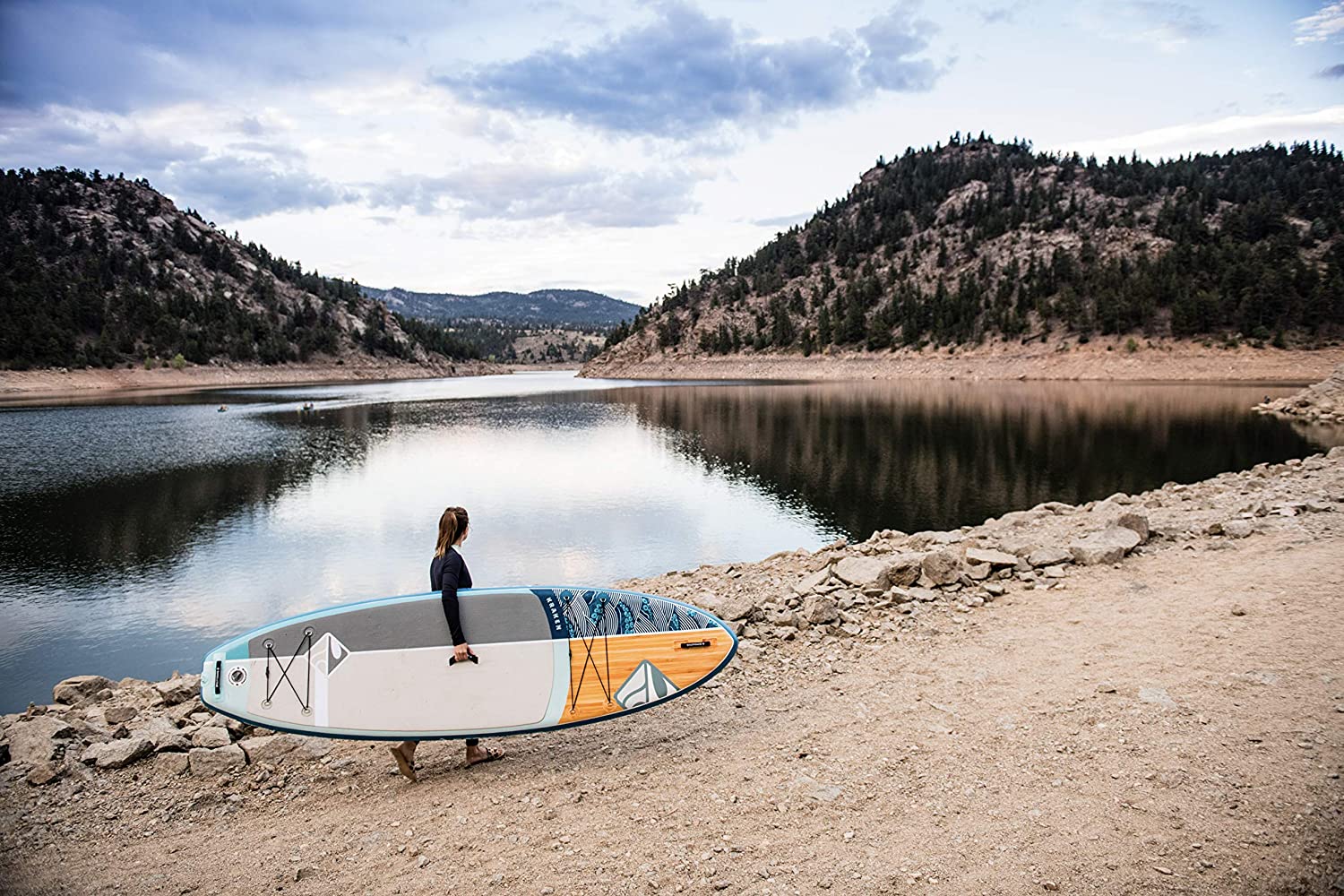 You can use this board as a yoga board or bring your pet with you on the water.
You need to keep in mind that the board is about 35 lbs heavy, which is on the more severe side, and you may have issues with it if you're trying to find a board for renting, hotels or schools.
You may want to start with some lightweight models first!
Read Next – BOARDWORKS SHUBU Riptide SUP Review
Boardworks Kraken SUP pack includes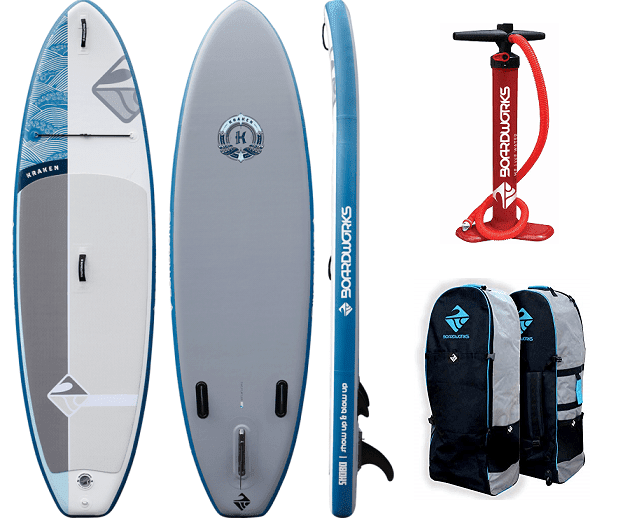 You may want to get an automatic pump if you are new to inflating since extending a paddleboard this big can be exhausting sometimes.
A car pump is a solution many people like to use, but it depends on you.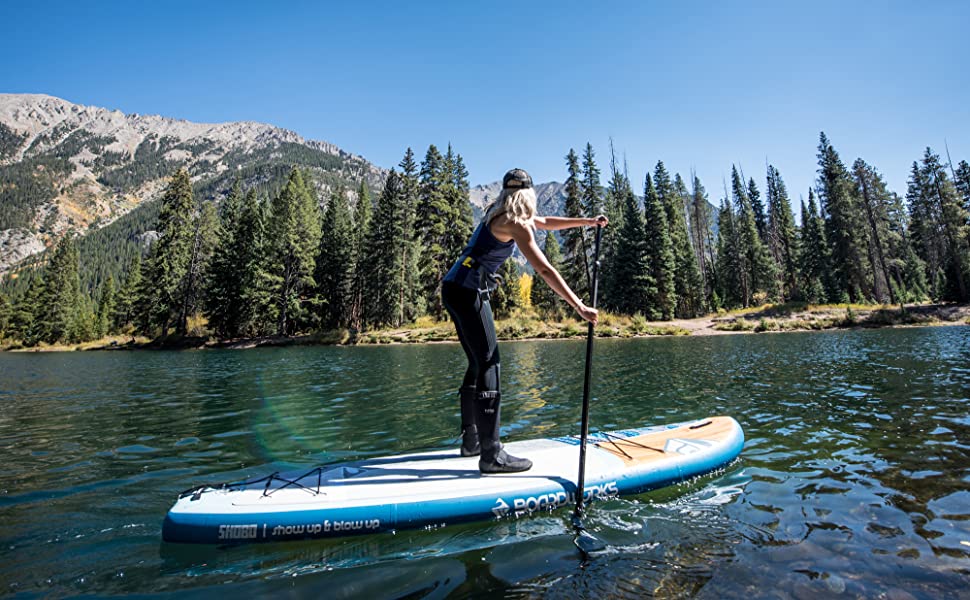 The SHUBU Inflatable Kraken is a stylish, stable, and versatile recreational board that is travel-friendly and easy to store.
This board works equally well for beginners and intermediate paddlers, and it is perfect for couples or families who want & her board option.
Available in two sizes – 10′ 0″ and 11′ 0″, The Kraken is built with our exclusive Dual Fusion laminate, combining high-density drop-stitch core and specialized sidewalls – making this board stiffer and more durable than other inflatables.
The SHUBU Kraken – is the perfect choice when you need that do everything board.
The best thing about this paddleboard is that the design is suitable for beginners and intermediate paddleboarders. The dimensions of 11′ x 33″ x 6″ make it ideal for most adults.
The best part about inflatable paddleboards is just that they are inflatable. This allows you to store it in a small closet easily, carry it in a small car, and quickly get it to the beach. Then air it up and have fun! Fun, stable, durable, and easy to stow. Get the entire family on the water today.
– Novice: Recommended, Max. 225 lbs.
– Intermediate: Recommended Max: 250 lbs.
– Advanced: Recommended, Max. 280 lbs.
All-New 2022 Shubu Kraken Inflatable SUP
Read Next – ISLE Versa Rigid Stand Up Paddle Board Review