The 10'4 Premium Beginner Paddle Board has been a south bay customer favorite for years.
One of our original shapes works and works very well.
Our 10'4 Soft Top Paddle Boards are made with the best, specifically sourced materials to ensure consistent premium quality.
Features South Bay Board Big Cruiser Premium SUP
Board delivers unbeatable value with its unique design, incredible construction quality, & performance-focused features.
SBBC's 10'4 Big Cruiser SUPs are the best Soft Top Paddle Boards online in the world today.
Stability
Made famous for its incredible stability and ease of use for all ages and levels of Paddlers, the 10'4 Big Cruiser quickly became a family favorite.
If you are looking for a top-quality paddleboard package that A.) isn't impossible to stand and balance on, & B.) doesn't destroy your bank account, look any further. The 10'4 Big Cruiser is here to save the day!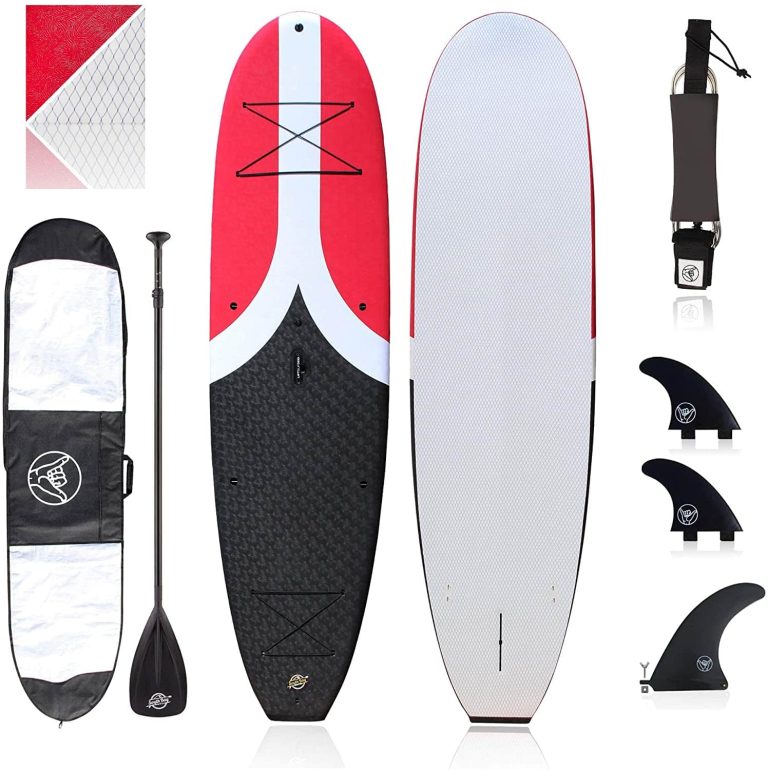 Rider Weight Range
Supports riders up to 350lbs
Skill Level
Big & Incredibly Stable Soft Top SUP with all the extra included for both Beginners & Experienced paddle boarders to enjoy
Performance-Focused Shape
10'4" long x 32" wide x 5" thick @ 195L
Comfortably supports rider(s) up to 350lbs
3 Fin Set-up = a smoother and better tracking glide
Squared off rails for extra stability
The wide rounded nose and a center section for a substantial paddle glide & and a stable position on the water
Slight nose rocker to prevent unnecessary drag
Pulled in Squash tail for extra stability, yet looser turns keep the board from feeling too stiff.
EZ Carry SUP Handle
Pre-installed Kayak Seat Hooks
Pre-installed Bungee strap system on the nose
Heat Release Valve for Heat damage prevention
Full double concave bottom deck for a cleaner transition of water through the bottom deck
Read Next – Aqua Plus 10′ Inflatable SUP Review
Premium Custom Materials
Custom Wax-Free' Fingerprint' textured thick EVA foam deck
Closed Cell EPS molded foam core
Triple Stringer System: 2 wood stringers + 1 fiberglass rod stringer
One 6oz layer of resin on the top and bottom deck
Rubber Bumper on the tail for safer vertical storage
Bamboo Body Armor – one bamboo wood layer on the top and bottom deck – dramatically improves durability and resistance to heat damage. Hard, slick HDPE plastic bottom deck
Non-slip rubber die-cut logo
Read Next – Anomy Amaia Arrazola iSUP Review
Specifications
10'4 x 32″ x 5″ 

Easily supports riders 350lbs +

EPS closed-cell foam core + Soft Top Deck with an extra standing top paddle deck Wax-Free Fingerprint Texture IXPE Traction layer & slick HDPE bottom deck 

Rubber Tail Bumper for safe Standup Paddle Board vertical storage.
Design
All 10'4 Big Cruiser SUP Paddle Boards are custom molded with long-lasting & lightweight, high-density EPS Closed Cell Foam.

Each 10'4 Big Cruiser SUP Paddle Board includes two full-length wooden stringers & 2 6oz full coverage top-to-bottom layers of resin for extra durable & rigid SUP Boards.

Thick, Squared rails for a highly stable & user-friendly paddleboard.
Read Next – Inflatable Paddle Board Hippocamp Fishing ISUP
Unique Features
All 10'4 Big Cruiser SUP Paddleboards Feature extra IXPE white top SUP Paddle Deck 

EZ Carry Handle

Core Heat Release Valve

Pre-Installed Bungee Straps

FCS Plug on the nose for GoPro FCS Plug mount piece
Read Next – Wave Pathfinder WOWCHER Paddleboard
PURCHASE INCLUDES
All 10'4 Big Cruiser SUP Paddleboards include Fins, Leash, Paddle, and 11′ Board Bag
100% SATISFACTION GUARANTEE
USA Designed & Risk-FREE Return —> 30-day guarantee and a 1-year warranty on all SUPs.
Your local California-based company with local American Family Friendly Customer Service
Our Stand Up Paddle Boards are made with the best specifically sourced materials.

We firmly believe our SUPs are the best in the market, with incredible performance, high-end quality, and premium design 🙂

Dedicated to sourcing the best materials and best manufacturing, South Bay Board Co. holds itself to the highest standards when producing every product.
Read Next – SUP USA 11'6″ Paddleboard Bundle Review
South Bay Board Co
The reasoning is simple – we want to be the brand that produces and delivers the highest-quality performance Paddle Boards to anyone who truly wishes to enjoy the water!
Our Paddle Boards are the cleanest, most durable, and highest value SUPs and ISUPs on the market, ideal for beginners, and incredibly fun for regular water explorers.
As a Southern California-based company in the heart of LA's South Bay, we are engulfed in Surf & Beach culture.
All of our Paddle Boards have been designed and tested in the beautiful pacific coast waters but are enjoyed by many on all types of bodies of water across the globe.
If you are ready, we have your future favorite Paddle Board waiting for you to enjoy!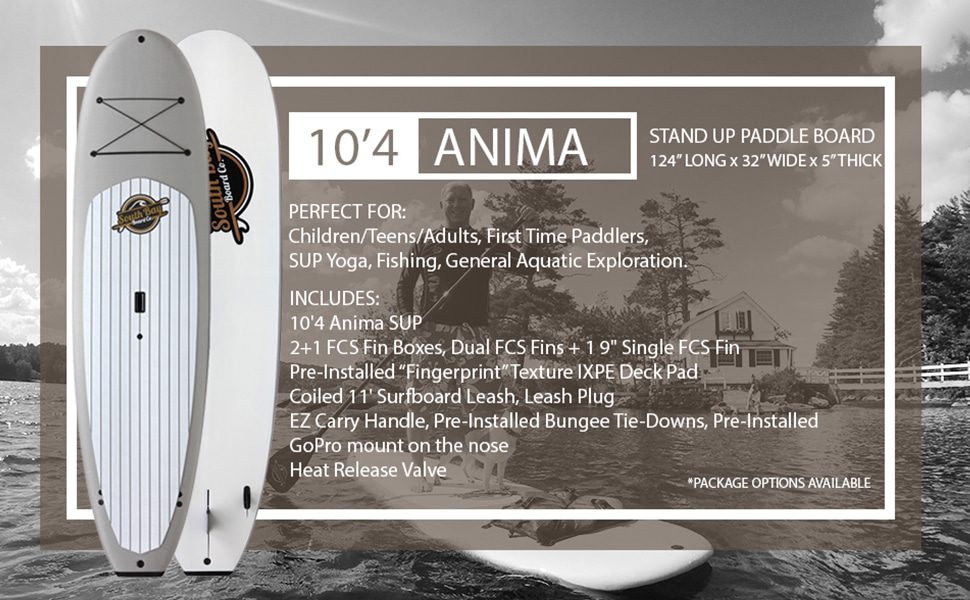 Wax-Free "Fingerprint" Texture Deck Pad

Every Paddle Board will feature our unique "Fingerprint" Textured IXPE foam deck pads that are all pre-installed.

The deck pads are a dual-layer, two-tone "Boat Decking" style for a classic and clean look.

The "Fingerprint" texture provides an incredible grip that is much more comfortable than regular diamond grooved/croc skin textured deck pads.

The "Fingerprint" texture is a Wax-Free texture for a clean, long-lasting feel.

Luxury Design Updates & Durable Enhancements

The 10'4 Anima is designed to be a long-lasting, incredibly easy-to-use paddleboard that any can enjoy.

The Anima Paddle Board will feature the following:

EPS Closed Cell Molded Core with our 3 Stringer System

6oz Resin Layers on the Top & Bottom Deck for extra strength and rigidity

Rugged HDPE Plastic Bottom Deck

Soft Top Croc-Skin Textured Grey IXPE Foam Top Deck

Pre-Installed Two-Tone White & Black "Fingerprint:" Textured Deck Pad

Pre-Installed Bungee Tie-Downs

Heat Release Valve to allow excess heat to leave a core of the paddleboard, preventing de-lamination

Incredibly Stable Shape & Easy To Paddle

The 10'4 Anima Paddle Board's shape is super stable yet has the proper bottom deck and rail shape to easily glide across the water, making your paddle experience more enjoyable.

The 10'4 Anima is 32″ total and maintains much of its width throughout the entire body of the paddleboard.

The bottom deck features a full Double Concave from nose to tail to allow water to quickly move under the board's layer, enabling a smooth and clean paddle glide.

The boxed-out rails help the paddleboard become highly stable, making it feel like a table is resting on the water.

The rails retain a normal curvature until they meet the bottom deck, in which the shape of the track comes to an almost 90-degree angle, creating a very stable stand-up paddleboard.
| |   |   |   |   |   |
| --- | --- | --- | --- | --- | --- |
| | 11'6 Hippocamp ISUP | 10'6 Aqua Discover – Grey Wood | 10'6 Aqua Discover – Camo | 10'6 Orca SUP | 10'4 Anima SUP |
| Paddle Board Type: | Inflatable | Inflatable | Inflatable | ABS Hard Shell | IXPE Soft Top |
| Dimensions | 138″ x 32″ x 6″ | 126″ x 31″ x 6″ | 126″ x 31″ x 6″ | 126″ x 32″ x 4.5″ | 124″ x 32″ x 5″ |
| Supported Rider(s) Weight: | Up to 400lbs | Up to 350lbs | to 350lbs | Up to 275lbs |   to 275 lbs |
| Known For: |   "Strike Mission" paddleboard – The fishing mounts, cooler, kayak seat, and bungee tie-downs allow you to strap gear and fishing equipment for stealthy strike missions out on the water. | All-in-one paddleboard, adventure paddleboard. The included extras make this stable and easy-to-paddle shape the perfect kit for paddleboard adventures. | She was known for being the go-to, all-in-one paddleboard, adventure paddleboard. The extras make this stable and easy-to-paddle shape the perfect kit for paddleboard adventures – camo style! | "Indestructo" board – The hard ABS shells enable this paddleboard to be incredibly tight, the most challenging and durable paddleboard in our paddle quiver. For the longest-lasting paddleboard possible, this is the call! |  Perfect entry-level paddleboard for the cost-conscious who still want a high-value, durable, and reliable paddleboard. The wide, thick, and squared-out rail shape enables this board to be the most stable & most comfortable SUP to paddle. |
Unmatched Design & Quality

Custom Designed and Molded Shapes to ensure a constant level of quality, durability, and performance with every Paddle Board.

I specifically selected & customized materials composed together in a unique and constant process providing the highest quality feel and performance stand-up paddleboards possible.

Before shipping out, multiple-level quality checks are checked out to make sure the top-tier, high-quality paddleboard ships out to you every time.

We are here for you!

We offer an epic Paddle Board return policy: Ride it & Love it for 30 Days or Return it + 1 Year Design Failure Coverage (re-stocking fee applies).

We firmly believe our Paddle Boards are of the best Quality, Durability, Design, & Value in the industry.

We are designed, Tested, and Truly enjoyed by our family and friends here in the South Bay of Los Angeles & by many across the world!

Family Owned & Operated

As a Family Owned & Operated Business, we treat our customers like our own family = We

ALWAYS

have your back!

Honest Human Communication = We truly cater to all your questions and needs – We became experts in our field to ensure you are stoked and ready to use your Paddle Board right when you receive it!

Check out what other customers have said — We want you to know we stand by all of our products and that we provide the best customer communication possible to any looking to enjoy the water with one of our Stand Up Paddle Boards 🙂