Nowadays, people use stand-up paddleboards as equipment to access the water world. Different people use SUPs in numerous other ways.
It has become one of the best ways to explore coastlines, surfing, single and multi-day tours, family fun at the beach, hydro foiling, and racing in the lakes, sea, canals, and rivers.
With all these water activities offered in one board, SUP boards have advanced to become stronger, lighter, more durable, and most significantly – user-friendly.
There are several types of stand-up paddleboards available. But t6he most common types are the solid boards and the inflatable stand-up paddleboards. But paddleboard purchasers often get confused about which kind of board to get.
Not just this, paddleboarding lovers are also faced with a devastating number of puzzling options. Now the question is which one is better. Which one you should buy as a paddleboard lover.
The industry is filled with cheap to high-quality solid and inflatable paddleboards, with new companies springing up overnight to take the lead in this fastest-growing water sport.
These options also confuse the buyer. However, seeing your preference and needs, you need to make your mind first that which type will you buy.
To help you make that decision, we have compared the solid boards and inflatable stand-up paddleboards in our article below. Let's have a look at the differences to know which one is best suited for you.
Read Next – All You Need To Know About Performer 11 Paddle Board
Solid vs. Inflatable SUPs Which One To Choose?
We have made this comparison bet solid vs inflatable SUP for readers who just have decided to buy a paddleboard but do not have any idea about paddleboards.
Thus, we will begin with a few basic information on solid board and iSUP.
So let's now know the basic difference between solid board and inflatable board to find the right board for your water adventures.
Solid SUPs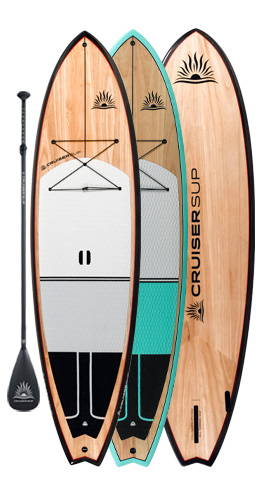 Hardshell stand-up paddleboards, also known as solid SUPs, are usually built using different materials such as fiberglass, foam, Kevlar, wood, and plastics, and these are protected using layers of epoxy resin material.
The foam core makes buoyancy, while coatings of fiberglass, bamboo veneer or Kevlar create rigidity and durability, at the same time the epoxy finish works the best to harden the paddleboard and make sure the board is watertight.
Maximum solid paddleboards feature an EPS foam core that is wrapped with epoxy and fiberglass. This's a fairly durable, lightweight, and affordable structure. Carbon fiber is a stiffer and lighter option, but it is also expensive.
On the other hand, plastic stand-up paddleboards are more inexpensive, but they're very heavy and also lack the performance of other materials. Some stand-up paddleboards include lightweight wood for a lovely appearance.
Pros Of solid SUP:
There are a handful number of benefits to a solid stand-up paddleboard, let's know the pros…
It Is A Perfect Fit:
The solid stand-up paddleboards are obtainable in a bigger diversity of sizes as well as superbly tuned shapes compared to inflatable stand-up paddleboards, so you can find the one that perfectly fits you.
Performance is your Significance:
Solid paddleboards provide the best performance while paddling on the water. These boards travel smoother, faster, and also with less energy than the inflatable boards.
In case paddling far and fast is your priority then a solid paddleboard is for you.
Super Stability: 
A solid paddleboard is a little more rigid as compared to an inflatable paddleboard, which can offer a further stable feel, particularly when riding through waves.
These boards similarly tend to ride lower, which can likewise create a further stable feel.
Cons Of Solid SUP
Needs roof rack
Less weight capacity than inflatable SUP
Overly heavy
Solid stand-up paddleboards take up plenty of space
Read Next – IROCKER vs. ISLE Explorer SUP
Inflatable Stand-Up Paddle Boards
Inflatable stand-up paddleboards generally feature drop-stitch construction with PVC exteriors that generate an air core. These boards come with a hand pump for blowing up the board as well as a storage backpack for the time you do not use it.
A high-quality inflatable stand-up paddleboard is designed and made to be inflated to 12–15 PSI pressure and feels very rigid after fully being inflated. And such boards can carry heavy body weight persons than other boards.
Read Next – Bluefin vs Irocker SUP Comparison Guide
Pros Of inflatable Stand-Up Paddle Board:
There are a few pros and cons of inflatable stand-up paddleboards. So, let's now at first know the pros of iSUP below…
Travel Anywhere With The Board:
In case you are planning for a road trip or you are hopping on a plane to reach your water adventure destiny, you can bring your iSUPs along and go paddling at your favorite destination.
When you pack the inflatable stand-up paddleboards, they can be stowed in a train or checked on an airplane, taken in a bus or car journey. Most storage backpacks have straps for easy carrying. So, take your iSUP with you anywhere you want to.
Need Little SPace To Store:
When you deflate an inflatable stand-up paddleboard then it becomes too small that you can take it with you anywhere you wish to. However, do not bring your pump along, or else carrying the paddleboard along with you won't help you.
Handle Bumps Up Against Rocks & Logs
Handle Bumps Up Against Rocks & LogsLike an inflatable kayak or raft, an inflatable stand-up paddleboard is best suited for handle bumps up against logs and rocks than the solid board performs generally.
You Can Also Practice SUP Yoga on Water: 
Inflatable stand-up paddleboards are a bit softer than solid paddleboards, this makes the inflatable stand-up paddleboards more easy and comfortable for practicing yoga.
Cons Of Inflatable Board
Need to pump every time you go paddling
Read Next – Lifetime Horizon Paddle Board 100 Hardshell SUP Review
Is Hardshell Stand-Up Paddleboard A Good Board Or A Inflatable Paddle Board?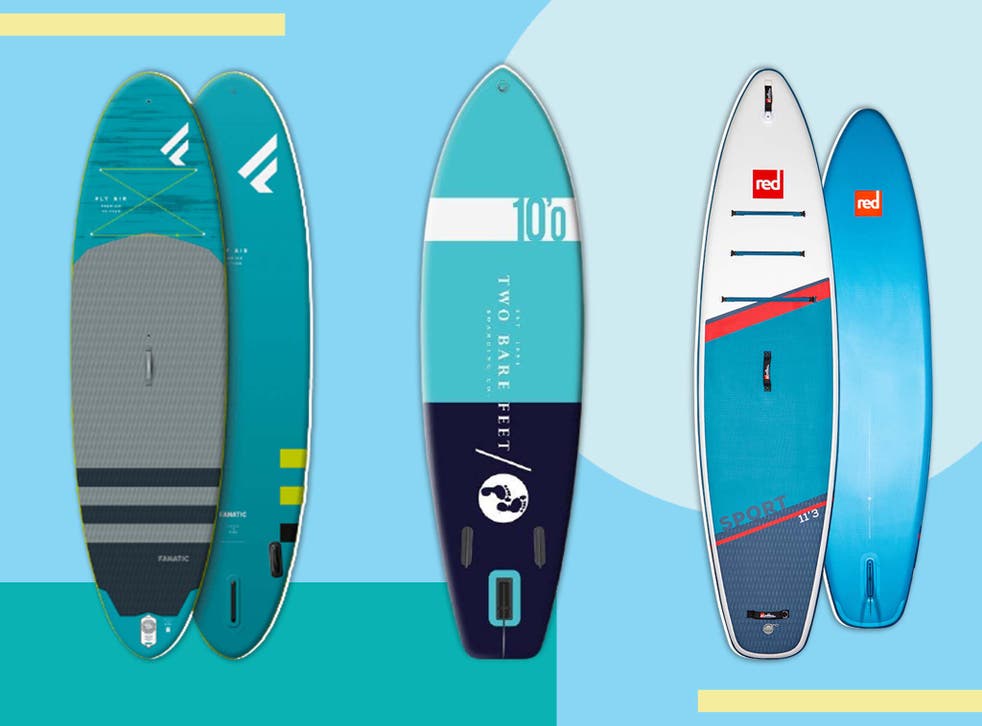 The major differentiator between hard boards and iSUPs is in its suitability: an inflatable stand-up paddleboard fits easily in your car trunk and you can check in an airplane with the board without paying any extra fees.
They are a great option for road trips. When you have limited space but want to possess a paddleboard then go for the iSUPs
However, in case you are just searching for a super stable board, then you must go for solid boards. But storing a hardshell paddleboard is truly a pain in the ass if you do not have ample room as storage space.
Finally, all we need to say is that iSUPs are usually way more durable than hard-shell paddleboards.
Read Next – How To Buy The Best Inflatable Paddle Board Amazon?
BOTTOM LINE
Both hard and inflatable paddleboards have great selections of boards for getting yourself into stand-up paddleboarding.
Whichever board you decide to go with, make sure to look into the reviews of both the board and brand. Enjoy Paddle Boarding!
Read Next – Best Solid Paddle Boards in 2022
Pelican - SUP - Hardshell Stand-Up Paddleboard - Lightweight Board with a Bottom Fin for Paddling, Non-Slip Deck - Perfect for Youth & Adult (Lime, 10 ft 6 po) (FAA10P109-00)
as of September 27, 2023 5:41 pm
Lifetime Freestyle XL 98 Stand-Up Hardshell Paddleboard - 2 Pack (Paddles Included), Red
as of September 27, 2023 5:41 pm
Swonder Inflatable Stand Up Paddleboard - 11'6ft Ultra-Steady Paddle Board w Non-Slip Deck, Premium SUP Accessories- Backpack, Paddle, Pump, Leash for Adults & Kids
2 used from $399.49
Free shipping
as of September 27, 2023 5:41 pm
Lifetime Amped Hardshell Paddleboard with Paddle, 11', Glacier Blue
3 new from $625.00
1 used from $433.95
Free shipping
as of September 27, 2023 5:41 pm
Lifetime Freestyle Paddleboard with Paddle, 9'8"/X-Large, Red
out of stock
as of September 27, 2023 5:41 pm
FunWater SUP Inflatable Stand Up Paddle Board 11'x33''x6'' Ultra-Light (18.5lbs) Paddleboard with ISUP Accessories,Fins,Adjustable Paddle, Pump,Backpack, Leash, 10L Dry Bag
2 new from $199.95
6 used from $182.01
Free shipping
as of September 27, 2023 5:41 pm
Roc Inflatable Stand Up Paddle Board with Premium sup Accessories & Backpack, Non-Slip Deck, Waterproof Bag, Leash, Paddle and Hand Pump. (Black)
4 used from $215.95
Free shipping
as of September 27, 2023 5:41 pm
awesafe Inflatable Stand Up Paddle Board 10'x32''x6'' SUP with ISUP Accessories Backpack, Fin, Paddle, Double Action Pump, Leash, Waterproof Bag for Youth & Adult (Green)
1 used from $141.72
Free shipping
as of September 27, 2023 5:41 pm
ADVENOR Paddle Board 11'x33 x6 Extra Wide Inflatable Stand Up Paddle Board with SUP Accessories Including Adjustable Paddle,Backpack,Waterproof Bag,Leash,and Hand Pump,Repair Kit (Green)
11 used from $159.99
Free shipping
as of September 27, 2023 5:41 pm
Inflatable Stand Up Paddle Board 10'6" Long 6" Thick | SUP Paddleboard Accessories Carry Backpack | Wide Stance, Bottom Fin Paddling Surf Control, Non-Slip Deck | Youth & Adult Standing Boat Boards
out of stock
as of September 27, 2023 5:41 pm