This Tower paddleboard is the most famous modem in the Tower SUP lineup.
This is a great all-around paddleboard that's stable and fun.
The overall build is excellent, and the board has an acceptable thickness of 6 inches and outstanding rigidity.
The Tower Adventure Paddleboard is well-built, affordable, and solid. The SUP's 6″ thickness makes it highly stable and suitable for a less than 10′ longboard. The board also peddles exceptionally well, considering it is reasonably wide and short.
While a shorter SUP is not usually an acceptable option for lake paddling or touring, the SUP's extra-long removable center fin enhances tracking, letting the paddleboard glide smoothly.
Overall, SUP offered a simple design that paddlers who enjoy flat water paddling could appreciate.
While this paddleboard does not come with all of the typical whistles and bells the avid rider enjoys, its simple formation still includes all the must-have features that'll let you enjoy a wide range of waterways.
Construction Tower Adventurer Paddleboard

This Tower 9'10" paddleboard is made from high-quality military-grade PVC material, with heavy-duty drop stitch built throughout.
This SUP paddleboard should withstand most knocks associated with paddle boarding, whereas fiberglass SUPs are prone to dings and board cracks.
Care is required around sharp things.
If you plan to take the dog for a paddle around the water, tape the board deck up to pooches' nails do not go through the surface.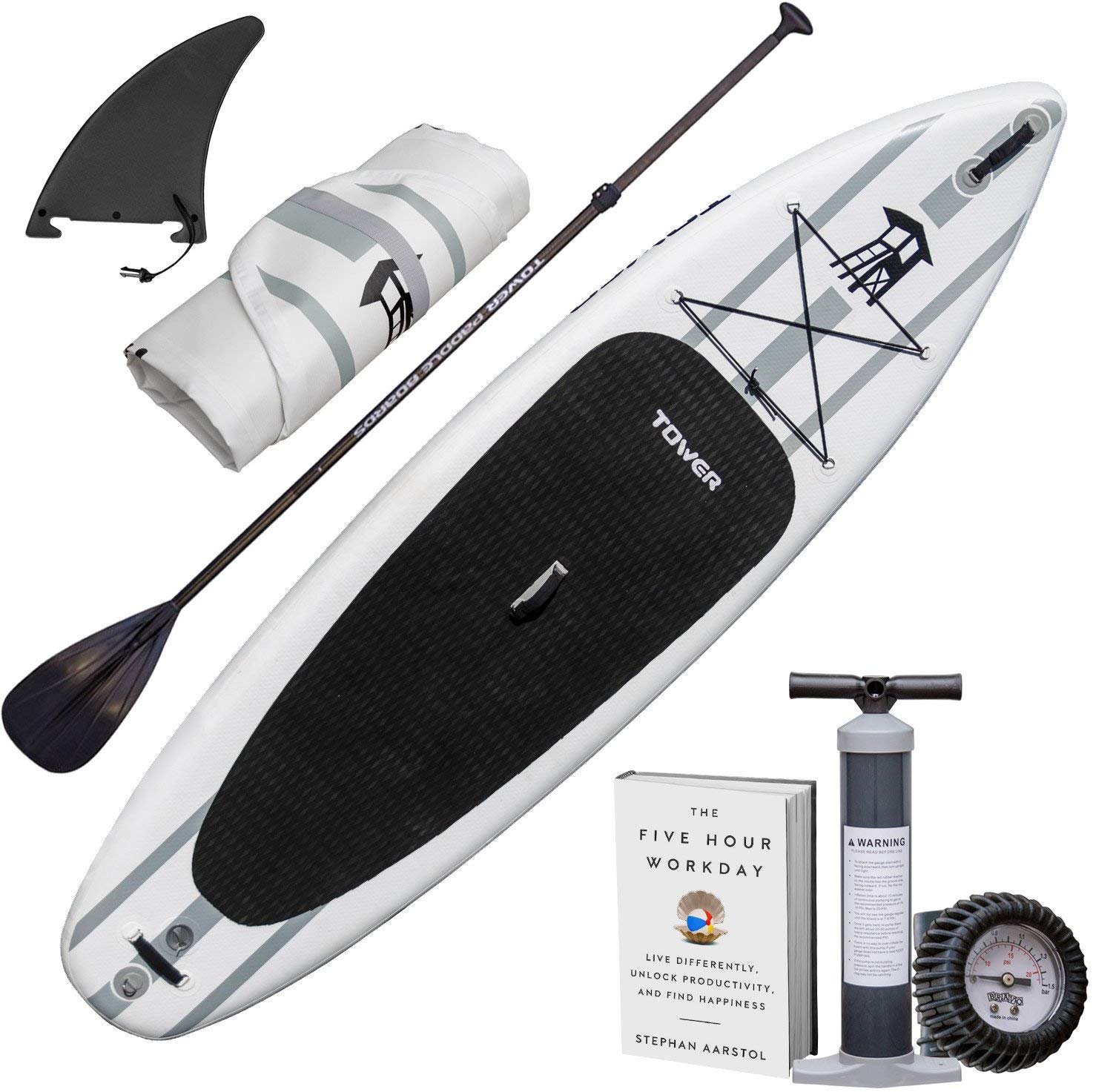 Features
One of the most apparent features of this Tower 9'10" paddleboard is inflatable.
As mentioned earlier, those that don't have much space to store a complete-sized SUP will be glad to know it can roll up into a duffle bag not much more than a foot long and 33″ wide.
The portability of this SUP is excellent – you'd take this with you on vacations without it taking up much space in the car.
It comes with two years warranty. This covers all other than usual wear and tear for peace of mind.
Read Next – Huaze 10 Stand-Up Inflatable Paddle Board
Performance
The Tower adventure Paddle Board is designed for newcomers to the intermediate level. However, anybody can have fun with an inflatable paddleboard if they need a board that takes up too much room instead of a fiberglass model.
Due to the width/height, I would not expect to do beach surfing where the waves are more than a couple of feet.
Tower Xplorer Inflatable 14' Stand Up Paddle Board - (8 Inches Thick) - Universal SUP Wide Stance - Premium SUP Bundle (Pump & Adjustable Paddle Included) - Non-Slip Deck - Youth and Adult
1 used from $860.00

as of October 1, 2023 2:18 pm
Design and dimension of the board
The board size will not only examine whether it is the right fit for you or not, but it'll also significantly impact its category and performance.
Hence, the Tower Adventure Paddleboard comes at a comforting 9′.10″ in length, which could be the best thing about this SUP.
In fact, at this exact length, the SUP is set to be compatible with 90 percent of the paddlers. If you are a teenager, a young adult, or an average size person, then this Tower Adventure Paddleboard is undoubtedly made for you.
Further, the paddleboard's length is also highly impactful in terms of performance, which is further emphasized under the performance tab. Width is also an especially critical size and specification for new paddlers.
There's a significant value to the wide SUPs, which is why Tower went with a reliable 32″. At this width, you will be granted the upper hand when it comes to stability and balance under most conditions, and that's something that can't be achieved on a smaller board.
Also, this aspect will significantly improve your grasp of the commands of the SUP and make navigation and tracking smoother for you. As far as thickness is concerned, it's vital to note that it's just as significant as the previous 2.
One of the most common issues that board manufacturers used to fall for is cropping thickness out of their concentration scope, resulting in a bunch of weak SUPs bending in the middle under a lot of weight.
Hence, the Tower Adventure Paddleboard features 6″ in thickness which is great. Thick boards are more stable and handle more weight than thin SUPs.
Speaking of which, this paddle board can cater to a max weight of 350 pounds.
Read Next – Best Black Friday Stand UP Paddle Board Deals
Build Quality
Build quality is as crucial as size but not more important because, trust me, quality would be your most minor concern if the paddle board is smaller or bigger than your fit.
Quality remains an essential section upon which we make most of our purchases, and boards are not different.
Accordingly, the Tower Adventure Paddleboard presents Tower SUPs, a brand known for building all SUP out of military-grade PVC. This is the similar stuff the army uses to produce some bulletproof vests.
Moreover, to ensure that nothing goes unplanned, the Tower Adventure Paddleboard is reinforced through an industrial drop stitch build that perfectly seals all looks on the hull, making it virtually indestructible.
Read Next – Best Tower SUP Australia For You in 2022
Main Features
An Olympic-grade EVA gripping pad covers over 50% of the SUP's surface and gives you enough room to move around and fit comfortably. More importantly, the EVA pad will grant you a solid grip on the paddle board, letting you cruise at ease and command the paddle board better.
The paddle board also comes with a clean formation with less and less distraction, letting us enjoy paddleboarding in its way. Indeed, this is one of the easiest-looking SUPS on the market, and the entrails of the SUP, the design, and the comforting color scheme.
The Tower Adventure Paddleboard comes with a limited two d-rings at the extremities of the paddle board. These rings can be utilized to tow or secure the paddle board at ease while not disturbing the authenticity of the hull.
A few paddlers prefer a paddle board with an abundance of d-rings for space, but that goes down to anyone's preference.
The navigation system of the board is concerned; the Tower Adventure Paddleboard doesn't take any chance and goes with a tri-fin system. This system mightn't seem appealing, but it certainly puts in the work.
Accordingly, whether your opponent is a clear lake or a Colorado white or calm water river, you are perfectly set to make it your little dog.
Read Next – Tower Adventurer 2 Paddle Board
Performance
Performance is undoubtedly among our top issues when making such a purchase, but it is vital to note the difference between competitive and entry-level SUPs.
Once that is done, you can appreciate the Tower Adventure Paddleboard as one of the most accommodating inflatable SUPs.
This entry-level board is made ideally to fit the character of a beginning amateur paddler, and with that comes the long body, the lifting nose, and a tight end to make the cruiser a breeze.
Further, the tri-fin navigation system and width of the paddle board will undoubtedly be noticed with each turn you take and each adjustment you make. The Tower Adventure Paddleboard will be there for you.
Read Next – All About Adventurer 2 Inflatable Paddle Board Package
Pros
Extremely rigid
Super durable
Fine paddling performance
Affordable
Fine stability
Cons
Read Next – Hulakai Paddle Board
Best Inflatable (SUP) Paddle Boards For 2023
The Tower Adventurer 2 Paddle Board is a well-known 10.4 inflatable board that provides max rigidity and durability.
It's a giant paddle in Tower's lineup, and it is the best option for anyone who needs a longer paddleboard for all-around use.
If you're looking for a neutral board that both genders can use, people of any age and experience, you are looking at a pretty good one!
This is one of the best-selling paddleboards of all time, not only because of its quality but also because of the accessories you get.
The Tower is famous for offering the best value due to its manufacturer's direct business model, and Tower Adventurer 2 continues to build on that value.
Packed with advanced features typically seen on SUPs at much higher price tags, the Adventure 2 combines the highest quality materials and builds with the convenience that only an inflatable SUP can provide!
This review will take a deeper look at the standout features of the paddleboard, technical says, warranty, and much more.
If you're in the bazaar for an inflatable SUP of this size, it is the board that we recommend considering.
Though not aimed at the advanced paddleboarder, those desiring to learn to paddleboard or those wanting to keep a paddleboard at their holiday house – should take a deeper look at the Tower paddleboard.
Read Next – Best Gratitude SUP of 2023
The technology of making a Tower Adventurer 2 board
The military-grade PVC material this product is made of will ensure durability.
You don't have to worry about dents, cracks, and scratches.
It's an excellent investment to make since it lasts.
It is a bit pricey compared to other boards, but the quality is excellent, the material is dense, and the experience is suitable for any age.
Adventurer 2 core is made by drop stitch technology, and for typical performance is optimal to inflate the board at 11 psi. It was safely tested to 25 psi.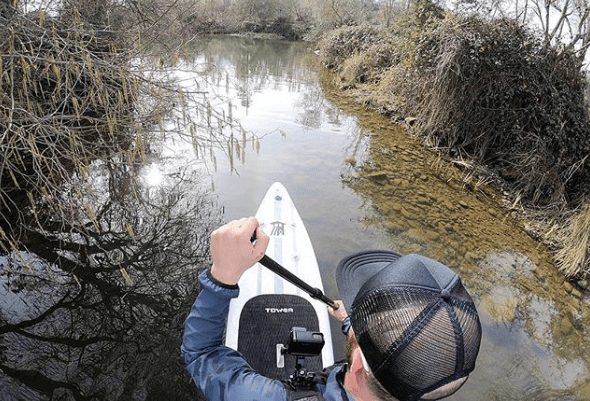 What is the size of the Tower Adventurer 2 board, and how does it affects the ride? 
It is pretty broad (32″), and it's 10 "4′ long, which takes part in this particular model's stability.
Besides that, the fin at the bottom makes it much easier for beginners to maneuver the board.
It's much easier to spin and turn the whole thing, so even kids, teens, and young adults (those with less strength) can use it.
Weight capacity – maximum support weight of SUPer
Official by the manufacturer is 350 lbs, but it can go to 400 pounds in real life.
What is included in Tower Adventurer 2 package?
As we have previously mentioned, with the board, you get a set of accessories: a high-pressure pump, a diamond grooved deck pad, a removable center fin, a hand hold strap, a roll-up carrying strap, and repair.
The onboard deck pad is a cargo net.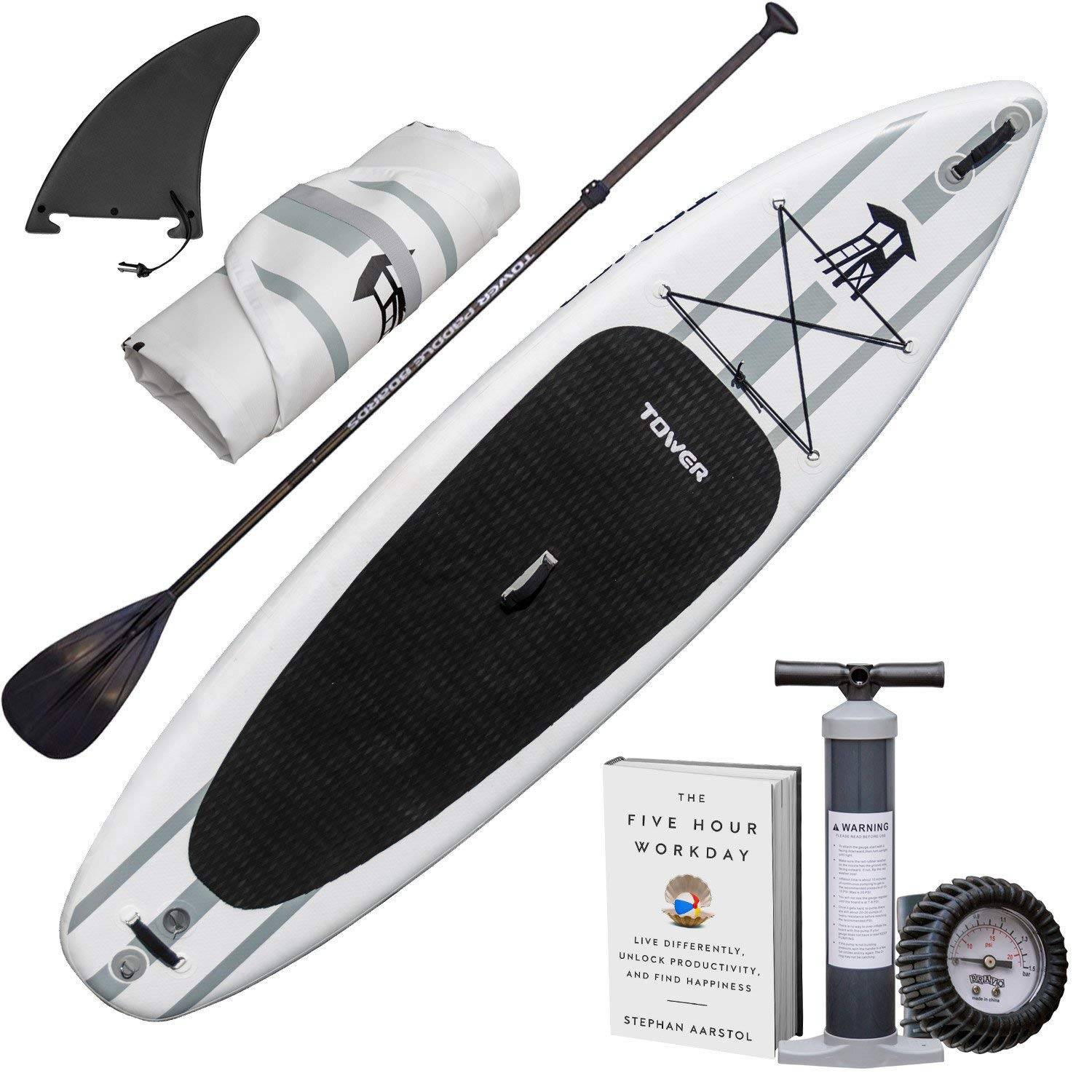 Design 
Now, this paddle is certainly not small in size. The Tower Adventurer 2 Paddle Board is 10.4 long and can take both big and small riders. The exact measurement is best for various activities, from recreational paddling to touring or fitness or working out.
I said, working out with SUP yoga in mind. This paddle is 32 inches wide which I would rarely say for SUPs in the range of 10′ in length. Those 32″ will ensure you are stable in any position you take.
This paddle feels like wire compared to other boards that barely reach 30″ in length. As for thickness, I am pretty excited to tell you that the Tower Adventurer 2 Paddle Board was run over by a vehicle with nothing on it.
The 6″ thickness makes the paddleboard very stiff to keep you floating beyond water even it reaches its weight capacity.
Read Next – TOWER Xplorer Inflatable 14′ Stand Up Paddle Board
Build Quality
It is here where things get serious. The Tower brand is known for going extreme regarding how rugged the staff to construct their paddleboards.
The Tower Adventurer 2 Paddle Board is made with drop stitch technology that uses tons of fibers to link the top deck to the bottom to hold its formation and expand its lifetime.
The military-grade PVC is also solid. It is used to build river rafts and bulletproof vests. Unless something very sharp occurs to stab this paddleboard strongly, it will tell about all the adventures you have taken it through.
Therefore, being a friendly user is highly recommended.
Main Features
Unlike the no-frills 12.6 Tower IRACE, XPLORER 14′ and 9.10 Tower Adventure 1, the nose of the SUP features a standard four-point elastic bungee storage unit which is always handy for storing your essentials while you are on the water.
The top of the board features a super soft, non-slip deck pad that's made to provide a fine grip. A carrying handle also makes it super easy to carry around.
Also, this board features a vertical carry handle that makes it super smooth for the user to take the paddleboard in/out of the paddleboard. The tail of the board features a Hal Key Roberts valve.
This paddleboard can be inflated manually with the included pressure pump or automatically with a compatible electric air pump. It is also a D-ring for attaching the included safety leash and second grab handle.
Read Next – Best Paddle Boards Under 300$
Performance
What I appreciated most about the Tower Adventurer 2 Paddle Board was its versatility; it performed professionally and beautifully in white and flat water glasses.
Its sharp nose lets it make its way through the water quickly and swiftly with minimum effort, while the stiffness of its body and the triplefin navigation systems add significantly to the speed factor.
This paddleboard is steady and stable. Anybody can move on top of it, maneuver, perform, or even play SUP yoga.
I wouldn't exaggerate when I say that the Tower Adventurer 2 Paddle Board is one of the most stable.
All in all, riding this rigid board was a pleasure that reflected how much effort was put into making it, and with a two years warranty, the Tower brand is proving to stand behind its handcraft.
Accessories included
The Tower includes the following accessories with Tower Adventurer 2 Paddle Board:
The large removable center fin
Manual pump
Three-piece fiberglass paddle
A few things are lacking in Tower Adventurer 2 Paddle Board bundles: safety leash and paddle backpack.
This was acceptable many years ago, but competition has gotten stiff, and there are much better SUP packages currently offered than Tower's SUP lineup.
What I like
Well-engineered
The board is one of the best paddleboards out there.
It is pretty stable, and it performs well in various water conditions
The best thing about the paddleboard is its 32″ width; it makes the SUP durable and balances even when weight capacity is reached.
The rear kick-pad is excellent to add for reasonable control and supreme performance.
It is challenging and rigged that a vehicle could run over it, leaving no harm.
It can take over every water condition tank to its solid body and super sleek design.
What I don't like
The Tower Adventurer 2 Paddle Board is simple to package but lacks a bag and repair kit. You mightn't need this latter, but you will need to purchase a separate bag for the paddle board.
Easy to setup
You're getting a complete kit with a high-pressure SUP pump. A Tower branded diamond grooved deck pad, a removable center fin, a hand hold strap, and a roll-up carrying strap.
All types of water are compatible with this board, which makes it so unique and practical for all who like to surf and maybe even use the panel on river waterfalls.
If you're over 200 lbs, you may notice it bending slightly in the middle.
We highly recommend Tower 10'4" inflatable paddleboard.
Included SUP Accessories
Tower Adventurer 2 comes with everything you need to get on the water.
iSUP Board
3 Fins
A 3-piece adjustable fiberglass paddle
A hand-operated air pump that inflates your SUP in minutes
2-year manufacturers warranty
Specifications
The Tower's " Paddle Board Review is an excellent option for those looking for an affordable and versatile way to enjoy the water.
This board can be used for various activities, including paddling, surfing, and even wakeboarding. It is also equipped with a storage area on the bottom that makes it easy to transport your gear.
The Tower's " Paddle Board is made from durable materials that withstand harsh conditions. The deck is made from fiberglass and has a natural finish that looks good and feels great. It also features comfortable padding, making it perfect for long sessions in the water.
The Tower's Paddle Board is an excellent choice if you're looking for an affordable option for various activities.
What to expect from the Tower 10'4" Paddle Board
Tower 10'4" Paddle Board is a high-quality board perfect for those looking for a versatile and functional paddleboard.
The 10'4" model is great for both beginner and expert riders, thanks to its design and features.
The Tower 10'4" model features a versatile design that can be used for both recreational purposes and fishing.
It is also stable and easy to ride, making it an ideal board for beginners. Additionally, the board's construction makes it sturdy and capable of withstanding heavy use.
Overall, the Tower 10'4" Paddle Board is an excellent choice for anyone looking for a quality board that can be used for various purposes.
How it compares to other boards of its kind
The Tower "Paddle Board Review" is one of the most popular boards on the market. It has a sleek design and comes at a very affordable price.
The board is also made with high-quality materials, making it durable and long-lasting. It is perfect for beginner paddlers and provides excellent stability while paddle boarding. Additionally, the Tower "Paddle Board Review" offers various innovative features that make it stand out from other boards on the market.
For example, it has an integrated bow holder that allows you to secure your bow while paddling, and its built-in wind deflector ensures you can enjoy smooth sailing even in windy conditions.
Overall, the Tower "Paddle Board Review" is one of the best options for those looking for a quality paddle board at an affordable price.
What is the best size paddleboard for beginners?
If you're new to paddleboarding, the best size board is probably somewhere in the 18-inch range. If you're more experienced and are looking for something bigger or smaller, feel free to check out our various paddleboard reviews below.
But remember that just because a board is larger or smaller doesn't mean it's better or worse—it's different!
Once you settle on the perfect size board for your needs, consider your weight, how much wind and water you're likely to experience, and where you plan on using your board (onshore or offshore).
Paddleboards come in various shapes and sizes to accommodate all sorts of users. So if you're still unsure which one is right for you, give one of our Board Selectors a try!
How much should I spend on a SUP?
If you're looking for a fun and affordable way to get out on the water, SUP may be a perfect choice. Here's what you need to know about this famous water sport:
How Much Should I Spend on a SUP?
If you're on a budget, don't worry! You can still buy a great SUP without breaking the bank. For under $200, you can get a basic model that will do the job.
However, you'll likely spend more money if you want to get serious about your SUPing. Top-of-the-line models can cost upwards of $1,000. But don't worry – even budget models offer plenty of fun and exploration opportunities.
How Do I Choose the Right Sup?
When choosing a sup, it's essential to consider your needs and wants in addition to your budget.
Here are some factors to consider:
Weight capacity: Consider how much your sup can support before becoming too cumbersome or difficult to maneuver.
Style: Do you want an open-air design that gives you panoramic views of the ocean below, or do you prefer a more enclosed cockpit with better protection from wind and waves?
Several paddlers: If you're planning on using your sup as a transport only (i.e., not exploring), fewer paddlers will be necessary.
Where are Tower Paddle Boards made?
Tower paddle boards are manufactured in America and come in various shapes and sizes to meet the needs of any adventurer.
The boards are made from high-quality materials, and they are designed to provide an exhilarating experience for both beginners and experts. In addition, the panels come with features that make them easier to use, such as footrests and adjustable straps.
Which paddle boards are made in the USA?
There are a few paddle boards that are made in the USA, but the vast majority of them are imported from China. Here's a look at some of the best paddle boards made in America:
The Tower Paddle Board is made in San Diego and is one of the most popular paddle boards on the market.
It has a durable construction with fiberglass reinforcements, making it withstand lots of abuse. The Tower also features an adjustable fin system that allows you to customize your riding experience.
The ICONIC Double Paddle Board is also made in San Diego and is another excellent option for those looking for a sturdy board that can handle a lot of abuse.
Like the Tower, it has an adjustable fin system that makes it perfect for all sorts of riders. Its stylish design will make you stand out from the rest on the water.
If you're looking for something a little more exotic, look at the Karma Board by Warbonnet. This board was designed specifically for SUP yoga and featured unique contours that make it ideal for this activity. Plus, its bamboo construction makes it environmentally friendly and sustainable.
Finally, if you're looking for something special, check out the Slingshot Inflatable Paddle Board by Cassy.
This board is handmade from high-quality materials and features flexible fins that let you twist and turn as you ride. Plus, its inflatable design means that it's lightweight.
What are Tower Paddle Boards worth?
Tower paddle boards are expensive, but they offer unique experiences not found on other types of paddle boards. Tower paddle boards are made to be stable and versatile, perfect for both beginner and expert paddlers.
Most tower boards have various features that set them apart from the competition, such as a spray deck and elevated platform to help reduce fatigue.
A tower board is a perfect choice if you're looking for an exhilarating experience that will leave you wanting more. While they may cost a bit more than other types of paddleboards, the unique features and stability make them well worth the investment.
End words…
All in all, the Tower Adventure Paddleboard will be a good fit for you if you are looking for something with the convenience of a paddle board without compromising the build quality or riding experience.
Of course, any SUP will be somewhat slower than a conventional, solid paddle board.
Many paddlers mightn't be able to distinguish between the Tower Adventure Paddleboard and the traditional paddle board, which is a treatment for its fine quality.
Read Next – Tower Yachtsman Inflatable Paddle Board 10'4″ Review