If you're looking for a colourful design that's also very stable and durable, Gili made sure to create this wonderful product that may be the one.
It's actually the whole package you are getting.
Features Gili Sports ISUP review
Gili SUP package includes the board, which we will talk a bit more about, a travel paddle, an inflatable backpack, a 2-stage hand pump, a coiled leash and a snap-in centre fin.
This board is a great one, it's made from Cross Stitched, Reinforced PVC which still can't take really high temperatures, but is doing much better than regular PVC boards.
No worries about dings and dents, the material is very sturdy.
The SUP board is extra-large, and you can bring along your pet, a friend, or even do yoga on water! Isn't that super relaxing?
Read next – Aztron Titan All-Around Inflatable SUP Board Review.
The centre fin that you are getting will help you feel great balance but bear in mind that it's better to have three fins.
If you wish, you can personalize this at a sup board shop, but you don't have to if you already have experience.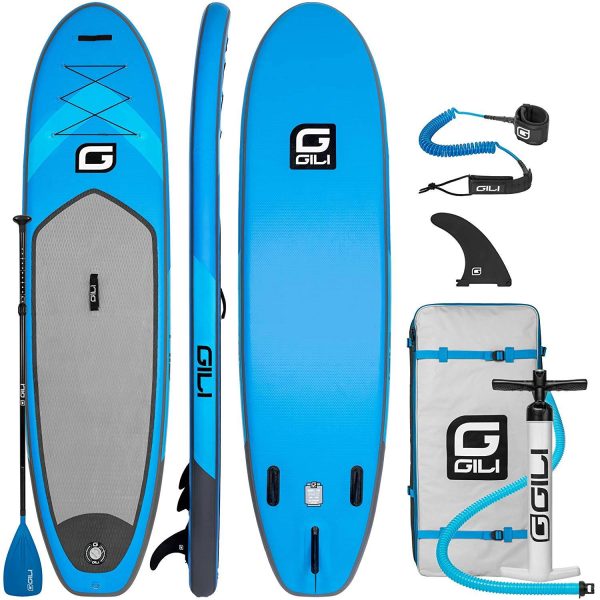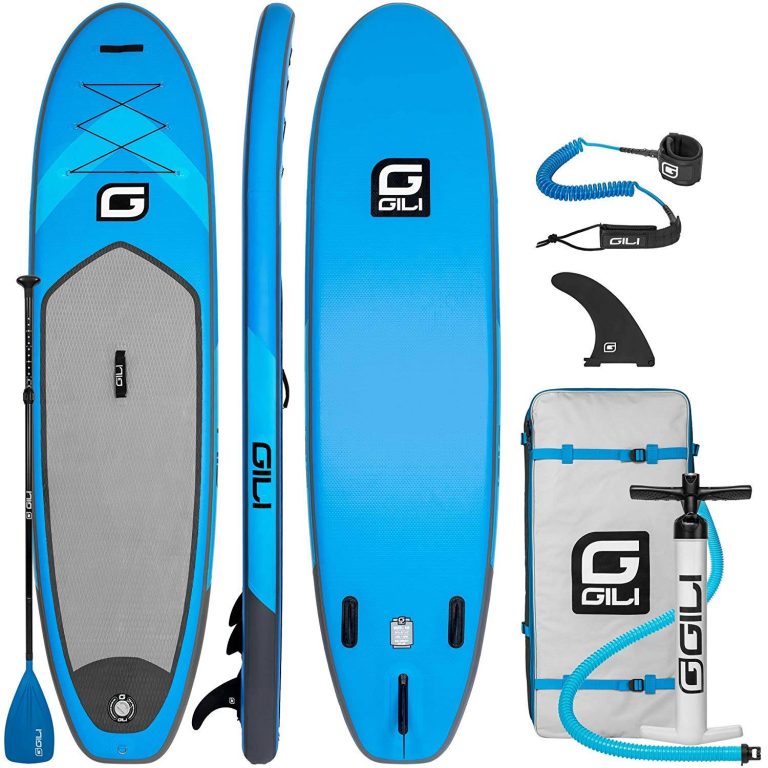 You can try out the product and return it if you don't feel like it's for you.
You've 60 days to return the product and a 1-year warranty if you decide to use it.
It's straightforward to deflate it and pack it in, and many people are happy because of it, but if you're a newbie to the inflating process, you want to bear in mind that it takes longer than you will expect and that it can be very exhausting.
Read next – Swonder Premium Inflatable Stand Up Paddle Board.
Gili Sports 10'6 ISUP Video Rewiev

If you have used a hardboard before, you may want to inflate this fully, so it seems more stable.
Read next – GILI Adventure Inflatable Stand Up Paddle Board
GILI All Around Inflatable Stand Up Paddle Board Package | 10'6 Long x 31" Wide x 6" Thick | Lightweight & Durable SUP | Stable & Wide Stance (Green)
out of stock
as of May 17, 2021 7:20 pm ⓘ
Features
ULTIMATE ALL AROUND PADDLE BOARD: 10'6 x 31" x 6" - the perfect blend of balance, weight & size. Weighs only 19 lbs. The ULTIMATE go-anywhere paddle board. Performs well in all conditions. Feels like a hard board when fully inflated but only half the weight. A great SUP for beginner and advanced paddlers.
EXTREMELY DURABLE, STABLE, AND PORTABLE: Constructed from Cross Stitched, Reinforced PVC so you don't have to worry about dings, dents or damage. 6" Thick for stability. Super portable iSUP package: everything fits in the included backpack. Just throw in your car or on an airplane - no roof rack or garage needed!
COMPLETE ISUP PACKAGE: includes GILI 10'6 Air SUP, GILI Travel Paddle, GILI Inflatable Backpack, GILI 2-Stage Hand Pump, GILI 10' Coiled Leash, GILI Snap-In Center Fin - everything you need to start paddling! Just strap on the comfy backpack and you've got everything you need to hit the water!
BEAUTIFUL, FEATURE-PACKED DESIGN: Extra large diamond traction pad: bring a 4-legged friend or use for SUP Yoga. 6-Point Front Bungee for quick access to your gear. Nose and Center Grab Handle for easy transport and maneuverability. Our 9" Snap-In fin attaches quickly and easy with our ultra secure fin box - no tools needed. 2 Stage Pump for fast and easy inflation. Adjustable Travel Paddle breaks down in 3 pieces and adjusts to your height. Comfy iSUP Backpack carries the board and accessories
60 DAY GUARANTEE & 2 YEAR WARRANTY: Try out the GILI 10'6 Air - you'll love it! Risk Free returns for 60 days, and a full 2-Year Warranty. At GILI we've got you covered: we sell the highest quality paddle boards out there. Discover why SUP is the world's fastest growing watersport: Get Paddling with GILI Now!
GILI Adventure Inflatable Stand Up Paddle Board: Lightweight, Durable Touring SUP: Wide & Stable Stance 11' x 32" x 6" Thick (Blue)
as of May 17, 2021 7:20 pm ⓘ
Features
ULTIMATE ADVENTURE PADDLE BOARD: 11' x 32" x 6" - Designed for exploring, trekking, and portability. Explore hard to reach lakes and uncharted territory with perfect touring Inflatable SUP. 19 D-Rings and Front and rear bungees to haul all of your gear.
ADVANCED FUSION CONSTRUCTION: Dual layer, Fusion technology not only makes this board strong, but ultra lightweight too. Machine laminated, free from defects & ultra durable.
EVERY PADDLE BOARD SOLD HELPS SAVE OUR OCEANS: For every paddle board sold, we donate a portion of your order to hellp save our oceans, coral reefs, and endangered sea creatures.
COMPLETE ISUP PACKAGE: Includes the 11' Adventure SUP, GILI Fiberglass Travel Paddle, GILI Inflatable Backpack, GILI 2-Stage Hand Pump, GILI 10' Coiled Leash, & the GILI Snap-In Center fin. Everything you need to start paddling and exploring!
60 DAY GUARANTEE & 2 YEAR WARRANTY: Try out the GILI 11' Adventure - you'll love it! Risk Free returns for 60 days, and a full 2-Year Warranty. At GILI we've got you covered: we sell the highest quality paddle boards out there. Discover why SUP is the world's fastest growing water sport: Get Paddling with GILI Now!
Peak Expedition Inflatable Stand Up Paddle Board — Durable Lightweight Touring SUP with Stable Wide Stance — 11' Long x 32" Wide x 6" Thick (Coral)
out of stock
as of May 17, 2021 7:20 pm ⓘ
Features
BUILT FOR EXPLORATION: Designed for the paddle board warrior, the inflatable SUP board features a hybrid nose for fishing, touring, snorkeling, spear fishing, or recreational paddling in all weather conditions
35% LIGHTER CONSTRUCTION: Weighs only 19.5 lbs when inflated and the extra wide stance ensures a stable and sturdy stand up paddleboard; soft EVA deck pad adds comfort for additional rider or dog, plus room for equipment; Up to 275 lb. weight capacity. Variety of color choices.
READY TO SURF iSUP ACCESSORY BUNDLE: Ideal for all skill levels and water conditions, the set includes a PEAK inflatable paddle board, paddle, coil leash, high pressure pump, and fin; all fits in the included carry backpack. Quick to inflate and store.
TOUGH 6" MILITARY GRADE PVC CONSTRUCTION: Puncture-resistant tough outer shell means no worrying about dings or damage; lightweight design with nose and tail carry handle for easy transport; front and rear bungee cord secures water bottle and gear.
USA-DESIGNED AND RISK FREE RETURN: 30 day guarantee and 1 year warranty on materials. USA-based company with USA customer service. Affordable, authentic, and built for convenience.
DRIFT 10'8" Inflatable Stand Up Paddle Board, SUP with Accessories | Pump, Lightweight Paddle, Fin & Backpack Travel Bag, Native
2 new from $459.00

as of May 17, 2021 7:20 pm ⓘ
Features
STABLE & MANEUVERABLE: It's easy to stand up and balance on a Drift paddle board! At 10'8" x 33" x 6", the wide deck and performance shape make for fast, fun paddling for all skill levels
INFLATABLE & PORTABLE: Quickly inflates or deflates for easy storage - packing down to just 38" x 18" x 12" and 19 lbs. Whether you're jetting off to explore a tropical paradise or hiking into the wild to find that perfectly serene fishing spot, Drift Inflatable SUPs travel comfortably in their high-quality carrying bag backpacks
HIGHLY DURABLE: We use a high tech process to transform military-grade PVC into a rock-solid rigid platform. With a core of composite drop-stitch fibers connected to the nearly indestructible outer skin, Drift boards stand up to anything you want to do on the water
COMPLETE PADDLEBOARD KIT: Comes with all essential paddle board accessories, including removable fin, repair kit, 3-piece aluminum paddle, paddle board pump, and backpack carrying bag. Board features include EVA foam deck pad, bungee straps, grab handles, 250 lb capacity, and our signature Entry Rocker style hull that sheds water and keeps the board nose up
BETTER AFTER SERVICE: Based in Destin, Florida - we stand by the quality of our boards. All Drift paddle boards are covered by a 1-year manufacturer's warranty at no additional cost. Please feel free to contact us with any questions or issues
GILI Kayak and Paddle Board Anchor Kit, 3.5 lb Folding Anchor, Aluminum Anchor Kit for Kayaks, Canoes, Paddle Boards (SUP), (3.5 lbs)
2 new from $37.00
Free shipping
as of May 17, 2021 7:20 pm ⓘ
Features
COMPACT: Our 3.5 lb / 4-flute folding anchor is a complete anchor system set. It's the perfect size and weight to keep your SUP and Kayak in place for yoga, fishing, or basking in the sun.
FOLDABLE: The anchor folds into a 12" x 3" size and slips into a durable storage bag for easy travel and helps prevent any scratches to your board, raft, or kayak.
DURABLE: Perfect for any environment. The anchor is a corrosion resistant product made to be used with any SUP or Kayak. Grapnel anchors hold well in coral, rocky, or heavily weeded bottom conditions and are ideal for short term anchoring.
HIGH-VISIBILITY ROPE: Included with the anchor is a 30 ft (7mm thickness) marine grade rope that is built to last. A PVC buoy helps you spot your anchor line and a stainless steel snap hook provides easy positioning and packing.
PERFECT FOR TRAVEL: Easily store the anchor in your trunk, under your boat seat, in any PWC storage compartment, or on the deck of your board.
Murtisol Inflatable Paddle Board Stand Up Paddle Ocean Blue
as of May 17, 2021 7:20 pm ⓘ
Features
【WARRANTY】2 YEARS of quality assurance from murtisol, covers manufactured defects and damage under normal usage. And our customer service will get all your problems solved.
【FAST INFLATION TECH】 The two chambers triple actions dual way pump is the best from the market. The board can be easily inflated to 12 Psi in a short time
【PERFECT BACKPACK】 You can not find any more better backpack on the market. Our customers can not say enough good about this sets. We provide everything you need.
【ANTI-SLIP TOP DECK & Ultra-Thick】 The premium anti-slip design ensures safety and the soft, luxurious PVC deck pad is for enhancing grip. The Ultra-thick of our paddle board guarantee maximum weight capacity for 350Lbs.
【FULL ACCESSORIES】 It comes with everything you need to get start: Ankle Strap, Dual-action Pump, Three Fins, back pack , Length adjustable Paddle, Patch kit for emergency, Quick inflation and deflation air valve.
Caroma Inflatable Stand Up Paddle Board, 10'6"x30"x6" SUP Board Ultra-Light Surfing Board with Accessories Carry Bag, Adjustable Paddle, Leash, Pump, Bottom Fin, Repair Kit, for Youth & Adult
2 new from $289.99

as of May 17, 2021 7:20 pm ⓘ
Features
【INFLATABLE PADDLE BOARD CATEGORY】: Inflatable paddle boards,inflatable stand up paddle board,stand up paddle board,aqua plus inflatable paddle board,inflatable sup board,blow up paddle board,stand up paddle board inflatable,sup paddle board,sup inflatable paddle board,portable paddle board,paddle boards for adults,inflatable sup stand up paddle board,lightweight board,stand-up paddle boards,stand up paddling board,standing paddle board inflatable,isup paddle board.
【INFLATABLE AND PORTABLE】: The Caroma inflatable stand up paddle board is easy to inflate or deflate. This high pressure pump is easy to use, and the range of pressure gauge is 10 to 15 psi, you need to make sure that the hand pump is aligned with the anti-leak valve of the paddle boards to inflate quickly. After you enjoy paddling, you can quickly deflate the paddleboard, the SUP board is easy to carry and transport,suitable for cruising, fitness, fishing, boating,exploring, surfing.
【STABLE AND ULTRA-LIGHT】: Our stand-up paddle boards is 10.6ft long, provides 30 inches of deck width, weight 22 lbs, the load-bearing is 350lbs,. Ultra-light board weight reduces load, ensuring faster speed and stable standing, which is ideal for all skill levels.
【USER FRIENDLY AND WELL DESIGNED】:The non-slip deck of the paddle board with hot-pressed EVA, premium material provides safe standing, the triple bottom fins also help enhance balance, a removable center fin and two fixed side small fins, reduceing accidents or injuries caused by falling.
【COMPLETE PADDLEBOARD ACCESSORIES】: Package comes with paddling essentials, including inflatable SUP board, adjustable paddle, hand pump, repair kit, ankle leash, removable center fin, storage bag.