Do you enjoy paddleboarding on the water with an inflatable paddleboard? It is a fun activity gaining popularity at the speed of light.
But the problem with inflatable paddleboards is that you must inflate and deflate the board before and after every use.
And if you have a manual pump, nothing is more painful than pumping the board by hand.
Electric air pumps are the best equipment you can get for your paddleboard. Using a manual pump will wear you out before getting on the paddleboard. However, getting an electric air pump for the inflatable paddleboard would be best to ease the process.
But an electric air pump will deal with all the work on your behalf while you rest. Sounds great, right?
Well, here we will discuss the top 3 best electric air pumps in the market in 2023.
Keep reading the article below for the top 3 picks of electric air pumps, including reviews and tips for safely inflating your standup paddleboard.
Helpful Tips To Inflate The Paddleboard Safely
Inflating a paddle board is a straightforward task. And it gets even easier when you use an electric air pump over a manual pump.
Keep some things in mind when you blow up your iSUP. So, here are tips for inflating the paddleboard safely using an electric air pump.
Inflate On A Tarp or Blanket
Gravel, concrete, rocks, debris, and brush on the floor can puncture or scratch your paddleboard. So, to keep the inflatable SUP board unaffected and look brand new, you must put a blanket or tarp under the board while inflating it.
This keeps the board from getting damaged or scratched while inflating. So, always keep a blanket or a tarp when extending the board.
Read Next – BOTE HD Aero Inflatable Paddle Board Review
Do Not Over-Inflate The Board
Nothing will damage your iSUP quicker as compared to overinflating it. If you excessively put air inside, then there is a high chance that you may permanently damage your board. When the air pressure is too high, the drop-stitch threads or seams may break or separate.
If you break the seam, you might be capable of repairing it with repair tape. However, if you damage the drop-stitch threads, the SUP will no longer hold its shape and isn't repairable.
As soon as you see a bump in the paddleboard or any other buckled shape, there's a high chance you broke a few drop-stitch threads. So, be very careful.
Read Next – A Guide to SUP Electric Pump For Inflatable SUPs 
Check The Electric Paddle Board Pump Temperature Before You Inflate Another Board
Overheating can kill an electric standup paddleboard pump. Maximum electric pumps are great for inflating 1 or 2 paddleboards in a row before you need to cool them down.
Before you hook your standup electric pump to another paddleboard, check how hot it's. Maximum pumps come with built-in overheat protection; however, not all. So, check for this feature in your SUP pump before buying it.
Read Next – Best DAMA SUP Electric Pump in 2023
Top 3 Best Air Pumps for Inflatables SUP
The finest electric inflatable paddleboard pumps are popular, widely available, and convenient, but not every paddler has them.
If you've got an electric pump for an inflatable paddleboard, you must attach the valve and watch it expand in time— no strain, no sweat, stress-free, and super convenient.
When you are done with paddling, maximum electric pumps deflate the paddleboard.
Here are the top 3 best electric air pumps for an inflatable paddleboard to buy in 2023.
Let's look at the list of best electric SUP pumps below…
Read Next – iRocker 12v Electric Pump Review
iROCKER 12V Electric Pumps:
The 12V electric SUP pump from iRocker is worth remarking on for its instant inflation speed and compact design. It features an inflation capacity of 20 PSI. This means this pump can inflate a normal standup paddleboard within just 15 minutes or so.
Thanks to its double power source options, you can easily plug the pump into a standard vehicle cigarette lighter or a 12V battery using alligator clips (It comes with the pump).
This electric iRocker pump comes with a box shape designed to stop the power cables from getting twisted and to store when you do not use the pump.
It can quickly inflate two paddleboards in a row before taking a break and efficiently do inflation and deflation jobs.
This electric pump from iRocker also has automatic shutoff machinery to ensure you get the proper amount of air inside the paddleboard. Although the 12V electronic pump from iRocker weighs around the same as several other pumps from this brand, it takes way less space because of its convenient design and shape.
SPECS & FEATURES
Dimensions: 10″ * 7.5″ * 4′ (L*W*H)
Weight Of The Pump: 4.2 lbs
Voltage Needed: 12V direct to a vehicle battery or Cigarette Outlet
Maximum Use Constant Time: 20 min
Maximum PSI Limit: 20 PSI
Cool Down Period: 30 min
PSI Selection: Button
Stages: Two-stage pump
Shut Off feature: Automatic, as soon as the desired PSI is reached
Warranty: 1 year from the time of purchase
Pros
Speedy inflation times with deflation feature
Great durability/dependability
Compact and lightweight
The maximum pressure limit is up to 20 PSI
The thick hose will not melt under high temperature
Double-stage pump for fantastic speed
Built-in overheat protection
12V adapter and pump hose are included in the box
The auto-stop feature is there when the pump reaches the selected pressure
12- months Warranty
Cons
More expensive as compared to the manual pumps
Needs a cool-down period of 30 minutes after around 20 minutes of continuous use.
iROCKER 12V Electric Pump for Stand Up Paddle Boards
as of November 27, 2023 5:43 pm
Read Next – Best Inflatable Pumps Buying Guide
OutdoorMaster Shark II 12v Electric Pump
OutdoorMaster brand has done a fantastic job manufacturing an electric pump for inflatable paddleboards that works wonders compared to most other electric pumps on the market. It comes with a few huge advantages that make the pump a great choice to consider, as it similarly happens to be among the fastest for iSUPs.
The Shark II 12V electric pump from OutdoorMaster is fantastic. The Shark II lets you get on paddling without wasting your energy pumping a paddleboard. If you've got an iSUP, this's the electric pump you want for your board.
Regarding the speed of inflation, this Shark II electric pump is faster. To inflate a standard-sized iSUP takes around 7 minutes & 22 seconds only.
Based on the inflatable standup paddleboard size, the Shark II electric pump is 6:30 to 7:30 minutes. You will hardly see this pump going for over 8 minutes, even after inflating several different inflatable standup paddleboards. With this Shark II electric pump, you'll be on the water for paddleboarding faster.
However, the only downside is that the package does not come with a carry bag.
SPECS & FEATURES
Dimensions: 11″ * 10′ * 4.5 * (L*W*H)
Weight Of The Pump: 3.6 Lbs.
Maximum PSI Limit 20 PSI
Power Source 12V DC Connector comes with a 12A fuse for security.
Speed Takes only around 7:30 minutes to inflate a standard-size inflatable standup paddleboard.
Shutoff Automatically shuts off after reaching the selected pressure
Valve Connectors C7 valve, H3 valve, Pinch valve, and Boston valve
Display
Digital
Cooling System
Integral frost active system for cooling
Package Included
Shark 11V Electric Pump, 4.5' Hose, 9' DC Power cord, Four Valve Connectors, Three Gaskets, One Manual
PROS
20 PSI limit and quick 2-stage inflation.
30 minutes of nonstop inflation
Inflate three paddleboards in a row without stopping
Automatic shutoff system
Easy, simple to use a button, digital screen, and touchpad.
Solid, great inclusive build
Deflation nozzle
Carry handle built into the pump's body
1-year warranty as well as a 90-day guarantee
CONS
Heavier and more significant than maximum other electric pumps
Read Next – Tubes of Repair PVC Glue for Inflatable Boat
Read NEXT – Best NIXY Paddle Board SUP
NIXY Ventus Inflatable SUP Electric Pump: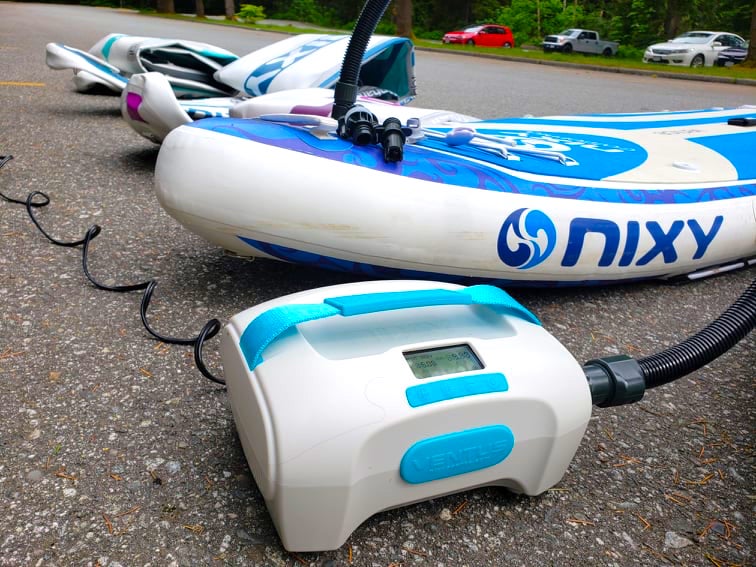 NIXY brand has made a few significant advancements with their innovative Ventus Paddleboard electric pump, forcing us to mention it in our top picks.
The biggest problem with these pumps is that so many break down in case you do not handle these pumps properly; however, NIXY has included numerous features that are probable game-changers in the standup paddleboard electric pump space.
You will be most impressed and intrigued with this pump because it features Active cooling technology. This's essentially a cool-down system for the motor. Since electric pumps are most likely to overheat, the cooling down feature helps prevent that and lets you pump up more paddleboards at a time.
It is a super easy-to-use pump. You can adjust its PSI level easily to whatever your paddleboard needs, and this pump can go around 20 PSI – thus, it'll work perfectly with any paddleboard out there.
As soon as you're done pumping up, you can wrap the cord around the pump's bottom and tuck the whole pump into the included bag. This's among the many electric pumps that feature its bag.
With this Ventus electric pump, you can inflate your inflatable standup paddleboard in just 10-15 minutes. 2 options are involved for powering the NIXY electric pump. These are alligator clips for 12V batteries and a plug-in for vehicle lighters. With a 12-month warranty, you will have a little time to test and ensure that the NIXY inflatable standup paddleboard electric pump works perfectly for you!
The NIXY Ventus SUP electric pump's two-stage pumping function is automatic, permitting a speedy inflation process at a low PSI level and more cautious inflation as the pressure level builds in the iSUP. Two separate nozzles are presented here for the inflation & deflation process, placed on the pump's front & side.
SPECS & FEATURES
Dimensions: 10″ * 5″ * 8″ (L*W*H)
Maximum PSI Limit: 20 PSI
Voltage Needed: 12V Car Battery or Car Outlet
Cool Down Period: 10 minutes
Maximum Constant Use Time: Around 20 minutes
PSI Selection: Digital display
Shut off: Automatic
Stages: Two-stage pump
Warranty Period: 1 year
PROS
Automatic shut down when the pump begins to overheat
Built-in cooling device to keep the electric pump cool as well as help improve its durability
Lots of dissimilar nozzles for every kind of inflatable board
Included carry bag
Automatic 2-stage pumping function
Multiple power selections
The digital display makes things easy to check progress and get the correct pressure readings.
Lightweight and portable build permits for convenient transportation and user-friendliness
It comes with a pretty quick inflation speed.
The deflation feature means you do not have to spend time deflating your inflatable standup paddleboard after your journeys.
Top Electric Pumps For Inflatable SUP
The more significant part of the inflatable standup paddleboards comes with a hand pump to be inflated.
Electric pumps are far more perfect and fast than manual ones because they do not need much effort.
The manual pumps are not extremely difficult to use, either.
Whether you want a relaxing water sport that provides incredible views or the adrenaline of catching some serious waves with slightly more stability than you get from a surfboard, SUP boarding might be on your list of things to try.
It is a fine sport of exercise, touring, and recreation. You'll choose the sort of board among the several decisions you must consider when you're ready to join the Standup paddleboard craze.
People who need a lightweight, compact, and simple paddleboard to travel with often choose an inflatable board.
You can carry these and inflate them when you reach your destination. They're suitable for this if you've ever considered inflatable boarding.
Several SUPs come with hand pumps that do the work but take a lot of effort. An electric air pump can blow air into your board for a more straightforward and effective setup.
This review will review a top-of-line electric pump for your paddleboard or kayak and the considerations you'd make before choosing.
Anyway, the process of inflating them can be a bit of time-wasting. Here are some of the best electric pumps for inflatable sups:
Bravo 20 SUP Electric Pump Review
A commendable spec of the Bravo 20 SUP electric pump is the range of adapters that appear with its hose.
The house itself is super strong as well. With the pump, you also get adapters that job well with different valves, including 9mm inflates vales, screw valves, H3 SUP valves, etc.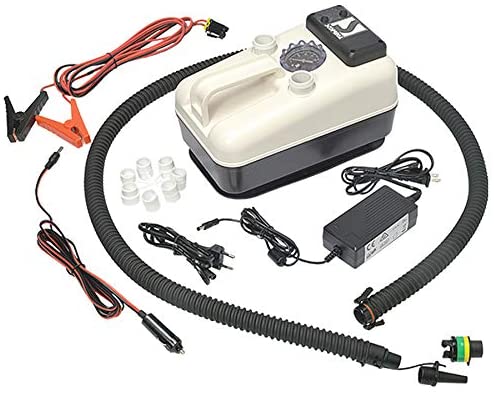 So far, we have tried the Bravo pump with an Atoll paddleboard and Nixy Venice.
The pump can be used with boards even if the plastic ring has been removed.
Tower Paddle Board Pump
This automatic pump gives you an H3 nozzle and a hose that does not kink.
The nozzle and hose can link the pump to all tower paddleboards.
Some other boards are also compatible with this valve.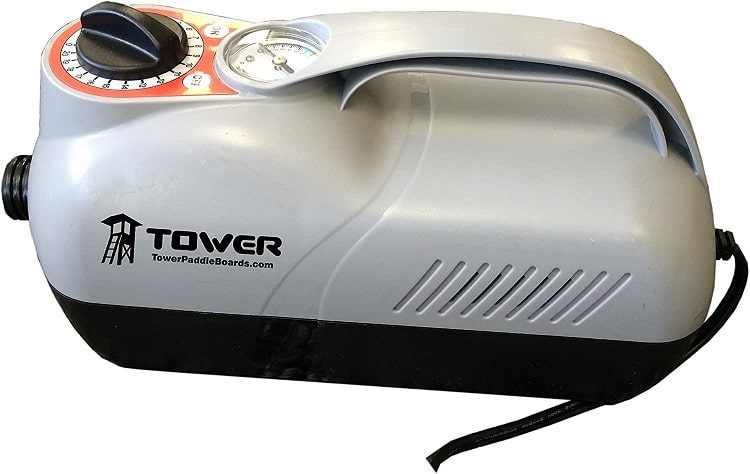 If you want to inflate your boards fast, this pump is the one to pick.
The pump can attain twenty PSI and inflate a board to its total capacity within a few minutes.
Anyway, it is to be noted that the pump is quite noisy.
Seamax SUP Intelligent Double Stage Electric Pump
This electric pump jobs amazingly with Bravo, Halkey, Naru, and any air valve similar to these valves.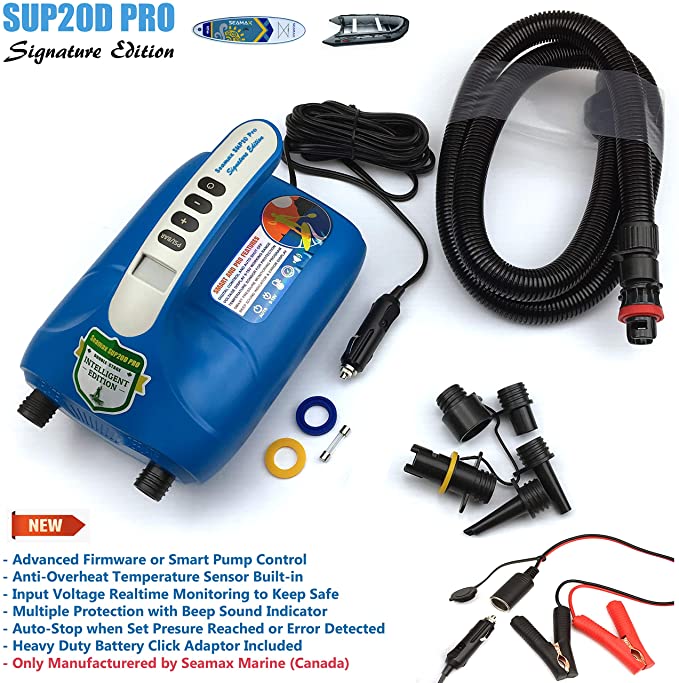 It would be best to use a perfect ring to ensure the pump and board's best tight connection.
DAMA 20 PSI SUP Electric air pump
This electric pump is an innovative, portable, lightweight air pump for SUP inflation. Pressure is monitored consistently, with an automatic double storage feature, and auto-switch off when the target PSI is met.
The electric air pump can supposedly inflate three regular-sized SUPs one after the other; just be curious if your standup paddleboard is more significant than 10' as it might need a cool-down period in between.
And what is more, for more nag for the buck, this board pump also has a quick and efficient deflate feature, saving you even more time after your standup board session.
Small, but still, DAMA's air pump steals the show for us on efficiency and price. For something under 100, this is surprisingly great at the job and will please most paddlers.
Outdoor Master Shark SUP Air Pump
This electric air pump is durable quality and environment-friendly electric pump for your SUP. It is a quick, high-pressure inflation system with a max speed of 350L per minute. This electric air pump has a cooling action unit of up to 20 PSI for inflating three boards in a row.
The auto power-off feature turns the air pump off when the target pressure has been reached to prevent pump or SUP damage.
A 12-volt DC connector and complete nozzle attachments accommodate many-size paddleboards. Use the digital screen with real-time pressure monitoring to set your desired pressure and monitor the air pressure.
SERENE Life Digital Air Pump
The SERENE Life Digital Air Pump is a portable, compact, high-pressure pump. You can instantly inflate your board or other water inflatables quickly. Some of the fantastic features include a hassle-free insert and air pump operation.
An adjustable PSI setting lets you go from 0 to 16PSI with a selectable pressure bar so you can pick your target level and prevent it from overinflating your board.
Use any air hose adaptors to link with a flexible hose to inflate every paddleboard. It is compact and straightforward to carry for travel. You can assemble/disassemble for space-saving in your turn or garage.
NIXY Elite Inflatable Board Electric Air Pump
This electric air pump is reliable with an extended three-month warranty for additional peace of mind.
It has a max 20 PSI level, but it does struggle to reach 20 PSI, but the final stages might feel like a bit of a stretch. If you keep the air pump in the shade while inflating your boards, then there's no reason why this electric pump cannot increase the 2nd board right away.
Portable, fast, and straightforward to use pressure dial. The NIXY Elite is a solid standup paddleboard electric air pump worth your price.
IROCKER SUP Electric pump 12V
Whether you won a paddleboard or not, this electric pump is crucial that you'd consider having in your home; it has become highly famous due to its decent construction and satisfactory performance.
IROCKER SUP Electric pump 12V works in 2 steps; the 1st page is low pressure, while the 2nd stage is extreme pressure. It also has a high-pressure piston air pump, and you can inflate/deflate your paddleboard. These 12V and 15 PSI pumps are compatible with every board on the market.
Your paddleboard will be inflated entirely in less than 12min. Sure; the air pump is automated, adjusts the PSI, plugs it in, and prepares for the water.
When you return, your paddleboard will be wholly inflated, and the air pump will shut off. You can pump up to 15 PSI, essential for big boards.
Sea Max SUP20D Electric Air Pump
The Sea Max SUP20D Electric Air Pump is the air pump you have been waiting for. Produces three times more air pressure than every existing 12v air pump. If you're looking for max performance while inflating your board, raft, or boat, this is your ideal choice.
One of the several advantages of the Sea Max SUP20D Electric Air Pump is that it provides adapters for well-known valves such as Boston, Stem, Bravo, etc. Therefore, it's helpful if you want to use it with multiple valves.
This air pump comes with a double storage pump with a maximum speed of 350L each minute in the first stage and a top speed of 70L each minute in the 2nd stage.
It can inflate a paddleboard from 0.5 to 20 PSI, making it one of the few variants that can reach that height.
The Sea Max SUP20D Electric Air Pump is automated and has a virtual controller so you can set your desired PSI level.
Bravo 20 iSUP electric pump test and review
CONS
It gets a little noisy throughout the 2nd inflation stage
BOTTOM LINE
Hopefully, this complete buying guide on electric pumps will help you pick the best SUP pumps, depending on your needs, preference, and budget.
Per our research and multiple trials, this article's standup paddleboard electric pumps are the best nowadays.
However, if you're confused and can't decide, we recommend you go with the OutdoorMaster Shark II 12v Electric Pump.
FAQ
Q. Can you inflate SUP with an air compressor?
A. All inflatable standup paddleboards can be inflated using an air compressor. However, transportable inflator gears are precisely made for inflatable standup paddleboards. A less common selection is using any typical air compressor and the valve adapter. But this may damage the standup paddleboard. So, we recommend using either an electric or hand pump.
Q. Can I use an air mattress pump for SUP?
A. it is possible to use the air mattress pump to inflate a SUP board.
Q. Can you use an electric pump on a SUP?
A. Of course. An electric air pump can blow up the paddleboard simply quicker than a manual pump without effort. Electric pumps also help deflate the iSUP, ensuring all the air is out and you can pack up the board super tight.
Q: What is the Best Electric Air Pump for Inflatables SUP of 2023?
A: The Best Electric Air Pump for Inflatables SUP of 2023 is the Shark II SUP by NIXY Sports.
Q: What makes the Shark II SUP the best electric air pump for inflatables SUP?
A: The Shark II SUP is the best electric air pump for inflatables SUP because it has a maximum inflation pressure of 20 PSI, a digital display for precise pressure control, and inflates a paddle board in less than 10 minutes.
Q: Is the Shark II SUP suitable for all types of paddle boards?
A: Yes, the Shark II SUP is suitable for all types of paddle boards, including stand-up paddle boards, inflatable stand-up paddle boards, and inflatable kayaks.
Q: What is the maximum PSI the Shark II SUP can inflate to?
A: The Shark II SUP has a maximum inflation pressure of 20 PSI.
Q: Can the Shark II SUP inflate my board to 15 PSI?
A: The Shark II SUP can quickly inflate your board to 15 PSI or higher.
Q: How long does inflating a paddle board with the Shark II SUP take?
A: It takes less than 10 minutes to inflate a paddle board with the Shark II SUP.
Q: Is the pump available in different colors or designs?
A: The Shark II SUP is only available in one design and color.
Q: Can I use this pump on other inflatable products?
A: You can use the Shark II SUP on other inflatable products, such as inflatable kayaks or stand-up paddle boards.
Q: Is the pump designed for easy and comfortable use?
A: The Shark II SUP is designed for easy and comfortable use. It has an ergonomic handle and a long power cord.
Q: Can I get my board to the desired PSI using the Shark II SUP?
A: You can get your board to the desired PSI using the Shark II SUP, as it has a digital display for precise pressure control.