There are a lot of paddleboards out there on the market, but not many fishing paddle boards and therefore it's sometimes hard to find the right one.
Many people have trouble with the bungee part of the board since it's not spacious enough and they can't fit a refrigerator.
Features California Board Angler Fishing Stand up paddleboard
CBC Angler 11ft board made especially for fishing and we'll tell you why it's a better choice than other, regular boards.
It's a typical 11″ SUP that has a rod and gear rack.
The V-Hull Water Displacement bottom is something you won't be able to find with regular SUP boards.
There are 5 layers of epoxy resin and 2 layers of fiberglass cloth, which means that the board is very sturdy.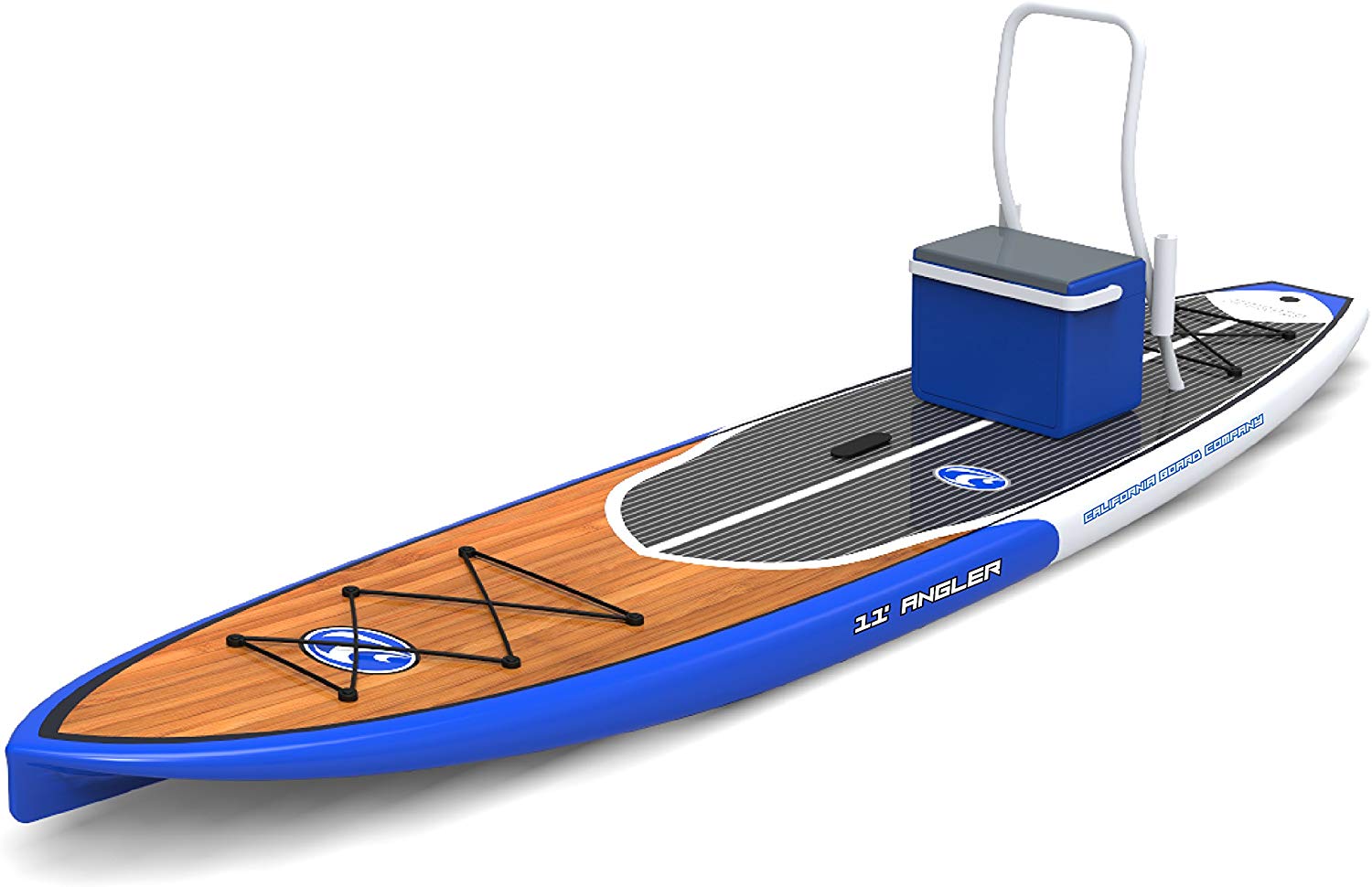 The single fin is adjustable and perfect to make the board stable and balanced.
It's easy to transport it and it also has a leash.

The weight capacity is 325 lbs and the rod&gear rack can be used for 2 poles as well as some gear.
There are two bungees, as well as the part where you can put a refrigerator: the gear rack.
You can remove it if you wish, but many people keep it for food (when they are cruising) and for the fish they catch.
The size is 132×30.7×4.5 and it's a perfect design with a wood paneling colored in blue and white.
This board is perfect both for beginners and those who are experienced.
Description
Compression-molded ABS SUP.
Rounded rails for smooth navigation.
Full size traction pad.
2 bungee tie-downs.
Single fin and PU leash included.
Carbon fiber paddle.
Storage/carrying bag to make carrying board to the beach easier.
Weight capacity of up to 275 lbs.
Weight capacity of 325 lbs!.
The Angler stand-up paddleboard (SUP) by California Board Company (CBC) is the perfect board for a relaxing day casting a line.
Equipped with a V-hull nose, this board cuts through the water easily to bring you to your destination.
An easy-carry SUP handle is located near the middle for easy transport.
This board comes with a traction pad top deck, two bungee decks (nose and tail), metal tackle rack to hold two fishing poles and cooler mount pins.
Last updated on January 7, 2021 9:52 pm