This inflatable stand-up paddleboard is light and durable, very suitable for travel.
Made of high-quality PVC and won't be broken after longtime use.
You can use it when doing yoga or steering on the sea.
Advantages Cotogo Inflatable SUP
EXTRA WIDE FOR BETTER BALANCE
330X38cm inflatable stand up paddleboard makes you stand on it stable and easier to surf control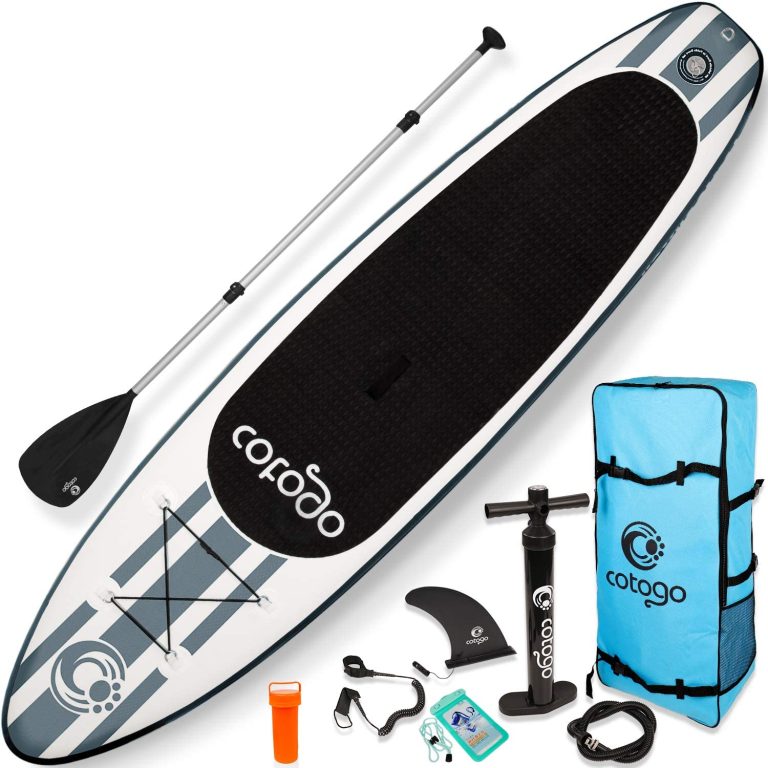 Read Next – Australian Made Stand UP Paddle Boards
ANTI-SLIP TOP DECK
The upgraded inflatable paddleboard with no-slip soft top cushions your fall when slips or accidents occur.
Perfect for beginners and professional use is suitable too
STEER EASILY
Set with three bottom panel fins makes a stand up inflatable paddle boards are easy to steer and hand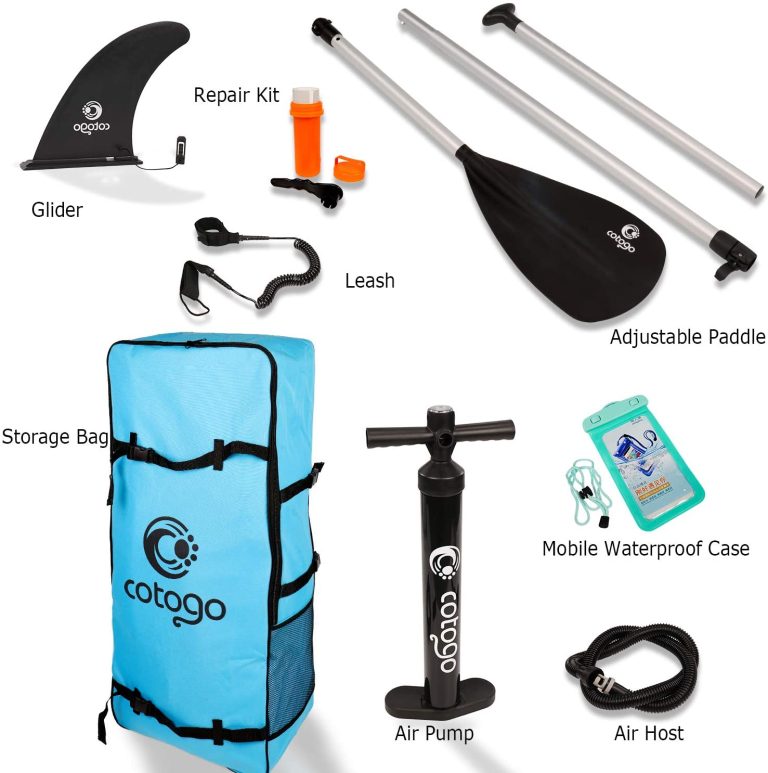 PACKED WITH ACCESSORIES
We will send you all accessories you need, including board, aluminum paddle, high-pressure pump, travel backpack, coil leash, and removable fins
60 DAY GUARANTEE + 1 YEAR WARRANTY ON MATERIALS
Risk-free returns within 30 days
TIPS
1. You can inflate the paddleboard in 80% air and set it for 8 hours. It will extend the using life of the paddleboard.
2. Please inflate the paddleboard, then put it in your room for 24 hours if it is broken easily because of the low temperature in winter.
Information
Weight:9.6KG
Size:330*81*15cm
Drain volume:145KG
Carry:3 person
Read Next – Bestway Hydro Force Wave Edge Review
streakboard Inflatable Stand Up Paddle Board Surfing SUP Boards, No Slip Deck 6 Inches Thick ISUP Boards with Free SUP Accessories & Backpack, Leash, Paddle and Hand Pump, for All Levels
as of September 22, 2023 11:35 pm
SereneLife Inflatable Stand Up Paddle Board (6 Inches Thick) with Premium SUP Accessories & Carry Bag | Wide Stance, Bottom Fin for Paddling, Surf Control, Non-Slip Deck | Youth & Adult Standing Boat
5 new from $239.99
7 used from $169.95
Free shipping
as of September 22, 2023 11:35 pm
Goplus Inflatable Stand Up Paddle Board, 6.5" Thick SUP with Premium Accessories and Carry Bag, Wide Stance, Bottom Fin for Paddling, Surf Control, Non-Slip Deck, for Youth and Adult (Summer, 11FT)
as of September 22, 2023 11:35 pm
Goplus Inflatable Stand Up Paddle Board, 6.5" Thick SUP with Carry Bag, Adjustable Paddle, Bottom Fin, Hand Pump, Non-Slip Deck, Leash, Repair Kit (Navy, 10.6 Ft)
as of September 22, 2023 11:35 pm
Inflatable Stand Up Paddle Board - 11' Ft. Standup Sup Paddle Board W/ Manual Air Pump, Safety Leash, Paddleboard Repair Kit, Storage / Carry Bag - Sup Paddle Board Inflatable - SereneLife SLSUPB08
3 new from $239.99
5 used from $199.95
Free shipping
as of September 22, 2023 11:35 pm
Goplus Inflatable Stand up Paddle Board Surfboard SUP Board with Adjustable Paddle Carry Bag Manual Pump Repair Kit Removable Fin for All Skill Levels, 6" Thick (Red, 10FT)
as of September 22, 2023 11:35 pm
Goplus Inflatable Stand Up Paddle Board iSUP Cruiser 6" Thickness iSUP Package with 3 Fins Thuster, Adjustable Paddle, Pump Kit and Carry Backpack (10FT)
as of September 22, 2023 11:35 pm
Goplus 10' Inflatable Stand Up Paddle Board Package w/ Fin Adjustable Paddle Pump Kit Carry Backpack, 6" Thick
out of stock
as of September 22, 2023 11:35 pm
HOMGX 10' Inflatable Stand Up Paddle Board, 6" Thick Surfboard w/Accessories and Carry Bag, Adjustable Paddle, Leash, Hand Pump, Non-Slip Deck, Repair Kit, Standing Boat w/Fin for Youth and Adult
as of September 22, 2023 11:35 pm
Goplus Inflatable Stand up Paddle Board iSUP Cruiser 6" Thickness iSUP Package w/3 Fins Thuster, Adjustable Paddle, Pump Kit and Carry Backpack (Bikini Girl, 10 FT)
as of September 22, 2023 11:35 pm
Goplus Inflatable Stand up Paddle Board Surfboard SUP Board with Adjustable Paddle Carry Bag Manual Pump Repair Kit Removable Fin for All Skill Levels, 6" Thick (White, 10')
as of September 22, 2023 11:35 pm
Swonder Inflatable Stand Up Paddle Board, 32" Wide Ultra Steady and Super Light-Weigh (17.2lbs) Board, Full Premium SUP Accessories- Adjustable Paddle, Backpack, Leash, and Pump for Youth & Adult
1 used from $206.99
Free shipping
as of September 22, 2023 11:35 pm
Goplus Inflatable 10' StandUp Paddle Board Package w/ Leash Fin Adjustable Paddle Pump Kit Carry Backpack, 6" Thick
as of September 22, 2023 11:35 pm
redder Inflatable Stand Up Paddle Board Utopia 10'5" All Round/Surf ISUP with Bravo SUP4 Double Action Hand Pump, 3 Piece 100% Carbon Paddle, 10' Leash, Portable Backpack and Repair Kit
out of stock
as of September 22, 2023 11:35 pm
Read Next – ISLE Megalodon Inflatable Paddle Board