The craze for stand-up paddleboarding is increasing insanely among youth and elderly persons. But the problem is, standing for a long time is not easy for many people. This becomes a barrier to their enjoyment.
However, to solve this problem, many brands of SUP boards now included kayak conversion kits to SUP.
With the help of the kayak conversion kit, you can easily sit down on the seat whenever you feel tired. In case you find yourself wanting that, then go for it.
In case you possess a plastic stand-up paddleboard. With just a few minor modifications, you can also have the SUP-kayak board hybrid, with a bit to almost no effect on your stand-up paddleboarding efficiency and comfort.
You need to know about converting a stand-up paddleboard into a SUP come kayak board.
Why Convert Your Stand-up Paddle Board Into A Kayak Board?
There are many reasons behind converting a stand-up paddleboard into a kayak board hybrid. Let's now discuss the reasons below…
Read Next – Know More About Paddle Board Kayak Hybrid Combo
Great For People Who Have Poor Balance While Standing
People who have poor balance ability, fear the water while standing, or find it difficult and intimidating to paddle stranding should consider a kayak hybrid board.
Many people fear to stand up on the board but love paddling and have a slight urge to try stand-up paddleboarding. For those people, the SUP to kayak conversion kit is a boon.
They can practice standing up for a few minutes and then sit down on the seat. This way, they will gradually learn how to do stand-up paddleboarding.
Read Next – Best Paddle Board With Seat To Buy In 2022
Easy On Your Legs And Back
There are times paddlers experience leg-ache or backache after a specific time of paddleboarding.
If you have an SUO and kayak hybrid board, things are different for you as you can sit down whenever needed. For instance, you being a paddler, reached half of your destination and started getting backache. What will you do then?
Easy To Paddle Into Chop and Wind
Kayak boards are easier to paddle into chop water and wind. You will have less wind exposure when you are in the sitting position, which is closer to the water than when you stand on the board.
If it is windy out there and you still wish to get onto the water, the kayak conversion kit will help you get through it.
Read Next – SOOPOTAY Inflatable SUP Stand UP Paddle
2-in-1 Board
Many people love both stand-up paddleboarding and kayaking but do not want to invest in different boards or do not have sufficient room to store two boards. For those people, the idea of converting a SUP into a kayak board is perfect.
Read Next – Bluefin SUP Fibreglass Paddle Review
Things You Need To Convert Your SUP Into a Kayak ComboBoard:
You'll need mainly three items to convert your inflatable paddleboard into a kayak combo board. These items are
Kayak seat
Kayak paddle
D-Rings so that you can attach the kayak seat.
Although this hybrid board will not function like the best quality kayak board, it will provide decent performance. Your converted hybrid board will be as good as an average kayak.
So, let's now know what you may need to convert your typical inflatable paddleboard into a kayak board.
Kayak Paddle
As discussed above, you will need to buy a kayak paddle. But what we did not know is that a kayak paddle should have two blades. There are two ways to go with this.
Either you can get an extra kayak paddle mainly made for kayaking to use during kayaking, or you can buy an adjustable paddle that you can assemble as either a kayak paddle or SUP paddle.
An average kayak paddle will cost you around $30-$50.
Read Next – Intex Explorer K2 Kayak Inflatable Review
Kayak Seat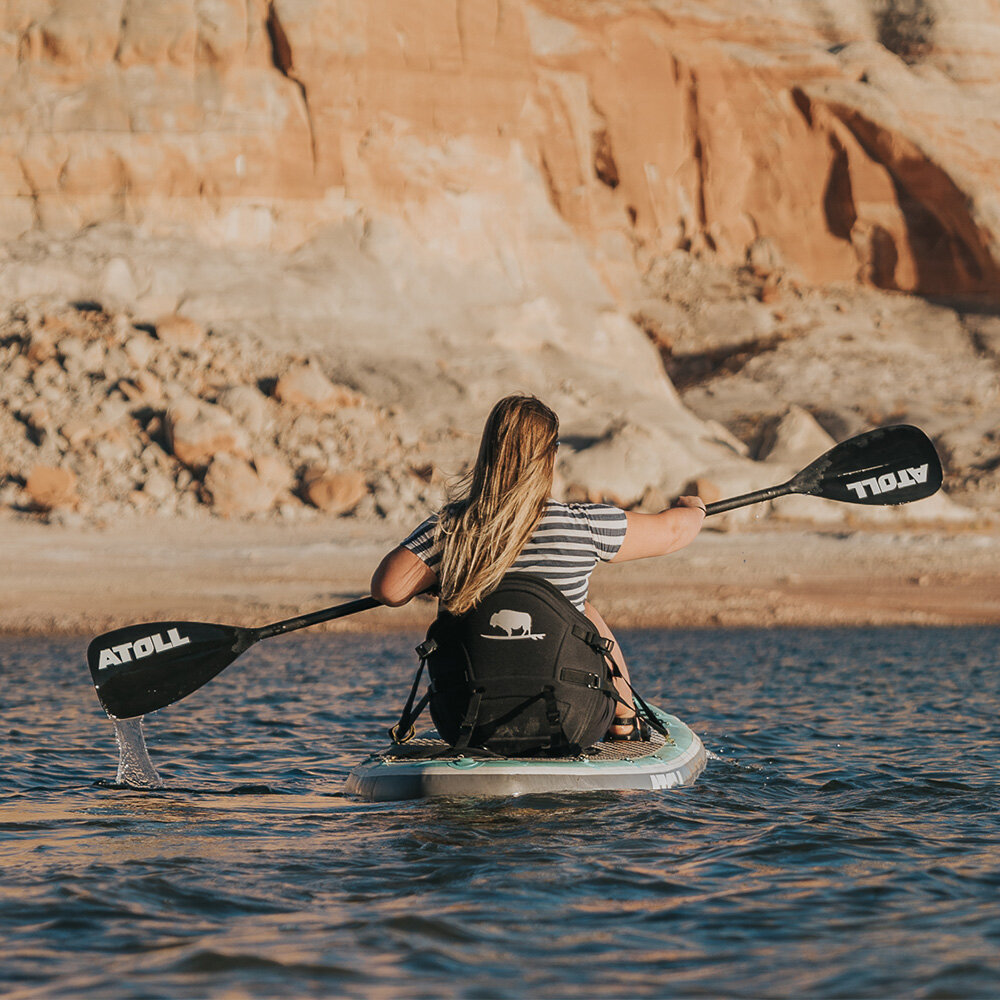 It would help if you had a kayak seat to sit while paddling. There're many seats available that can convert your SUP into a kayak combo.
The price of these kayak seats varies a little depending on the material used, features provided by the brand, included accessories, etc. Some kayak seats feature a small carrying bag to store the seat in. At the same time, some don't come with an included carry bag.
An average kayak seat will cost you only around $40-$50.
D-Rings
Several paddleboards have enough in-build D-Rings so that you can attach your necessary gear and also a kayak seat if needed.
If your board doesn't have enough D-rings to attach the kayak seat, consider buying some and carefully installing them as per your requirement.
Install Holders For Paddle
You need these holders because it is a hybrid board where you will perform both stand-up paddling and kayaking. It would help if you considered installing holders to keep your kayak paddle securely attached to the board. These holders will also help you keep your water bottle and other necessary accessories.
So, when you are paddling, you need to keep your kayak paddle aside, and similarly, when you choose to kayak, you need to keep your inflatable paddle aside. So, installing holders is a must.
It will be even better to install two holders for a paddle on each side if I follow the guide included with the paddle holders.
Read Next – An Honest Review Of iROCKER Backpack
SUP If possible, set it toward the rear. & Kayak Hybrid Complete Package
If you want to purchase a complete package for converting your SUP into a kayak, there are choices out there for you. Some inflatable paddleboard packages come with an included kayak seat and a convertible paddle.
For example, Bluefin's inflatable stand-up paddleboard is among the many popular options. And there are also a few brands making a SUP kayak conversion kit.
However, these are mainly just the kayak seat and a cheap kayak paddle being sold separately.
Read NEXT – SUP Brands To Avoid – What to Look When Choose The Right
How To Mount The Stand-Up Paddle Board Kayak Seat
The hardest part of this procedure is setting up a kayak seat. There're four straps provided on the seat. Where there are two straps for the front and 2 for the back. To mount the kayak seat, you need to follow the given steps…
Place the kayak seat on the SUP board first. Try to place the seat bottom in the middle, where you keep your feet while standing on the board. This will help you balance better and fit close enough once you sit down.
Now hook the two front straps to the front set of D-Rings and then attach the back straps to the behind set of D-Rings.
Hold your kayak seat straight-up back. Tight the front straps up. This way, you will be able to set the seat into the perfect position for you. If you begin with the seatback rested back, as soon as you put bodyweight on it, it'll flex back even beyond and not provide you any support. Your body weight will flex it as soon as you recline on the kayak seat.
Take out the slack of the back straps. These back straps only keep the kayak seat bottom from gliding forward. The forward straps are the ones that are responsible for the actual work.
Sit down on this seat on the board. If the seat does not feel like it supports you, then tighten the front straps further. If the kayak seat feels like it is too upright, then loosen the forward straps. It would help if you repeated doing this until you find out a comfortable position for you.
As soon as you've set the front straps correctly, you can take the kayak seat on & off as much as you want, and it'll be roughly in the right angle and right spot. It may take you some use to get the front strap set up right for you.
TOP SUP to Kayak Conversion KIT
We now have a vivid idea of why you need to convert your SUP into a kayak combo board and what you need for the conversion. Now it is time to know the best SUP to kayak conversion kits available in the market. Let's have a look at the list below…
Bluefin Cruise Sup Kayak
Cruise SUP Kayak from Bluefin includes all you need to start paddling with both sitting and standing positions. Some reviews indicate a slight leakage in the air valve after removing the pump's hose, so you need to be very careful if you need some additional air.
Although the shaping of the Bluefin stand-up paddleboard is not the steadiest, when you are sitting down in the seat, you'll feel comfortable and secure. The kayak eats completely adjustable straps so that you can personalize it to attain supreme comfort.
SPECS & FEATURES:
Measurements: 10'8 * 32″ * 6″ (L*W*H)
Maximum Weight Limit: 290 lbs
It comes with a heavy-duty clip-in seat and also specialist paddle end
PROS:
Through narrow waterways, good to manoeuver
Comfortable seat with entirely adjustable straps
Secure GoPro mount included on the nose
Use pro weave drop stitch
CONS:
Not the steadiest shape with a tapered tail and pointed nose
Bluefin Cruise SUP Package | Stand Up Inflatable Paddle Board | 6" Thick | Fibreglass Paddle | Kayak Conversion Kit | All Accessories | 5 Year Warranty | Multiple Sizes: Kids, 10'8, 12', 15'
as of November 29, 2023 9:01 pm
Bluefin SUP Stand Up Inflatable Paddle Board with Kayak Conversion Kit | Ultimate iSUP Kayak Bundle (10'8", 12'0" and 15'0") (Carbon 10'8")…
as of November 29, 2023 9:01 pm
Bluefin SUP Stand Up Inflatable Paddle Board with Kayak Conversion Kit | Ultimate iSUP Kayak Bundle (10'8" and 12'0") (Blue 15')…
as of November 29, 2023 9:01 pm
Gili Air Inflatable Stand-Up Paddleboard
This GILI Air Inflatable SUP board is ideal for clipping in the kayak seat and enjoying the water sport from a whole different angle. The board's measurements make this stand-up paddleboard stable without cooperating performance and speed. It is an excellent combination of balance, size, and weight. With a maximum weight limit of 280 lbs, you can undoubtedly pack all your equipment onto this stand-up paddleboard.
SPECS & FEATURES:
Measurements: 10'6 * 31" * 6" (L*W*H)
Maximum Weight Limit: 280 lbs
Well-matched with the Kayak Seat additional from GILI
PROS:
Good performing versatile board
Lightweight to manoeuver and transport to the water
Super easy inflation and deflation process
CONS:
GILI Adventure Inflatable Stand Up Paddle Board: Lightweight, Durable Touring SUP: Wide & Stable Stance 11' x 32" x 6" Thick (Blue)
out of stock
as of November 29, 2023 9:01 pm
GILI All Around Inflatable Stand Up Paddle Board Package | 10'6 Long x 31" Wide x 6" Thick | Lightweight & Durable SUP | Stable & Wide Stance (Teal)
out of stock
as of November 29, 2023 9:01 pm
BOTE Deus Aero
This Deus Aero Kayak & SUP from BOTE is a unique design of paddleboard as well as kayak hybrid. It is shaped like a sit-on kayak board instead of a stand-up paddleboard. As soon as you remove this seat, you will have a paddleboard with very high sides.
If you wish to have some board that is not very common, then this BOTE kayak comes SUP hybrid board is your best choice for you!
SPECS & FEATURES:
Measurements: 11' * 33" * 10.5" (L*W*H)
Maximum Weight Limit 300 lbs
Exclusively designed and made sit-on-top kayak seat
PROS:
Self-draining floor
Detachable foot bar
Seat top & back that is detachable to convert into a stand-up paddleboard deck
CONS:
BOTE Deus Aero Inflatable Kayak & Stand Up Paddle Board with Accessories | Pump, Fin, Travel Bag, Classic Teak
out of stock
as of November 29, 2023 9:01 pm
Intex Challenger K1 Kayak, 1-Person Inflatable Kayak Set with Aluminum Oars and High Output Air Pump
6 new from $107.73
1 used from $118.76
Free shipping
as of November 29, 2023 9:01 pm
BOTTOM LINE
That is a brief discussion on the stand-up paddleboard and kayak hybrid combination! From versatility and construction to your available budget and experience level, you can now make a well-informed decision about which paddleboard and kayak conversion kit you need to go for.
Several water activities such as kayaking and SUP boarding are a decent way to have comfort and relax your body, soul, and mind. In general, it's a great way of stress reliever and exercise that many people look forward to doing as soon as they get free time.
So, convert your SUP into a kayak combo board to enjoy both worlds on a single board. Have fun!
FAQ
Q. Can I convert A SUP to A Kayak?
A. YES, you can. For this, you will need a kayak seat and kayak paddle. We should also mention that a few paddleboard manufacturers nowadays have picked up on this trend and have designed stand-up paddleboards that convert to kayak boards within a few minutes. So, as soon as you wish to swap from stand-up paddleboard to kayaking, you have to remove the t-handle on the SUP paddle and slide in another blade instead.
Q. Can I put a kayak on top of the SUP Board?
A. YES, simple, attach the kayak seat straps to the board's D-rings. As soon as all the straps of the kayak seat are appropriately connected, flip open the kayak seat. That's it!
Last updated on November 29, 2023 9:01 pm