The paddle lovers seem to enjoy the stand-up position while paddling for only a short period, and then they get tired eventually.
Unfortunately, top paddleboard brands provide nothing for sitting. A similar thing happens when you go for kayaks. No matter how much you want to stand, you won't be able to as kayaks are not meant for standing.
The solution is to get a paddleboard kayak hybrid combo for yourself in such a situation. This will allow you to sit and stand as per your mood without ruining your entire paddling journey.
The paddleboard kayak hybrid combos generally come with kits or features like removable seats that let you convert to a sitting or standing configuration easily.
NowLet'ss, dig deeper to know more about paddle board kayak hybrids to have fun in standing and seated positions.
What Does It Mean By Paddle Board Kayak Hybrid?
A Kayak paddleboard hybrid combo is a package to get both configurations on a single board. Is not it great! A paddleboard kayak hybrid combo is an excellent deal for those who love paddling but can't sit or stand for a long time straight. For those people, this works as a boon.
With the paddleboard kayak hybrids, users can experience kayaking and SUP paddle boarding with a single piece of equipment instead of two separate boards.
In simple words, your SUP kayak hybrids turn into a kayak in just a matter of a few minutes. All you need to do is set the seat and modify your board to have this benefit.
Read Next – Freein Stand Up Paddle Board Inflatable SUP
Benefits of Having a Paddle Board Kayak Hybrid
There are many benefits of using sup paddles and kayak hybrid combo. So, let's have a look at the benefits below…
 It Is Enjoyable!
Having the paddleboard kayak hybrids is undoubtedly a great deal as you can have to experience both stand-up paddleboards and kayaking.
With the combo, you will not have to get bored or tired as you can turn the board into SUP one moment and then turn it into a kayak within just a matter of minutes or less.
Low Impact Sports:
The water sport is a low affect one. This sport is less likely to cause the user any damage. Individuals with leg and back issues can still have fun being on the water since they can go from standing to sitting as per their needs.
So, people with injuries can paddle long distances comfortably as it's less strenuous for them.
Paddle Boarding is a Stress Relieving Sport:
Water is healing. The chance to bond with nature, the sight of the sunrise and sunset, and also the silent moments when you paddle away far distances is truly a stress reliever.
Using a paddleboard kayak combo, you can spend more time on the water. It will help you relax and have a stress-free day.
Read Next – Top 5 Best Sup Paddle Carbon Fiber For You in 2022
Top 3 Best Inflatable Paddle Boards With Sup Kayak Seats
Below, we will glimpse the top 3 best paddle board kayak hybrid combos. These are paddleboards with a seat to take a rest or float around sitting or standing as you please.
Bestway Hydro-Force Oceana iSUP
The Bestway Hydro-Force Oceana iSUP board offers you a well-organized performance. It's 1″ long and is an excellent versatile paddle board for fitness and cruising. This paddleboard features an adjustable 8″ oar. You can easily convert it to a kayak.
Features a non-slip deck pad which is great for grip. It also consists of a travel bag, hand pump, footrest, surf leash, and a repair kit.
Pros:
Easy to store
Portable
Cons:
The seat often gets flimsy
Not so sturdy when you attach the seat to the board.
Bestway Hydro Force Oceana Inflatable 10 Foot SUP Stand Up Paddle Board Set with Hand Pump, Paddle, Backpack, Fin, and Surf Leash Accessories
as of June 4, 2023 6:01 pm
Bestway Hydro-Force 10' x 33" x 6" Oceana
1 used from $300.00
Free shipping
as of June 4, 2023 6:01 pm
Read Next – Wavestorm Expedition SUP Stand Up Paddle Board
Blue Water Toys SUP Board + Kayak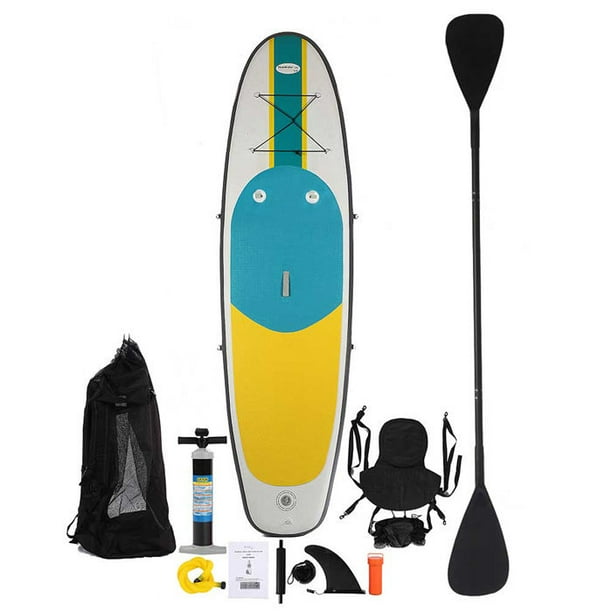 This board measures10″ long, 3″ wide, and "thick, as well as the board has a max weight capacity of 300 pounds. It consists of a three-fin system for more excellent tracking on the flat water. Thus, the inflatable paddle board is very stable, and you can have a lot of enjoyable time while relishing activities on the water.
Pros:
Comfortable large standing surface
Great customer service
Good quality product
Sturdy
Comfortable to use
Cons:
A manual hand pump takes a lot of work and time to get to the recommended 15 PSI pressure.
Blue Water Toys Inflatable Crossover Stand Up Paddle Board/Kayak Kit - Pump, Backpack, Coil Leash, Paddles, Detachable Seat, SUP 300 Pound Limit, 10 Feet by 32 Inches
3 new from $243.09
Free shipping
as of June 4, 2023 6:01 pm
Blue Water Toys 2-in-1 SUP And Kayak! | 10' Inflatable Stand Up Paddle Board/Kayak | Complete Accessory Set That Includes Convertible Paddle, Kayak Seat, Travel Backpack, and More!
3 new from $329.99
Free shipping
as of June 4, 2023 6:01 pm
Read Next – F2 Star SUP Review
Fun Water iSUP + Kayak Conversion Kit
The board uses a sturdy and durable PVC material along with a non-slip, easy EVA. Some customers say that the board performs almost like a hardboard.
It measures 3″ wide and "thick when you inflate this board. The max weight capacity is around 220 lbs, making the board stable for all conditions and skill levels.
The board features a kayak conversion kit that makes transferring from SUP to Kayak easier. This board includes a bungee for locking on-board cargo, paddleboard, and also D-rings to attach your leash, coil leash, a 3-piece adjustable SUP, kayak seat, manual pressure hand pump, removable fins, travel backpack, and also a waterproof bag.
Pros:
Excellent steering and maneuverability in the water
Suitable for newbies or first-time stand-up paddleboard purchase
Sturdy and of excellent quality for the price.
Affordable
Cons:
Kayak seat is not helpful or comfortable for some adults
Customers claim to face Difficulty while using the manual hand Pump.
Infrequent issues arise reading the board's pressure gauge.
FunWater SUP Inflatable Stand Up Paddle Board 10'6'' Ultra-Light Paddleboard with ISUP Accessories,Fins,Adjustable Paddle, Pump,Backpack, Leash, Waterproof Phone Bag,Kayak Seat
out of stock
as of June 4, 2023 6:01 pm
FunWater SUP Inflatable Stand Up Paddle Board 10'x31''x6'' Ultra-Light Inflatable Paddleboard with ISUP Accessories,Fins,Adjustable Paddle, Pump,Backpack, Leash, Waterproof Phone Bag,Kayak Seat
as of June 4, 2023 6:01 pm
Read Next – Jiubenju Inflatable Stand Up Paddle Board with Kayak Seat for Youth Adults
How to Pick the Best Paddle Board Kayak Hybrids
Here are our highlights or guide to getting the paddleboard kayak hybrids for your next water sports journey.
Weight Of The Board
The board's weight is related to transportability. That is why you must never forget to check toeboards weight before buying one. Do not purchase a paddleboard that you won't manage with ease.
Maximum Weight Capacity Of The Board
Always know the max weight capacity of the board before buying. Also, remember whether you are going kayaking alone, with a pet or your friend or your spouse, or even children. If you take a mate with you, then choose the board accordingly.
Destinations You Prefer To Go For Paddling
It is essential to know what type of water you'll be hitting up. This is because some boards are not designed to withstand salty or harsh waters at all, and thus if they get a sensitive one, they will not survive the trip. And some boards can't withstand overly sunny areas due to the lack of UV rays protection.
Read Next – Body Glove Inflatable Paddle Board Review
Storage Of The Board
If you are a person who loves to take food, water, a first aid, repair kit, a GPS, fishing gear, and mobile with you always while out on the water, then you must get a board that offers excellent storage.
FINAL WORDS
A kayak paddleboard combo is unique to the water sports world, but it is growing in popularity quickly because of the many benefits of such boards.
Paddlers can save money on gear while getting a kayak and a Stand-Up paddleboard in a single product.
Read Next – Hobie Mirage Pro Angler 12 Kayak Review
Zupapa Upgrade Inflatable Stand Up Paddle Board 6" Thick 11 FT Kayak Convertible All Accessories Included
as of June 4, 2023 6:01 pm
Freein Stand Up Paddle Board Kayak SUP Inflatable Stand up Paddle Board SUP 10'/10'6"x31 x6, 2 Blades Paddle, Dual Action Pump, Triple Fins, Leash, Backpack
as of June 4, 2023 6:01 pm
WAVESTORM 9ft6 SUP Kayak Hybrid Stand Up Paddleboard Foam Soft Top SUP for Adults and Kids of All Levels of Paddling Kayak,Blue
as of June 4, 2023 6:01 pm
Abahub Inflatable SUP, Wide 10'6" x 34" x 6" iSUP, Blue Standup Paddleboard with Adjustable Carbon Fiber Paddle, Kayak Seat, for Yoga, Paddle Board, Kayaking, Surf, Canoe, Fishing
out of stock
as of June 4, 2023 6:01 pm
Cooyes Premium Inflatable Stand Up Paddle Board (6 inches Thick) with SUP Accessories & Backpack, Dry Bag, Adjustable Kayak Seat, Large Fin, Leash, Paddle and Pump, Standing Boat for Youth & Adult
out of stock
as of June 4, 2023 6:01 pm