Inflatable kayaks took the market by big storm to their compact and excellent portable design. I am not talking about giant pool floats here.
I am talking about real, functional, durable kayaks that can inflate/deflate wherever you want!
Top 5 Best Inflatable Kayaks In 2022
While they were once considered odd – and often ridiculed – novelties, in recent times, technology has a lot improved, and inflatable kayaks have become the norm in the kayaking world.
I know quite a few seasoned riders who decided to retire their hard shells once they are found the best inflatable kayaks – and in this post, I will assist you in picking one out, too!
Read Next – How to Fish On a Paddle Board?
Sea Eagle SE370K_P Inflatable Kayak
An old favorite, the Sea Eagle SE370K_P is an inflatable tandem kayak that's pretty durable, considering it's one of the cheaper models on our list. It is made of toughened poly Skylar and should be inflated in around eight minutes.
This ever-popular option does come with all you need to get going. A double set of paddles, a pump, and inflatable seats. All contained within a duffel bag. The Sea Eagle SE370K_P is made for up to 2 people but has a 3rd or a pet capacity.
It has a stable hull that can be ideal for beginners of every age. The two molded rear SKEGs can make it simpler to paddle in a straight line, especially on flat water. It's a versatile boat that can be wonderful for either 1 or 2 paddlers, and it can even handle up to class III rapids if you are looking to hit some rivers.
It can also be used for a camping or fishing trip, with a high capacity and room for storing gear at the stern and bow.
Sea Eagle 370 Pro 3 Person Inflatable Portable Sport Kayak Canoe Boat w/ Paddles
4 new from $259.00
1 used from $279.39

as of September 28, 2023 12:07 am
Read Next – INTEX Inflatable Paddleboard Kayak K1 Challenger
Sea Eagle 380X Explorer Inflatable Kayak
This Sea Eagle 380X Explorer kayak is a versatile inflatable option that can be good for a solo paddler or up to 3 paddlers. At least 12′.6″ long, it can be pretty spacious if you are paddling on your own. There is also room for you to bring along your pet, with the durable high-pressure drop-stitch floor offering a stable surface for their paws.
This stable boat can be great for beginners and ideal for rivers and up-to-class IV rapids. It can also perform well on flat water conditions, with adjustable SKEG helping to enhance tracking performance. This floor can also improve speed and provide a more rigid material.
It comes in various packages. It depends on the sort of activity you want to do, such as sailing, fishing, and paddling. This boat can be ideal for Tandem Rivers, flatwater trips, or solo fishing and touring trips.
Read Next – Best Waterproof Bag for Kayaking in 2022
Airhead Montana Kayak
The Airhead Montana Kayak is made for one paddler and is suitable for a range of water conditions, including white water.
Crafted with denier coated Nylon, it is lightweight, built to be durable, and features three air chambers for included safety in the unfortunate event of puncture; it is a stable vessel that's relatively wide for its short length, which could make it simple to maneuver on narrow rivers and low-class rapids.
It also advantages an inflatable seat that offers back support and can be removed. There's plenty of room for gear if you are planning a day trip, with a storage area at the bow, complete with bungee rigging for included security.
Behind the seat, you will find more space for dry or other essentials. The four tracking fins under the hull can help track flat water, making this a versatile little boat. The spacious deck can also provide sufficient leg space for most paddlers, but if you are over 6ft tall, you might want to think about a loner's vessel.
It also doesn't include an air pump. Boo! This inflatable yak can be an excellent option for solo river trips. It is rated for up to class II whitewater, which can be great for beginners.
Read Next – Intex Explorer K2 Kayak Inflatable Review
Aquaglide Columbia 110 Inflatable Kayak
This inflatable kayak is an 11ft and 4″ inflatable yak made for one paddler on flat water. This yak is made to perform the same as a hardshell kayak, with Aquaglid XP floor and X beam features that enhance hydrodynamics and boost its performance on the water by offering rigidity and stability. It has Duratex PVC and 600 denier polyester hull, with added UV protection and crafted to be durable.
It also has advantages from a retractable SKEG which can assist with tracking. There are bow and stern storage covers that each splash guards, which can help to minimize splashes from waves while you are paddling.
Bungee rigging gives additional storage on the deck. For comfort, there is an adjustable padded foam seat with a storage pocket, and there are neoprene pads on either side of the gun waves for additional convenience when getting in and out and when paddling.
Read Next – Jiubenju Inflatable Stand Up Paddle Board with Kayak Seat for Youth Adults
Intex Challenger K1 Inflatable Kayak
The Challenger K1 is by far the cheapest choice on the list. As such, do not expect a top-end experience. Does that mean you should avoid it? Not necessarily. It would not also track other options.
But at the last of the day, it is a cheap option for those who want to try out paddling to see if it is for them. And if it's, you can always upgrade to a more excellent option and use the Challenger K1 as a spare. And hey, if you are only going for short paddlers now and then, the K1 kayak could be used on an ongoing basis.
This sit-in has relatively ample storage space on the bow end. A mesh net is used to keep your gear down. Note that it's not water-resistant, so that it might get wet depending on your paddling technique.
They're just two air chambers, so a sudden, big leak means you're likely looking at a swim if the worst occurs. A paddle, pumps, removable SKEG, and grab handles all come included to carry the vessel around. That is pretty nice in our book, given the cost.
Read NEXT – Best Intex Kayak Inflatable Set Our Top Picks
Best Inflatable Kayaks To Buy In 2022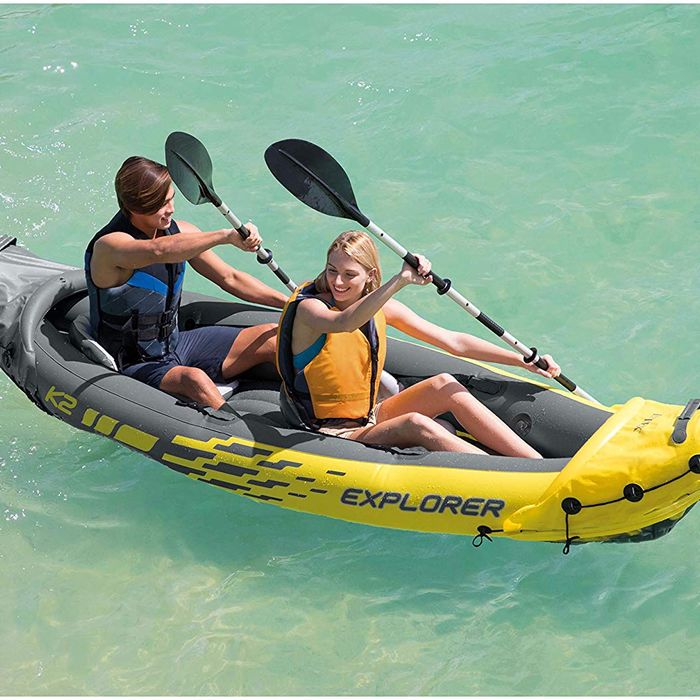 More or less, every water sports fan loves kayaking, but a maximum of them similarly hate being around cumbersome and large hardshell kayaks. Some do not wish to have a traditional, hardshell kayak board since they lack sufficient storage space and their vehicle storage space is not enough. And there comes the inflatable kayaks at their rescue.
Inflatable kayaks are suitable for people who have insufficient storage and good for people searching for a more compact and portable fishing boat. There is an increase in the popularity of inflatable kayaks for these reasons.
A high-quality inflatable kayak board is unexpectedly durable, you can inflate it within just a few minutes, and you can also easily transport it in the trunk of your car. But the question is, which are the best inflatable kayaks to invest in?
To answer that, we have prepared a list of the top 7 inflatable kayaks in our article below.
Check out our top picks now for the best inflatable kayak to buy in 2022.
Read Next – Sea Eagle FishSUP 126 Inflatable FishSUP
Tips for Purchasing The Best Paddling Inflatable Kayaks
There're a lot of factors to consider before purchasing your best inflatable kayak. So, instead of starting shopping based solely on price, you need to consider the following things first:
Where, With Whom, and How you are planning to paddle.
Check the number of kayak seats. If you plan to go alone, then buy a kayak with a SOLO seat. If you are planning to have a company, then buy an inflatable tandem kayak, and if you are planning to go with family, buy a kayak with three seats.
Fishing rod holders- if you plan to buy a kayak that also allows you fishing, make sure the board has a fishing rod holder.
Research about the board is the key to getting the best one. For this, you can talk to a friend who already has a similar panel, borrow a kayak if possible, and reach out to your local shop for a demo for testing kayaks if possible.
Check the material of the kayak. If the board comes with drop-stitch floor padded carry handles, it has a durable construction.
Look for more bungee storage area, padded shoulder straps, minimum of three air chambers to a maximum of six separate air chambers.
Read the following inflatable kayak reviews – you will get a vivid idea of the ease of inflation, durability, transportation, etc., of the board.
Read Next – Best Intex Stand UP Paddle Board For You in 2022
TOP 7

Best inflatable kayak of 2022
This list of the top 7 best inflatable kayaks comprises a combination of higher-end choices and budgets.
We researched and surveyed the market to consider reviews from confirmed customers from affiliate sites, where vital features like features, size, weight, and construction were given.
To narrow down the list to a selection of 7 products, we even consulted with a few kayak experts—our list of the best inflatable kayaks, from hardcore whitewater paddling to calm, lake kayaking options.
Sea Eagle Inflatable 380X Explorer
380X Explorer from Sea Eagle is a tandem kayak. It is designed for fun and allows you to enjoy the water sport with an acquaintance or 2, given that it is rated for three people. So, you can have a party with your friends on the water.
It is also qualified as proficient for around Class IV rapids Whitewater, and in case that is something you think you would enjoy, this Explorer is just the perfect option for you.
This kayak from Sea Eagle is great for surf, Whitewater, and waves without any doubt, and some users claimed that the kayak has rock-solid stability. If you flip this inflatable kayak, then the open design of the kayak will make it easy to re-enter quickly from the water.
Sea Eagle's 380X Explorer comes packed with two comfortable kayak seats, but there is plenty of space for a 3rd passenger, whatever gear, or a cooler you might wish to bring along.
The Explorer depends on three air chambers: port, starboard, and floor, with three recessed, 1-way valves. There is an inflation gauge on both sides, so there is no guesswork while prepping this kayak.
Although inflatable kayaks are not famous for their handling and tracking, this Explorer features a removable skeg to advance these features. And even though you can't imagine the performance of a smooth, hard shell, this kayak is a compact performer compared to other inflatable kayaks on this list. This is the reason this kayak is on our top pick!
Specifications & Features
Length: 12 feet 6 inches
Width: 3 feet 3 inches
Design: Tandem kayak – rated for three passengers
Weight: 40 lbs.
Maximum Weight Capacity:750 lbs.
Total Seats 2 seats included (has to room for 3)
Read Next – Best Fishing Paddle Boards in 2022
Intex Challenger K1 Inflatable Kayaks
The Intex Challenger K1 9′ kayak is an affordable inflatable kayak with advanced technologies available in the market now.
Designed and made using puncture-resistant vinyl, this kayak is great for paddling. It weighs around 27.2 pounds and comes with a firm I-beam floor, two separate air chambers for security, a sizeable adjustable kayak seat, and a backrest for extra ease.
It is a one-person kayak board and features an in-built front storage net for extra gear. However, the kayak has only a 220-pound capacity, so you need to ensure you are not overloading the kayak with plenty of equipment.
The kayak features a removable skeg to help with maneuvering and steering and includes a pump, paddle, and repair kit.
Specifications & Features
Dimensions: 9′ x 2.5′
Weight 27.2 pounds
Maximum Weight Capacity 220-pound
Construction Vinyl
Number Of Seats Sit-inside 1-person inflatable kayak
Advanced Elements AdvancedFrame Convertible Kayak
The AdvancedFrame inflatable kayak from Advanced Elements is a fusion of types: A blend of an inflatable board and a folding-frame kayak that uses combined aluminum ribs in its bow and stern united with puncture-resistant 3-layer PVC structure.
Additionally, it features numerous air chambers that contribute further to the safety of the kayak. Designed and made for recreational paddling, it could be a good option when you are looking for an easy-to-use, durable boat for paddling on rivers or lakes.
It's lightweight, stable, and benefits from contented padded seats that you can adjust and feature pockets and bottle holders.
An inflatable and a folding-frame hybrid, this AdvancedFrame delivers the finest of both worlds. Its handling and durability of traditional hardshell kayaks and the portability of the high-quality inflatable boat!
There's nothing more to dislike about this inflatable kayak – the perfect partner for camping trips or trekking.
Specifications & Features
Length 10 feet 4 inches
Width 2 feet 7 inches
Weight 36 pounds
Maximum Weight Capacity 300-pound
Number of Seats Sit-inside 1-person inflatable kayak
Construction PVC hull and aluminum frame
Driftsun Voyager 2 Person Inflatable Kayak
The Voyager inflatable kayak from Driftsun is a tandem inflatable kayak for exploring rivers and lakes or beaches. It is designed and made to be floating and handle a wide range of water bodies, including choppy waters.
This sturdy craft is manufactured from tear-resistant layered Nylon and PVC tarpaulin. It features a maximum weight capacity for carrying additional gear, and there're bungee cords & covered storage spaces at the bow & stern for your necessities.
It features adjustable and removable padded seats and also features two aluminum paddles. A good factor about this kayak is that you can paddle this with a single paddler and bring your camping gear or dog along.
It also features a detachable skeg for better tracking and includes a carry bag and hand pump.
Specifications & Features
Length:
10 feet (26 inches deflated)
Width:
35 inches (16 inches reduced)
Weight:
37 pounds
Maximum Weight Capacity:
450 pounds
Construction

Tear-resistant layered nylon and PVC tarpaulin
Number Of Seats
2
Sevylor Big Basin 3-Person Kayak
Are you looking for a 3-seat kayak? If yes, this Quikpak k5 inflatable kayak from Sevylor will be perfect for you. Its Large Basin model is made from the rugged PVC material with a challenging Tarpaulin bottom. It is way better than the Sevylor Quikpak k5 1-Person Kayak.
Due to its sturdy and robust construction, you can be assured that your kayak won't get any punctures.
It features multiple air chambers to help you avoid sinking. Its Boston valves are in charge of easy and quick inflation & deflation process. The three seats aren't only adjustable, but they are also relaxed for all-day kayaking without any breaks.
Specs & Features:
Dimensions: 24 inches x 18 inches x 10 inches (L*W*H)
Weight: 34.8 pounds
Maximum Weight Capacity: 490 pounds
Construction: PVC, Tarpaulin
Number Of Seats:3
Sea Eagle RazorLite Inflatable Kayak
Famous for its comfort and portability, this RazorLite inflatable kayak from Sea Eagle is a reliable, high-quality board that has developed a loyal fan base.
The structure of this kayak is excellent. It comes with a removable skeg, a drop-stitch PVC material, and also an adjustable seat & foot brace. The storage areas are for keeping your stuff dry and are well-matched with spray skirts.
This kayak comes complete with a dual-paddle oar, one air pump, a repair kit, and a carry bag. The Sea Eagle RazorLite is the ideal kayak for paddlers who want comfortable, well-constructed, and convenient inflatable kayaks with a high weight capacity.
Specs & Features:
Length
12 ft. 10 in.
Width 2 ft. 4 in.
Weight: 35 lbs.
Maximum Weight Capacity: 500 lbs.
Construction: 1100 Decitex Reinforced
Number Of Seats: 1
Chambers: 3 (starboard, port, floor)
Airhead Montana Inflatable Kayak
Whether you go exploring new places, practicing for races, fishing, or camping, this inflatable kayak board by Airhead Montana is undoubtedly a good choice for you. This kayak fits in a suitcase, in the back of the car, and also in a storage bag without any problem.
The 12′ beast is designed and made with 840D Nylon. It is layered with the UV waterproof layer that makes sure you have the ultimate longevity. The SIX D-rings of the kayak at the stern and bow help in locking the gear, whereas the tracking grab handles let you speedily get in & out.
The seats are comfortable to sit on and movable, suitable for long hours of paddling. You will also get Neoprene elbow guards with this kayak.
Specs & Features:
Dimensions: 28.5 x 19.8 x 11.9 inches
Weight: 36.3 pounds
Maximum Weight Capacity: 500 pounds
Construction: Stainless Steel, 840D Nylon
Number Of Seats 1
BOTTOM LINE
With the best inflatable kayak, you can enjoy your paddling trip to the fullest.
Being inflatable, these kayaks can be packed in a duffel bag and carried to the destination without needing a roof rack.
The inflatable kayas are better than traditional kayaks or hardshell kayaks available in the market. Have fun with the best inflatable kayak!
Read Next – Kayak Paddles: How to Choose