Are you searching for a paddleboard that both you and your kid can share individually?
If yes, you have come to just the right place as today we will discuss a board that equally suits both adults' and kids' needs. The board is Performer 11 Paddle Board.
This paddleboard is precisely designed and made for families with extra reinforcement in central areas to keep the board always ready and firm to hit the water and enjoy your day!
We can assure you that you will enjoy paddling this Performer 11 is mainly on flat water rivers and lakes. Overall it's very approachable and relatively easy to paddle paddleboard for every skill level of paddlers.
Its 34″ center width makes the board a friendly, relaxed platform that anyone of any age group can feel steady standing on the board. The wider center part of the board is also suitable for paddling with a kid or a pet.
So, let's now know in detail about the board before you decide to have one for you and your family.
Overview of Performer 11 Paddle Board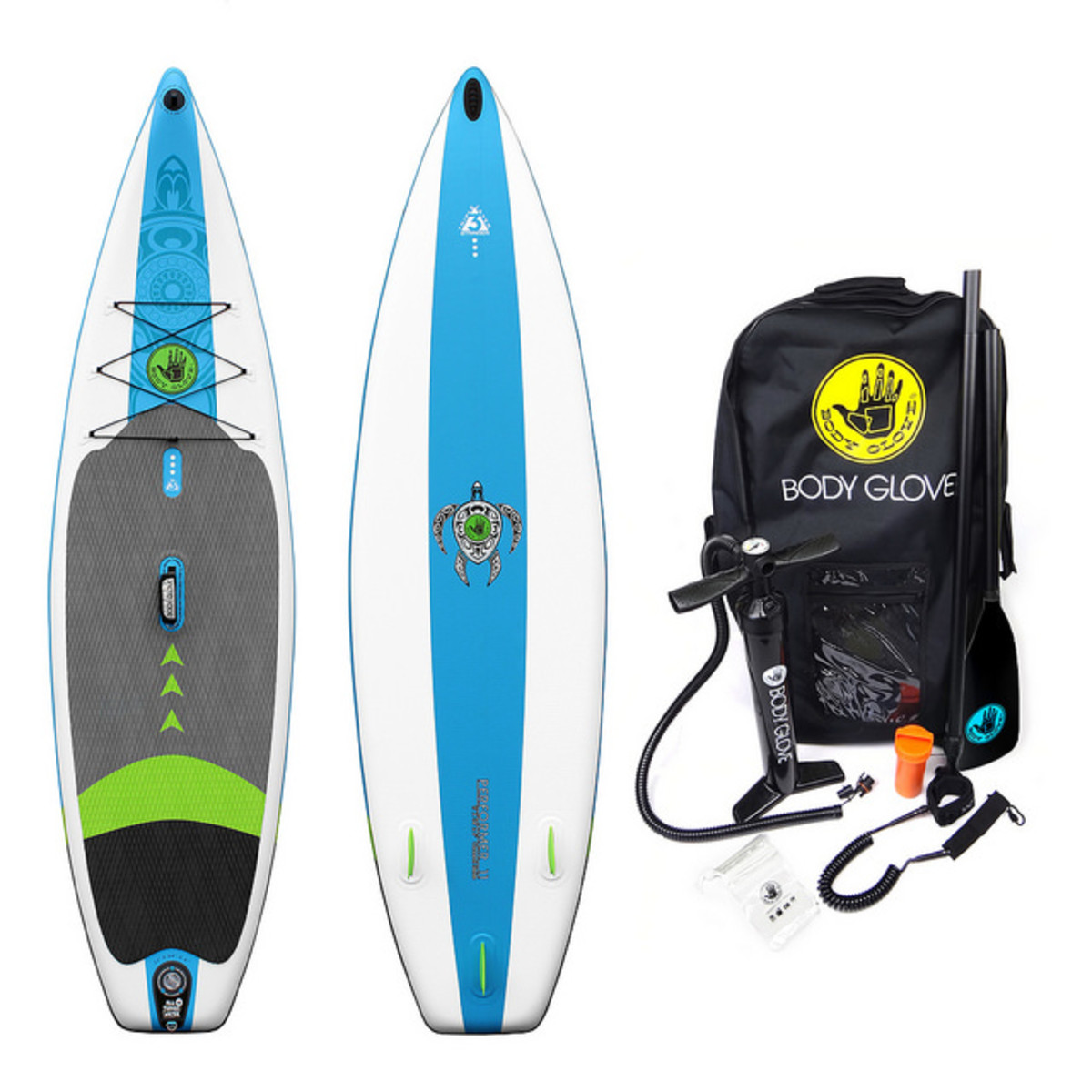 The Performer 11 inflatable stand-up paddleboard from Body Glove was among the best paddleboards of 2021, and it is still spreading its charisms in 2022. Body Glove manufactures on the finest with the latest, upgraded Performer 11 Inflatable Stand Up Paddle Board (iSUP).
This paddleboard is extremely adventure-ready and designed to meet all the requirements of paddleboarders of all skill levels, from beginners to experts.
The versatile and dedicated design of the board is perfect for adventure seekers, families, on-water yogis, and fishing enthusiasts. The suitable package merely rolls up into the size of a backpack for easy storage and transportation.
This Performer 11 paddleboard is designed and made for incredible durability and stability. The advanced package also continues to provide more excellent performance with some new features to deliver, including a yet more steady platform and enhanced tracking for a relaxed paddling experience:
New 13.7cm by 5.4 inches drop-stitch technology is included for a lighter paddleboard without losing the stability of the board
New three-layered side rails, as well as advanced carbon-reinforced stringers, are included for extra stability
30% additional surface area on its fixed fins for enhanced tracking as well as straighter paddling
The inflatable stand-up paddleboard is made with heavy-duty, puncture-resistant PVC material and can support up to 320 lb or 145 kg. This lets an adult paddle along with kids or even a pet on board.
This board's traction deck pad is made with EVA foam as well as it offers a soft but grippy feel. This makes the board a perfect platform to practice yoga or stand stably on. The board's bungee tie-down spot is ideal for securing equipment, from the fishing tackle to the cooler.
The inflatable stand-up paddleboard from Body Glove Performer 11 package is effortlessly portable and includes several convenient accessories. As soon as you're all set to hit the water, the included high-pressure manual pump will help you to inflate the paddleboard within just 5 minutes or so fully.
This Performer 11 board comes with many suitable accessories and delivers superior performance. The Three-piece adjustable paddle lets you increase portability and also ease of use. As soon as the time for pack up comes, you can quickly deflate the paddleboard, and then it will easily fit in the given backpack as the convenient package rolls into a backpack size.
Read Next – Lifetime Horizon Paddle Board 100 Hardshell SUP Review
Accessories Included In This

Inflatable SUP

:
Lightweight Three-piece adjustable paddle (travel paddle)
High-pressure, dual-action pump (no electric pump)
11 feet ankle coil leash
A Waterproof bag for your smartphone
A Carry-all backpack
A Repair kit
Specs
Length: 11 feet
Width: 34 inches
Thick: 6 inches
Weight Of The Board: 24 lb.
Maximum Weight Capacity: 320 lb.
Read Next – Best Body Glove SUP
Features of Body Glove Performer 11 Inflatable Paddle Board
Military-grade dual-layer technology where the inner layer is for additional air-tight performance and the outer layer is for durability and strength. All of Bodu Glove's paddleboards are designed and made to go through complex testing to ensure you will get a great paddleboard at a reasonable price!
Steadiness fusion high thickness drop-stitch core for higher stretchable rigidity and strength.
Best of all, body glove's paddles float well! Plenty of paddles available on the market tend to sink as soon as you fall, but Body Glove ensures you possess a floating paddle, which could be a lifesaver! Aircraft-grade adjustable paddles (aluminum) make Body Glove's paddles high-quality yet lightweight.
The triple-layer stringer is excellent.
The board was upgraded to Stainless-steel 6 D-rings and bungee for locking items.
Built-in rubber fins
High-pressure hand pump
Total UV production for supreme design and color.
We were upgraded to THREE handles for comfort and numerous carrying options.
Body Glove Performer 11' Inflatable Stand Up Paddle Board Package
out of stock
as of October 23, 2022 12:18 am
Read Next – Body Glove Performer 11 vs Hyperlite Admiral SUP
Advantages And Disadvantages Performer 11 Inflatable Paddle Boards
Let's now know in detail about the advantages and disadvantages of Body Glove Performer 11 iSUP below…
Disadvantages
Bungee storage does not have D-rings
No grab handle is there at the nose or the tail of the board
Tracking could have been better
Read Next – BIC Sports TOUGH-TEC 10'6″ Performer Review
Should You Buy It Or Not?
The Body Glove PERFORMER 11 Inflatable Stand-up Paddleboard is versatile for fitness activities, families, on-water yoga, and fishing. The Performer 11 is intended for incredible durability and stability while unveiling an industry-leading best performance shape from professional paddler Luke Hopkins. Hopkins designed this paddleboard to be the best for fitness, family fun, and on-water adventures practices.
This Inflatable Stand-Up Paddleboard is made with incredibly sturdy heavy-duty puncture-resistant PVC material, and also, it can support up to 145 kg or 320 lb. Thus, you can bring a kid (kids) or pets with you while you go paddling on the water.
This board's traction deck pad is manufactured from EVA foam as well as it provides a grippy yet soft feel. This board is also a perfect board for kids, or you can use it as a platform for practicing yoga on the water.
So, finally, we can say that you can surely go for this board.
Read Next – Body Glove Inflatable Paddle Board Review
BOTTOM LINE
All-rounder, this Body Glove Performer 11 paddleboard is an excellent beginner-friendly inflatable stand-up paddleboard with a multipurpose shape to support you in a wide range of water conditions.
The Performer 11 by Body Glove is surprisingly a good board that tracks well and is very stable despite its comparatively short fins.
We Highly recommend this board because it looks good and works just perfectly for anyone out there!
Read Next – Body Glove 11' Inflatable Paddle Board Costco Review
Body Glove Performer 11' Inflatable Stand Up Paddle Board Package
out of stock
as of October 23, 2022 12:18 am
Body Glove Cruiser Duet 2-Person Inflatable Stand Up Paddle Board Package
$1,498.99


$

1,299.99
in stock
as of October 23, 2022 12:18 am
Body Glove Cruiser+ Inflatable Stand Up Paddle Board Package…
3 new from $519.00

as of October 23, 2022 12:18 am
DAMA 10'6"x32"x6" Inflatable Stand Up Paddle Board, Yoga Board, Camera Seat, Floating Paddle, Hand Pump, Board Carrier, Waterproof Bag, Drop Stitch, Traveling Board for Surfing
3 new from $299.99
4 used from $259.19
Free shipping
as of October 23, 2022 12:18 am
DRIFT Inflatable Stand Up Paddle Board, SUP with Accessories | Coiled Leash, Pump, Lightweight Paddle, Fin & Backpack Travel Bag (Native Floral)
3 new from $248.95
Free shipping
as of October 23, 2022 12:18 am
Aqua Plus 11ftx33inx6in Inflatable SUP for All Skill Levels Stand Up Paddle Board, Adjustable Paddle,Double Action Pump,ISUP Travel Backpack, Leash,Shoulder Strap,Youth & Adult Inflatable Paddle Board
2 used from $178.19
Free shipping
as of October 23, 2022 12:18 am