Best Body Glove SUP has made it possible for paddleboard water fun gear to gain a considerable following worldwide.
Now, they're known for inflatable SUPs, surfboards, and kayaks that make water activities more exciting and fun.
Paddlers can expect stable and safe products to turn a smooth and straightforward paddle session into more memorable and fun.
Body Glove – Paddle Board Reviews 2022 
Body Glove SUPs are covered by one year warranty and come with a complete bundle of essentials, including a three-piece travel paddle, hand pump, backpack, repair kit, phone dry bag, and safety leash.
Read Next –  HOMGX Inflatable Stand Up Paddle Board
Body Glove Water Park Inflatable SUP
The Body Glove Water Park Inflatable SUP 15 is meant to give a perfect dock for getting friends and family together on the water.
It measures 15 feet by 66 inches by 4 inches and is simple to maneuver with seven handles and rear and front-mounted d rings for many tie-downs.
It holds up to 800lbs, and with an added nose rocker with SUP, the dock can be utilized as a multi-person paddleboard.
The construction uses heavy-duty drop stitch stuff, and a light one-layer build with impact-resistant PVC. It's solid enough to make sure years of fun.
The SUP design features a bouncy platform to dive or slide from a boat or dock.
The Body Glove Water Park Inflatable SUP has a complete essential package with a repair kit, dual-action pump, carry bag, and phone dry bag.
Body Glove Cruiser+ Inflatable Stand Up Paddle Board Package…
3 new from $519.00

as of November 15, 2022 2:14 am
Read Next- BIC Sports TOUGH-TEC 10'6″ Performer Review
Body Glove Oasis Inflatable SUP
This is a model that was made, especially with SUP fitness workouts.
Featuring a very comfortable brush traction pad that expands from the nose whole the way to the tail, the Oasis SUP is a very stable board that gives a massive surface space to perform stretches and workouts on.
Situated at the SUP's nose are a grab handle and small four-point bungee storage space for securing your water or dry pouch.
There is a 2nd grab handle at the SUP's trail, and situated mid-board is paddle holders that can be utilized to secure your board while working out.
Read Next – Body Glove Raptor SUP – best inflatable SUP for Beginners
Body Glove Mariner XL
The Body Glove Mariner XL paddleboard provides a similar great design as the regular Mariner Fishing paddleboard but adds another inch of thickness for increased buoyancy and rigidity.
This paddle board is perfect for more significant anglers, and it packs similar great functions as the thinner Mariner – front bungee cargo, Rail mounts, d-rings points on the rails, and more.
Paddleboard fishing has genuinely caught on over the past many years as more and more anglers are discovering that SUPs are the ultimate fishing model for portability, maneuverability, and affordability.
Read Next – FEATH-R-LITE Paddle Board Review
Body Glove Navigator Plus
The Body Glove Navigator Plus paddleboard provides a similar basic design as the brand's Mantra model but shaves an inch off the overall width and feature a design that's less female-focused. The Body Glove Navigator Plus measures 10.6 by 33″ by 5.4″ weighs 24lbs.
Because this paddle is a little narrower than the 34″ wide Mantra, it would not provide quite as much stability, but it is still incredibly stale on paddling.
Suppose you're looking for a versatile and stable all-around paddleboard that'll work well for various activities and conditions. In that case, the Body Glove Navigator plus the board is a model worth considering.
Read Next – All You Need To Know About Performer 11 Paddle Board
Body Glove Porter
The Body Glove Porter board is an inflatable kayak that boasts a convenient, competent, and light design. While using the one panel, you can have a fun experience via two paddling ways, sitting or standing. It's one of the newer offerings of the Body Glove.
You can also change the kayak configuration by unclipping the detachable SUP Seat to transform the sit-on-top kayak into the SUP board.
The unique 2-in-1 SUP has rich features that can turn a simple paddling outing into a beautiful, adrenaline-packed experience. Furthermore, the Body Glove Porter kayak can be used as a surfboard thanks to its built-in triple fin setup. Paddlers can paddle across calm water areas and even crave and cut via waves with this feature.
Body Glove Water Park Inflatable Floating Dock
The Water Park Inflatable Floating Dock is an innovative and new model by Body Glove. It is ideal for chilling with family and friends at the lake because of its super light body made from impact-resistant PVC material.
It features a one-layer build and dual-layer side rails that make it solid and stable enough to take on loads of fun. The bouncy surface makes the experience enjoyable ideal for sliding or diving. The ample surface of this floating dock can accommodate up to 8 people.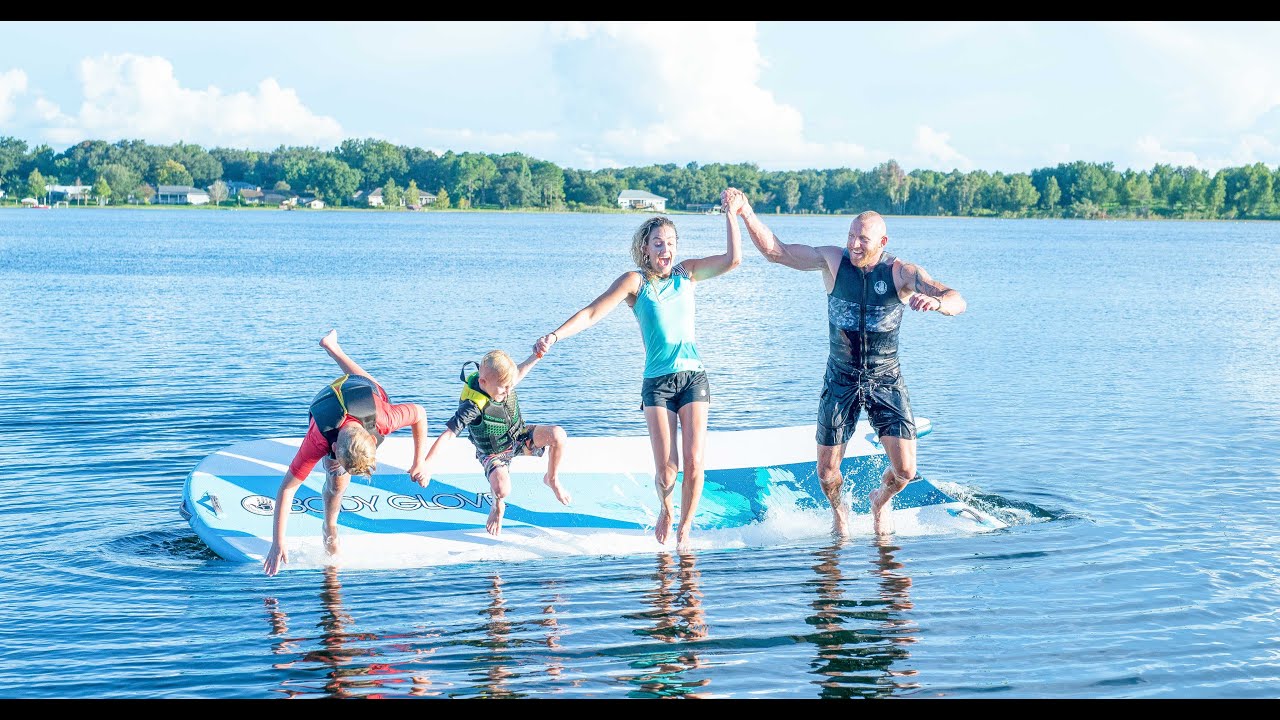 This model provides excellent value for your money, especially for those who enjoy entertaining guests by the water. It also has seven wide fabric handles that make it simple to ride the board. Furthermore, the SUP's added nose rocker permits it to work as a multi-person paddleboard.
Read Next – Body Glove 11' Inflatable Paddle Board Costco Review
Body Glove EZ 8′ 2″
This Body Glove EZ 8′ 2″ longboard, while technically not a stand-up paddleboard, is a Body Glove best seller made with surfing in mind. With the pressure of 20 PSI, the drop stitch and rigid dual-layer build lend themselves to outstanding performance in cutting waves with speed.
The Body Glove EZ Surfboard is 2.75″ thick, with a narrow pintail, which for surfers means they can edge and crave with better ease. Being ultra-light than a hardboard means you can paddle and maneuver this paddle faster.
This paddleboard is simple to pack and gives hassle-free travel. You will enjoy catching waves with this paddleboard, no matter your skill level.
Body Glove Hybrid 46″
The Body Glove Hybrid 46 inches, while not a paddleboard, could be a fun addition to your SUP family. This board can be used as a bodyboard, surfboard, kneeboard, and wakeboard behind your boat. It was made for multi-purpose adventures due to its short formation and fishtail design.
Its durability and strength are due to its dual-layer and fan designs. The board has a full-deck pad that comforts whether standing, laying down, or kneeling.
The Body Glove Hybrid 46″ package includes a double high-pressure hand pump and gauge and solid backpack for carrying and storage, repair kit, and straight leash.
Body Glove Bullet 10′ 6″
The Body Glove Bullet 10 feet and 6 inches provide you with two boards in 1 while still being convenient and light. By just unclipping the kayak seat, it converts to a stand-up paddleboard, suited to both surfing and flatwater paddling.
The build uses a heavy-duty drop-stitch material with tri-layer stringers and side rails. They added 30 percent more surface area with four ergonomic footrests. The 6 point bungee on the front of the paddleboard makes sure ample storage.
Body Glove upgraded the build of three fixed Dura fins. The bullet package includes a double action pump, four-piece adjustable paddle, repair kit, ankle leash, and dry bag and carries all backpacks.
Body Glove Crusader
Last but not least, the Body Glove Crusader board is a massive 15′ multi-paddler board made with group fun in mind. This giant paddleboard is 66 inches wide and packs an impressive max capacity rating of 1000 lbs.
Suitable for small group and family outings, the Body Glove Crusader can accommodate 2 to 6 paddlers and is fun for paddling around pets. There is a bungee storage space at the nose, multiple grads handle, and d-rings attachments for securing your cooler.
Body Glove Crusader includes two high-pressure pumps, four three-piece paddles, and a dry bag for mobile phones and backpacks.
2022 BodyGlove Performer 11 Inflatable Paddleboard Review
Read Next – Body Glove Performer 11 vs. Hyperlite Admiral SUP
Body Glove SUP is a great way to get out and enjoy the water.
The boards are well-made and easy to use, making them perfect for beginners or those who want to explore new waters.
We highly recommend giving them a try!