Our Hippocamp Inflatable Paddle Boards are made with the best, correctly sourced materials to ensure consistent premium quality.
The Inflatable Paddle Boards deliver unbeatable value with unique designs, incredible construction quality, & performance-focused features.
They are the best Inflatable Paddle Boards online in the world today.
Features Inflatable Paddle Board Hippocamp Fishing ISUP
These 11'6 ISUPs are the Premier Fishing & Exploring Paddle Board Packages created by our team at SBBC.
These complete deluxe ISUP kits include every single premium accessory you could ever need;
The fishing rod mounts, the kayak seat, the 4 Piece Paddle, the ISUP Cooler, the XXL Carrying bag (practically its suitcase), and more – This powerhouse of an ISUP is dialed in and ready for action.
The premium 11'6 Hippocamp Inflatable Paddle Boards is incredibly stable and incredibly durable.
They are great for all skill levels to use easily.
The 11'6 Inflatable Paddle Board easily supports up to 450lbs – absolutely ideal for bringing fishing gear or an extra fishing partner along.
This 11'6 ISUP Package = The ultimate Inflatable Paddle Board Package for epic Fishing, Exploration, and aquatic adventure.
11'6 Inflatable Paddle Board – Hippocamp – Carbon Fiber + Grey Fishing ISUP – XXL Backpack, Fishing Kit, kayak seat, Is up more incredible, 4pc paddle, repair kit, leash, fins
Rider Weight Range
Skill Level
Big & Incredibly Stable ISUP for Beginners + All the extras included for the more Experienced paddle boarders to enjoy.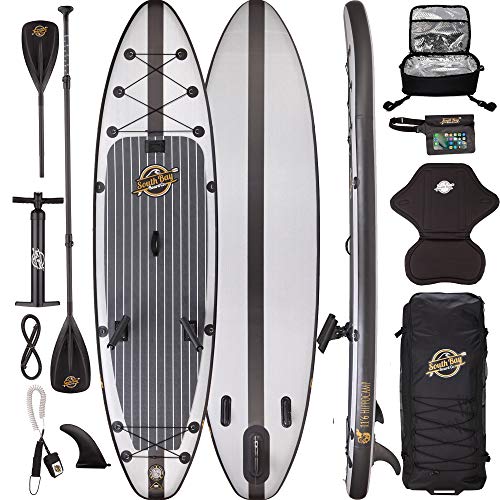 Performance-Focused Shape
11'6 long x 32″ wide x 6″ thick
Extremely stable and wide center outline
Pulled in the nose and rounded tail for efficient paddle glide
Slight rocker on the nose to prevent unnecessary drag
2+1 Fin System for consistent tracking while paddling
Wax-Free' Fingerprint' Textured top Deck
Pre-Installed Paddle Holding straps on the ISUP's rail
EZ Carry Handle for easy out-of-water transportation when inflated
Pre-Installed Bungees and D-Rings for all the included accessories
Extremely Rigid and Easy to Paddle when properly inflated 104″ long x 23″ wide x 3.25″ thick
Read Next – Best Fishing Paddle Boards in 2022
Premium Custom Materials
Custom Double Layered Military Grade' Grey Denim' or 'Grey Wood' PVC material outer shell
Carbon Fiber or white wall-wrapped rails.
Carbon Fiber or White Wall Top and Bottom Deck Stringer for extra rigidity when a gear is piled on
Dual Axis Drop-Stitch Technology for stiff, rigid core when inflated
IXPE Pre-Installed Foam top Deck
Universal ISUP Inflation Valve
Wax-Free' Fingerprint' Textured Grip Top Deck Wax-Free' Fingerprint Texture Soft Top Foam Deck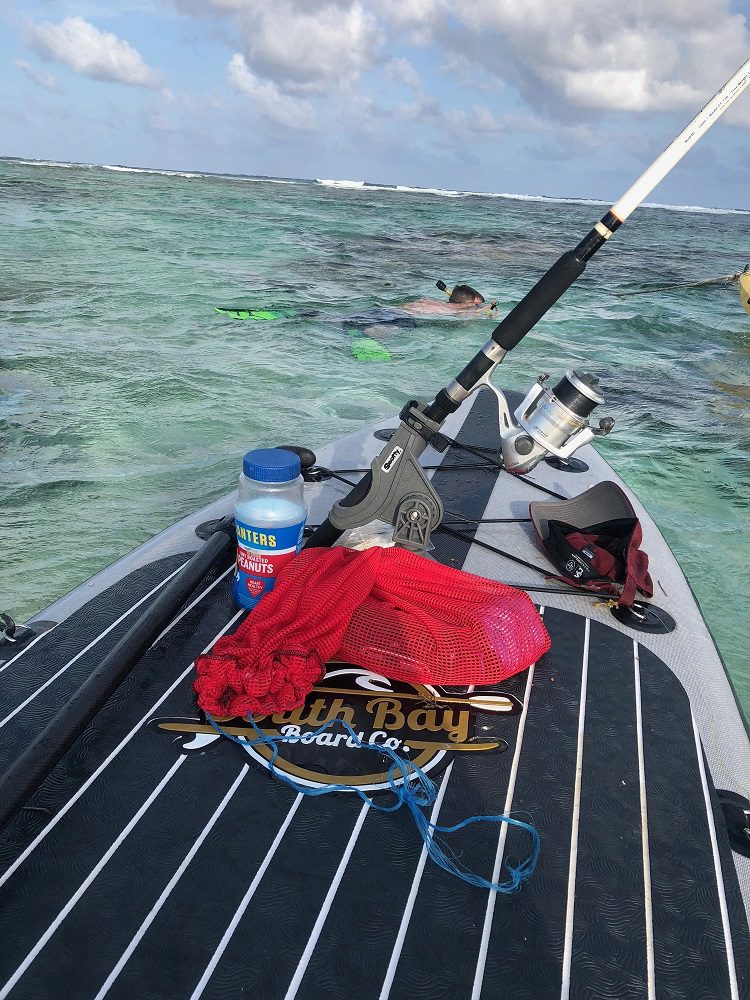 11'6 Hippocamp Inflatable Paddle Board Includes
(1) 11'6 Fishing ISUP
(2) Pre-Installed Side Fins
(1) 9″ FCS Single Fin for proper FCS SUP fin box
(1) 11′ Coiled Leash
(1) 4 Piece Kayak Paddle
(1) Set of Pre-Installed Bungee Straps
(1) ISUP High Capacity Hand Pump
(1) ISUP Patch Repair Kit
(1) XXL Deluxe ISUP Carrying Backpack with Wheels
(4) Kayak Seat Pre-Installed D-Rings
(1) Kayak Seat
(1) ISUP Cooler + Securing Clips
(1) Waterproof Fanny Pack for your Phone
(3) Pre-Installed Fishing Mount Plates
(2) Fishing Rod Holders and Mounts
Read Next – Bluefin vs. Irocker SUP Comparison Guide
7 Best Fishing SUP Boards 2022
The 11'6 Hippocamp Inflatable Fishing Paddle Board
Our Paddle Boards are the cleanest, most durable, and highest value SUPs and ISUPs on the market, ideal for beginners and incredibly fun for regular water explorers.
As a Southern California-based company in the heart of LA's South Bay, we are engulfed in Surf & Beach culture.
All of our Paddle Boards have been designed and tested in the beautiful pacific coast waters but enjoyed by many on all types of bodies of water across the globe.
If you are ready, we have your future favorite Paddle Board waiting for you to enjoy!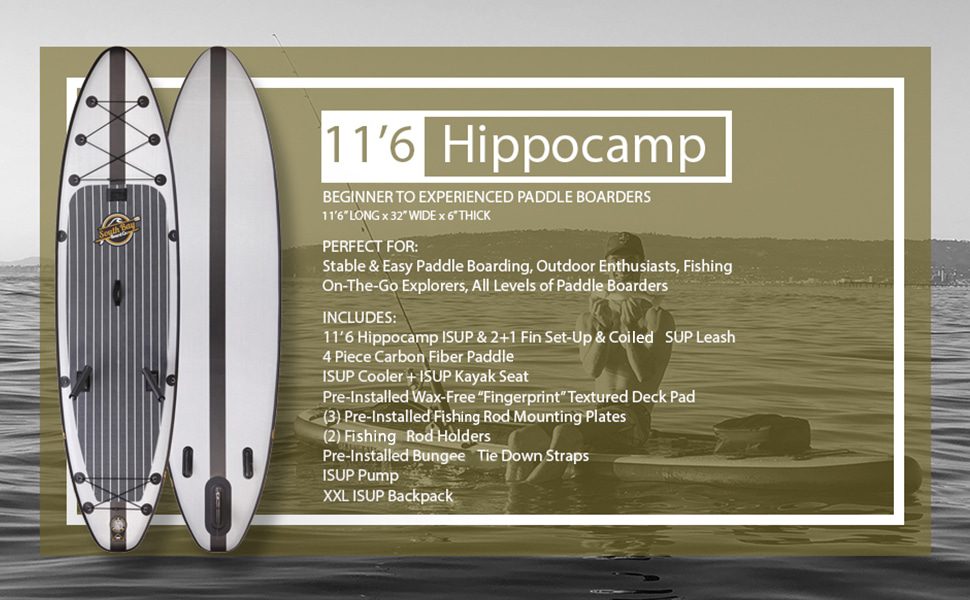 Wax-Free "Fingerprint" Textured Top Deck

Every Paddle Board will feature our unique "Fingerprint" Textured IXPE foam deck pads that are all pre-installed.

The deck pads are a dual-layer, two-tone "Boat Decking" style for a classic and clean look.

The "Fingerprint" texture provides an incredible grip that is also much more comfortable than regular diamond grooved/croc skin textured deck pads.

The "Fingerprint" texture is a Wax-Free texture for a clean, long-lasting feel.

Fishing Rod Mounts

The 11'6 Hippocamp is the only ISUP offered by SBBC that features three pre-installed mounts for safely & securely attaching our (2) fishing rod mounts.

The multi-angle rod variations allow you to position and pivot your fishing rod holder in various angles to allow for the most ideal resting fishing rod position for your fishing needs.

The mounts allow our fishing rod holders & other related mount accessories (see Scotty fishing mounts) to screw in securely and be used repeatedly.

Incredible Included Extras

The 11'6 Hippocamp ISUP is the ultimate DELUXE Inflatable Paddle Board Package simply because it includes ALL of the following:

11'6 Hippocamp ISUP + Fins + Leash + Pump

ISUP Kayak Seat

ISUP Cooler

(2) fishing Rod Holder

(3) Fishing Rod Mounts

4 Piece Carbon Fiber Paddle

Pre-Installed Bungee Straps

Waterproof Fanny Pack

XXL ISUP Backpack

Stable Fin System & Shape Design

With a focus on adventure, our paddleboards are designed to be super easy to use and incredibly stable for all levels of paddleboarders to enjoy.

The 11'6 Hippocamp features a 2+1 Fin system (2 pre-installed rigid plastic fins + 1 9″ Slot Fins). The 2+1 system allows the board to hold its paddle line cleanly and prevents extra wiggle and wobble while paddling.

The overall shape is wide and thick for extra stability, while the Carbon Fiber rails and top/bottom stringers provide additional rigidity and durability.
Read Next – Premium Inflatable Stand Up Paddle Board Package
11'6 Inflatable Paddle Board - Hippocamp - Carbon Fiber + Grey Fishing ISUP - XXL Backpack, Fishing Kit, Kayak seat, Isup Cooler, 4pc Paddle, Repair kit, Leash, fins (Carbon Fiber)
out of stock
as of November 29, 2023 3:51 pm
Sea Eagle FishSUP 126 Inflatable FishSUP - Swivel Seat Fishing Rig Package
$1,199.00


$

899.00
in stock
5 new from $899.00

as of November 29, 2023 3:51 pm
SereneLife Premium Inflatable Stand Up Paddle Board (6 Inches Thick) with SUP Accessories & Carrying Storage Bag | Wide Stance, Bottom Fin for Paddling, Surf Control, Non-Slip Deck | Youth & Adult
3 new from $229.99
5 used from $145.62

as of November 29, 2023 3:51 pm
Goplus Inflatable Stand up Paddle Board Surfboard SUP Board with Adjustable Paddle Carry Bag Manual Pump Repair Kit Removable Fin for All Skill Levels, 6" Thick (Red, 10FT)
as of November 29, 2023 3:51 pm
FCH-PEXMOR Inflatable Paddle Boards Stand Up 10.5'x30 x6 ISUP Surf Control Non-Slip Deck Standing Boat with Carry Bag, Floated Paddle, Hand Pump, Removable Fin, Leash, Repair Knits (Red and Yellow)
out of stock
as of November 29, 2023 3:51 pm
Soopotay Inflatable SUP Stand Up Paddle Board, Inflatable SUP Board, iSUP Package with All Accessories (Turquoise_Green, 10' x 32'' x 6'')
out of stock
as of November 29, 2023 3:51 pm
streakboard Inflatable Stand Up Paddle Board Surfing SUP Boards, No Slip Deck 6 Inches Thick ISUP Boards with Free SUP Accessories & Backpack, Leash, Paddle and Hand Pump, for All Levels
as of November 29, 2023 3:51 pm
PEXMOR Inflatable Stand Up Paddle Board for Fishing Yoga Paddle Boarding with Premium SUP Accessories & Carry Bag, Surf Control, Non-Slip Deck | Youth & Adult Standing Boat 10'6" X 32" X 6" (Red)
out of stock
as of November 29, 2023 3:51 pm