Do you love paddling, kayaking, surfing, or other water sports? If you love them, you should know that there are more than a few precautions to take when training and paddling in the winter.
The most significant thing during winter is how you dress up to stay warm & safe throughout the water sport!
With dry suits and wetsuits (the two best choices), people often get confused about which option will be better.
You might be among those and now wondering what to buy to make your diving, surfing, paddling, or kayaking activities safer and more pleasant. If you, too, get confused between a dry suit or a wetsuit, then know the differences below to find out which one is better.
We will discuss the critical differences between a dry suit and a wetsuit. So, you will not have difficulty deciding which is suitable for you for the water adventures you are planning.
What Are WETSUITS For Extra Protection?
Wetsuits are typically neoprene and rubber (foam-based) full suits that many water sports fans wear throughout the water journey. They wish to have some thermal protection yet not restrict mobility. These suits allow you to enter a tinny amount of water into the wetsuit, capturing it between the external suit layer and your body.
Your normal body heat will be used to warm up this captured water; thus, it will help you stay warm, while the captured water also keeps cool water from coming in and cooling you down.
Most paddleboarders who wear a wetsuit generally use it in warmer water than 60° F. These suits are cheaper than the dry suits and much more relaxed to maintain. In addition, coming in numerous styles like sleeveless or sometimes pantsless (you will get only the upper bodysuit).
Key Points Of Wetsuits: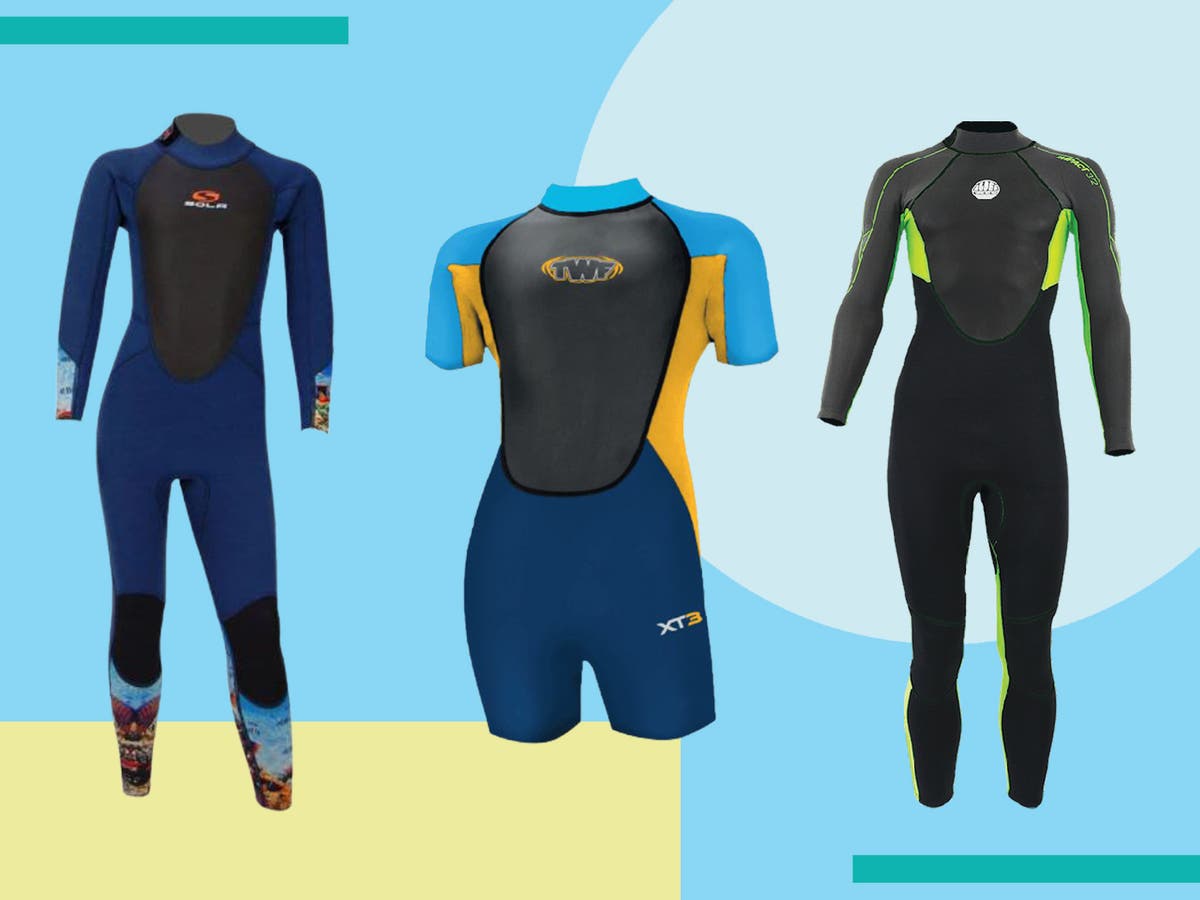 Not waterproof
It fits snugly for paddleboarding sessions and other water sports
Designed to offer warmth
Paddleboard Wetsuit is made using neoprene foam or rubber foam. These Paddleboarding wetsuits are designed to keep you warm, especially if wet, throughout your paddleboarding adventures.
A snug fit suit is a key to the temperateness your full wetsuit is designed for. It isn't waterproof. Thus, buying a loose fit lets you enter too much water and causes chills.
On the other hand, a snug-fit suit will do the job correctly. So, it would help if you ensured that the wetsuit you are buying is a snug fit.
To function, this suit absorbs water, and your natural body heat provides heat to the absorbed moisture through the neoprene and keeps you warm throughout your water journey.
You do not have to wear any clothing underneath the suit, even though, based on the temperature, you might want to wear at least a thin layer, for example, a full thin liner or a swimsuit, in suit you go paddleboarding in freezing weather.
Paddleboarders' wetsuit thickness is generally around 2-3 mm. There is also a full-length suit available that helps to cover your whole body and sometimes includes booties/shorty suits that are generally cut to the elbow and above the knee for warmer weather and extreme weather.
If you're paddling in dangerous weather, you should consider buying a thicker wetsuit that you can find at any dive shop. It is always better to query other paddleboarders about what they wear for a specific situation. This will help you to understand which one will suit you the most.
Pros:
Allow You to Spend Time on The Board and In the Water, While Paddling
If the maximum of the paddleboarding you do involves spending as much time on the board as in the water, a wetsuit will be a great option.
Great For River Surfing
In case river surfing is something you love doing in play spots & whitewater parks, you are perhaps better off in the wetsuit for safety.
Swimming Is Easier
Swimming will be way more effortless in the wetsuits than in the drysuits. Wetsuits are less bulky and buoyant, meaning swimming to the escaping or eddy waves/holes will be easier for you.
Warm When in Water
Wetsuits are generally warm as soon as you enter the water. This suit's appropriate thickness gives you proper warmth throughout your water adventures.
Cheaper Than Dry Suits
Wetsuits are usually less expensive as compared to dry suits. Although, if you spend hundreds to get a decent case with all the high-quality features like eco-friendly materials, wool lining, etc., it may cost you more than a typical dry suit.
However, you can get a good deal on your desired wetsuit in the off-season. So, wait till the off-season to make a comparatively cheaper deal.
Cons: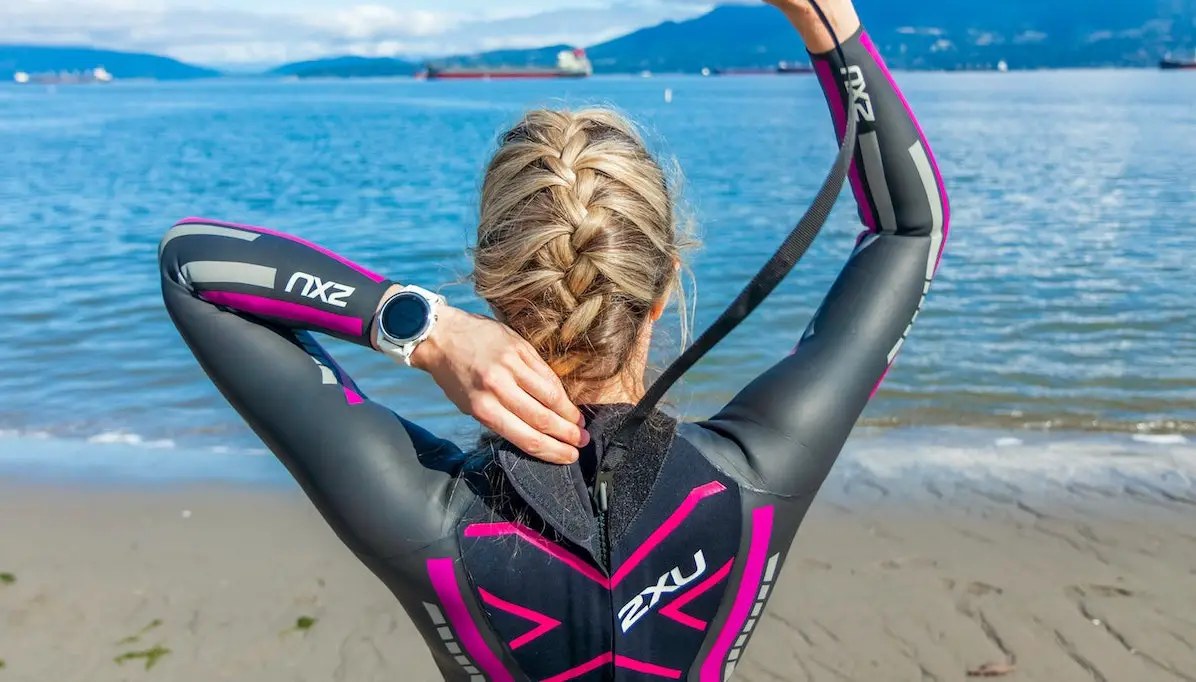 May Suck The Warmth Out
Even though the suit is warm in the water, it can suck out your warmth as soon as you are exposed to extreme weather. Even the thickest wetsuit may leave you clammy and cold after a long day of water adventures in rain and wind.
May Cause Skin Irritation and Rashes After a Long Day of Wearing
They were wearing wetsuits for a long day suck. Rashes and skin irritation are the most common problems faced by users who wear wetsuits all day.
Changing In & Out Is Problematic
Wetsuits are problematic when it comes to changing in & out and taking much time to dry, especially on cold days.
You May Need to Pee in The Suit
You most probably have to pee in the suit and then open it. Peeing in the wetsuit is quite common, and the wetsuit warms you up momentarily but is not ideal for the long term.
Stinks Due To Urine And Dry Sweat Smell
Neoprene material stinks. Urine and dry sweat smells remain in the suit. You might learn to overlook the stinky smell, but your companions won't.
Neoprene is worse than nylon. Getting into your car with stinky wet gear is the nastiest thing ever.
Read Next – SOOPOTAY Inflatable SUP Stand-UP Paddle
What Are DRYSUITS For Water Sports?
Drysuits are made using bulkier, thicker foam materials (nylon or neoprene). These are designed to wear in colder waters to keep you dry even underwater. The drysuit works by totally sealing off touch with the water, making sure that you, inside the drysuit, stay dry when you wear the suit correctly.
Although more restrictive and expensive because of their larger size, dry suits help to keep the wearer much warmer than wetsuits and are similarly more relaxed to wear. In general, dry suits are not tight to wear.
Read Next – The Top 3 Places to Paddle Board in Lake Tahoe California
Key Points Of The Drysuits:
Waterproof
It fits with sufficient room for layers and adds warmth
"Shell" style isn't designed to provide warmth when you use it alone
The drysuit is manufactured using waterproof material (numerous materials get used). It's mostly a shell with seals at the wrists and neck to keep the wearer dry by not allowing water to enter.
However, unlike wetsuits, these aren't intended for warmth. Thus, it would help to consider the temperature these suits are for and the layer under to support weather conditions.
A typical drysuit suit is intended with kayakers and divers in mind. However, these are widely used by stand-up paddleboarders. Some drysuit producers are starting to design precisely for SUPs: good fit, lightweight, and sufficient space for thermal layers, mainly for cold days.
Pros:
Helps to Stay Dry
They are primarily used for keeping the wearer dry throughout the water sport. These suits will keep you and your cloth underneath dry throughout the journey.
However, it would be best to keep the suit UV protected and clean and avoid spikey river banks, as well as the case, which can endure and be usable for a very long time.
Suitable For Controlling The Insulation Level
You can control the lining levels. Wear thin or thick layers based on water temperatures, excursion levels, and weather.
Unavoidably you will be hot in the drysuit and not sure if you're soaking due to sweat or water getting inside.
Changing In & Out Is Easier Than Wetsuits
As soon as you learn to change the suit, you'll be much quicker than your groups with wetsuits. This is mainly because you can wear regular clothes under a dry suit to alter your case anywhere. Take the drysuit off, and you will be ready to go.
Protection From Bad Weather
Wearing dry suits keep you protected from bad weather. Rain and wind are nothing to worry about when wearing a dry suit. If you're going to paddle for a long time open to the elements, then wearing a dry suit is a must.
Great for Buoyancy Sport
A dry suit is super buoyant, and it is excellent for SUPs. This is because SUP is a buoyancy water sport.
Pee Without Taking Off the Suit
Relief zips are provided into a few suits to let you pee without taking off the claim. So, go for a case that allows this convenience.
Cons:
Expensive
Drysuits are way more expensive than wetsuits. However, at this price, you get suitable materials and technology, warranties, water-repellent treatments, and gasket replacements.
Water May Get In
Water will enter the suit through holes, leaking zippers, and torn gaskets. Be careful when paddling through rocky rivers. Sharp edges can ruin the case. Crawling and kneeling back on the board may create scrapes on elbows and knees.
Can Be A Little Warm
The dry suits can be a little warm. It is common to sweat in the lawsuit, leaving you wet as if you were flooded due to the heat produced under the case.
Bulky & Awkward
A dry suit can be bulky and awkward. They can be too loose or too tight. Gaskets are sometimes uncomfortable and may need changes to make the right fit.
Need To Wear A Bigger Size Shoe
To wear the suit, you will need a bigger size of shoes. And because of its heavy weight, you may feel like you're wearing too much gear.
Read Next – Best Inflatable Life Vest in 2022
Differences Between A Wetsuit & A Drysuit?
You know the rudimentary aspects by now, so we can skip directly to the most fundamental differences between a wetsuit and a drysuit.
Wetsuits are skin-tight suits perfect for cold water surfing water sports since they let you move around more than dry suits. On the other hand, dry suit are waterproof but are not intended for warmth if used alone. The drysuits help keep water ultimately out as a shell and fit loosely, such as an oversized ski jacket.
In icy water circumstances, the wetsuit is preferable for acting in the water, while the drysuits are way more preferable out of the water. A wetsuit is a snug fit to swim quickly, but drysuits are not a snug fit, so it is pretty awkward to swim in it.
For those who don't want cold water to reach their skin while enjoying water sports and don't care about limits, the drysuit is a decent choice due to its waterproof features.
Top Reasons to Wear The Wetsuits:
Easy to maintain when compared to drysuits
Cheaper than drysuits
It comes in numerous styles
Less limiting than drysuits
Well-matched for paddling in water with more than 60° F temperature.
Top Reasons to Wear The Drysuits:
Hold heat better as compared to wetsuits
Loose fit, so easy to wear than wetsuits
It is easier to change in & out
Last longer as compared to wetsuits
Well-matched for paddling in water with less than 60° F temperature.
Read NEXT – All You Need To Know About iRocker SUP Leash
Best Drysuits And Wetsuits For Paddleboarding
Top Wetsuits for Paddlers
Men's/Women's Radiant 4/3mm Wetsuits from NRS
NeoZip Long John Neoprene Kayak Wetsuit from Kokatat
Access Men's and Women's Full Body Wetsuit 3mm from Hyperflex
Aqua Lock Women's 7mm Back Zip Full Jumpsuit from Henderson
Men's/Women's Reactor-2 2mm Back Zip Short Sleeve Spring Wetsuit from O'Neill
NRS Men's 3.0 Ultra John Wetsuit-Black-XL
4 new from $199.95
Free shipping
as of November 30, 2023 3:49 am
Read Next – Best Inflatable Life Vest Our Top Picks
Top Drysuits for Paddlers
Rodeo Soul Breathable Drysuit from Ocean
Men's/Women's Amp Drysuit-FireballRed-XXL from Stohlquist
Level Six Emperor Drysuit
Men's Boost 300g Drysuit from O'Neill
Atacama Sport Drysuit from Crewsaver
FINAL WORDS
Wetsuits and drysuits are vital gear for paddleboarders who are traveling calmer waters. These suits help them stay warmer and protect against hypothermia as soon as they go for a swim.
Nevertheless, cold water is unsafe, and not just can hyperthermia cause severe medical difficulties, but many divers can be caught off a lock-up guard and may fail to return to their board. Because of the danger of paddleboarding in cooler water, experts suggest bringing a drysuit or wetsuit.
So, put on the wetsuits or dry suits to have fun SUPing without worrying!
Read Next – Best SUP Paddleboard Cooler