It's a good entry-level board, but if your planning on doing this often, you should invest some more money and opt for a high-end board.
Features AQUAPLANET MAX Stand up paddleboard.
Aquaplanet MAX set is one of the most popular sets out there, and if you're asking why, look at the quality vs. price ratio!
The whole set is barely 300$, and it is made for all types of users. You don't have to be a professional to use it.
The design is very colorful yet minimalistic.
The Aquaplanet 10ft 6" X 15cm PACE Stand up Paddleboard is the perfect choice if you are going on a riverside vacation along with your entire family.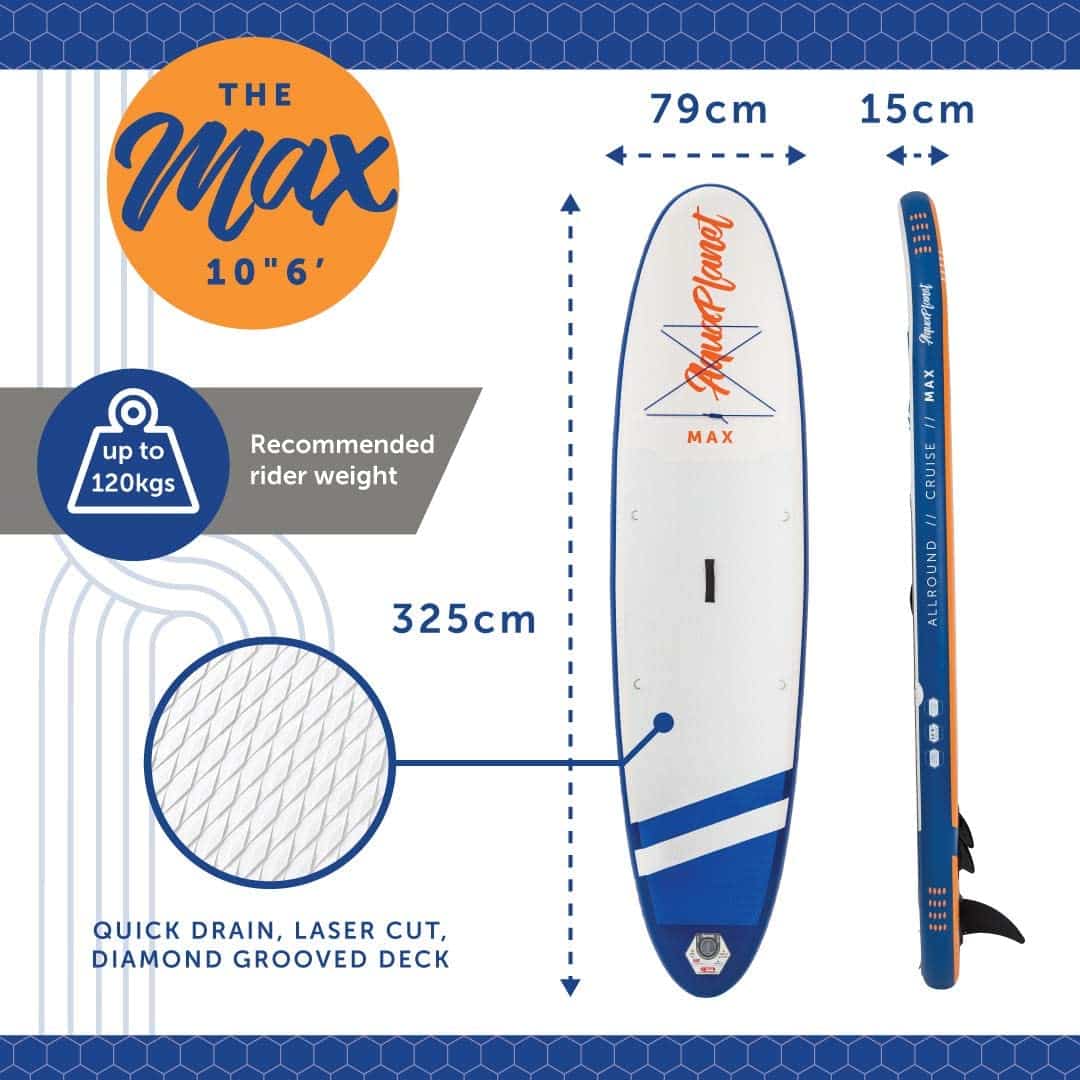 Read Next – Aquaplanet PACE SUP Package
The easy to carry, lightweight paddleboard is perfect for people of every age and can be used in rivers and canals on top of the usual flat waters.
Women, kids, teens, and young adults love to use it, but anyone can get it for themselves.
It's only a stand-up paddleboard, after all.
It is stable enough to be used in lakes, rivers, oceans, and seas.
Yoga or fitness
You can use it for yoga and fitness, as well as racing and touring.
The size is perfect for beginners and those who are experienced enough to do everything they imagine with it.
You will get the board, a paddle, a leash, a fin, a small paddle, a pump, a backpack, and four kayak seat rings in the set.
This is a great offer for the price.
The weight is 11 kilos only, which makes it easier for women and children to use it.
The bungee storage area allows anyone to bring along some accessories and, if you are cruising for a long time, some food as well!
The EVA deck pad is very soft and ensures great comfort.
You can also add a kayak seat to use the board for other hobbies, a great 2in1 deal.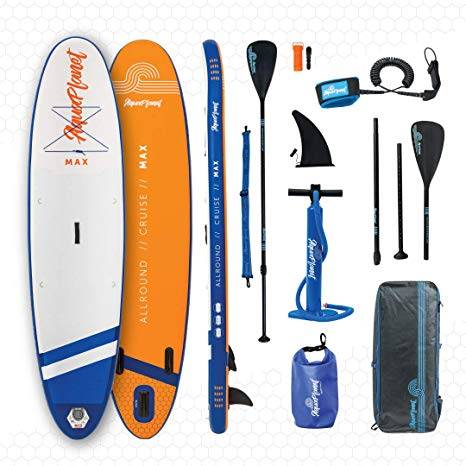 Adjustable fins are also a great thing since you can switch them up and change the "difficulty" option, as people like to say.
Beginners should use three fins because they will have better stability, while others can use two, one, or none.
It all depends on what you like.
The info says that the product can take up 220 lbs, but people have been writing reviews in which the board did a great job carrying 285 lbs.
Aquaplanet Brand
The brand is known to provide high-quality SUP boards at an affordable price.
Aquaplanet 10ft-6in MAX ISUP

The inflatable stands up paddleboard is an all-around, suitable even in choppier waters and for paddlers weighing less than 265 pounds.
Included Accessories

The Aquaplanet 10′ 6 iSUP package includes, along with the obvious, the board itself, a paddle, a travel bag, a hand pump with a pressure gauge, a coiled leash, and a repair kit.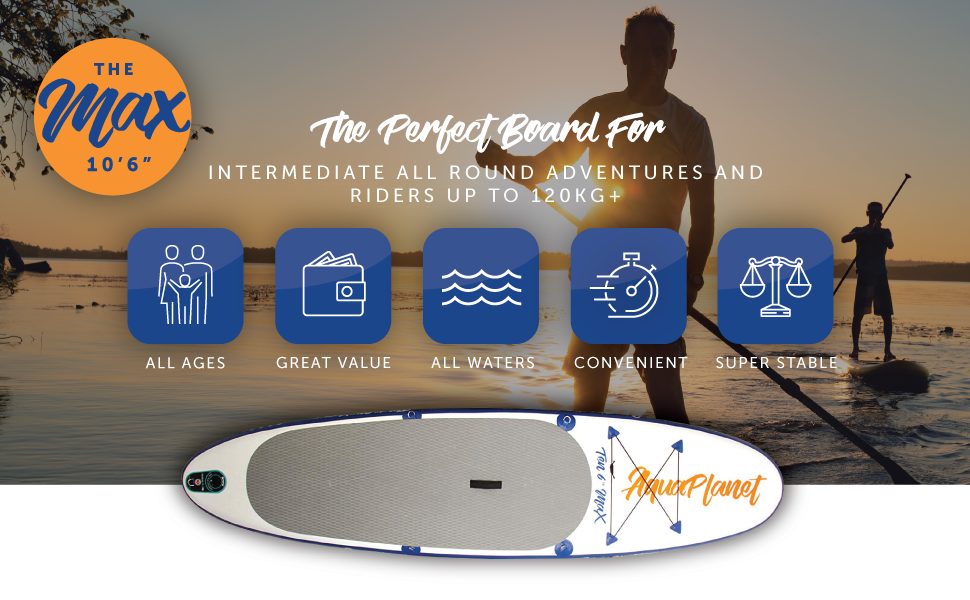 Aquaplanet Max SUP Package
Ready to get the SUP bug?
Max is everything you need to get out on the water with stability and precision! Watch it come into its own on lakes, rivers, canals, and choppier seas – with its ultra-tough drop stitch, thick surface laminate material allowing for high PSI inflation, traction pads for grip, triple fins for speed, and a large detachable central fin for stability when paddleboarding, this is a super sturdy and responsive board.
It's the ideal board for beginners and intermediates who want to surf, tour, race, or practice paddleboard yoga.
The MAX:
It offers incredible stability for all beginners, intermediates, and families.

Size: 10'6″ x 31″ x 6″ (3.25m x 0.76m x 0.15m)

It weighs only 24 lbs (11Kg)

All items fit into the bag for easy transportation.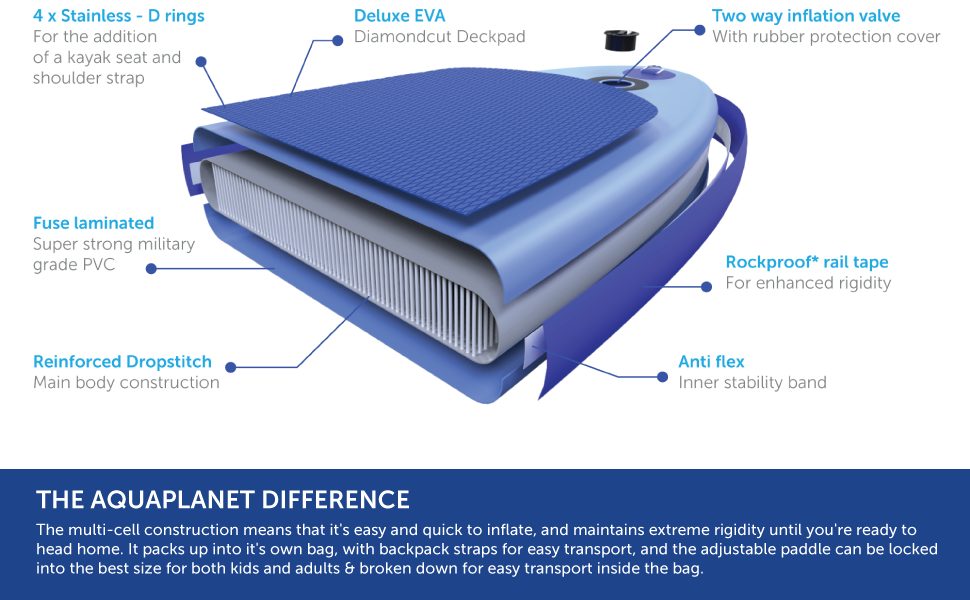 What's in the kit?
Adjustable Floating Paddle

Our adjustable paddles are detachable, allowing them to be stored easily. They are light but incredibly sturdy and can be easily adjusted to any size rider using our CAM lock system.

Rugged Carry Rucksack

Our rugged carry rucksack allows you to carry the entire kit with ease. You can strap the pump and paddle to the outside of the bag to further increase the storage capacity inside.

Deluxe Leash and Carry Strap

Premium SUP carry strap allows you to transport your board to and from your vehicle. Attaches flat to the board to help remove the water's edge—Deluxe coil leash for extra comfort.

Dual Action Premium Pump

The premium dual-action pump makes inflating your SUP 50% easier with its high capacity. The twist lock hose attaches and detaches with ease. Small and lightweight.
Waterproof Surf Sack

The 5-liter waterproof kitbag can be used for all your accessories and clothing while you are on the water. You can store it in the bungee handle at the front of the board for easy access.

Premium Valve Housing

An adjustable valve with a spanner included. Your professional SUP valve is housed in rubber, with an extra D ring for your coiled safety leash to be added, keeping you close to your board at all times.

Deep EVA Deck

Soft, luxurious EVA deck pad for enhanced grip. Recessed handle for easy carrying to the water's edge. Four extra D-Rings allow you to add a kayak seat that changes your board into a canoe.

What are you waiting for?

The Aquaplanet Max Stand Up Paddle Board Kit has everything you need to get out on the water and start your adventure today. So, what are you waiting for?
Read Next – Aquaplanet 10′ Stand Up Paddle board kit