The special feature of our SUP board Shark is in contrast to conventional drop stitch material (i.e., linear polyester threads), which use almost all competitors in this price range, equipped with the latest woven drop stitch technology in the board core, the woven drop stitch material makes our BRAST board lighter but above all considerably stiffer than the conventional type of manufacturing, which is one of the most important quality criteria.
Features Shark SUP by BRAST Surf Board
Large and foot-friendly anti-slip base: The rubberized honeycomb structure allows you to stand and foot comfort.
Compared to the competition, we have made them 20% thicker and thus softer.
We have integrated a kick pad in the rear of the anti-slip base that allows you to change directions and maneuvers quickly and easily while maintaining your speed.
Our boards are sufficient to inflate them with 15psi (1bar) due to the materials used to maintain a good stiffness.
However, you can increase the stiffness even further and thus improve the handling by inflating the boards up to 20psi (our boards are also tested for safety and can withstand values above 40psi without bursting)
Technical data
Dimensions: L 320 x W 76 x D 15 cm, load capacity: 130 kg, weight approx. 7 kg (without accessories), air filling pressure up to 20 psi (1.38 bar), 1 removable central fin and 2 side fins, dimensions transport rucksack 25 x 90 x 28 cm, length aluminium telescopic paddle 158 – 211 cm, weight 0.97 kg, box contents:
BRAST SUP-board "SHARK"
telescopic aluminum paddle (3 pieces). Can be dismantled with T-handle, transport backpack made of durable polyester, high-pressure hand pump with pressure gauge, repair kit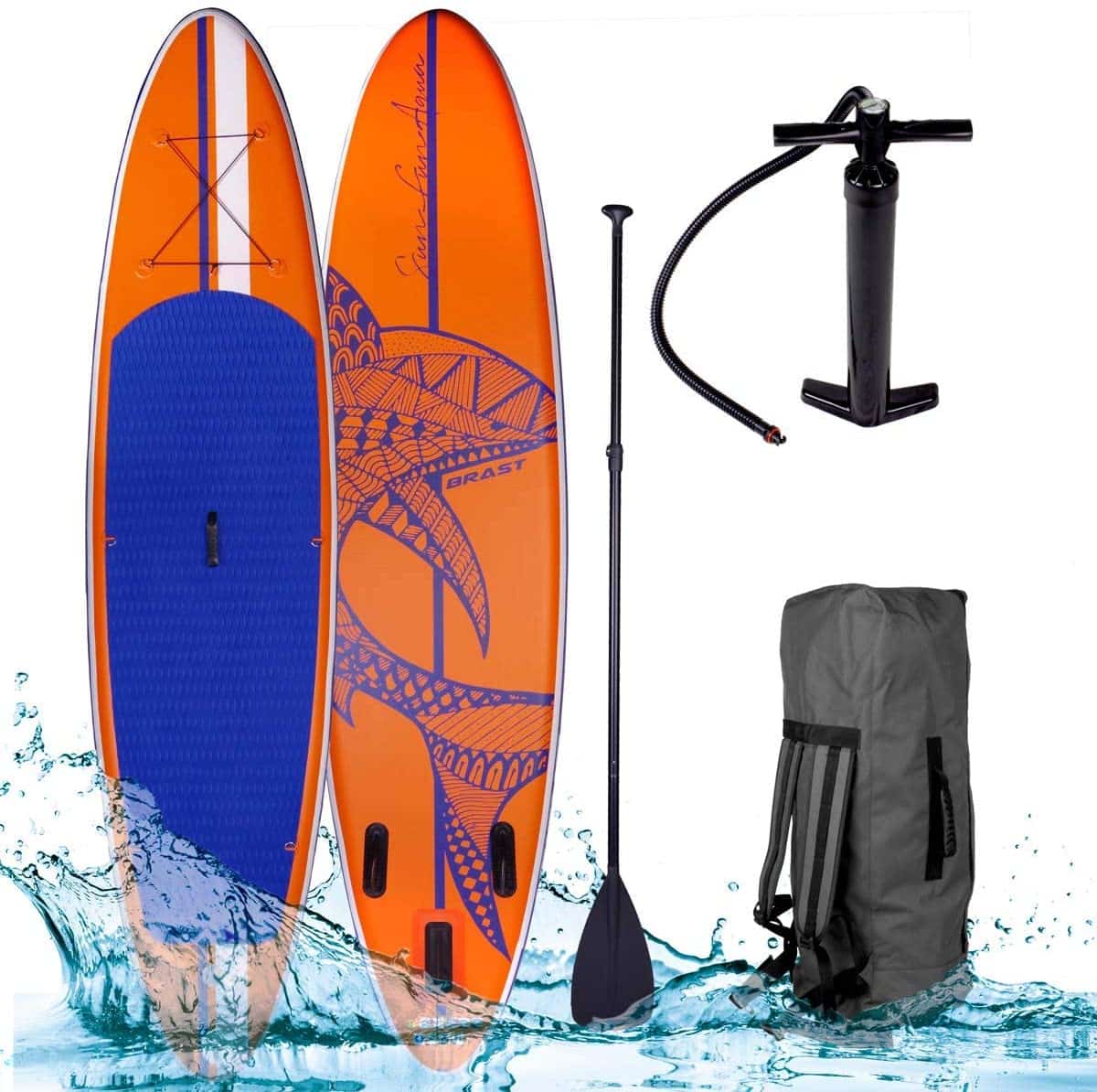 Highlights
320 cm board length with perfect scoop rocker line (buckling front and back) and shape for optimal water displacement and buoyancy.
3-fin system (1 central fin and 2 small fins) for optimal directional stability.
With 76 cm width and 15 cm thickness, high stability, and stiffness, the risk of your board being slightly underwater under load is thus averted.
Very large (176 cm long, up to 62 cm wide) and foot-friendly non-slip surface: The rubberized honeycomb structure provides you with stability and foot comfort.
4 stainless D-rings with elastic luggage straps at the front, so you always have the necessary gear with you.
1 stainless D-ring at the back to attach the board to the shore or for a foot strap (not included, but available from us) for additional safety.
High-pressure screw-on valve for fast inflation and deflation.
Rubber carrying handles are integrated into the board for easy transport, even when inflated.
It fits perfectly in our transport backpack and weighs approx. 12 kg, but when inflated, it can carry people weighing up to 130 kg.
Unpack, inflate, start paddling: In addition to the transport backpack and high-performance floor pump with pressure gauge, an aluminum telescopic paddle is also included.
The aluminum paddle can be disassembled into 3 parts for easy transport and, thanks to its telescopic function, can be infinitely adjusted from 156 cm to 218 cm to suit your individual needs.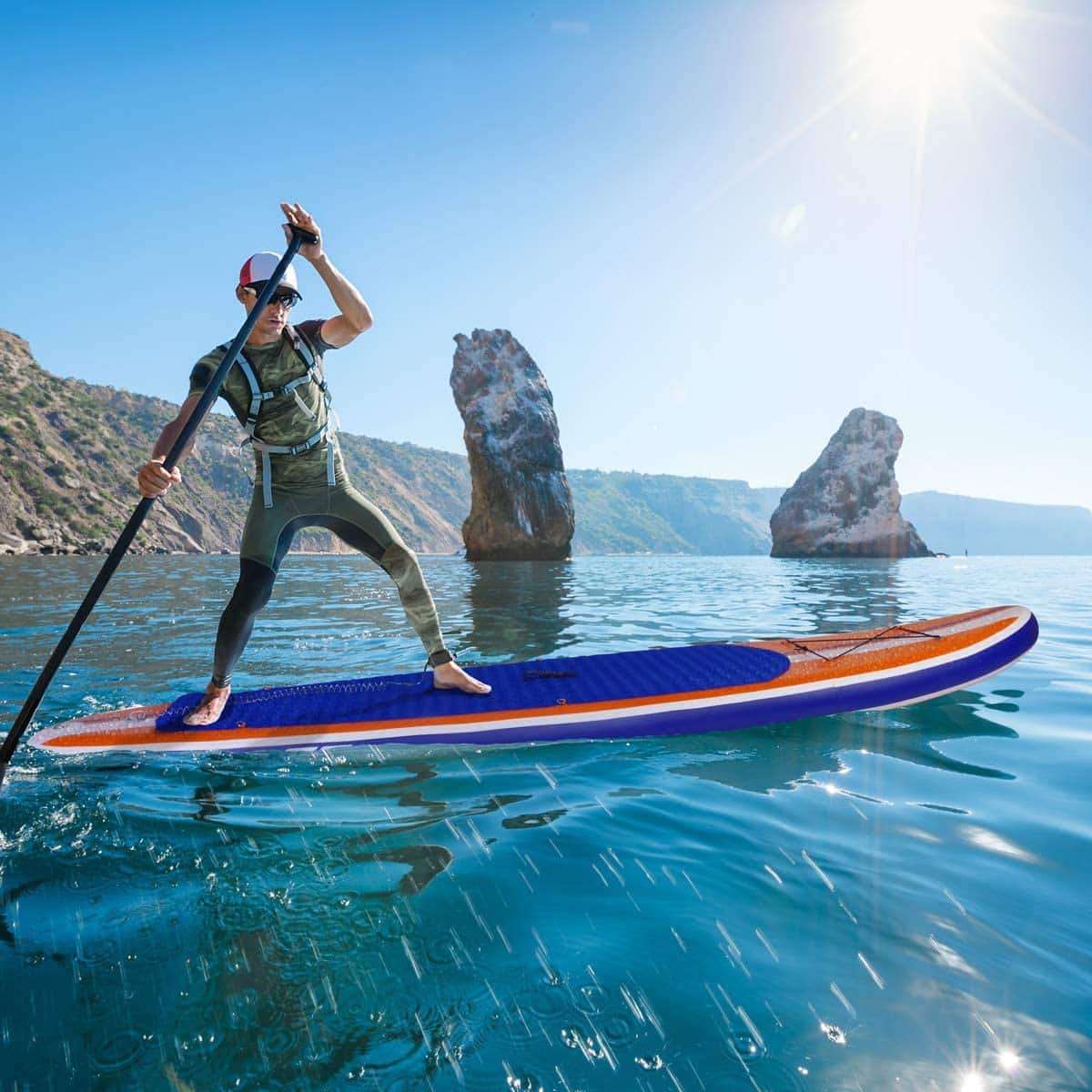 | | |
| --- | --- |
| Part Number | 1004045006 |
| Item Weight | 12 Kg |
| Product Dimensions | 320 x 76 x 15 cm |
| Manufacturer reference | 1004045006 |
| Size | 320 x 76 x 15cm |
| Colour | Blau |
| Maximum Weight Capacity | 130 Kilograms |
| Batteries Included | No |
| Batteries Required | No |
| Weight | 12 Kilograms |
🍀 BRAST SUP Board Stand up Paddle Shark 🍀
Das Besondere:
Unser SUP Board "Shark" ist im Gegensatz zu herkömmlichem Drop-Stitch-Material (d.h. lineare Polyesterfäden), die fast alle Mitbewerber in dieser Preisklasse verwenden, mit der neuesten GEWEBTEN Drop-Stitch-Technologie im Board-Kern ausgestattet; das gewebte Drop-Stitch-Material macht unser BRAST Board dadurch zum einen leichter aber vor allem erheblich steifer als die herkömmliche Art der Herstellung, was zu den wichtigsten Qualitätskriterien bei SUP-Boards gehört
Große und fußfreundliche Anti-Rutsch-Standfläche: Die gummierte Wabenstruktur ermöglicht Ihnen sicheren Stand und Fußkomfort. Gegenüber dem Mitbewerb haben wir diese noch um 20% dicker und damit weicher gemacht!
Wir haben im Heck der Anti-Rutsch-Standfläche ein Kick-Pad integriert, mit dem Sie einfach und schnell Richtungswechsel und Wendemanöver vornehmen können und dabei Ihre Geschwindigkeit beibehalten
Bei unseren Boards reicht es aufgrund der verwendeten Materialien aus, diese mit 15psi (1bar) aufzupumpen, um eine gute Steifigkeit zu erhalten. Sie können jedoch die Steifigkeit noch weiter erhöhen und damit das Fahrverhalten verbessern, indem Sie die Boards auf bis zu 20psi aufpumpen (unsere Boards werden zudem auf Sicherheit getestet und halten auch Werte über 40psi aus, ohne zu platzen)
Technische Daten
Maße: L 300 x B 76 x T 15cm, Tragkraft: SHARK 300cm: 115kg, Gewicht: ca. 7kg (ohne Zubehör, ohne Luft), Luft-Fülldruck: bis 20psi (1,38bar), 1 herausnehmbare Zentral-Finne und 2 Seiten-Finnen , Maße Transportrucksack: 25x90x28cm, Länge Alu-Teleskoppaddel 158 – 211cm, Gewicht 0,97kg, Lieferumfang: BRAST SUP-Board "SHARK", Teleskop-Alu-Paddel (3tlg. zerlegbar) mit T-Handgriff, Transport-Rucksack aus strapazierfähigem Polyester , Hochdruck-Handpumpe mit Manometer, Reparatur-Kit
Goplus Inflatable Stand Up Paddle Board, 6.5" Thick SUP with Carry Bag, Adjustable Paddle, Bottom Fin, Hand Pump, Non-Slip Deck, Leash, Repair Kit (Navy, 10.6 Ft)
as of January 16, 2022 6:59 am
Inflatable Stand Up Paddle Board - 11' Ft. Standup Sup Paddle Board W/ Manual Air Pump, Safety Leash, Paddleboard Repair Kit, Storage / Carry Bag - Sup Paddle Board Inflatable - SereneLife SLSUPB08
5 new from $329.99
1 used from $279.99

as of January 16, 2022 6:59 am
SereneLife Inflatable Stand Up Paddle Board (6 Inches Thick) with Premium SUP Accessories & Carry Bag | Wide Stance, Bottom Fin for Paddling, Surf Control, Non-Slip Deck | Youth & Adult Standing Boat
7 new from $359.00
5 used from $175.85

as of January 16, 2022 6:59 am
streakboard Inflatable Stand Up Paddle Board Surfing SUP Boards, No Slip Deck 6 Inches Thick ISUP Boards with Free SUP Accessories & Backpack, Leash, Paddle and Hand Pump, for All Levels
as of January 16, 2022 6:59 am
GYMAX Stand Up Paddle Board, 6" Thick Inflatable Surfboard SUP Board for Youth and Adult, with Adjustable Paddle, Removable Fin, Pump, Repair Kit, Carry Bag (Blue, 10FT)
as of January 16, 2022 6:59 am
Wavestorm-15th Anniversary Edition Soft Top Foam 8ft Surfboard | Surfboard for Beginners and All Surfing Levels | Complete Board Set Including Accessories | Leash and Multiple Fin Options
2 new from $282.98
Free shipping
as of January 16, 2022 6:59 am
THURSO SURF Aero 7 ft Soft Top Surfboard Foam Surfboard Package Includes Three Fins Double Stainless Steel Swivel Leash EPS Core IXPE Deck HDPE Slick Bottom Built in Non Slip Deck Grip
out of stock
as of January 16, 2022 6:59 am
Aqua Plus 10ft6inx33inx6in Inflatable SUP for All Skill Levels Stand Up Paddle Board, Adjustable Paddle,Double Action Pump,ISUP Backpack, Leash, Shoulder Strap,Youth & Adult Inflatable Paddle Board
2 used from $190.43
Free shipping
as of January 16, 2022 6:59 am
Hurley Advantage 10' 6" Stand Up Paddle Board with Hikeable Backpack, Air Pump, Adjustable Floating Paddle, Coiled Leash, Fin & Repair Kit (Outsider)
3 new from $749.99
Free shipping
as of January 16, 2022 6:59 am
Roc Inflatable Stand Up Paddle Boards W Free Premium SUP Accessories & Backpack, Non-Slip Deck Bonus Waterproof Bag, Leash, Paddle and Hand Pump (Black)
6 used from $238.32
Free shipping
as of January 16, 2022 6:59 am