This is a perfect example if you're looking for an affordable set that will still do a great job.
This AQUAPLANET 10ft ALLROUND Paddleboard review discusses technical specs, what the package includes, and much more. 
Features Aquaplanet Stand Up Paddleboard kit.
This set includes a pump, a floating paddle, a repair kit, a rucksack, a leash, and four kayak seat rings.
For adventurous people, the fact that you can transform this paddleboard into a kayak is excellent news.
This set is perfect for people of any age: kids and teens, along with women who enjoy this board's design.
It's a colorful design but also minimalistic.
The size is perfect. It's the one most people go for, and you can use it for yoga, kayaking, and similar things.
It's a great thing that this board has a diamond-cut deck pad because it is comfortable to use.
Some people like to use the bungee storage area to store backpacks with food, and they go on a comfortable cruise on the sea.
Read next – AQUAPLANET MAX stand-up paddleboard.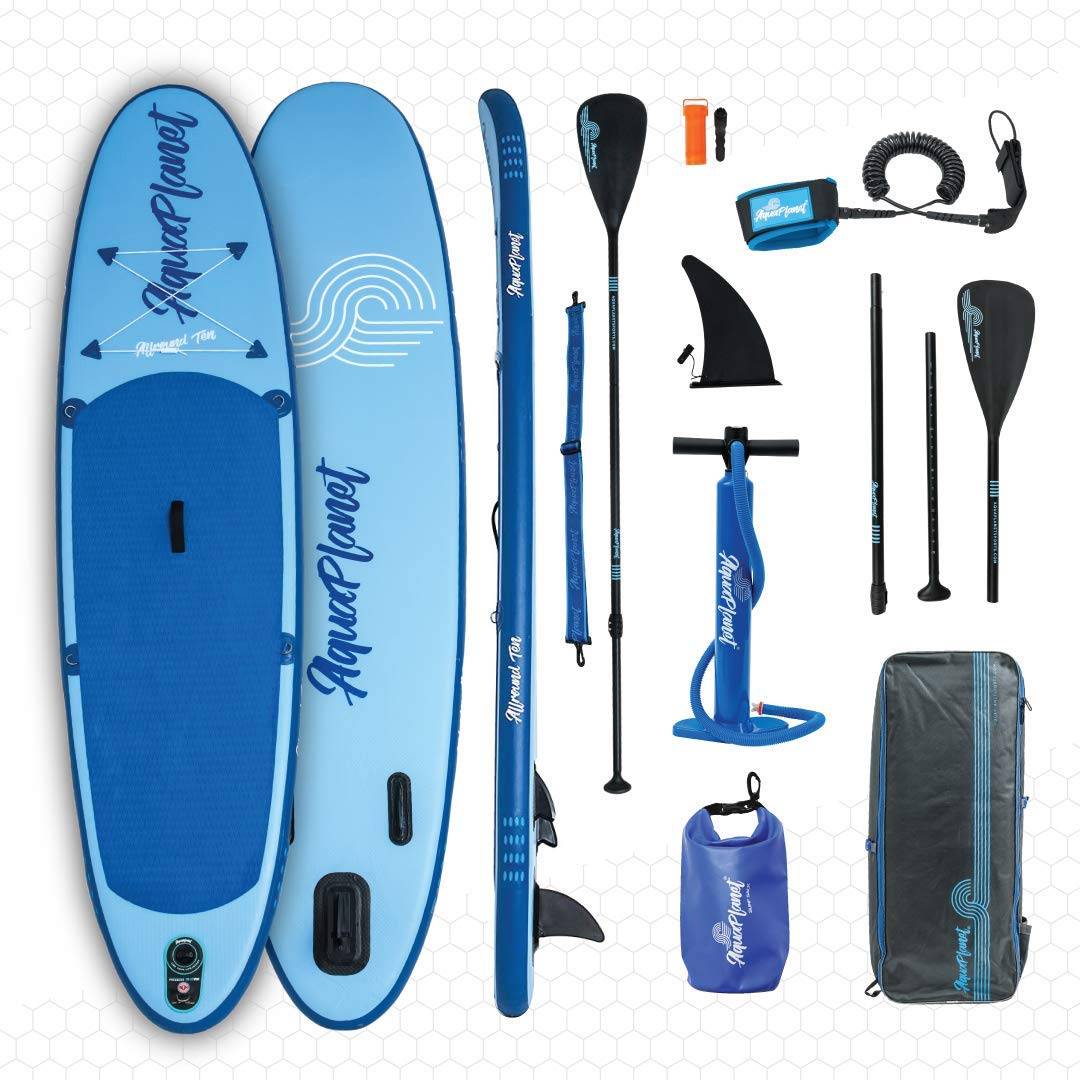 The fins are adjustable so that you can personalize them to your liking.
Beginners may want to use all three fins to improve their balance, but professionals choose the number.
Read next – Aquaplanet All-Round SUP Review
The fewer fins you have, the less stability you have, but you'll experience more control.
According to the reviews, the manufacturer says that the sup board carries up to 100 kilos, but people over 120 use it. It's up to you to decide whether you would risk it.
You may want to remember that the pump you will get, according to those who wrote reviews after using the set, is not a high-quality pump, and you'll get exhausted.
It may be better to use a car pump or an automatic pump.
Read Next – Multi-Person Paddle Board Costco
Aquaplanet Max SUP Review
Read next – YASKA Allround Inflatable Stand-Up Paddle Boards
aquaplanet 10ft 6" x 15cm PACE Stand Up Paddleboard - Incl: SUP, Hand Air Pump w/Pressure Gauge, Adjustable Aluminum Floating Paddle, Repair Kit, Rucksack, Coiled Leash & 4 Kayak Seat Ring Fittings
as of September 27, 2023 6:59 pm
aquaplanet 10ft Allround Paddle Board - Beginner's Kit. Air Pump with Pressure Gauge,Adjustable Aluminium Floating Paddle,Repair Kit,Heavy Duty Carry Rucksack & Premium Leash & 4 Kayak Seat Rings
as of September 27, 2023 6:59 pm
aquaplanet 10ft 6" x 15cm MAX Stand Up Paddle Board kit. Air Pump with Pressure Gauge,Adjustable Aluminium Floating Paddle, Repair Kit,Heavy Duty Rucksack,Premium Leash & 4 Kayak Seat Rings
as of September 27, 2023 6:59 pm
Hydro-Force Aqua Journey Inflatable Stand Up Paddle Board, 9' x 30" x 6" | Inflatable SUP for Adults & Kids | Complete Kit Includes Adjustable Aluminum Paddle, Hand Pump, Travel Bag, Surf Leash
out of stock
as of September 27, 2023 6:59 pm
Goplus Inflatable Stand Up Paddle Board, 6" Thick SUP with Accessory Pack, Adjustable Paddle, Carry Bag, Bottom Fin, Hand Pump, Non-Slip Deck, Leash, Repair Kit (Yellow+Blue, 11FT)
as of September 27, 2023 6:59 pm
Goplus Inflatable Stand Up Paddle Board, 6.5" Thick SUP with Carry Bag, Adjustable Paddle, Bottom Fin, Hand Pump, Non-Slip Deck, Leash, Repair Kit (Pink, 10.6 Ft)
as of September 27, 2023 6:59 pm
Inflatable Stand Up Paddle Board - 11' Ft. Standup Sup Paddle Board W/ Manual Air Pump, Safety Leash, Paddleboard Repair Kit, Storage / Carry Bag - Sup Paddle Board Inflatable - SereneLife SLSUPB08
2 new from $259.99
5 used from $199.67

as of September 27, 2023 6:59 pm
Murtisol Inflatable Paddle Board Stand Up Paddle Lake Blue
out of stock
as of September 27, 2023 6:59 pm
Read Next – Tubes of Repair PVC Glue for Inflatable Boat