In this Hydro-Force inflatable paddle board review, we will give you essential info before you get this brilliant board.
The hydro-Force paddleboard is excellent for those who enjoy waves and rougher seas. The board offers excellent stability, which is very important in this case, and looks good too.
Features Hydro-Force from Bestway
Hydro-Force inflatable paddleboard has two side fins and a removable middle fin. This is great for beginners and those who still haven't found a perfectly stable way since the fins do a great job keeping the paddle safe and sound.
The drop stitch material is excellent for long-term use because it's durable and won't break or crack. It's important to know that stitching plays a significant part too!
You can quickly inflate and deflate the board since it isn't that big, but still, many people like to use a car pump because it can be pretty exhausting to inflate it yourself.
If you decide to inflate the board yourself, you can use the pump that comes in the set you'll be given with the board.
Read Next – Bestway Hydro-Force Wave Edge Review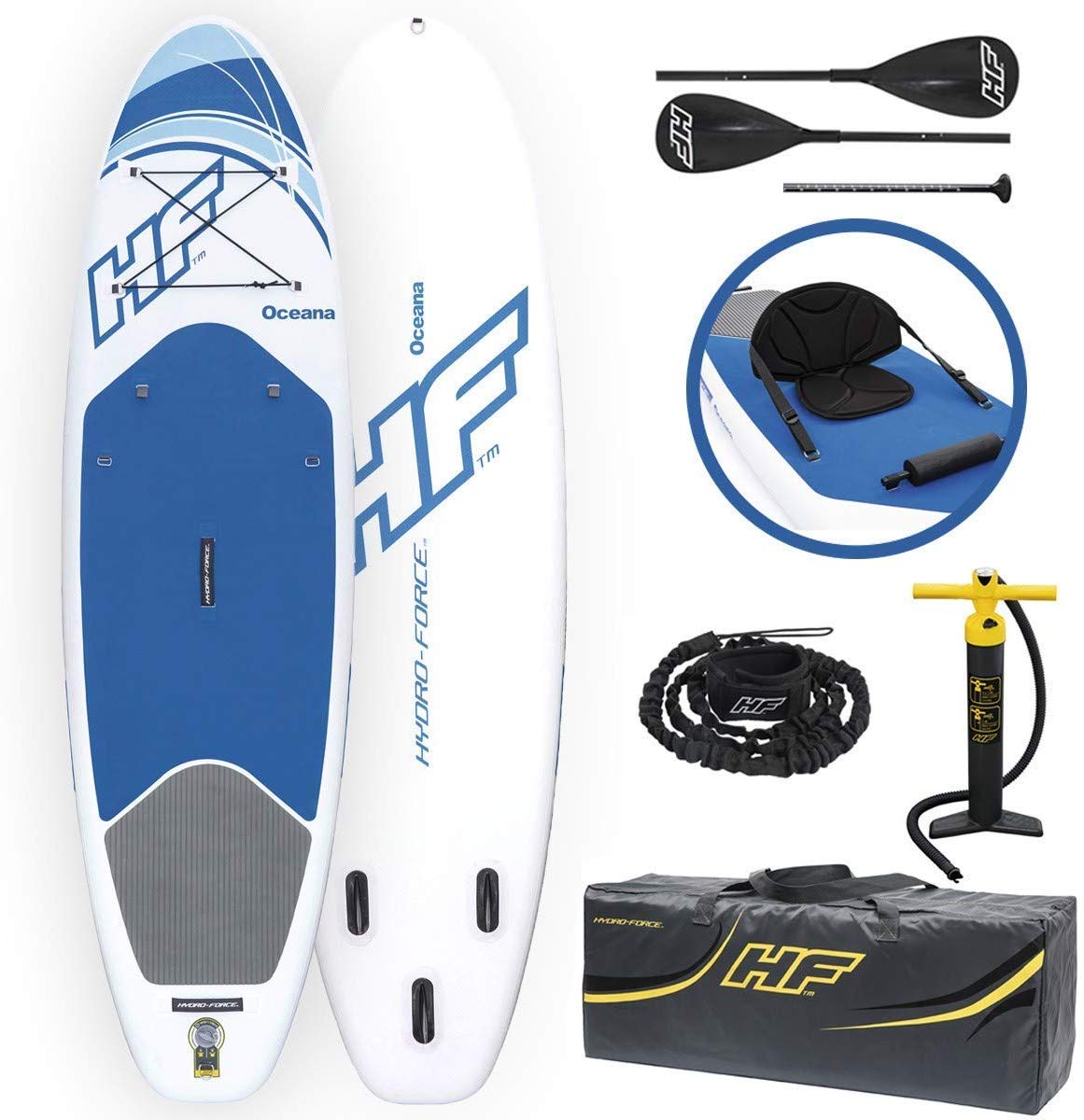 The anti-slip pad makes it safe for those who like to do yoga and those who enjoy bringing their pets along.
With the board (and the pump), you are also getting a bag that makes the board portable when deflated and a paddle (it's not that sturdy, but it's excellent for beginners).
People in the reviews claim you should watch out if you're over 90 kilos (180 lbs) since this board doesn't do well with significant weights.
It comes with simple instructions, and you can quickly inflate it.
This particular board is pretty cheap compared to others since the usual price for a SUP board with accessories starts at 300$.
Read Next – Bestway Hydro-Force Inflatable Stand-up Paddle Board Review
Bestway Hydro-Force Oceana Paddle Board
Read Next – BESTWAY Hydro-Force Aqua Journey Review
How to Use the Hydro-Force Bestway Inflatable Paddle Board
Before you start using the Hydro-Force Bestway Inflatable Paddle Board, ensure it's fully inflated and all equipment securely attached. Once you're on the water, place your paddle in the center of the board and use it to push yourself forward.
To steer, paddle on one side or another. You can also lean in different directions to turn more quickly. When standing up, keep your feet shoulder-width apart for balance and stability.
If you're a beginner, starting in calm waters is best until you get used to balancing on the board. As you gain confidence, try paddling through waves or practicing yoga poses!
When finished with your ride, remove any accessories from the board before deflating it. Roll up the board tightly and store it in its bag until next time.
Using an inflatable paddleboard like the Hydro-Force Bestway is a fun way to explore new bodies of water while getting some exercise simultaneously!
Bestway Hydro-Force 10' x 33" x 6" Oceana
2 used from $250.00

as of September 20, 2023 1:25 pm
Bestway Hydro Force Kahawai 10 Foot Inflatable SUP Paddle Board Package w/Pump
2 new from $234.99

as of September 20, 2023 1:25 pm
Pros and Cons of the Hydro-Force Bestway Inflatable Paddle Board
The Hydro-Force Bestway Inflatable Paddle Board is an excellent investment for anyone who wants to enjoy paddle boarding without the hassle of transporting a bulky hardboard. However, like any product, it has its pros and cons.
One advantage of this inflatable paddle board is its portability. It's lightweight and easy to store, making it perfect for those with limited storage space or who want to take their board on the go. The board also has a convenient carrying bag, making transportation even more accessible.
Another pro of the Hydro-Force Bestway Inflatable Paddle Board is its durability. Made from high-quality materials, this board can withstand wear and tear, giving you plenty of paddling adventures in the years ahead.
However, one potential downside is that inflating it can be time-consuming if you don't have an electric pump. You may need to set aside around 15-20 minutes just for inflation before hitting the water.
Additionally, some may find that this inflatable paddleboard doesn't offer as much stability as a traditional hardboard due to its inflatable nature. However, with proper inflation and balance techniques, while standing on the board, most users shouldn't have any issues regarding stability.
Despite these minor drawbacks, overall, owning a Hydro-Force Bestway Inflatable Paddle Board has more pros than cons – especially considering how affordable they are compared to traditional hardboards!
Conclusion
After exploring the Hydro-Force Bestway Inflatable Paddle Board, it's clear that this board is an excellent option for those seeking a durable and convenient inflatable paddle board.
With its easy-to-inflate design, sturdy material construction, and versatile use in various water conditions, you can't go wrong with this paddle board.
While there may be some downsides to using an inflatable board, such as limited speed or maneuverability compared to traditional hardboards, the convenience of portability and storage makes up for it.
The Hydro-Force Bestway Inflatable Paddle Board is an excellent investment for anyone who loves exploring calm waters without carrying bulky equipment.
Bestway Hydro-Force Oceana Inflatable Stand Up Paddle Board | Inflatable SUP for Adults and Kids | Converts Into Kayak | Starter Kit Includes Oar, Hand Pump, Travel Bag, Surf Leash, Fins
out of stock
as of September 20, 2023 1:25 pm
Bestway Hydro-Force 10' x 33" x 6" Oceana
2 used from $250.00

as of September 20, 2023 1:25 pm
Bestway Hydro Force Kahawai 10 Foot Inflatable SUP Paddle Board Package w/Pump
2 new from $234.99

as of September 20, 2023 1:25 pm
Bestway Hydro Force Wave Edge 122 x 27 Inch Inflatable Stand Up Paddle Board with Non-Slip Deck, Aluminum Oar, Inflation Pump, Repair Kit, and SUP Travel Bag, Green
1 used from $167.80

as of September 20, 2023 1:25 pm
Bestway Hydro-Force White Cap Inflatable SUP Stand Up Paddle Board (2 Pack)
2 new from $450.00

as of September 20, 2023 1:25 pm
Bestway Hydro-Force White Cap Inflatable SUP Stand Up Paddle Board (3 Pack)
as of September 20, 2023 1:25 pm