Are you planning to go paddling in the open Ocean?
If yes, you must be thinking of enjoying a nice ride along the coast, paddling in the rolling wave that brings endless happiness worth noting.
But do you know how hard it is to paddle through the strong current of the Ocean?
So, before you jump into the bay for paddling or kayaking, you must practice in a calm lake first, and of course, you need to have the best paddleboard with you.
That is why we created this content to inform you about ocean paddleboarding. Let's have a look at it! But before you know which board is the best for paddleboarding in the Ocean, let's understand the types first.
Types of Paddle Boards
When trying to know which paddleboard is perfect for your tour of the Ocean, it is essential to know the types first. So, here are the different types of paddleboards. We have divided the types by
Construction and
Activities
Types by Construction
Under type by construction, it has five different styles. These are…
Hard Epoxy/Solid Board or Composite Board
This is one of the most common types of paddleboards. The board is made of solid material first, and then a fiberglass cloth or Carbon fiber material is laid over that board, and then epoxy resin is poured as the final touch.
Sometimes manufacturer uses a wood veneer as the last layer.
Inflatable Paddleboard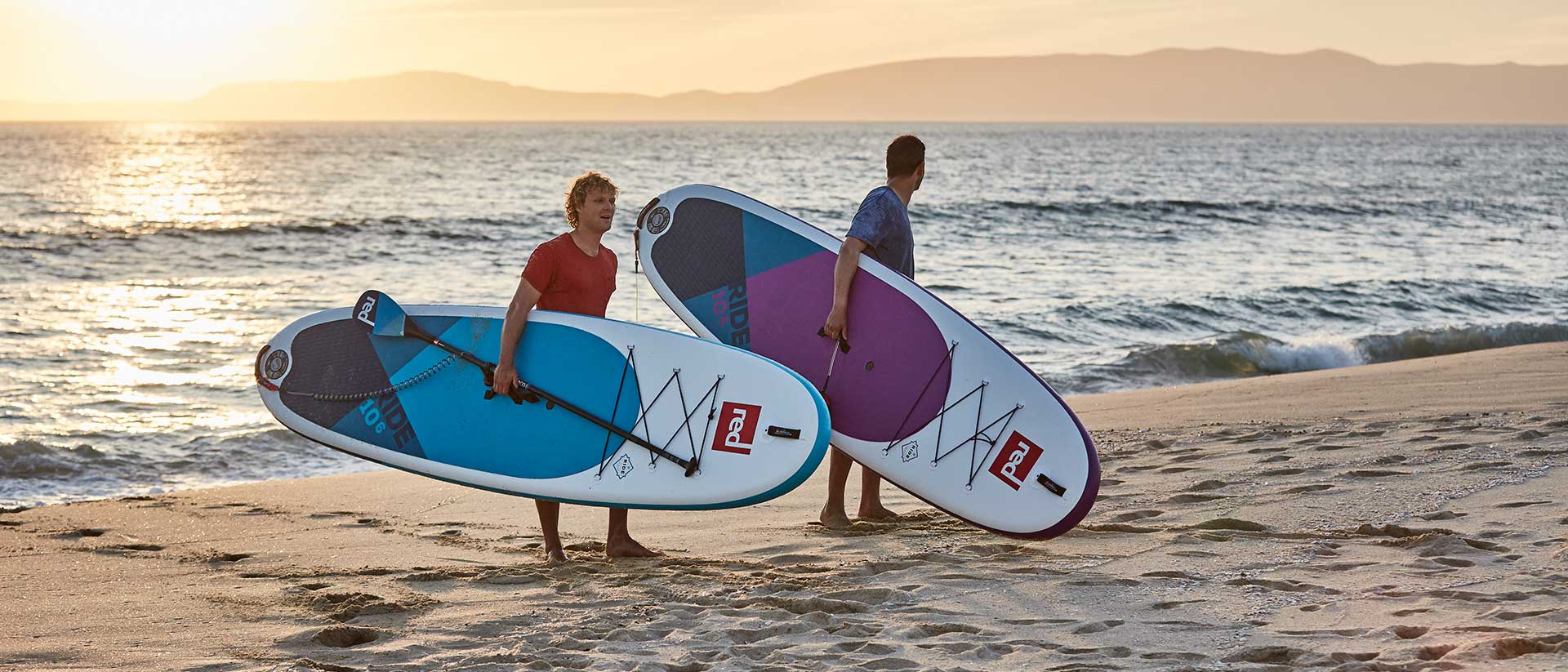 Inflatable paddleboards or inflatable SUP is among the most widespread paddleboard nowadays. This inflatable board is compact and easy to store and transport. They can also be taken to the Pacific Ocean for stand-up paddleboarding.
Inflatable SUP boards perform well. However, these aren't as good as the hard paddleboards or solid boards for speed. They are almost 6% slow compared to a rigid paddleboard of the same size and shape.
Read Next – Inflatable VS Hardshell Stand-Up Paddleboard
Foam Paddleboard
Foam paddleboards (soft tops or foamies) are low-cost boards that are good boards for kids and beginners, general cruising, SUP yoga, etc.
Manufacturers inject EPS Foam into a mold to prepare this type of board.
Read Next – All You Need To Know About Performer 11 Paddle Board
Plastic SUP
Plastic paddleboards are among the cheapest types of SUPs. While they do not cost much, they are not durable and stable.
You will get exactly what you paid for in their unfortunate performance.
Read Next – Lifetime Horizon Paddle Board 100 Hardshell SUP Review
Types by Activity
There are quite a few options available for activities with paddleboards. Let's know these types below…
All-Around Paddleboard
All-around paddleboards are a "jack of all trades, but master of none." These are multipurpose boards but are not suitable for any particular activity.
So, if you want to concentrate on a single activity, you better buy a SUP board designed for that particular activity.
Read Next – Tower Yachtsman Inflatable Paddle Board 10'4″ Review
Touring Paddleboard
Touring stand-up paddleboards are made for covering long distances while paddling. This type of board combines the best features of a race board and an all-around.
Fishing Paddleboard
Fishing paddleboards are wide and stable. However, as they are wide, they tend to have less speed.
SUP Yoga
The SUP yoga paddleboards are very stable and comprehensive. They frequently have a softer, more enormous deck. The Yoga paddleboards are also family-friendly.
Perfect for carrying children or a pet, slow cruising, and fishing. Just like fishing paddleboards, these are slow-speed boards.
Read Next – An Honest Red Paddle Sports SUP Review
Racing Paddleboard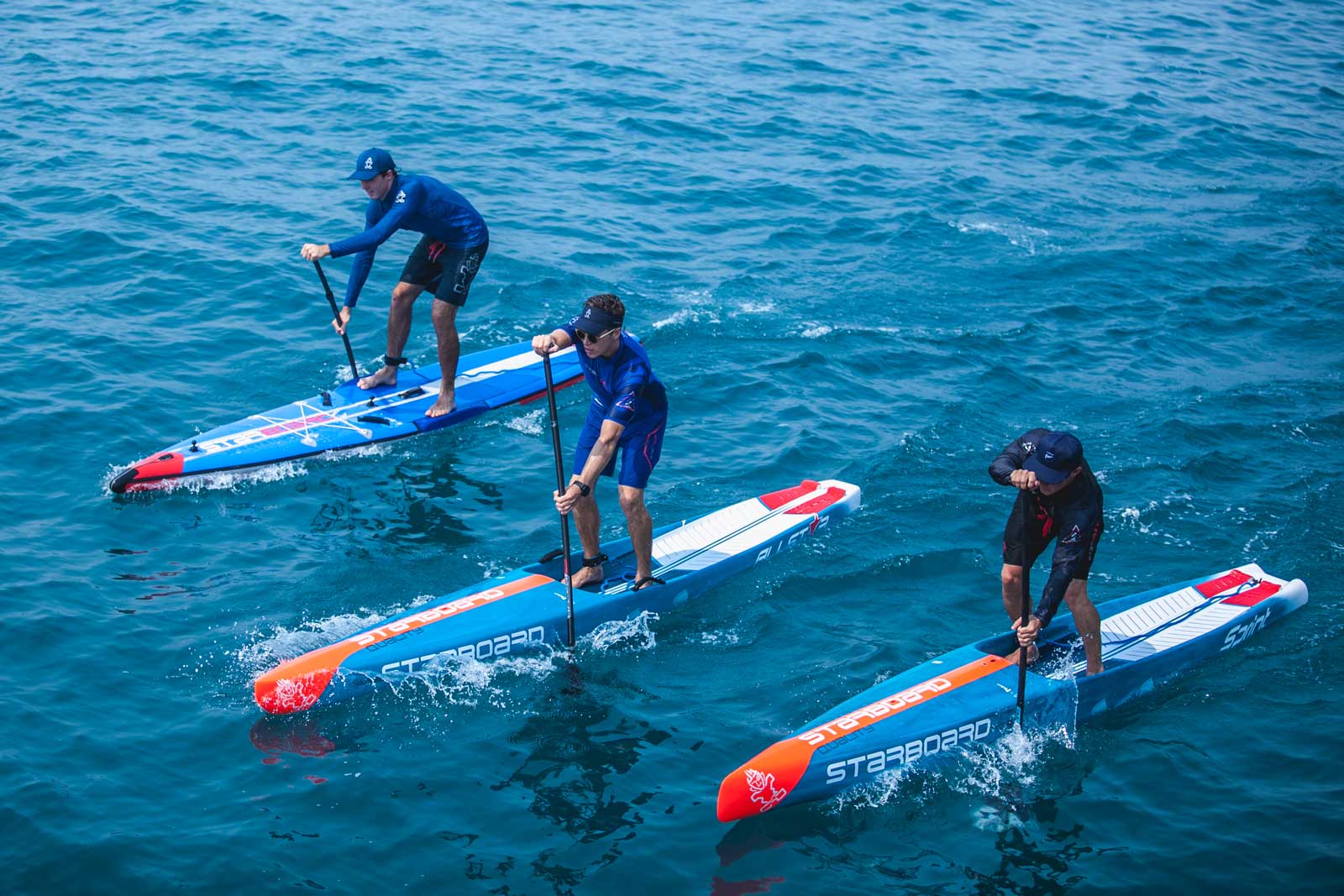 Racing paddle boards are like touring boards to some extent.
They're very long in size with a displacement hull. As racing paddleboards are narrow, they're not very stable. Thus, not suitable for ocean paddleboarding.
Read Next – Best Touring Paddle Boards Our Top Picks
Surfing Paddleboard
Surfing paddleboards are shorter in length than most paddleboards. They come with a planning hull and a pointed nose.
Go for a hardboard over an Inflatable stand-up paddleboard if you're serious about surfing.
Whitewater Paddleboard
River running paddleboards are compact, short paddleboards. Inflatable boards are perfect for lake paddle boarding. The extra flex and durability make inflatables the single choice for running rivers, local lakes, calm lakes, etc.
What Is The Best SUP for Ocean Paddle Boarding?
The best board for ocean paddling is a solid board. Taking a solid touring board for your ocean paddleboarding will be better.
Unlike some inflatable paddle boards, solid or hard paddleboards provide more stability. The right panel can handle weather conditions, rough waters, and more weight capacity for long distances.
The paddleboarder's entry point level should avoid going for long expeditions in the Ocean without a life vest and a few extra gears. This is because oceans tend to have strong currents.
Read NEXT — Best Open Ocean SUP
Top 3 Ocean Paddle Board For In The Ocean
There are many options available when it comes to paddling in the Ocean. These options can be confusing. That is why we made a list of the top 3 best paddleboards for paddling in the Ocean.
iROCKER All-Around Inflatable SUP 10.'
The iROCKER All-Around 10′ Inflatable stand-up paddleboard comes with a versatile design. This board features a wide surface to make it stable. Furthermore, this model from iRocker has a maximum weight capacity of 370 lbs!
It features a high-quality three-layer composite PVC structure with a high-density drop-stitch method. The iROCKER All-Around 10′ weighs about 24 lbs, and this board inflates in 15 PSI.
At a glimpse, the iSUP features a front bungee cargo area, a front carry handle, four safety handles, and two action mounts near its nose area. There are 20 D-rings on the board for attaching your belongings.
Overall, this is a good board for paddling the Ocean, lake, and river with excellent stability and durability.
PROS:
Stable
Versatile
Excellent carry capacity
Durable
Beginner-friendly
CONS:
No included US fin box
iROCKER All-Around Inflatable Stand Up Paddle Board, Extremely Stable 11' Long x 32" Wide x 6" Thick Premium SUP with Roller Bag, Carbon Paddle, Pump, Leash, Fins & Repair Kit, Orange
out of stock
as of September 18, 2023 3:51 am
Read Next – Bluefin Stand-Up Paddle Board Review
Bluefin Cruise SUP 12′
The Bluefin Cruise SUP 12′ is an excellent ocean paddleboarding with superb durability and stability. It's a suitable board for long-distance water sports adventures and paddling. The paddleboard comes wholly equipped with almost everything!
Bluefin Cruise SUP is hard enough to withstand 28 PSI. It features the ProWeave drop-stitch method with a 1000 Denier ESL PVC structure. As soon as inflated, the paddleboard remains stable and rigid.
Bluefin Cruise package features an adjustable 3-piece fiberglass paddle, coiled safety leash, kayak seat conversion kit, repair kit, backpack, waterproof phone pouch, and dual-action hand pump.
It's multipurpose with a removable 8 inches smart-lock central fin. 2 smaller side fins are also there to help you keep the paddleboard stable in the rough waters. The paddle board comes with three handles to make it easier to carry.
PROS:
Stable
Durable
Highly maneuverable
Versatile
CONS:
Bluefin SUP Stand Up Inflatable Paddle Board with Kayak Conversion Kit | Ultimate iSUP Kayak Bundle (10'8" and 12'0") (Blue 15')
as of September 18, 2023 3:51 am
Read Next – Best Sup Board Roof Rack
Atoll 11′ Foot Inflatable SUP
Atoll 11′ SUP is very lightweight and consequently easily portable. In addition to being travel-worthy, it's a sturdy paddleboard with exceptional stability and a max weight capacity of 350 lbs!
The board features double-layered ultralight PVC construction. It comes with a laminated layer of military-grade PVC material and a drop-stitch method; the iSUP from Atoll can endure some damage while paddling in the Ocean.
The board has 15 D-rings, two carry handles, and one front bungee storage space.
The package features a Bravo high-pressure double-action hand pump, adjustable aluminum paddle (nylon blade), coiled leash, and travel backpack.
PROS:
Excellent cargo capacity
Portable
Stable
Durable
CONS:
Atoll 11' Foot Inflatable Stand Up Paddle Board (6 Inches Thick, 32 inches Wide) ISUP, Bravo Hand Pump and 3 Piece Paddle, Travel Backpack and Accessories New Leash Included (Aqua Marine)
as of September 18, 2023 3:51 am
Read Next – Zray E11 Combo Inflatable Sup Board Stand-Up Review
BOTTOM LINE
Paddleboarding on the Ocean is memorable and exciting only if you use a suitable stand-up paddleboard. The attraction of this ever-increasing water sport is enjoyed better on the Ocean.
But to handle the strong waves of the Ocean and its several surprises (weather conditions, tides, etc.), a quality stand-up paddleboard is a must. So, pick one among the above-mentioned best paddleboard to have a fun time!
FAQ
Q. Is it safe to paddleboard in the Ocean?
A. YES, but only if you have the right board, gear, support, and of course, experience to stay safe in the strong wave of the Ocean. It will be better if you know swimming. Although the most common bodies of water are rivers or lakes, a few people choose the Ocean for this fun activity.
Q. Are inflatable paddle boards good in the Ocean?
A. YES, but make sure you take only a strong, stable, and durable paddleboard to the Ocean.
Read Next – Bluefin Cruise Carbon – Outdoor Gear Lab Inflatable SUP