Aquaplanet is one of the most popular SUP inflatable paddle boards that are affordable on the market.
If you are unsure if you will love paddleboarding or purchase it as a gift, this is the paddleboard you should search for.
If you're looking for something practical and cheap, this is the model you are looking for. It is a great deal that many people like to use when beginning or giving their kids.
With this Aquaplanet SUP inflatable paddleboard, you will get everything you might need while paddling. From assembling and transportation to the safety elements that will keep you safe.
This set includes a great board that we'll talk a bit more about, an air pump, a paddle (aluminum, which means it floats), a repair kit, a rucksack, a premium leash, four kayak seat rings).
You can easily convert your SUP inflatable paddleboard into a comfortable kayak with them. Because of that, the paddleboard is an excellent addition with all possibilities it gives you.
Features Aquaplanet 10ft All-Round SUP
Aquaplanet is the famous SUP inflatable paddle board manufacturer in the United Kingdom. Everyone can find one for themselves regardless of their skills or age, from the cheap to the elite paddleboards.
If you are looking for a paddleboard that will fit the whole family, this Aquplanet model is a perfect one. The size, width, length, and weight determine the carrying capacity of the SUP inflatable paddleboard.
The board itself is great for people of any age and experience. You can be a beginner/pro, child/adult, woman/man. The whole family can enjoy the paddling on this board. Due to its carrying capacity and width, adults will feel safe and secure on the paddleboard. Adults and kids can fit on it without problems.
Due to specifications, every beginner will feel safe and secure while learning, and all skilled paddlers will find it good enough for paddling experience. You'll have a great experience anyway.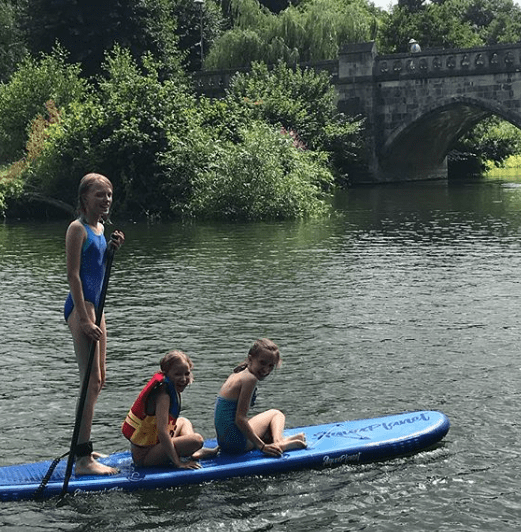 2 in 1 convertible SUP inflatable paddle board – kayak
This paddleboard with attached kayak seats becomes a kayak in a few moments. With those simple additions, your SUP inflatable paddleboard becomes a kayak. You can easily attach the kayak seat to the rings.
With this Aquaplanet model, you get twice the fun in the simple, lightweight set for an affordable price.
For adventurous people, the fact that you can transform this paddleboard into a kayak is some excellent news.
Dimensions and weight
What makes this Aquaplanet Sup inflatable paddleboard the regular size one. This paddleboard is in the standard dimensions. The board is a typical 10ft one. WIts standard size fits the whole family regardless of age and skills.
Some paddleboards are not working well on salty or freshwater, but this one is made of high-quality material. Because of that, you can use it in any water condition without getting damaged. Its preferences will work well on all water types: lakes, seas, oceans, and rivers.
The board's weight is 10 kilos, which is one of the main reasons it is popular among young people and women who enjoy a nice, portable board. With only 10 kilograms, it is suitable for kids and adults to use. When folded and packed in the backpack, it is simple to store or carry around. The size is perfect. It's the one most people go for, and you can use it for yoga, kayaking, and similar things.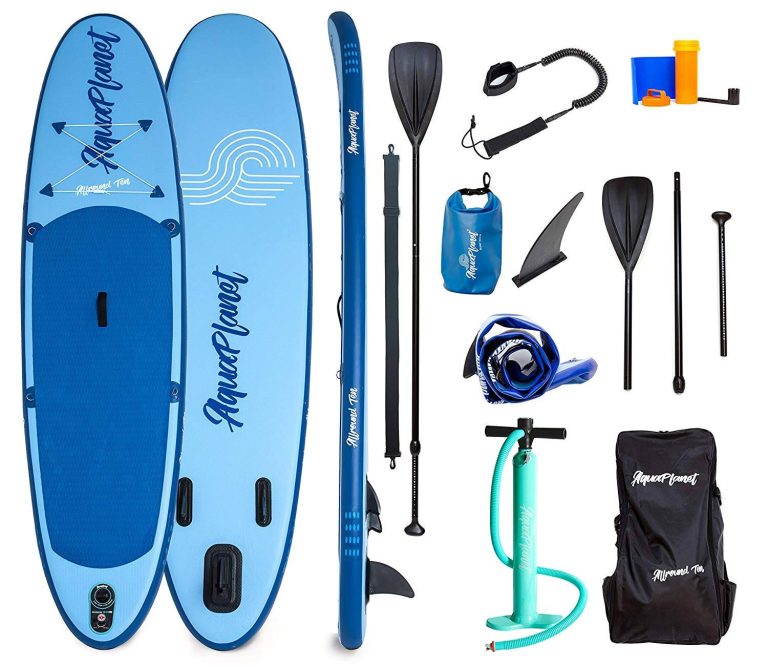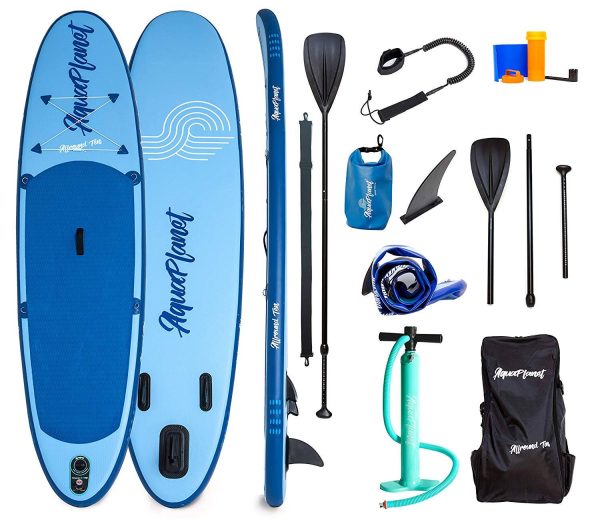 Shape
The deck pad is a diamond cut, and it's very comfortable, which makes it an excellent choice for those who like to sunbathe between the paddling.
Diamond shape provides extra space on the front part of the SUP inflatable paddleboard, giving you additional space for carrying essentials. With D rings and bungee cord, you have space to store stuff without them moving around.
A diamond-shaped paddleboard is the best choice if you do other paddleboard activities.
Read Next – Best Paddle Board With Motor Available in 2022
Storage
The bungee storage area is a great way to keep your stuff safe and sound while on the sea. If you want to spend a day on the water, use storage on the paddleboard. D-rings and bungee cord make stable storage to take all of your stuff with you.
You can take everything you need for yoga, fishing, picnic on the water, or anything else with you on the paddleboard.
It's always essential to have some food around, especially if you like to cruise.
aquaplanet 10ft 6" x 15cm PACE Stand Up Paddleboard - Incl: SUP, Hand Air Pump w/Pressure Gauge, Adjustable Aluminum Floating Paddle, Repair Kit, Rucksack, Coiled Leash & 4 Kayak Seat Ring Fittings
4 new from $269.99
2 used from $142.93
Free shipping
as of January 29, 2023 6:34 pm
Read next – AQUAPLANET MAX Stand-up paddleboard.
Fins
The fins are adjustable, which is great for personalizing the boarding experience. Beginners like to use three fins that help them to achieve stability. Those who have experience can use just one fin, two fins, or no fins, depending on how confident they are. You won't be as stable without the central one, but you'll have more control.
The fins are adjustable so that you can personalize them to your liking. Beginners may want to use all three fins to improve their balance, but professionals choose the number.
The fewer fins you have, the less stability you have, but you'll experience more control.
According to the reviews, the manufacturer says that the sup board carries up to 100 kilos, but people with over 120 use it. It's up to you to decide you would risk it or not.
Read next – Aqua Marina Breeze Paddle Board Review.
Transportation and backpack
Aquaplanet SUP inflatable paddleboards are an excellent addition for every family. SUPs are the perfect addition if you want to spend some quality time together. Spend time outdoors on the water with your kids, family, and friends.
If your dogs aren't afraid of the water, you can take them while paddling.
Inflatable paddleboards are great because you can inflate and deflate them depending on your needs. When it is reduced, you can easily fold them and put them in the backpack that comes in the Aquaplanet SUP set.
aquaplanet 10ft Allround Paddle Board - Beginner's Kit. Air Pump with Pressure Gauge,Adjustable Aluminium Floating Paddle,Repair Kit,Heavy Duty Carry Rucksack & Premium Leash & 4 Kayak Seat Rings
4 new from $269.99
Free shipping
as of January 29, 2023 6:34 pm
Aquaplanet SUP set
In the set with the paddleboard, you will get everything you need for an excellent stand-up paddling experience. You will get a hand pump, repair kit, and backpack. In addition to that, you will get a safety coil leash and a set of three fins.
When you purchase this Aquaplanet SUP inflatable paddleboard set, you will get everything you need for a SUP experience without buying additional tools and stuff.
aquaplanet 10ft 6" x 15cm MAX Stand Up Paddle Board kit. Air Pump with Pressure Gauge,Adjustable Aluminium Floating Paddle, Repair Kit,Heavy Duty Rucksack,Premium Leash & 4 Kayak Seat Rings
as of January 29, 2023 6:34 pm
Read Next – Retrospec Weekender review from Ten Toes Paddle Board
Water activities
Paddling is an activity that gives you many benefits for your mental and physical health. You can use it for boarding, yoga, fitness, racing, or even kayaking! With additional seating, you will transform your paddleboard into a kayak in just a few moments.
Yoga and fitness are possible on the paddleboard because the diamond shape gives you additional space on the board.
Price
If you're looking for an affordable set yet will still do a great job, Aquaplanet 10ft iSUP is a perfect example. This is the best inflatable SUP paddleboard in the given price range.
If you are looking for the best quality for the amount of money you would like to spend, look for this Aquaplanet SUP paddleboard inflatable set.
Read NEXT – Aquaplanet PACE SUP Package
Stand Up Paddleboard Unboxing – Aquaplanet 10′ Allround Inflatable SUP
Read next – Shaofu 10ft Inflatable Paddle Board Review
Summary
This set is perfect for people of any age: kids and teens, along with women who enjoy the design of this board. It's a colorful design but also minimalistic. It's a great thing that this board has a diamond-cut deck pad because it is comfortable to use.
Some people like to use the bungee storage area to store backpacks with food, and they go on a comfortable cruise on the sea.
This paddleboard is great for the whole family. You can use it with your kids in pairs or let them paddle alone because of the diamond shape of this paddleboard that provides extra space on the board.
In addition to that board is vast and has a good carrying capacity. The width of the board makes it easier to find balance for beginners.
You may want to keep in mind that the pump you will get, according to those that wrote reviews after using the set, is not a high-quality pump, and you'll get exhausted while using it.
We have noticed that the hand pump is not the best one in this set, and you might consider using the car pump or some other kind of pump. It may be better to use a car pump or an automatic pump.
Stand-up paddle boarding has excellent benefits for adults and kids. Spend some family time, and you will enjoy yourself with your kids while feeling relaxed.
We are sure you are interested in this Aquaplanet inflatable SUP paddleboard, a fantastic addition to your family activities.
Try this paddleboard that comes with all the essential elements you might need for your SUP experience. Please put it in your shopping cart and enjoy it when it arrives! Enjoy your time together while doing something fun.
Read Next – Best Sup Board Storage Rack Our Top Picks
aquaplanet 10ft Allround Paddle Board - Beginner's Kit. Air Pump with Pressure Gauge,Adjustable Aluminium Floating Paddle,Repair Kit,Heavy Duty Carry Rucksack & Premium Leash & 4 Kayak Seat Rings
4 new from $269.99
Free shipping
as of January 29, 2023 6:34 pm
aquaplanet 10ft 6" x 15cm PACE Stand Up Paddleboard - Incl: SUP, Hand Air Pump w/Pressure Gauge, Adjustable Aluminum Floating Paddle, Repair Kit, Rucksack, Coiled Leash & 4 Kayak Seat Ring Fittings
4 new from $269.99
2 used from $142.93
Free shipping
as of January 29, 2023 6:34 pm
aquaplanet 10ft 6" x 15cm MAX Stand Up Paddle Board kit. Air Pump with Pressure Gauge,Adjustable Aluminium Floating Paddle, Repair Kit,Heavy Duty Rucksack,Premium Leash & 4 Kayak Seat Rings
as of January 29, 2023 6:34 pm
Goplus Inflatable Stand Up Paddle Board, 6.5" Thick SUP with Carry Bag, Adjustable Paddle, Bottom Fin, Hand Pump, Non-Slip Deck, Leash, Repair Kit (Navy, 11 Ft)
as of January 29, 2023 6:34 pm
Inflatable Stand Up Paddle Board - 11' Ft. Standup Sup Paddle Board W/ Manual Air Pump, Safety Leash, Paddleboard Repair Kit, Storage / Carry Bag - Sup Paddle Board Inflatable - SereneLife SLSUPB08
2 new from $309.95
7 used from $113.18
Free shipping
as of January 29, 2023 6:34 pm
Hydro-Force Oceana Inflatable Stand Up Paddle Board, 10' x 33" x 6" | Inflatable SUP for Adults & Kids | Converts into Kayak | Complete Kit Includes Kayak Seat, Oar, Pump, Travel Bag, Ankle Leash
out of stock
as of January 29, 2023 6:34 pm