When rowing quietly on the lake, using our sup board paddle will help you move faster than usual but with less effort.
The paddle blades are made of the 3rd generation of PP+ fiberglass, which is rugged and durable.
YVLEEN Alloy SUP paddle is the perfect accessory for anyone who loves the sport of SUP.
The all-aluminum construction makes this paddle lightweight and durable, while the curved shape gives it a smooth, responsive feel when paddling.
Whether a beginner or an experienced SUP paddler, you'll love the YVLEEN Alloy SUP paddle.
So order your copy today and start enjoying your favorite sport even more!
Features YVLEEN Alloy SUP Paddle
√ Less weight

√ Sturdy blade

√ 3rd generation

√ More stability and power

√ Floats in fresh & saltwater
HEAVY-DUTY
4-pieces combination paddleboard paddle. It can be separated freely.
This paddle is made of high-quality aluminum alloy, light in weight, and easy to carry, and the aluminum rod is strengthened so that the force will not deform.
T-type handle with ergonomic design, good grip, laser scale, more grade, stand-up paddle weight is only 2.13lb (968g),height-adjustable range 68-85inches (175-215cm)
FANTASTIC
This stand-up paddle can also be converted into a Kayak Paddle, which can be used for surfboards/inflatable boats/ fishing/rubber boats/kayaks, and other boats, making your taxiing more interesting, especially for all kinds of rowers, beginners, and teenagers.
DOUBLE ABS LOCKING DEVICE DESIGN
304 stainless steel adjustable screw, the unique groove of aluminum tube, surface with reinforcing rib, increase strength, use process rod body will not rotate, with unique design, it can be more easily adjusted than most paddle blades, it can be assembled in a few seconds.
TOP-RATED
Equipped with two durable PP + fiberglass paddle blades, the blade has the excellent material quality and muscular endurance.
A vigorous stroke will not soften; more durable. This paddle can maintain a harsh environment, floating in brine and fresh water. So don't worry about losing it even if it falls into the water.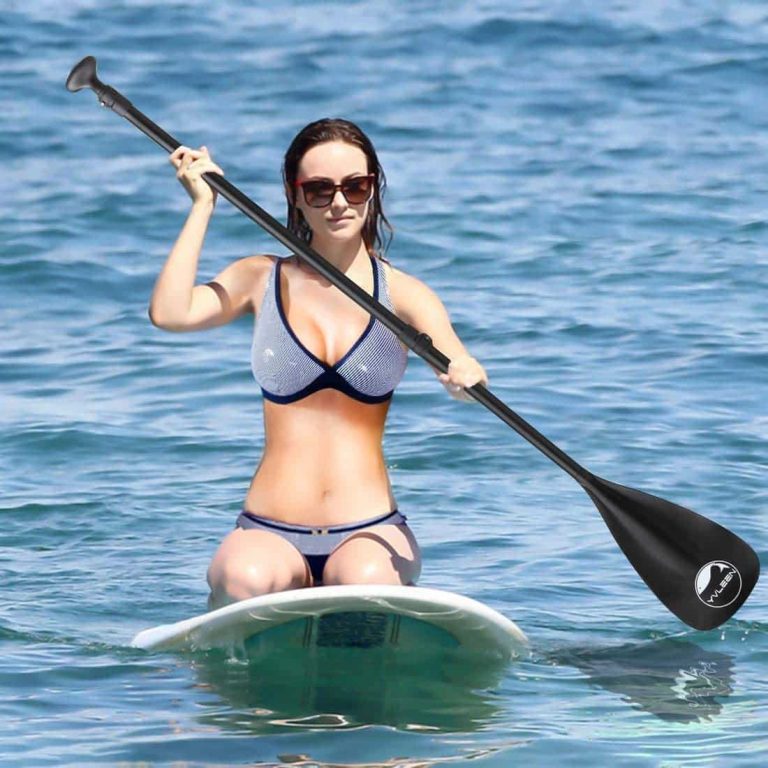 Read Next – FEATH-R-LITE Paddle Board Review
A FRIENDLY REMINDER
Our goal is to provide the paddlers with a reasonable price of high-quality paddles. We offer 2 Piece Paddle blades, one intermediate connecting shaft, and 1 T-handle for four pieces.
Before use, please rotate the paddle lock and tighten it to lock the handle tightly. If you encounter any quality problems, please get in touch with our customer team.