Wavey Board belongs to the mid-range level of SUP boards, and more because of its price than the quality of the design and features.
The quality of making this bored belongs to the upper-middle class. Besides being dressed in two PVC layers, it also offers an anti-slip EVA pad for maximum stability on the board's surface.
In addition to the quality outer sheath, this board offers flexible luggage storage for carrying items, a mid-deck handle, and D-Ring for the leash.
Features WAVEY BOARD SUP

Dimensions of this board are standard, and the length of the board is 10 '.
It can handle two people without a problem.
We can say that the board is excellent for weekend excursions and holidays, and it suits the sea, lake, and rivers.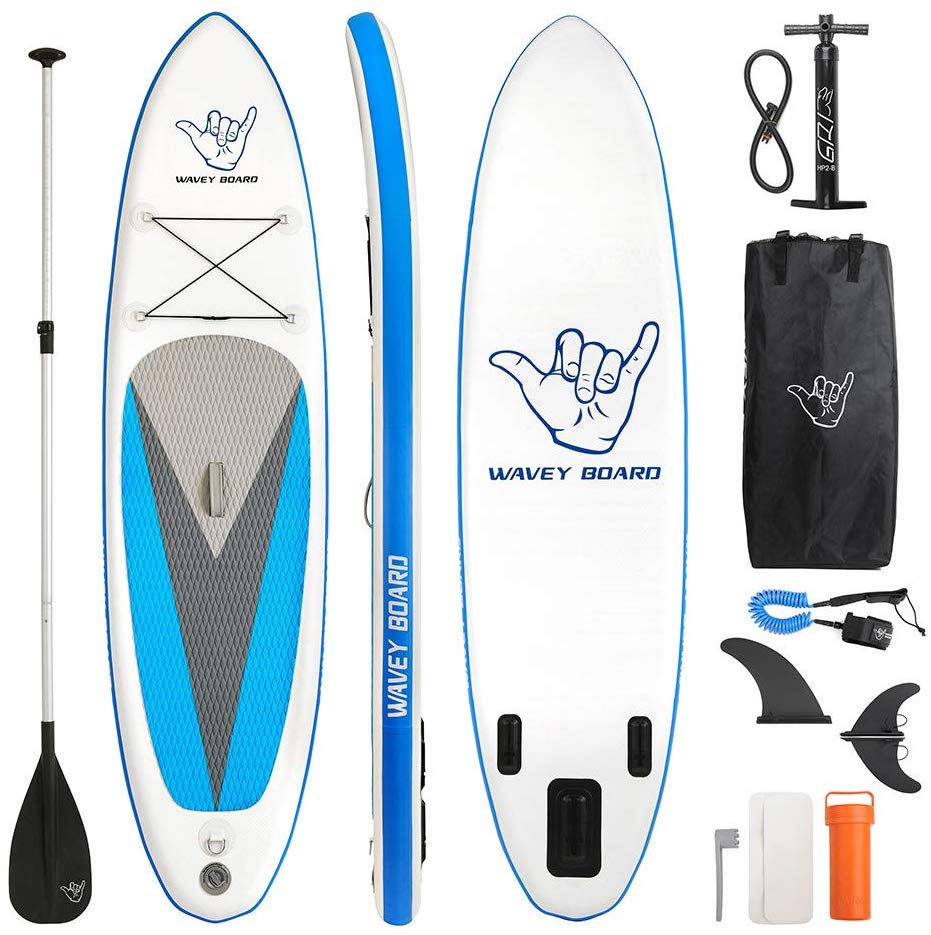 Basic information about Wavey Board
Size: 10'x 30″x 6″
Weight limit: 275 lbs
Layers: Double PVC layer
Recommended for: Beginners, recreational, short trips, and holidays
Transferability: Board package weight is 27 lbs
Wavey Board SUP package
Board
Adjustable Paddle
High-pressure Pump
Backpack
Removable Travel Fin
Ankle Leash
Wrench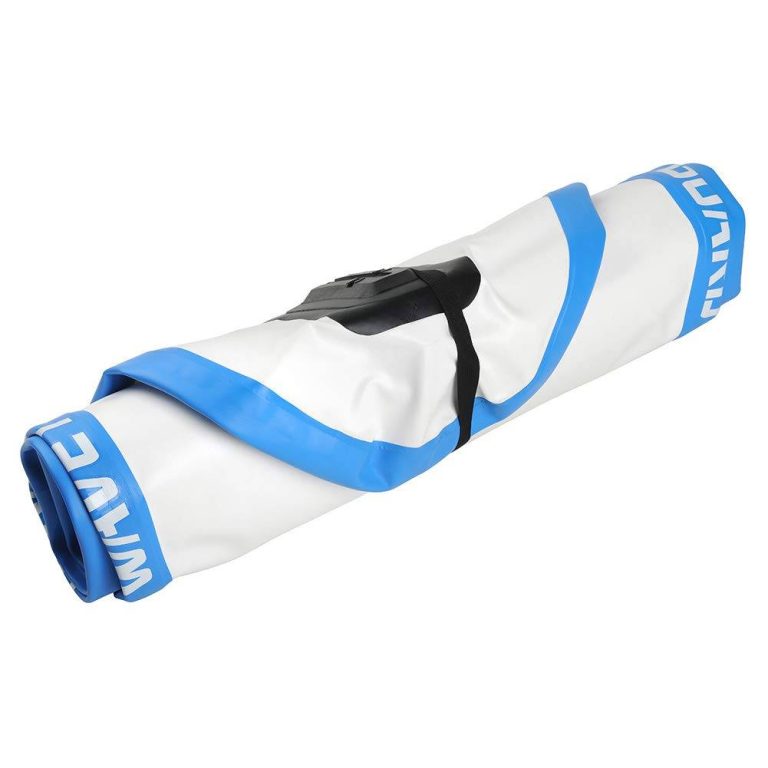 This board is great for yoga because of two-layer is very solid and got a 2-year warranty for a material defect.
The maximum air pressure is 25 psi.
Read Next – NIXY Newport Paddle Board SUP
Pros:
EVA pad
for two-person
2-year warranty
double layer PVC
price
Cons:
An air pump is not quality as we expect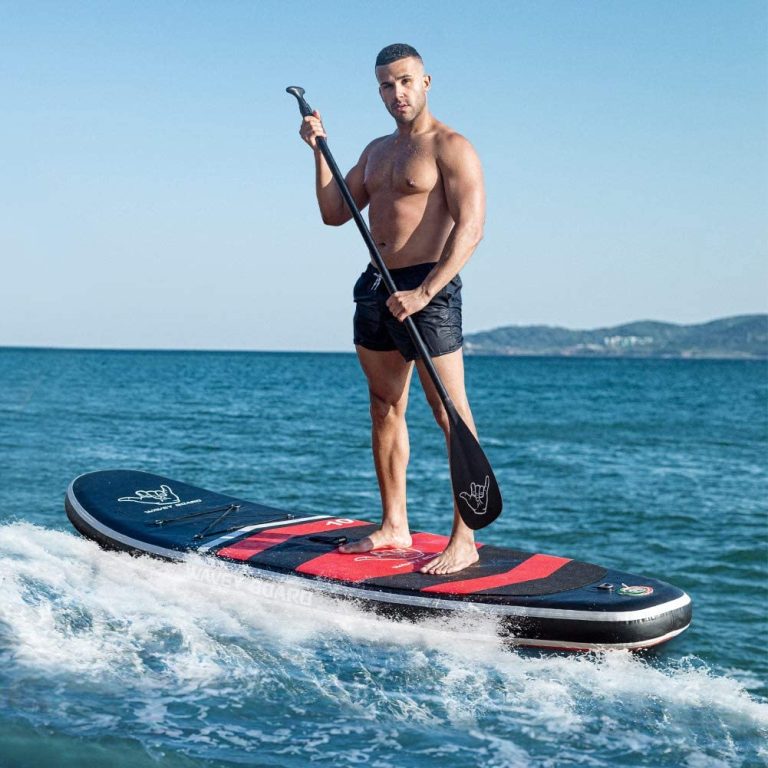 Our inflatable vertical paddles board, the deck's surface is made of EVA material, the double-layered PVE in the middle, and the rigid military-grade aluminum wings at the bottom allow you to be more comfortable and convenient during use.
What makes you better is to enjoy the fun of adventure, to make you safer and freer to play in the embrace of nature.
The adjustable paddle, removable travel fin, ankle leash, easy-carry backpack, other complete accessories such as wrenches, etc., which come with SUP, can also save you the time to buy again so that you can enjoy nature as soon as possible.
Our dual-action pumps are fast inflating, and our bags are designed to hold everything you want and feel comfortable without slipping things around.
This is a beneficial and convenient product.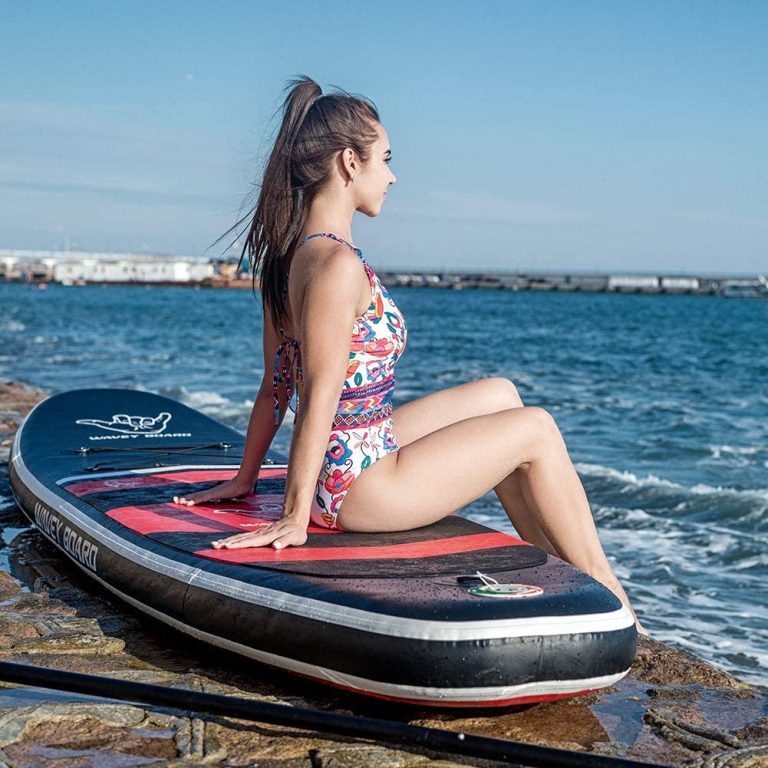 Highlights
Easy to deflate and store with the gas valves on SUP can use the elastic ropes and d-rings to store your belongings.
Double-acting pounds for quick and easy inflation
Super Durability the high-quality material which makes it virtually indestructible and durable
The EVA has good friction and a non-slip grip.
SUP can use it for surfing, yoga, fishing, or other activities with water
Includes adjustable paddle, removable travel fin, ankle leash, easy-carry backpack There are three fins on the backside, and one of them is removable
Read Next – Aqua Marina Fusion SUP Review
Package Content:
1 x Inflatable Paddle Board
1 x Adjustable Paddle
1 x High-pressure Pump
1 x Carrying Backpack
1 x Removable Travel Fin
1 x Ankle Leash
1 x Other Complete Accessories such as Wrenches, etc.
Read Next – Wavestorm Expedition SUP Stand Up Paddle Board
Top 5 Best Inflatable Paddle Board Review in 2022
FunWater Inflatable 10'6×33"×6" Ultra-Light (17.6lbs) SUP for All Skill Levels Everything Included with Stand Up Paddle Board, Adj Floating Paddle, Pump, ISUP Travel Backpack, Leash,Waterproof Bag
2 new from $199.95
2 used from $191.95
Free shipping
as of November 10, 2022 6:39 pm