Pathfinder Inflatable Paddle Board review
When you first see the price of this set, you may be confused. Why is the whole set so cheap? You may think that there is something wrong with the board or the set, but we have to disappoint you: everything's perfect.
In this Pathfinder SUP review we will tell you about technical specs: board is about 9'9" long and 5" thick. This makes it just a bit smaller than the average board, but you can still use it and remain pretty balanced.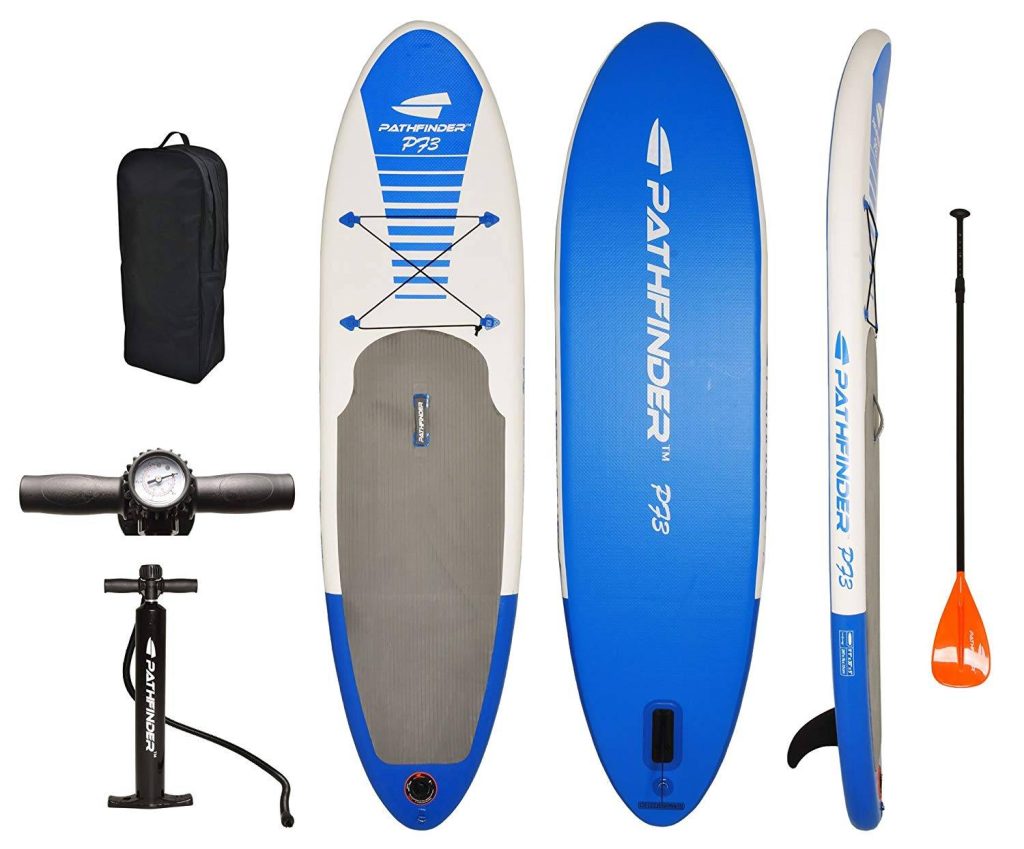 It's portable and it's easy to store, and the material it is made of is very durable. The PVC material is multi-layered and you can see the drop stitching all the way around. This makes the board very sturdy and you won't have to worry about scratches.
The large deck pad, the bungee for securing your stuff and a regular D-ring for the leash is just a few things on the board. The bungee is probably everyone's favorite. People who use the board for fishing and touring enjoy it very much.
In the set, besides the board itself, you are getting an adjustable aluminum paddle, a pump, a detachable center fin, a carry bag, and a valve wrench.


The weight limit for this board is 240 lbs. It's just enough for you and your pet or two lighter people, maybe kids. This is why the set is often gifted to young adults and teens that are going on an adventurous summer vacation.
Bear in mind that you may want to find a car pump for this board since the process of inflating can take a while. You don't want to get exhausted before jumping onto the board itself. The board has 270 reviews, making it a great choice for those who are maybe trying to check out what other people think and make sure that they make a good investment.
Last updated on March 27, 2020 1:14 am