Whenever people discuss cheap paddle boards, they always talk about Pathfinder Inflatable SUP.
This is because it's a well-known all-around paddleboard for every paddler, whether new or professional. The SUP is one of the most durable SUPs on the market, and it comes with a full board bungle.
The main things that distinguish the SUP are its affordable price, versatility, and size. The SUPs are simple to store and can be used by anybody. What is more, you can get it for a reasonable amount.
Pathfinder Inflatable SUP is designed by VILANO Bikes. VILANO is a well-known name, and they have made several paddleboards in the market with various brand names.
The brands have made a reputation for themselves with various affordable quality items.
When you first see the price of this set, you may be confused.
Why is the whole set so cheap?
You may think that something is wrong with the board or the set, but we have to disappoint you: everything's perfect.
Features Pathfinder Inflatable Paddle Board 
This Pathfinder SUP review will tell you about technical specs: the board is 9'9 "long and 5 "thick.
This makes it a bit smaller than the average board, but you can still use it and remain pretty balanced.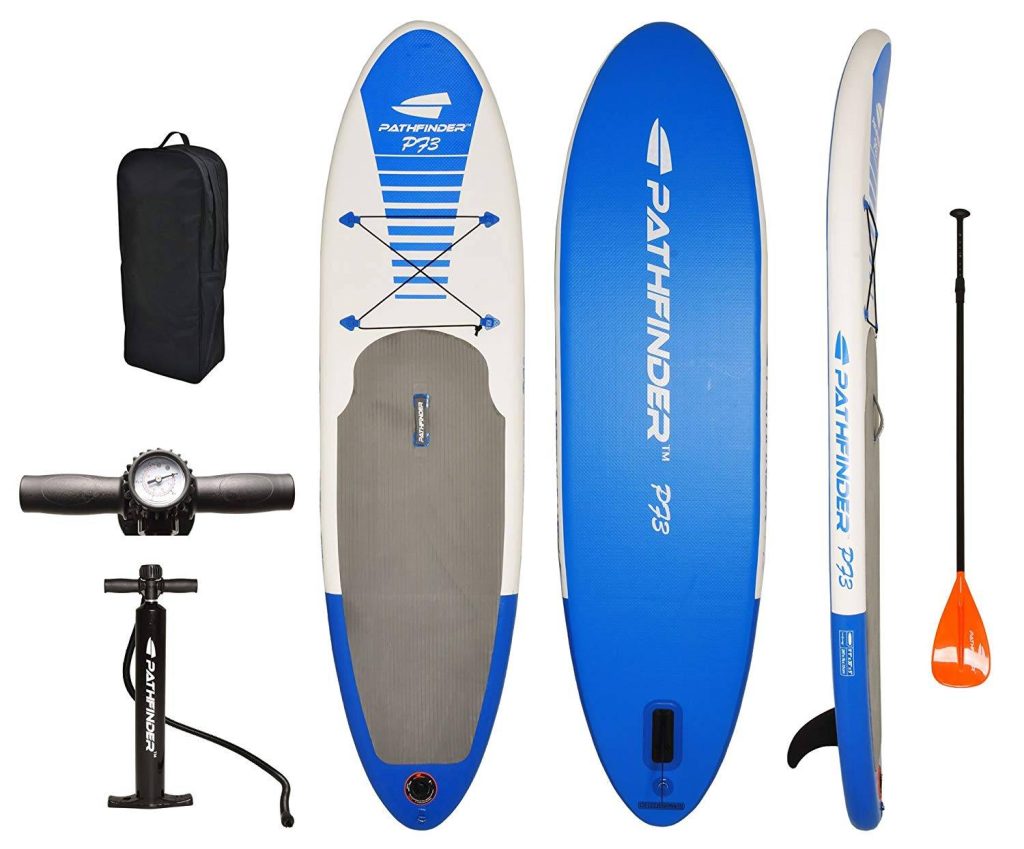 Pathfinder Inflatable SUP It's portable, easy to store, and the material it is made of is very durable.
The PVC material is multi-layered, and you can see the drop stitching all the way around.
This makes the board very sturdy, and you won't have to worry about scratches.
The large deck pad, the bungee for securing your stuff, and a regular D-ring for the leash are just a few things on the board.
The bungee is probably everyone's favorite.
People who use the board for fishing and touring enjoy it very much.


In the set, besides the board itself, you are getting an adjustable aluminum paddle, a pump, a detachable center fin, a carry bag, and a valve wrench.
The weight limit for this board is 240 lbs.
It's enough for you and your pet or two lighter people, maybe kids.
The set is often gifted to young adults and teens going on an adventurous summer vacation.
Bear in mind that you may want to find a car pump for this board since the process of inflating can take a while.
Read Next – Smibie Inflatable Stand Up Paddle Board
You don't want to get exhausted before jumping onto the board itself.
The board has 270 reviews, making it an excellent choice for those who may try to check out what other people think and make sure that they make a good investment.
The Pathfinder Inflatable SUP is a perfect all-around SUP board.
This versatile and durable board is 9'9″ long x 5″ thick.
The complete package includes a SUP board, high-pressure air pump, removable center tracking fin, bungee tie-down, adjustable aluminum paddle, valve wrench, and a carry bag with shoulder straps.
So portable and easy to store! It feels similar to a rigid board (inflate to 15 PSI).
Great for all-day family fun wherever the next water adventure takes you!
Read Next – Pathfinder Inflatable SUP Stand-up Paddleboard Bundle
Design
The Pathfinder Inflatable SUP is available in 2 colors – orange and blue. The paddle matches the orange paddleboard.
As already discussed, the broad, round nose facilities stability. It has a rounded nose and a little pointed tail. The tail is neither very narrow nor wide. They promote both tracking and stability.
Pathfinder Inflatable SUP Stand-up Paddleboard Bundle Blue
out of stock
as of May 17, 2023 11:25 am
Build Quality
Almost any quality inflatable SUP is made of a similar famous and durable material. The Pathfinder Inflatable SUP is not an exception; this SUP is made of heavy-duty military-grade PVC material that turns highly stiff once this SUP is completely inflated.
These materials ensure that the SUP can take some beating when it gets slightly rough. Also, the multi-layer drop stitch tech makes it possible for this board to stretch and inflate up to 15 PSI without losing its shape even after a long time used.
Such tech help preserve the inside shell of the SUP while PVC material prevents something from the outside from getting through. It is a rigid SUP that is built according to the universal quality standards known for SUPs.
Performance
Four different factors can be used to figure out the performance of the paddleboard. This includes:
The stability of the paddleboard is examined by its thickness, top quality of materials, width, and shape. A thicker and wider SUP will provide more stability than a thinner SUP. The Pathfinder Inflatable SUP is 3.9 feet by 30 inches by 5 inches. This is a narrow measurement for several people, but the SUP can be amazingly stable when used by light riders.
It might not be ideal for heavier riders because of its reduced stability with increasing weight. The Pathfinder Inflatable SUP might not be a fine choice if you're on the bigger side.
Why purchase a SUP that you can't control? The Pathfinder Inflatable SUP is simple to turn and has solid control of the SUPs movement.
The length & width and the hull are the main features that influence the maneuverability of the SUP. The size and width of the paddleboard are ideal, and the hull permits it to float on water. In general, narrower and small SUPs are simple to maneuver.
This is utilized to describe the movement of a SUP in a straight line. Imagine paddling a SUP that cannot maintain an action in a straight line. Terrible right?
Fortunately, the Pathfinder Inflatable SUP is not that type of SUP. The big center fin permits the SUP to stay the course by decreasing drag.
The Pathfinder Inflatable SUP provides a decent and great speed, ideal for leisure paddling; you will enjoy it better if you want to float on water. It might not be a perfect option for racing or touring.
Pathfinder Inflatable SUP Stand Up Paddleboard 9' 9" (5" Thick)
out of stock
as of May 17, 2023 11:25 am
Read Next – Pathfinder Inflatable SUP Paddleboard Bundle
Special Features
The primary thing to notice about the Pathfinder Inflatable SUP is the color option. It comes in two different colors, white/blue and white/orange, both look amazingly nice and neat.
Next, you will find four d-rings on the deck, and they're linked with the usual bungee cord to perform as a storage space.
Another two d-rings are the SUP's tail for anybody who loves to keep it safe and use an ankle safety leash.
To facilitate transporting the paddleboard, the Pathfinder Inflatable SUP is featured with a central carry handle that will let you one-handedly carry the inflated board in comfort and ease.
And lastly, the navigation system consists of one big removable fin that does a fine job keeping straight tracking in flat and calm water.
Read Next – Best Pathfinder Inflatable SUP Stand-up Paddleboard
Packaging
The Pathfinder Inflatable SUP is featured with all essential to starting SUP boarding right away. It is not a perfectly complete package, but it will finely do the job. Along with the paddle, you will find:
A high-pressure manual pump with a gauge
An adjustable aluminum SUP paddle.
A neat carry bag packs to store the whole thing.
Removable central fin
Valve wrench
As you can see, there's no repair kit included, but it would not be an issue with the hopes that you will be a friendly user.
Read Next – Pathfinder P73 Inflatable Paddle Board SUP Review
What I like
The z-ray Pathfinder comes in all-inclusive packages.
It comes with a kayak seat and a foot bar to guarantee you the max amount of comfort if you love to paddle while sitting.
It is a super light, stable, rigid, and fast paddleboard.
What I don't like
The Pathfinder Inflatable SUP is just 4″ thick, which is a bit
Only the repair kit is missing the package, but I doubt you would need it if you're a friendly user.
Read Next – Wave Pathfinder WOWCHER Paddle board
Inflatable Paddle Board Set-Up Instructions
Read Next – Fastest Inflatable SUP Review
End words…
The Pathfinder Inflatable SUP is a great paddleboard – no question. It is well-priced, making it accessible to every paddler. The manufacturer includes most of the gears you'll need, saving you even more money.
But to provide you with a cheap paddleboard, a compromise has to make somewhere. So, it's better to add just a bit more and get the nautical model.
It'll last a mighty long time, and its paddling performance will not disappoint.
Pathfinder Inflatable SUP Stand Up Paddleboard 9' 9" (5" Thick)
out of stock
as of May 17, 2023 11:25 am
Pathfinder Inflatable SUP Stand-up Paddleboard Bundle Blue
out of stock
as of May 17, 2023 11:25 am
SereneLife Premium Inflatable Stand Up Paddle Board (6 Inches Thick) with SUP Accessories & Carrying Storage Bag | Wide Stance, Bottom Fin for Paddling, Surf Control, Non-Slip Deck | Youth & Adult
2 new from $309.99
2 used from $202.13
Free shipping
as of May 17, 2023 11:25 am
FunWater Inflatable Stand Up Paddle Boards 11'×33"×6" Ultra-Light (17.6lbs) SUP for All Skill Levels Everything Included with 10L Dry Bags, Board, Travel Backpack, Adj Paddle, Pump, Leash, Repair Kit
2 new from $199.95
1 used from $167.65
Free shipping
as of May 17, 2023 11:25 am
FunWater Inflatable 10'6×33"×6" Ultra-Light (17.6lbs) SUP for All Skill Levels Everything Included with Stand Up Paddle Board, Adj Floating Paddle, Pump, ISUP Travel Backpack, Leash,Waterproof Bag
2 new from $189.95
1 used from $177.96
Free shipping
as of May 17, 2023 11:25 am
Soopotay Inflatable SUP Board, Stand Up Paddle Board, Inflatable Paddle Board, iSUP Package with All Accessories (Navy_Blue, 10' x 32'' x 6'')
out of stock
as of May 17, 2023 11:25 am