When you first see the price of this set, you may be confused.
Why is the whole set so cheap?
You may think that there is something wrong with the board or the set, but we have to disappoint you: everything's perfect.
Features Pathfinder Inflatable Paddle Board 
In this Pathfinder SUP review, we will tell you about technical specs: the board is about 9'9" long and 5" thick.
This makes it just a bit smaller than the average board, but you can still use it and remain pretty balanced.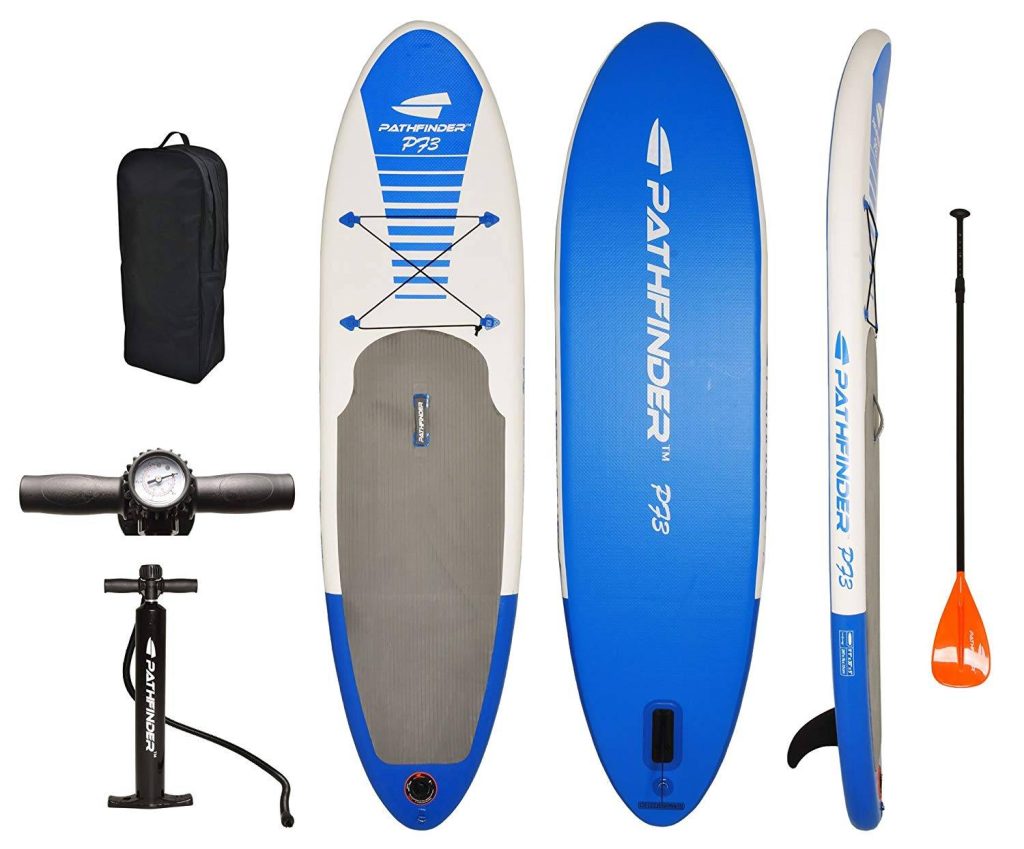 Pathfinder Inflatable SUP It's portable, easy to store, and the material it is made of is very durable.
The PVC material is multi-layered, and you can see the drop stitching all the way around.
This makes the board very sturdy, and you won't have to worry about scratches.
The large deck pad, the bungee for securing your stuff, and a regular D-ring for the leash are just a few things on the board.
The bungee is probably everyone's favorite.
People who use the board for fishing and touring enjoy it very much.


In the set, besides the board itself, you are getting an adjustable aluminum paddle, a pump, a detachable center fin, a carry bag, and a valve wrench.
The weight limit for this board is 240 lbs.
It's just enough for you and your pet or two lighter people, maybe kids.
This is why the set is often gifted to young adults and teens going on an adventurous summer vacation.
Bear in mind that you may want to find a car pump for this board since the process of inflating can take a while.
Read Next – Smibie Inflatable Stand Up Paddle Board
You don't want to get exhausted before jumping onto the board itself.
The board has 270 reviews, making it a great choice for those who may try to check out what other people think and make sure that they make a good investment.
The Pathfinder Inflatable SUP is a perfect all-around SUP board.
This versatile and durable board is 9'9″ long x 5″ thick.
The complete package includes a SUP board, high-pressure air pump, removable center tracking fin, bungee tie-down, adjustable aluminum paddle, valve wrench, and a carry bag with shoulder straps.
So portable and easy to store! When fully inflated, it feels very similar to a hard board (inflate to 15 PSI).
Great for all-day family fun wherever the next water adventure takes you!
Read Next – Pathfinder Inflatable SUP Stand-up Paddleboard Bundle
Inflatable Paddle Board Set-Up Instructions
Read Next – Fastest Inflatable SUP Review
Pathfinder Inflatable SUP Stand Up Paddleboard 9' 9" (5" Thick)
out of stock
as of January 12, 2022 11:29 pm
SereneLife Premium Inflatable Stand Up Paddle Board (6 Inches Thick) with SUP Accessories & Carrying Storage Bag | Wide Stance, Bottom Fin for Paddling, Surf Control, Non-Slip Deck | Youth & Adult
5 new from $329.99
3 used from $162.00
Free shipping
as of January 12, 2022 11:29 pm
FunWater Inflatable Stand Up Paddle Boards 11'×33"×6" Ultra-Light (17.6lbs) SUP for All Skill Levels Everything Included with 10L Dry Bags, Board, Travel Backpack, Adj Paddle, Pump, Leash, Repair Kit
2 used from $166.56
Free shipping
as of January 12, 2022 11:29 pm
FunWater Inflatable 10'6×33"×6" Ultra-Light (17.6lbs) SUP for All Skill Levels Everything Included with Stand Up Paddle Board, Adj Floating Paddle, Pump, ISUP Travel Backpack, Leash,Waterproof Bag
5 used from $131.47

as of January 12, 2022 11:29 pm
Pathfinder Inflatable SUP Stand-up Paddleboard Bundle Blue
as of January 12, 2022 11:29 pm
Goplus 10' Inflatable Stand Up Paddle Board Package w/ Fin Adjustable Paddle Pump Kit Carry Backpack, 6" Thick
out of stock
as of January 12, 2022 11:29 pm
Hydro-Force White Cap Inflatable Stand Up Paddle Board, 10' x 32" x 4" | Inflatable SUP for Adults & Kids | Converts into Kayak | Complete Kit Includes Kayak Seat, Oar, Pump, Travel Bag, Ankle Leash
1 used from $179.99

as of January 12, 2022 11:29 pm
Soopotay Inflatable SUP Board, Stand Up Paddle Board, Inflatable Paddle Board, iSUP Package with All Accessories (Navy_Blue, 10' x 32'' x 6'')
as of January 12, 2022 11:29 pm