Do you want to buy an all-around inflatable stand-up paddleboard? Well, you are not alone. This is because iSUPs, or Stand-up paddleboarding, have gained popularity for years.
Whether you dream of taking a trip to your local lakes, grabbing a few Instagram-gold standard yoga shots on inflatable SUPs, or heading further afield, there are plenty of things to get enthusiastic about in creating SUPs.
It is undoubtedly a great sport, delivering a decent core workout and fair cardio while being a real-world way to travel on the water. But to have that feel and experience, you will need a perfect inflatable stand-up paddleboard. And there comes the All-around paddleboards.
However, when choosing the best all-around paddleboard, things get tricky. With so many options, you may be confused about which to buy. So, in this article, we list the top 5 best all-around paddleboards below.
Let's look at the guidance by heading to this article's bottom. However, you should first know what to look for in the all-around SUP.
Things You Need To Consider to Find Out The Best All-Around SUPs
It would help to consider a few factors to find the best all-around stand-up paddleboards. These factors are given below…
SHAPE OF THE BOARD
All-around stand-up paddleboards are mainly shaped with a comparatively round nose & tail than touring boards and are around 30″ -32″ in width at their middle point. Similarly, board thickness should be at least 6″ to provide proper stability.
If you wish to use your paddleboard around the coast and dock for a few casual voyages but may want to include some on-water yoga, you will need to find a paddleboard with a shape that works well.
On the other hand, if you want your paddleboard to be capable of catching some waves on top of cruising around, then you will have to get yourself a narrower board which is less than 30″ at the center point) with additional pulled-in nose & tail for better maneuverability.
Whatever your chief and subordinate may use for the all-around paddleboard, ensure you pick one that works for both. Remember that a board's stability lies in its shape, width, and depth.
Read Next – Bluefin Stand-Up Paddle Board Review
USE OF THE BOARD
An all-around Stand-up paddleboard is designed to be used in various water conditions. Also, the board must perform well in different water conditions. That is why it is given the name "All-Around Paddleboard."
You can use an all-around paddleboard for several purposes, but these are mainly designed for recreation.
Whether paddleboarding close to the beach or around the dock, the all-around paddleboards are excellent for short-distance paddleboarding and are perfect for beginner paddlers and families.
Read Next – iROCKER 11 All Around paddle board Review
BUILD QUALITY OF THE BOARD
All around, stand-up paddleboards have numerous constructions. Primarily, decide if you must have an inflatable or solid board. Inflatable paddleboards are very lightweight and easy to store, making them ideal if you do not want them to cover up too much area.
Most inflatable SUP boards come with a carry bag to hold the board and other accessories; thus, you can throw the board in your car trunks and check in at the airports without paying any overweight or oversize fee. Though, inflatable boards usually have less general performance and less glide when compared to solid panels.
Furthermore, solid boards often score higher as soon as it comes to durability. Epoxy panels with bamboo or carbon are durable and lightweight, while plastic constructions are durable but extremely heavy. Epoxy/fiberglass constructions fall in between these two, the utmost standard solid board constructions.
Read Next – Fastest Inflatable SUP Review in 2023
Should I Go For Inflatable Board or Epoxy Boards? 
While up paddleboards can have practical advantages in some situations, for example, racing o surfing r, a solidly built and well-designed inflatable is sometimes the best option for your all-around paddleboard.
Inflatable Stand-up paddleboards are usually more stable than hardboards of similar shape and size. This's because inflatable paddleboards have an even thickness diagonally the length and width, while the hardboards are the thickest in the middle and tend to be thinner toward the nose, tail, and sides.
The hardboards with a similar uniform thickness shape as an inflatable board would be pretty heavy, so maximum hardboard brands choose to reduce the volume of the outer edges. Yet, the hardboard is heavier than inflatables. So, if you want a lightweight one, you should go for inflatables.
While some attention should be taken to inflatable paddleboards to avoid sharp objects like blades, epoxy paddleboards are way more sensitive to holes, dings, and board breakage, which won't happen with the quality iSUPs.
Inflatable stand-up paddleboards are more comfortable and softer on your feet when paddleboarding and easier on your body when doing yoga or relaxing. You can easily roll up an inflatable paddleboard and take on airplanes. So, inflatables are more suitable for traveling where hardboards won't be practical.
This is why experts recommend you embrace the essential advantages of inflatable boards while realizing that hard paddleboards still have their place. Except in some niche areas like SUP surfing and racing, the different performances are negligible. The hardboard isn't any longer considered a standard to seek for.
Read Next – Inflatable VS Hardshell Stand-Up Paddleboard
Top 5 All-Around Inflatable Stand-Up Paddle Boards
We have researched and tested a few paddleboards to provide an updated list of the best all-around inflatable ones. Let's check out the top 5 broad paddle board reviews below…
Bluefin Cruise 12′ SUP Boards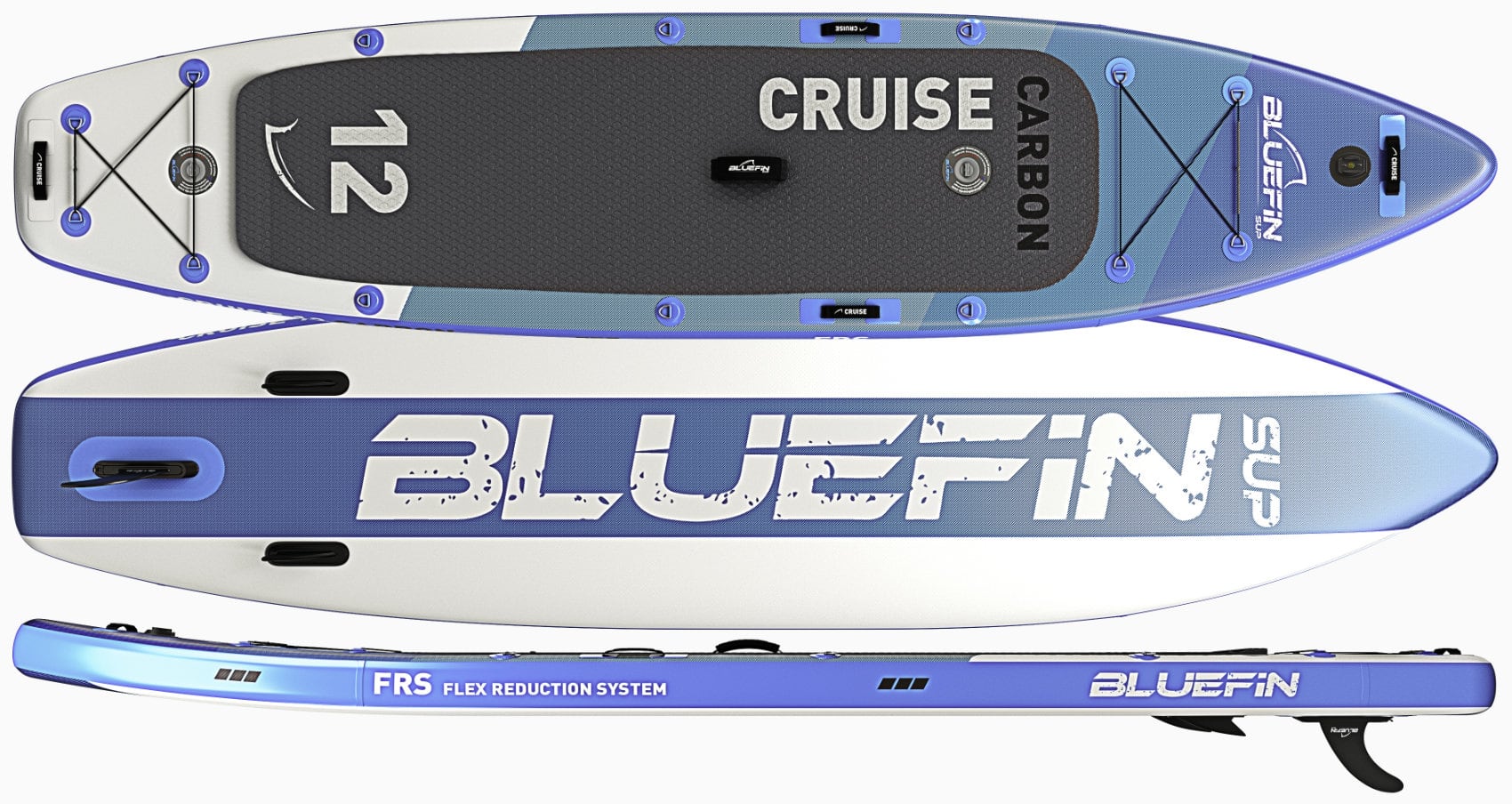 Made for adventures and long distances, this Bluefin Cruise 12 feet paddleboard is a steady and perfect board with extraordinary tracking. At 12 feet long and 33 inches wide, you will experience better monitoring and more speed than the 10 feet model, making this paddleboard appropriate for ambitious paddlers and quick learners.
Like the maximum of the Bluefin inflatable stand-up paddleboards, the Bluefin Cruise 12 feet is ideal for all levels of paddlers, from beginners to experts. This paddleboard's many significant advantages are its size, letting excellent steadiness on the water.
But it is an excellent option for advanced paddleboarders searching for a board to go long distances to explore more. The larger size of this board makes it a perfect choice for family activities or fun, such as fishing.
This Bluefin Cruise 12 feet paddleboard includes accessories that make the board an excellent buy for any level of paddleboarder. No concessions were made on the features or the quality of the paddleboard, offering you a comfortable and fun paddleboarding experience.
Specs & Features:
Length 12 feet
Width 33 inches
Board Thickness 6 inches
Weight: 34 lbs.
Maximum Weight Capacity: 309 lbs.
Volume: 280L
Recommended Inflation Pressure: 12 to 15 PSI
Material Used: 1000 Denier Exo Laminate PVC Surface
Drop-stitch technology
Best Suited For:
Beginners & advanced
190lbs+ paddler
Family fun
Fishing
PROS
Appropriate for beginners and also the intermediately-advanced level of paddlers
It features a kayak seat, and the heart is included in the package (Kayak Conversion Kit)
Lots of space to grow as a paddleboarder (allows you to go from beginner to expert)
The board comes with a 5-year manufacturer's warranty
Robust build
The board is resistant to both punctures and sun
CONS
The handles of the paddle are made of plastic which isn't very comfortable
Entirely on the heavier side
Bluefin Cruise SUP Package | Stand Up Inflatable Paddle Board | 6" Thick | Fibreglass Paddle | Kayak Conversion Kit | All Accessories | 5 Year Warranty | Multiple Sizes: Kids, 10'8, 12', 15'
as of November 17, 2023 7:01 pm
Bluefin SUP Stand Up Inflatable Paddle Board with Kayak Conversion Kit | Ultimate iSUP Kayak Bundle (10'8", 12'0" and 15'0") (Carbon 10'8")…
as of November 17, 2023 7:01 pm
Read Next – Bluefin Cruise Carbon Stand-Up Inflatable Paddle Stand-Preview
Gili Meno

10'6 / 11'6

iSUPs
If you're looking for steadiness, then the Gili Meno 10'6 / 11'6 iSUPs have completely covered you. Still durable and lightweight in design, this Meno paddleboard can load up to 450 LBS and 485 LBS max and handle almost anything.
This's an all-around adventure paddleboard to keep you comfortable as well as out of the water. This board features a splendid package to make the board a fanciful deal for what you're getting.
Although tremendously stable, paddling is still fun and perfect for plowing and cruising through chop. The board's tracking is straight. However, this paddleboard is not fast at all.
This board takes a little power and effort to turn and push forward, which is expected from a large wide paddleboard. The board glides smoothly on calm water. However, it feels very stable in chop and waves.
Specs & Features:
Length 10'6 & 11'6
Width 35″ & 35."
Depth 6″ & 6."
Weight: 23 & 24 lbs
Maxim. um Weight Capacity: 450 & 485 Lbs
Volume: 245 L & 270 L
Recommended Inflation: 15-18 PSI
Package Included
This paddleboard features a comprehensive high-end package that consists of the following:
High Flow Double Chamber Manual Pump
Rolling Backpack that comes with Wheels
3-Piece Adjustable Paddle
US Fin box with a five-piece fin kit
8 feet Coiled Leash
Repair Kit
Materials:
Fusion Laminated Dual Layer PVC Technology for military-grade toughness
Best Suited For:
Advanced/Beginners/Intermediate
PROS
Portable and lightweight
Good for tracking straight
Sturdy and stable
Handles come in convenient
Bigger width for extra room for extra partners and gear
CONS
It does not have much speed
GILI All Around Inflatable Stand Up Paddle Board Package | 10'6 Long x 31" Wide x 6" Thick | Lightweight & Durable SUP | Stable & Wide Stance (Teal)
out of stock
as of November 17, 2023 7:01 pm
Read Next – Best Touring Paddle Boards Our Top Picks
Roc Explorer 10′ Inflatable SUP Board
This ROC Explorer paddleboard delivers a fun and affordable recreational board for any level of paddler. This paddleboard focuses on steadiness more than any other feature to provide a paddleboard that isn't only easy to use and for all types of activities. It's also very lightweight, making the board appropriate for younger riders.
The Explorer paddleboard package is complete and easy to handle for younger paddlers because of its modest lightweight. It offers a straightforward yet durable level of steadiness and excellent maneuverability, letting the riders quickly control the paddleboard.
Specs & Features:
Length 10 feet
Width 32 inches
Depth 6 inches
Weight: 17.5 pounds
Max Weight Capacity: 300 lbs
Volume: 320 L
Recommended Inflation Pressure: 15 PSI
Material: Military-grade PVC material along with the DuraWeld Technology
Best Suited For:
Any level
Fishing
Recreational
Yoga
PROS
Easy to maneuver
Affordable
Offers high stability for any activities
Very lightweight
CONS
Lack of handles in the nose and tail
Its size limits speed
Roc Inflatable Stand Up Paddle Board with Premium sup Accessories & Backpack, Non-Slip Deck, Waterproof Bag, Leash, Paddle and Hand Pump. (Charcoal)
out of stock
as of November 17, 2023 7:01 pm
Read Next – SUP Board Strangford Lough Northern
Thurso Surf Waterwalker 11 SUP Board
A few paddleboards offer solid performance and stability potential for those beginning in the water sport, like this Waterwalker from Thurso.
Also, this stand-up paddleboard offers families and yoga enthusiasts equal joy and possibility.
The included accessories are almost all that you need to start the journey. Although there is a place for attaching a kayak seat, the stand-up paddleboard does not come with an included kayak seat.
Specs & Features:
Length 11 feet
Width 32 inches
Depth 6 inches
Weight: 30 lbs.
Max Weight Capacity: 330 lbs.
Volume: 300 L
Recommended Inflation Pressure: 12 to 15 PSI
Material: Quad/Triple layer Military-grade PVC material
Best Suited For:
Beginners
Doing yoga
Moderate touring
PROS
Great for exercise, like stretching, yoga, etc.
Crazy steady, also in shifting waters
Accessories, together with the paddle holder, are good
The carbon shaft paddle and the dihedral blade are remarkable
Impressive structure makes it rigid and robust
CONS
It is quite a heavy paddleboard.
THURSO SURF Inflatable Stand Up Paddle Board All-Around SUP Waterwalker 132 11'×32''×6'' Deluxe Package | Carbon Shaft Paddle | Roller Backpack | Dual Chamber Pump | Coiled Leash (Tangerine)
as of November 17, 2023 7:01 pm
THURSO SURF Inflatable Stand Up Paddle Board All-Around SUP Waterwalker 126 10'6×31''×6'' Deluxe Package | Carbon Shaft Paddle | Roller Backpack | Dual Chamber Pump | Coiled Leash (Turquoise)
as of November 17, 2023 7:01 pm
Read NEXT – Bluefin Cruise Carbon – Outdoor Gear Lab Inflatable SUP
Red Paddle Co Voyager+ MSL
Maximum inflatable stand-up paddleboards offer excellent durability, value, and ease of carriage. However, they typically struggle with poor quality and glide performance. The Red Paddle Co leaves behind that trend and provides outstanding quality and glide performance.
While not as well-organized as the race-style rigid boards, it is close. If you are racing or want to move more proficiently, this's the best option.
The only noteworthy downside is its price range. You can purchase 2 or 3 cheaper paddleboards for a similar cost as 1 Red Paddle Co paddleboard. But that is the price for its quality, which is priced very similarly to other rigid stand-up paddleboard models.
Read Next – IROCKER vs. ISLE Explorer SUP
Specs & Features:
Length 10 feet 6 inches
Width 32 inches
Depth 4.7 inches
Weight: 22 pounds
Max Weight Capacity: 220 lbs
Volume: 245 L
Recommended Inflation Pressure: 16 to 22 PSI
Materials: Tec Air & MSL construction
Read Next – Peak Titan Multi-Person Inflatable Stand-Up Paddle
Best Suited For:
Travelers
Beginners
Intermediate
PROS
The clever cargo arrangement design
Exceptional glide for an iSUP
The best pump so far
Very stable
CONS
Expensive
Read Next – Multi Person Paddle Board Costco
Red Paddle Co. Voyager MSL Inflatable Stand-Up Paddleboard Package - 2022 White/Green, 12ft 6in
2 new from $1,189.00

as of November 17, 2023 7:01 pm
Read Next – Aqua Marina Drift Fishing Inflatable Stand-up Paddle Board
Best of the Rest
Even after a few paddles, I couldn't stop loving the boards. Its ultra-weight boards ($849) are updated to be under 21 pounds.
The Ultra Series features a wide 10'11′ lead and a comprehensive design update of materials. It is not simply light and 50 % smaller, packed inside redesigned carry bags.
The tests were very positive. As the paddle is shorter, the stability can vary according to individual preferences. The ride was more straightforward in terms of weight, and the maneuverability was good, even in waves.
Read Next –  Your Guide to Paddle Board Size and Weight Chart
New & Interesting Paddle Boards for 2023
It offers breathable comfort for a lightweight and stable paddleboard. It has an excellent build and many features, so nothing goes wrong with it.
The Thurso Surf Waterwalker Boards provide excellent value owing to their exceptional performances, features, and design. Seagodas Diatom is an incredibly unique board in the US market from a young firm.
This is excellent work. The BoTE flood air is a multi-purpose SUP suitable for many paddlers.
Read Next – BOTE HD Aero Inflatable Paddle Board Review
What is the difference between a SUP and a paddle board?
SUP requires a paddle. Traditional surfers paddle out to waves with hands pushing into the water as they swim through. Paddleboards need a paddle that enables the riders to ride through the water while sitting in the water.
Read next – Best Fishing Paddle Boards
Is the SUP board worth buying?
It's a fun sport for exploring or fishing. Is a kayak able to be bought for less than a hundred dollars? We will keep you safe with the best paddleboards! When you do, kayaking is often worthwhile spending some extra money.
Read Next – Nautical SUP Board by iROCKER Review
Is SUP more demanding than a kayak?
Kayaking can often be learned easier by paddleboard. Double-bladed kayak paddle combines symmetrical motion with ease of use. Steering strokes on SUP are more complex.
Read Next – ISLE Megalodon Inflatable Paddle Board
BOTTOM LINE
Getting a stand-up paddleboard is a thrilling experience, and the act of paddleboarding isn't only good for the health but also for the mind.
It is a great way to spend your free time with family and friends on the water. We hope our guide has assisted you in finding out the best all-around paddleboard for you.
Happy shopping!
Read Next – Ocean Paddle Board: Which Type Of SUP Is Best For Paddling
Bluefin Cruise SUP Package | Stand Up Inflatable Paddle Board | 6" Thick | Fibreglass Paddle | Kayak Conversion Kit | All Accessories | 5 Year Warranty | Multiple Sizes: Kids, 10'8, 12', 15'
as of November 17, 2023 7:01 pm
Bluefin SUP Stand Up Inflatable Paddle Board with Kayak Conversion Kit | Ultimate iSUP Kayak Bundle (10'8", 12'0" and 15'0") (Carbon 10'8")…
as of November 17, 2023 7:01 pm
GILI All Around Inflatable Stand Up Paddle Board Package | 10'6 Long x 31" Wide x 6" Thick | Lightweight & Durable SUP | Stable & Wide Stance (Teal)
out of stock
as of November 17, 2023 7:01 pm
Roc Inflatable Stand Up Paddle Board with Premium sup Accessories & Backpack, Non-Slip Deck, Waterproof Bag, Leash, Paddle and Hand Pump. (Charcoal)
out of stock
as of November 17, 2023 7:01 pm
THURSO SURF Inflatable Stand Up Paddle Board All-Around SUP Waterwalker 132 11'×32''×6'' Deluxe Package | Carbon Shaft Paddle | Roller Backpack | Dual Chamber Pump | Coiled Leash (Tangerine)
as of November 17, 2023 7:01 pm
THURSO SURF Inflatable Stand Up Paddle Board All-Around SUP Waterwalker 126 10'6×31''×6'' Deluxe Package | Carbon Shaft Paddle | Roller Backpack | Dual Chamber Pump | Coiled Leash (Turquoise)
as of November 17, 2023 7:01 pm
Red Paddle Co. Voyager MSL Inflatable Stand-Up Paddleboard Package - 2022 White/Green, 12ft 6in
2 new from $1,189.00

as of November 17, 2023 7:01 pm
Read Next – Bluefin vs. Irocker SUP Comparison Guide