The Smibie SUP board is ideal for beginners.
It meets all the requirements for those who first want to stand up for paddleboarding.
Features

Smibie Inflatable Stand Up Paddle Board
Smibie is a new brand in the SUP marketplace, and its relatively low price compared to the competition certainly offers a board that is one of the best SUP boards when we look at the price ratio and what you get.
This is one of the best buy boards. It's hard to find stand-up paddleboards on sale that are cheaper than this board.
If you are not sure that you want to SUP and you do not want to invest too much in the start, the Smibie SUP board is the best "springboard" to enter the world of SUP.
Additional SUP equipment
User-friendly design also cares for the most straightforward use of this board.
This board has a handle for more accessible transport.
Also, on the front of the board, a flexible rope serves to store things and fix them on the board.
There are three fins on the bottom of the board, the largest of which can quickly be taken off when you prepare it for transportation.
Technical features offered by the Smibie SUP board
Size: 10'x 33″x 6″ – Standard dimension of most SUP boards
Weight limit: 300 lbs
Layers: Single PVC layer
Recommended for: Beginners, recreational, short trips and holidays, travel
Transferability: Board weight 22 lbs
Smibie SUP package
Smibie offers a package Board, Paddle, Fin, Foot Ring, Backpack, Repair Kit, One-way Manual Air Pump, User Instructions.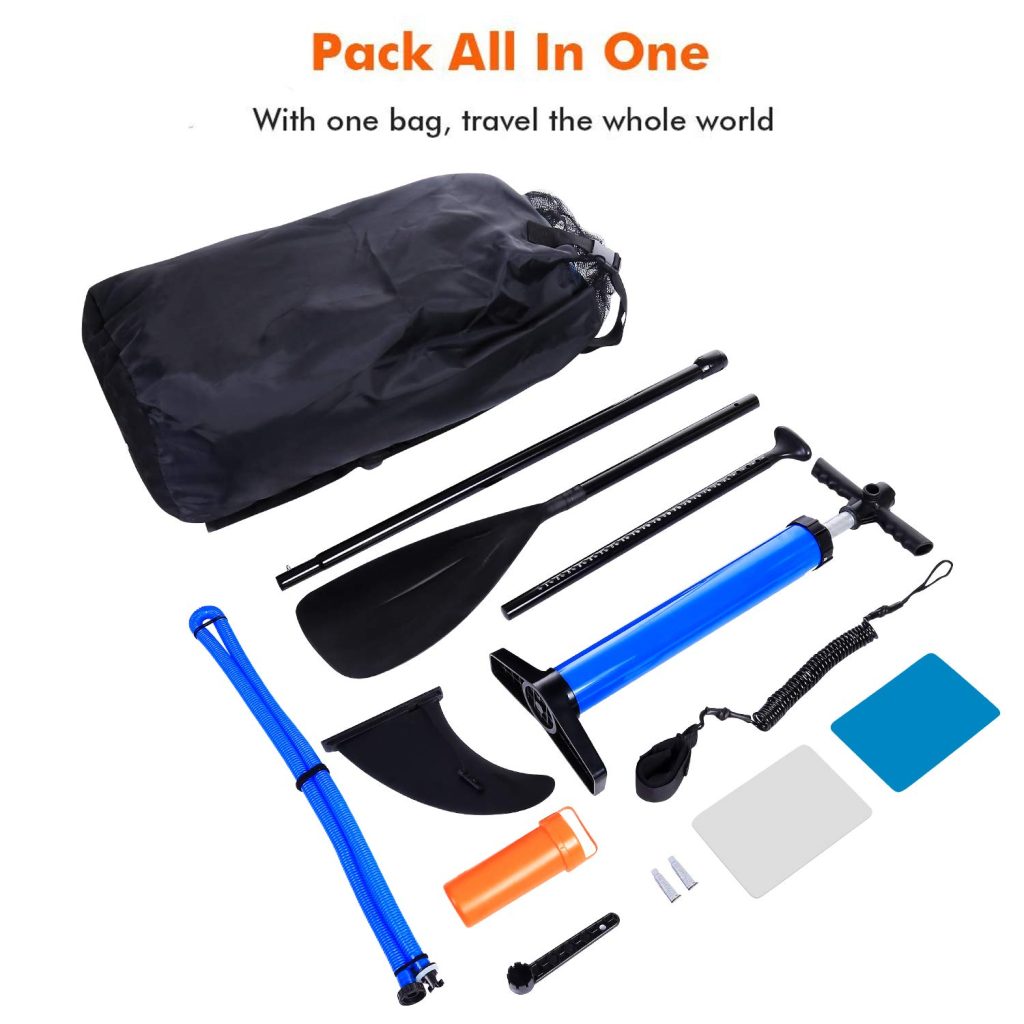 Pros:
-Low price
-One of the best boards for beginners, best buy
Cons:
-Single-layer PVC – which is solid if you occasionally use the board
Material: 1000D 0.9mm Brushed Single PVC, EVA
Size: 305 x 76 x 15 cm/ 120 x 30 x 6 inch
Weight: 10 kg
Carrying Weight: 110 kg
Package Content: 1 x Single-layer Surf Board, 1 x Retractable Retractable Paddle, 1 x Fins, 1 x Foot Ring, 1 x Backpack, 1 x Repair Kit, 1 x One-way Manual Air Pump, 1 x User
Read Next – Best Paddle Boards Under 300$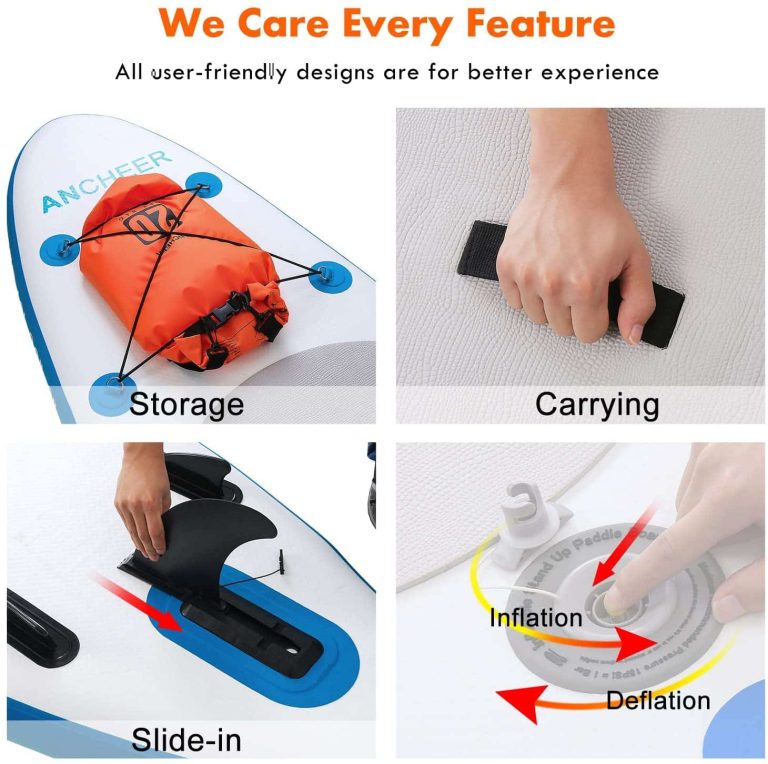 Read Next – Pathfinder Inflatable SUP Review
Instructions
[How to inflate and deflate the standing paddles]
Inflation:
1. To inflate your stand-up paddle, check that the valve is in the raised position (closed) so the air does not leak out.
2. Connect the air pump.
3. Inflate to 17 inches.
4. The more inflation, the more stable, the better the activity. The inflatable standing paddle is efficient.
Deflation:
1. To deflate your SUP, push the valve, and the air will leak out.
2. Discharge all air from the opposite side to the valve for easy folding.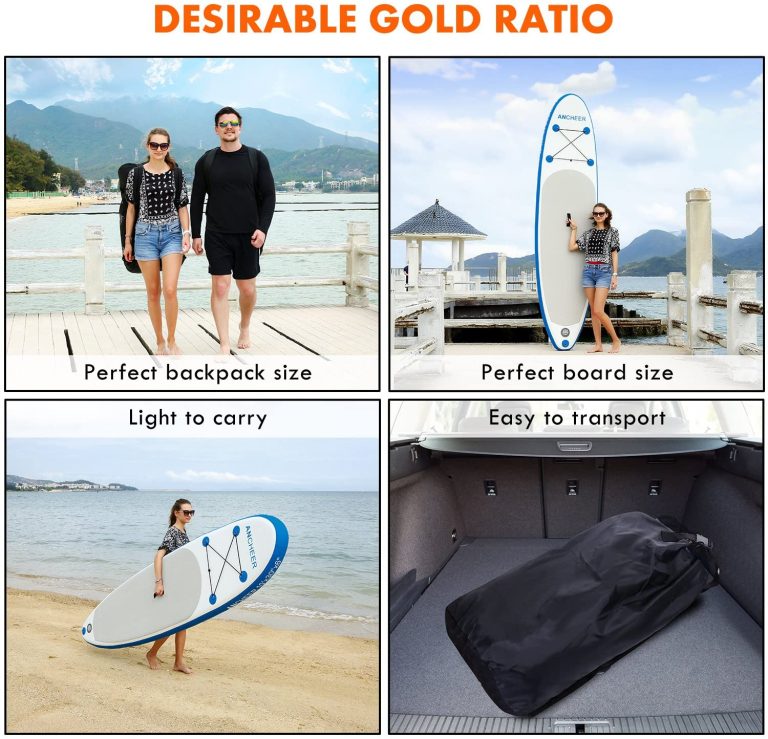 Read Next – AQUA SPIRIT Premium Inflatable Paddleboard
Roc Inflatable Stand Up Paddle Boards W Free Premium SUP Accessories & Backpack { Non-Slip Deck } Bonus Waterproof Bag, Leash, Paddle and Hand Pump !!! Youth & Adult (Black)
4 used from $215.95
Free shipping
as of September 27, 2023 5:38 pm
SereneLife Inflatable Stand Up Paddle Board (6 Inches Thick) with Premium SUP Accessories & Carry Bag | Wide Stance, Bottom Fin for Paddling, Surf Control, Non-Slip Deck | Youth & Adult Standing Boat
2 new from $259.99
9 used from $161.45

as of September 27, 2023 5:38 pm
FunWater Inflatable Stand Up Paddle Boards 11'×33"×6" Ultra-Light (17.6lbs) SUP for All Skill Levels Everything Included with 10L Dry Bags, Board, Travel Backpack, Adj Paddle, Pump, Leash, Repair Kit
2 new from $199.95
6 used from $182.01
Free shipping
as of September 27, 2023 5:38 pm
FunWater Inflatable 10'6×33"×6" Ultra-Light (17.6lbs) SUP for All Skill Levels Everything Included with Stand Up Paddle Board, Adj Floating Paddle, Pump, ISUP Travel Backpack, Leash,Waterproof Bag
2 new from $199.95
6 used from $183.89
Free shipping
as of September 27, 2023 5:38 pm
INTEY Inflatable Stand Up Paddle Board (6 Inches Thick) Standing Boat for Youth & Adult with Premium SUP Accessories & Backpack | Wide Stance, Three Fins for Paddling, Surf Control, Non-Slip Deck
2 new from $287.49
Free shipping
as of September 27, 2023 5:38 pm
Homde Upgrade Version Inflatable Stand Up Paddle Board (6 Inches Thick) with SUP Accessories & Carry Bag | Bottom Fin for Paddling, Surf Control, Non-Slip Deck, Adjustable Paddle and Hand Pump
out of stock
as of September 27, 2023 5:38 pm
FBSPORT 10.6' Premium Inflatable Stand Up Paddle Board, Yoga Baord with Durable SUP Accessories & Carry Bag | Wide Stance, Surf Control, Non-Slip Deck, Leash, Paddle and Pump for Youth & Adult
as of September 27, 2023 5:38 pm
Goplus 9.8'/10'/11' Inflatable Stand Up Paddle Board, 6.5" Thick SUP with Premium Accessories and Carry Bag, Wide Stance, Bottom Fin for Paddling, Surf Control, Non-Slip Deck, for Youth and Adult
as of September 27, 2023 5:38 pm
SEASEESUP Inflatable Stand Up Paddle Board for Adults Youth and Kids, 10'6" Blow Up Boards Surfboard with SUP Accessories Adj Paddle, ISUP Backpack, Pump, Leash for All Levels of Surfing, Pink
out of stock
as of September 27, 2023 5:38 pm