Lifetime Horizon 100 is one of the more fashionable decks on the list.
It is pretty good for teens, young adults, and those who enjoy a pop of color.
The deck covering the board is a non-slip deck, which means that you can do yoga, fitness, and many more things without worrying about your health.
Features Lifetime Horizon 100 SUP

The front deck bungee makes this board ideal for fishing and cruising because you can bring along many things and make the whole thing work together.
No Weight limit
Many people like to bring their pets along as well, but you need to make sure that you don't surpass the weight limit, which is not that high on this one.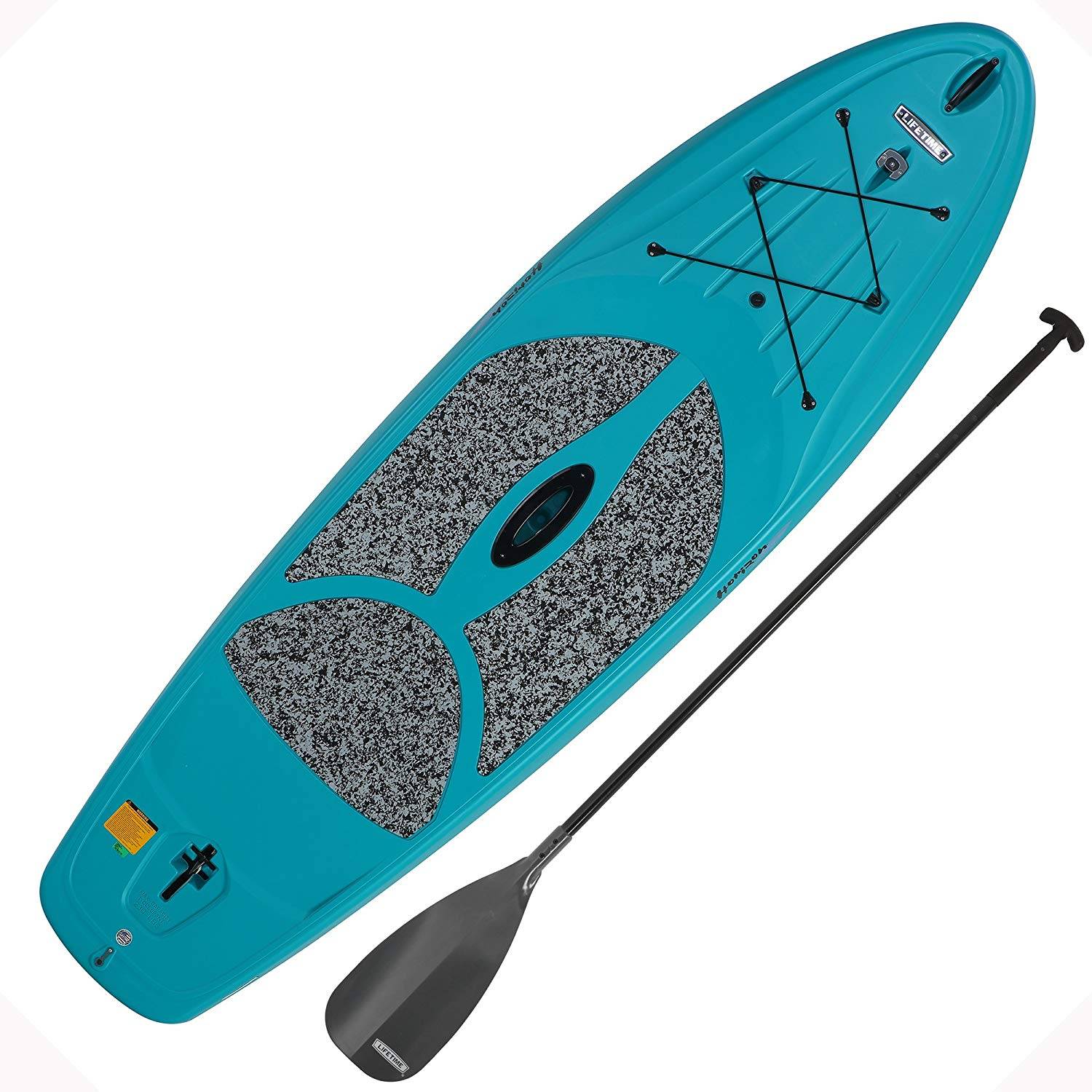 The 230 lb weight capacity this board takes is usually enough for a heavier person or two light ones, as well as a light person with a pet.

The board has a center carry handle, which makes it perfect for easy transport, and you can bring the board around wherever you want to.
Warranty
The board itself is 10 ft long and 34 inches wide, and it has a 5-year limited warranty.
You will notice that the board is UV-protected, which means that you can leave it in the sun, but it's still not recommended because long-term exposure can lead to various problems.
Material
The material this one is made of, called high-density polyethylene (HDPE), is an excellent material that is also used in the military sometimes.
The board itself weighs a bit more than a regular one. It's about 45 lbs heavy.
This means that kids shouldn't really use it on their own, as well as teens.
Durable High-Density Polyethylene (HDPE) Construction

2 Adjustable Paddles

2 Carry Straps

Length: 10′
Read Next – Alton Surfboard Review
Balance
Many people say that the weight is really well balanced when it comes to the central handle and that it's no issue to bring it around.
What is include
Paddle Included
Front Deck Bungee for Accessible Storage
UV-Protected – Will Not Fade, Crack, or Split
EVA Deck Covering for Increased Traction
5-Year Limited Warranty
Molded Center Carry Handle
Integrated 1/4 in.-20 Universal Mount for Waterproof Accessories
Retractable Fin for Surf or Flat Water Paddling
Rear Handle for Convenient Transport
Paddleboard Leash Attachment Loop
Read Next – Peak Expedition Inflatable paddle board Review
Review of Horizon Paddleboard – Lifetime Products
Read Next – Lifetime Vista Inflatable Stand Up Paddle Board