Lifetime Horizon 100 is one of the more fashionable decks on the list. It is suitable for teens, young adults, and those who enjoy a pop of color.
The deck covering the board is a non-slip deck, which means you can do yoga, fitness, and many more things without worrying about your health.
If you are looking for a paddleboard that will fit every family member and everyone's needs, this is the one to look for.
Because of the padding materials and the size preferences of the paddleboard, it offers stable and secure sports gear that everyone can use regardless of age or skill.
A versatile paddleboard with a large carry capacity is perfect for families with kids. You can step on the paddleboard with your kids and not worry about whether it is safe or stable to use it in pairs.
If you just started SUP, choose a paddleboard with everything you might need in the same set.
Features Lifetime Horizon 100 SUP

The front deck bungee makes this board ideal for fishing and cruising because you can bring along many things and make the whole thing work together.
The diamond shape of this paddleboard makes extra space in the front that enables you to carry extra stuff in the storage space with 6 D-rings and a bungee cord that will keep everything in place.
In addition, extra space makes it easy to you to do yoga or pilates without feeling insecure and like you don't have enough room on the board and will end up in the water soon.
Extra width gives you additional space and makes the paddleboard more stable and safe than the narrow ones.
It is easier for beginners to use paddleboards that have extra width.
Read Next – Peak Titan Royal Multi-Person Inflatable Stand Up Paddle Board
No Weight limit
Many people like to bring their pets along, but you need to ensure you don't surpass the weight limit, which is not that high on this one.
The 230 lb capacity this board takes is usually enough for a heavier person or two light ones, as well as a light person with a pet.
If you would like to paddle with your kids to learn or spend time together, this board gives you that opportunity.
High carrying capacity allows you to paddle in pairs, even with adults, and feel safe and secure. High-quality materials provide you safe, security, and comfort while paddling. That gives you extra comfort while swimming in pairs.
Take your paddleboard and go for a day trip or make a picnic in the middle of the lake. Sounds interesting, right?
This paddleboard allows you to have a lot of fun, regardless of your skills.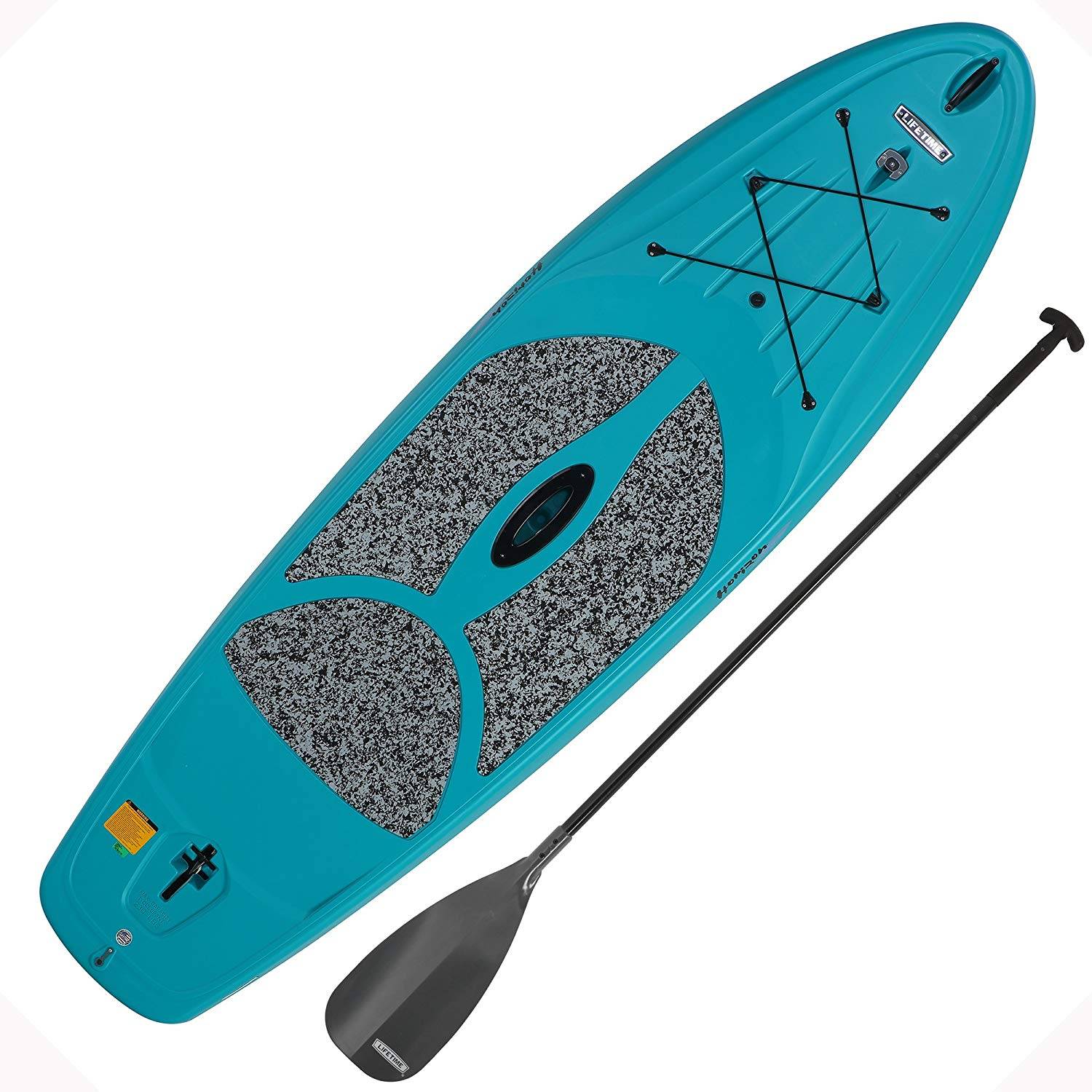 Read Next – A Guide to SUP Electric Pump For Inflatable SUPs in 2022
Warranty
The board is 10 ft long and 34 inches wide and has a 5-year limited warranty.
If you want to be safe that you have chosen a good quality inflatable SUP paddle board, this will assure you. 5 years is an extended period, and not many products have this extended warranty.
With Lifetime horizon SUP inflatable paddleboard, you will get an extended warranty and repair kit to help you repair any potential damage that can happen while paddling.
You probably want to use it but keep it close to feeling safer in the middle of the lake or at the open sea—better safe than sorry, especially while on the water.
Lifetime Horizon 100 Hardshell Stand-Up Paddleboard (Paddle Included), Teal
3 new from $857.49

as of November 22, 2023 4:37 pm
Read Next – Best Kids SUP Board To Buy In 2023
Material
The material this one is made of, called high-density polyethylene (HDPE), is an excellent material that is sometimes used in the military.
Military HDPE material is also protected with a UV filter, making it more durable when exposed to the sun. Sun tends to damage PVC materials, but with this UV filter, Lifetime, Horizon SUP inflatable paddle board is safe.
You can leave it inflated on the side outdoors during the day, and the sun won't damage the material or fade the colors on the paddleboard.
Military PVC, EVA innovative technology foam, and UV filter make high-quality SUP inflatable paddleboard that provides high stability, safety, and durability of the Lifetime Horizon products for water activities no matter water conditions.
Read Next – BPS Adjustable 2-Piece SUP/ Stand Up Paddleboard Paddle
Weight
The board itself weighs a bit more than a regular one. It's about 45 lbs heavy. This means that kids shouldn't use it on their own and teens.
Even though a more significant weight than usual, this high-quality paddleboard gives you safe and stable padding on the water. Because of the bigger size, this SUP inflatable Lifetime Horizon paddleboard gives you extra carrying capacity that provides safety for couple paddling.
Durable High-Density Polyethylene (HDPE) Construction
2 Paddle Boards
2 Adjustable Paddles
2 Carry Straps
Length: 10′
Read Next – Alton Surfboard Review
Balance
Many people say that the weight is well balanced when it comes to the central handle and that it's no issue to bring it around.
The board has a center carry handle, making it perfect for easy transport, and you can bring the board around wherever you want.
A few SUP manufacturers make SUP inflatable paddle boards with central carrying handles. Lifetime Horizon has this addition that provides more accessible transportation and carrying around.
If you are looking for the inflatable SUP paddle board with an additional kit that provides more accessible transportation, adjusting, and using this sports equipment.
Read Next – Board Culture Inflatable Stand Up Paddle Board
What is included in the Lifetime Horizon SUP set
paddle included
front deck bungee for accessible storage
UV-protected – will not fade, crack, or split
EVA deck covering for increased traction
5-year limited warranty
molded center carry handle
integrated 1/4 in.-20 universal mount for waterproof accessories
retractable fin for surf or flat water paddling
rear handle for convenient transport
paddleboard leash attachment loop
Paddle
In this Lifetime Horizon paddle is in one piece and is not adjustable. It is made of high-quality lightweight materials.
The lightweight of this paddle protects against injuries that can happen due to repeatable movements. In addition to that, the SUP Lifetime Horizon paddle floats on the water, so you can quickly grab it if it falls in the water.
Lifetime Horizon Sup Paddle Board White Granite
as of November 22, 2023 4:37 pm
D-rings and front deck bungee for accessible storage
In this additional storage space in the front, you can take everything you might need while spending time on the water and stay safe and stable.
If you want to go fishing or do yoga, answer some emails from your tablet. You can easily do it with this storage space.
Read Next – Leader Accessories Kayak Paddle Aluminum Review
UV protection filter
This additional protection on the Lifetime Horizon SUP paddleboard material makes it secure.
SUP inflatable paddleboard will not fade, crack, or split while exposed to the sun. You can keep your SUP paddleboard inflated in the sun, and it won't get damaged.
Fin
In this set, you will find three attachable fins in two dimensions that will help you learn how to stand up paddle even easier.
There is one big central fin in the middle back part of the board and two smaller ones on both sides. Skilled paddlers will get extra speed on the water with the fins on the paddleboard.
Lifetime 10' Hardshell Horizon Stand Up Paddle Board 2-pack
out of stock
as of November 22, 2023 4:37 pm
EVA deck covering for increased traction
This intelligent technology, EVA padding, makes the surface of the paddleboard safe and secure even when wet. Because of that, it is excellent to use with kids and pets.
Coil leash
A safety leash is made of comfortable but strong material that will make you feel safe. It will not get uncomfortable even while wearing for a longer time.
Wear the coil leash; your paddleboard will not go far from you even when you fall off it.
Read Next – Peak Expedition Inflatable paddleboard Review
Review of Horizon Paddleboard – Lifetime Products
Read Next – Lifetime Vista Inflatable Stand Up Paddle Board
Overview
This Lifetime Horizon inflatable SUP paddleboard is a little more giant in size and weight but is super stable and safe with excellent carrying capacity.
Enormous weight is compensated with the central carrying handle that helps you to carry it more accessible. High carry capacity allows you to paddle around with your kids, family, and friends.
Lifetime Horizon SUP inflatable paddle board is an excellent addition!
Read Next – Cabelas Paddle Board
Lifetime Horizon 100 Hardshell Stand-Up Paddleboard (Paddle Included), Teal
3 new from $857.49

as of November 22, 2023 4:37 pm
Lifetime Freestyle XL 98 Stand-Up Hardshell Paddleboard - 2 Pack (Paddles Included), Red
as of November 22, 2023 4:37 pm
Lifetime Freestyle Hard Shell Paddleboard with Paddle, 9'8"/X-Large, Glacier Blue
4 new from $481.89
Free shipping
as of November 22, 2023 4:37 pm
Lifetime Freestyle Paddleboard, 9 Feet 8 Inch, Lime Green
4 new from $468.74
Free shipping
as of November 22, 2023 4:37 pm
SereneLife Inflatable Stand Up Paddle Board (6 Inches Thick) with Premium SUP Accessories & Carry Bag | Wide Stance, Bottom Fin for Paddling, Surf Control, Non-Slip Deck | Youth & Adult Standing Boat
2 new from $219.99
5 used from $122.84

as of November 22, 2023 4:37 pm
Lifetime Horizon Sup Paddle Board White Granite
as of November 22, 2023 4:37 pm
Lifetime 10' Hardshell Horizon Stand Up Paddle Board 2-pack
out of stock
as of November 22, 2023 4:37 pm
Lifetime Amped Hardshell Paddleboard with Paddle, 11', Glacier Blue
3 new from $625.00
Free shipping
as of November 22, 2023 4:37 pm
Lifetime Horizon 100 Hardshell Stand-Up Paddleboard (Paddle Included), Volcano Fusion
2 new from $571.19

as of November 22, 2023 4:37 pm
Lifetime 90891 Horizon 100 Stand-Up Paddleboard, 2 Pack, Paddles Included, Lime Green, 10'
as of November 22, 2023 4:37 pm
Lifetime 91014 Horizon 100 Stand-Up Paddleboard, 2 Pack, Paddles Included, 10 feet
out of stock
as of November 22, 2023 4:37 pm