The Lifetime Vista inflatable paddle board is the perfect option for all ages and skill levels.
With the Lifetime Vista paddleboard, you can enjoy a day paddling through a calm ocean Bay or quiet lake.
Features Lifetime Vista Stand Up Paddle Board
This paddle board was designed with stability and performance, making it approachable for entry-level paddlers while performing well for intermediate paddlers.
Using PVC drop-stitch construction, this paddleboard utilizes a sturdy air Core, making it rigid, durable, and lightweight.
The paddleboard is convenient to store and easy to transport with its backpack.
A paddle, pump, removable fin, and repair kit are included in this package, making it ready for immediate use.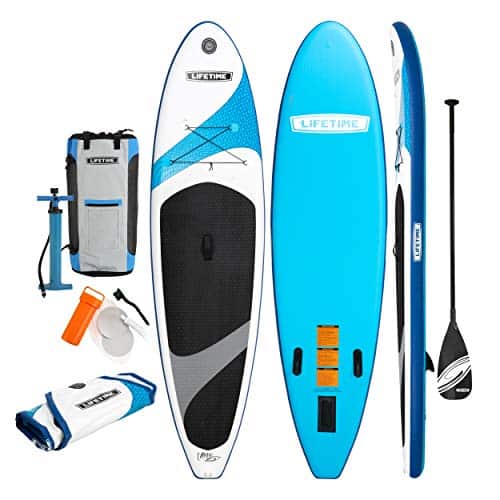 With the Lifetime Vista inflatable paddleboard, you'll be ready to enjoy an adventure with your friends and family.
11 ft. Inflatable Paddleboard comes with a 3-piece SUP Paddle, Thruster fin setup, textured deck pad, inflation pump, patch kit, and a backpack.
Tri-fin setup is ideal for straight tracking on flat water and reasonable control in light surf.
Stern mounted D-ring can be used for attaching a board leash
Backpack for storage and transportation, center carry handle for portability, deck bungee for on-the-water storage
Heavy-duty PVC drop-stitch construction, maximum weight capacity of 275 lb. ,
Paddleboard dimensions: 132L x 33W x 6H inches
2-Year Limited
Lifetime Vista 110 Inflatable Stand-Up Paddleboard
Read Next  – Onyx Universal Paddle Kayak Life Vest
Lifetime Vista Inflatable Stand Up Paddle Board, 11' Long x 32" Wide x 6" Thick, Durable and Lightweight SUP, Stable Wide Stance Deck, Includes Backpack, Paddle, Pump, Removable Fin and Repair Kit
2 new from $498.00
Free shipping
as of September 20, 2023 1:25 pm
SereneLife Inflatable Stand Up Paddle Board (6 Inches Thick) with Premium SUP Accessories & Carry Bag | Wide Stance, Bottom Fin for Paddling, Surf Control, Non-Slip Deck | Youth & Adult Standing Boat
5 new from $239.99
7 used from $169.95
Free shipping
as of September 20, 2023 1:25 pm
Swonder Premium Inflatable Stand Up Paddle Board, Ultra Durable & Steady, 11'6" Long 32" Wide 6" Thick, Full SUP Pack with Adjustable Paddle, Backpack, Leash, and Pump for Youth & Adult
2 used from $399.49
Free shipping
as of September 20, 2023 1:25 pm
streakboard Inflatable Stand Up Paddle Board Surfing SUP Boards, No Slip Deck 6 Inches Thick ISUP Boards with Free SUP Accessories & Backpack, Leash, Paddle and Hand Pump, for All Levels
as of September 20, 2023 1:25 pm
Soopotay Inflatable SUP Board, Stand Up Paddle Board, Inflatable Paddle Board, iSUP Package with All Accessories (Navy_Blue, 10' x 32'' x 6'')
out of stock
as of September 20, 2023 1:25 pm
ADTEST Inflatable Stand Up Paddle Board, Surfing Paddle Board, Inflatable Standing Boat with Adjustable Paddle, Repair Kit, Carry Bag, Hand Pump, for Surfing, Fishing, Water Yoga
2 new from $223.98

as of September 20, 2023 1:25 pm
MaxKare Stand Up Paddle Board Inflatable SUP W Stand-up Paddle Board Accessories Backpack Paddle Leash Pump Non-Slip Deck ISUP Fishing Yoga Rigid Solid 10'× 30" ×6'' Inches Thick Adult & Youth & Kid
4 new from $318.99
Free shipping
as of September 20, 2023 1:25 pm
MaxKare Inflatable Paddle Board SUP Stand Up Paddle Board 6 inches Thick Board with SUP Accessories & Carry Bag & Fast Pumping for Adults & Youth for Paddling Surfing Fishing Yoga
3 new from $249.99

as of September 20, 2023 1:25 pm
MaxKare SUP Inflatable Stand Up Paddle Board with Bi-Directional Pump (10-15 Minutes Inflat), 10' Long 30'' Wide 6'' Thick, Max Weight Capacity 330 lbs Enough for 1-2 People
2 new from $349.99
1 used from $281.11
Free shipping
as of September 20, 2023 1:25 pm
MaxKare SUP Inflatable Stand Up Paddle Board with 10'30''6'' Premium Paddleboard & Bi-Directional Pump & Backpack Portable for Youth Adult Have Fun in River, Oceans and Lakes
$219.00


$

199.00
out of stock
5 new from $199.00

as of September 20, 2023 1:25 pm